As professional audio editing software emerged, these solutions made it possible to pursue your dreams of creating music and podcasts for a few hundred dollars.
These audio editors are a one-stop shop for producing music, creating podcasts, and manipulating audio to your heart's desire.
In this guide, we've selected various audio editing software tools that bring something unique to the table. We'll examine the following tools and select:
Let's start.
What Is the Best Audio Editing Software?
Selecting the best audio editor will depend on why you need this tool and how comfortable you are with using audio editors. All the items on our list of the best audio editing software are equipped with essential music editing features. However, they also offer specific advanced features that might make them the ideal choice for your needs.
1. CyberLink AudioDirector 365 – Best Overall
Cyberlink AudioDirector 365 is packed with all the necessary tools to produce professional-level sounds that both beginners and veterans will find appealing.
This incredible audio tool brilliantly implements artificial intelligence and machine learning, cutting down on inaccurate manual controls. As a result, audio editing appears simple and seamless.
This audio editor has an impressive design that maximizes your audio output and makes your workflow more efficient.
AudioDirector 365 is also one of the most affordable options among the best audio editors. Its competitive price makes it attractive to many users, from small businesses looking to boost their audio output to podcasting professionals.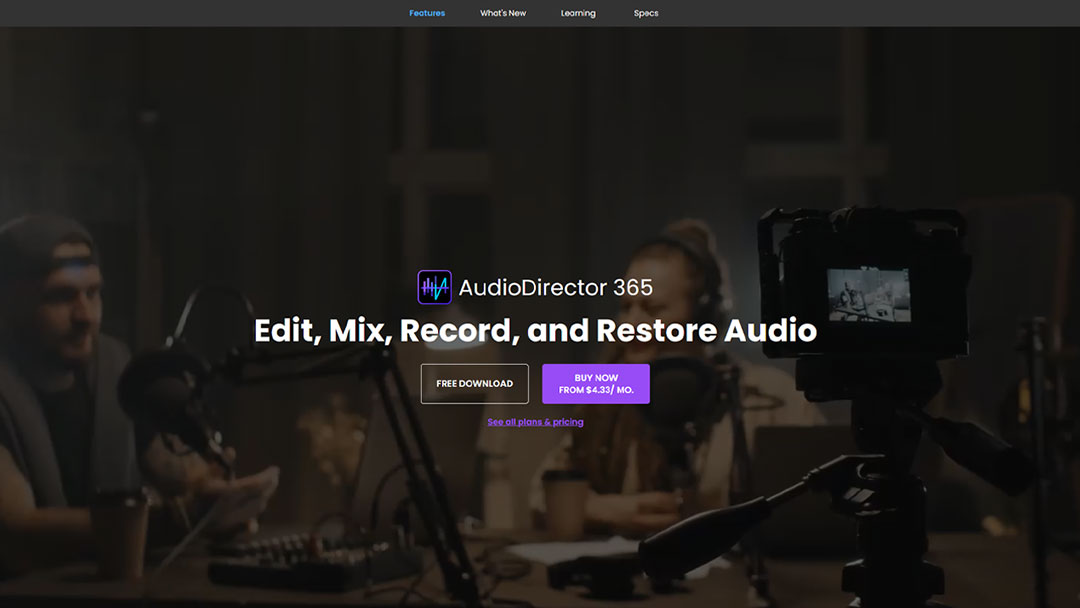 Key Features
EQ Match Tool. Using the EQ Match Tool, you can store your average EQ values and apply them to clips recorded using different microphones. This allows you to regularize audio, making it sound like a single recording.
Spectral Recovery. Spectral Recovery lets you remove unwanted sounds from your audio files with natural-sounding results. This tool is perfect for altered content and older recordings,
Plosive Sounds Editor. Plosives are the sharp bursts of air people make when pronouncing words starting with a "p" or "b" sound. This feature lets you remove them in a few steps, creating more pleasant audio clips.
Punch and Roll Recording. Using this feature, you can re-record specific audio sections without compromising the rest of the audio recording. This feature allows for a much faster workflow since you don't have to re-record the entire audio data.
User Experience
The CyberLink AudioDirector 365 comes with a somewhat steep learning curve. However, thanks to numerous tutorial-style instructions, even beginners can get the hang of this music-editing software. All editing panels feature a preview button, allowing you to quickly learn what each of the audio editing tools does.
Pricing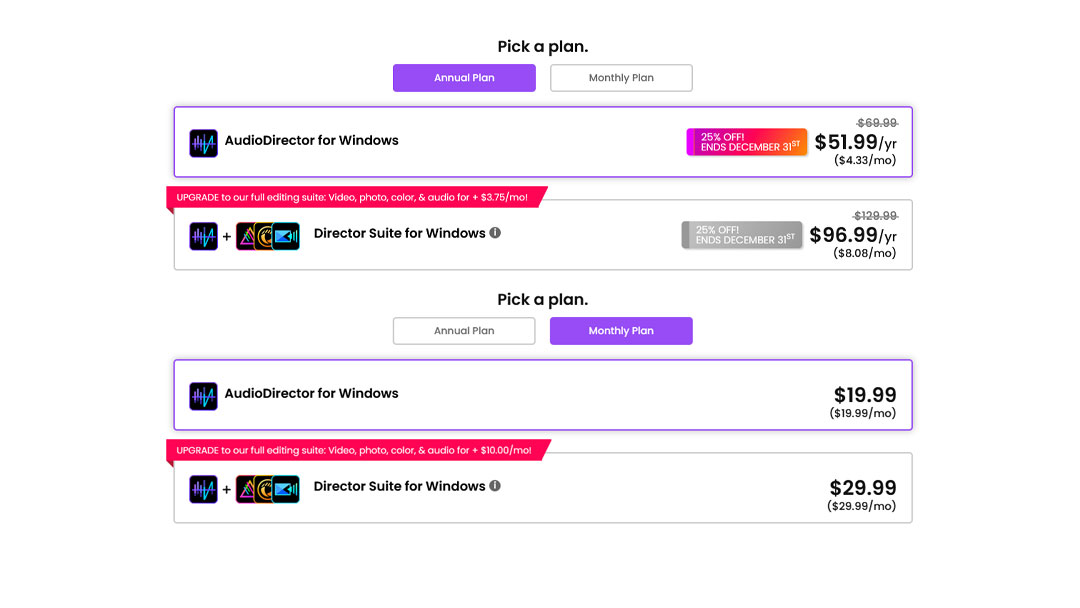 Although a part of the CyberLink Director Suite, AudioDirector is also available as a standalone product. You can purchase a lifetime license for $129.99. Alternatively, you can sign up for a monthly subscription for $19.99 per month or an annual subscription for $69.99 per year.
You might benefit from signing up for the entire Director Suite for just $10 more if you go the monthly subscription route. This cost-effective bundle includes one of the best video editing software solutions, PowerDirector, allowing you to cover all the bases for content creation.
Pros
Feature-rich
Excellent AI capabilities
Intuitive interface
Affordable
Seamless integration with other editing tools
Cons
PC only
Steep learning curve
2. Adobe Audition – Best Cross-Platform Audio Editor
Audition is powerful audio editing software that offers specialized editing features for cleaning up and restoring audio for corporate and commercial video files.
This editor excels at post-production, which isn't typical for all sound-editing tools. You can use this stellar program to top off your music clips and get them to sit right in the final video project.
Furthermore, Audition can help you craft sound effects for video games and create music clips to spotlight voiceovers. Audition offers over 10,000 sound effects and several thousand royalty-free loops to get you started.
Audition can also serve as an excellent multi-track audio editor. It features a powerful audio-rendering engine that can handle up to 128 tracks at once.
As for multi-track recording, the engine can go up to 32 tracks without stuttering. You can also use the multi-track editor to adjust, select, and delete multiple tracks simultaneously.
Key Features
Multiple Views. Audition offers two views that you can quickly flip between. The Waveform view is ideal for an audio file that needs stereo editing. The Multitrack view works best when you want to mix music. Here, you can also mix audio from different recorded segments to create a podcast.
Strip Silence. This multi-track editing feature allows you to remove the silence from inactive regions without losing sync. Thanks to this feature, you can quickly clean and edit audio from multiple audio formats. You can also adjust specific parameters to compensate for varying volume levels between speakers or background noise.
DeNoise. This noise reduction feature can remove hiss and hum easily. During the process, you can preview the results, allowing you to determine the desirable noise reduction level.
User Experience
You can install Audition on both Windows and Mac computers. As a part of the setup process, you'll install the Creative Cloud desktop app. This app will run in the background while you're using the editor.
This program runs incredibly fast and is relatively easy to use. The user interface is drag-and-drop compatible, making the editing process hassle-free.
Pricing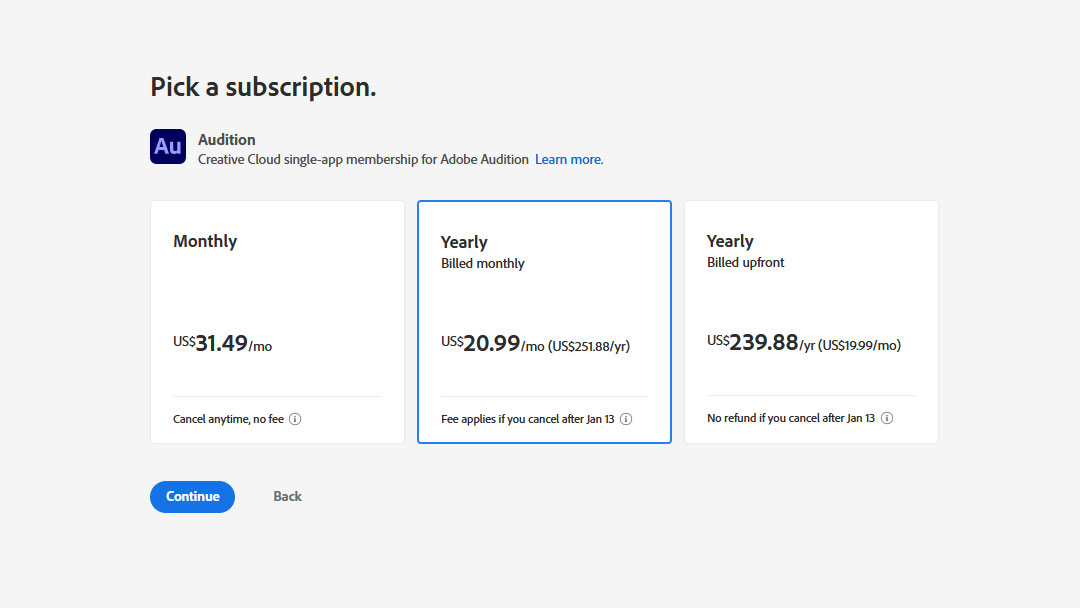 Like other Adobe software, Audition is only available through subscriptions to the company's Creative Cloud plans. You'll pay $31.49 per month if you choose the month-to-month plan. An annual subscription will knock the cost down to $20.99 per month. To further reduce costs, you can pay the annual membership for $239.88.
Pros
Powerful audio restoration and noise reduction tools
Helpful visualization tools
Easy to use
Adheres to broadcast standards for audio
Cons
3. Ashampoo Music Studio 9 – Best Professional Music Production Software
Ashampoo Music Studio 9 is an excellent audio editor if you want to record, edit, and mix your music files. The sound-editing features cover all the basics and also includes an additional option to join individual music files that are split by a pause. This option is great for spoken word creators.
If you want to edit music, Ashampoo Music Studio 9 goes beyond a traditional music editor. This software boasts impressive delivery features, including a cover art creator, a CD ripper, and mix tapes. Plus, you can keep your audio tracks neatly organized thanks to advanced organizational tools.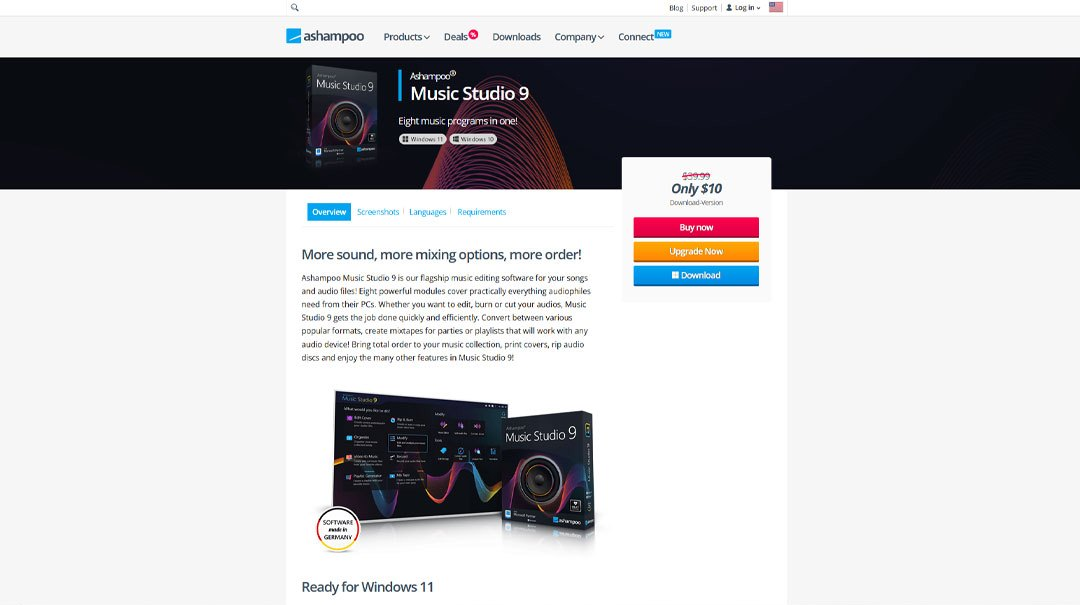 Key Features
The Playlist Generator. This handy tool can standardize multiple file formats, allowing you to achieve a balanced sound. In addition, you can dovetail your tracks by adjusting their tempo.
Detailed Organization Panels. This audio editor's advanced organizational features allow you to record sound and edit files in batches. Regardless of how many tracks you create, you'll always know where there are, thanks to nifty titles, tags, and templates.
File Conversion. Ashampoo Music Studio 9 allows you to convert files simultaneously and move them to your target location. This feature allows you to work with more file formats than other audio editors.
User Experience
The software's interface is somewhat of a departure from traditional digital audio workstations. Namely, Ashampoo Music Studio 9 aims to simplify music production, prompting users to achieve specific tasks.
When using this editor, you'll be guided through all the module-specific panes, so you don't have to look for your next step in the file menu.
This clear and directed approach makes blending different settings and file formats seamless, which has traditionally posed a significant challenge. However, musicians who prefer a more free-spirited approach to making music might not be fond of such a rigid approach.
Pricing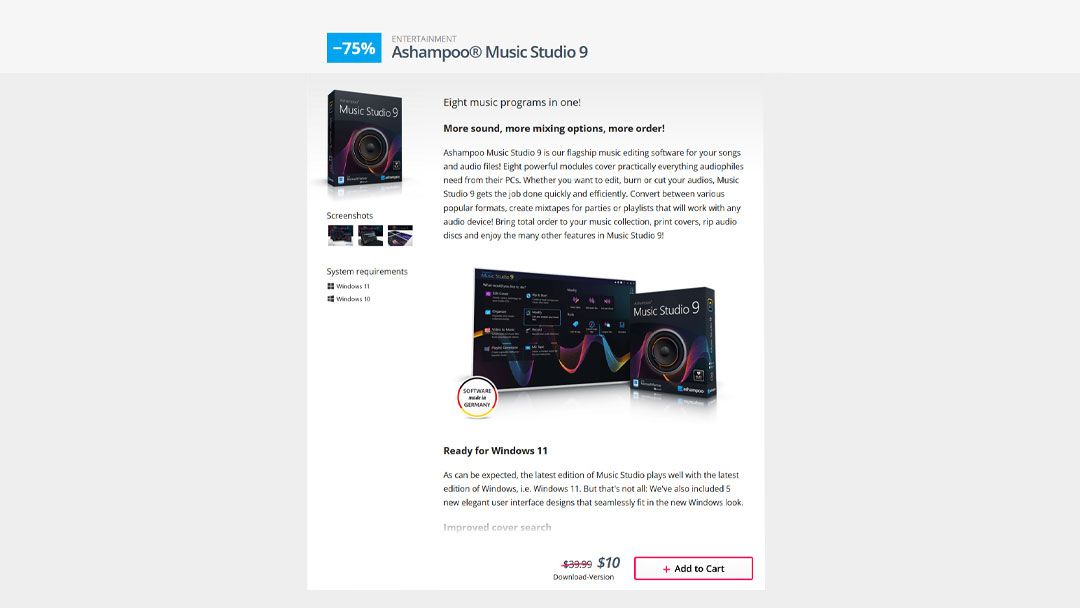 You can purchase Music Studio 9 for a one-off purchase of $39.99. You're buying a lifetime license, which guarantees two years of customer support. Updating your existing copy of Music Studio to the latest release will cost $9.99.
Pros
Beginner-friendly
Many file management tools
One-stop tool for recording, editing, and delivering music
Clear guides through production tasks
Cons
Doesn't support multitrack recording
Directed workflow might stifle creativity
4. Reason 12 – Best All-in-One Recording and Mixing Software
Reason 12 is a full-fledged software studio whose interface differs from most digital audio workstations. Namely, with Reason 12, you get a virtual representation of rack-mounted instruments and an analog-style mixer, perfect for artists fond of old-school music production.
The virtual instruments on the rack offer an impressive range of sounds, from a buzzing sawtooth to a drum pad. When you toss in multiple reverb models, mastering tools, and modulation effects, you'll probably have a hard time stepping away from this gadget.
This fun and engaging audio editor offers various production tools that allow you to overdub, edit, rearrange, distort, and compress audio tracks.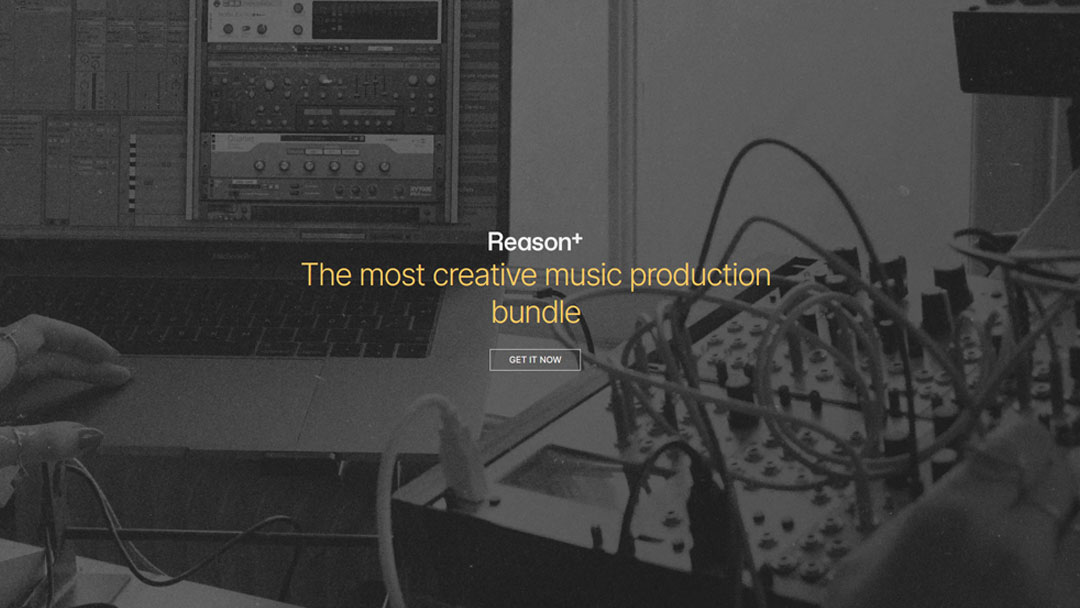 Key Features
The Rack. The Rack is undoubtedly at the heart of this software's music-making environment. Here, you'll find all the necessary instruments and effects for your musical explorations.
Creative Sampler. You can chop up and manipulate any audio material using this handy feature. This allows you a more straightforward path to creating a pitched, contemporary lead vocal.
Blocks. Blocks offer a fast way of creating a musical structure for your song. You can create the song's parts individually and place them in the blocks. Then, you can lay out the contents of the blocks and create variations or add musical elements on top.
User Experience
Reason 12 offers a charming, old-school interface that lets you quickly drag selected tools to the rack for composing and mixing. This interface is incredibly easy to use, but it probably won't appeal to artists who prefer a more contemporary look.
Pricing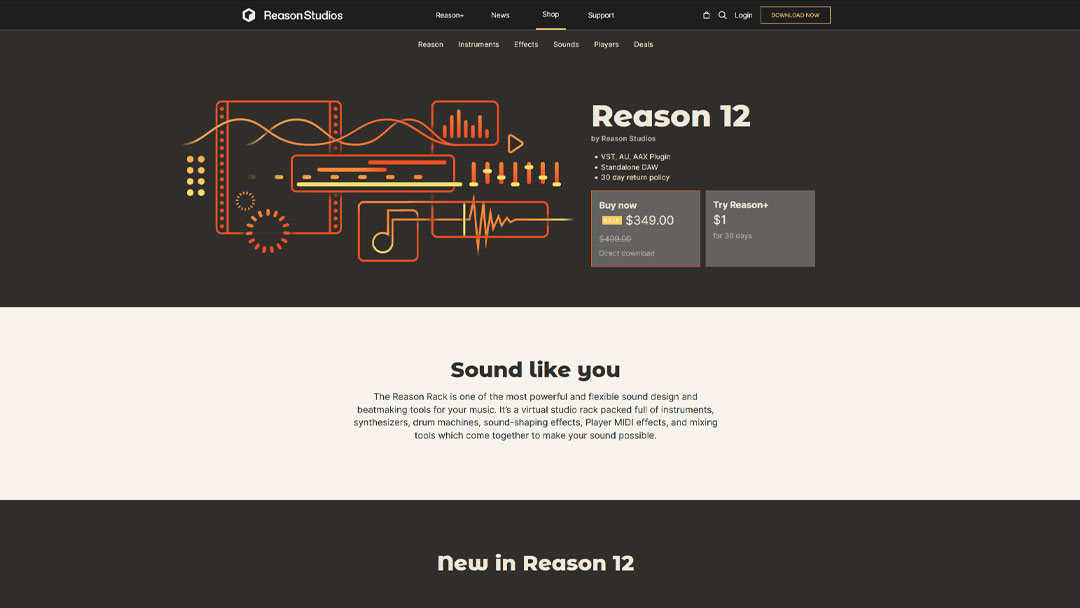 Reason Studios has traditionally sold their editors as a standalone purchase. You can get Reason 12 for $499. However, the company has recently launched a new subscription service that bundles access to the full version of Reason 12 and new sound packs weekly for $19.99 per month.
Pros
Unique tactile-like user interface
Versatile array of bundled instruments
Unlimited potential for editing
Cons
Visually busy for beginners
Choose the Best Audio Editing Software
After reading about the ins and outs of the best audio editing software programs, you should be able to choose the one best suited for your needs.
You can start by assessing your skill level. If you're a beginner, you might want to stick to Ashampoo Music Studio 9 or Adobe Audition. More experienced users can play with the many possibilities that come with Reason 12.
If you're willing to learn, explore, and hone your skills, AudioDirector 365 is one of the best audio editors you can get.