Encryption is instrumental in protecting your digital security and privacy. Even if you aren't particularly worried about hackers, you might benefit from protecting all your data that isn't meant for public viewing. After all, you never know who can access your computer and start snooping around.
Luckily, you can find many tools and apps to encrypt your files and folders. The best encryption software for you will depend on how you store and share your sensitive documents.
In this guide, we included several categories of the best encryption software to ensure every user can find a tool that suits their needs. We'll examine the following tools in more detail:
The best for public-key cryptography
The best for encrypting text
The best for multi-device users
The best for beginners
The best for sending encrypted files to the cloud
And more.
Let's dive in.
What Is the Best Encryption Software?
Choosing the best encryption software will depend on your needs regarding the scope of encryption, ease of use, additional features, price, and your operating system. Regardless of the specific details, we've ensured every software on our list meets a high level of satisfaction and can keep your files and folders secure and private.
Here are our picks for the best encryption software.
1. AxCrypt
Best Overall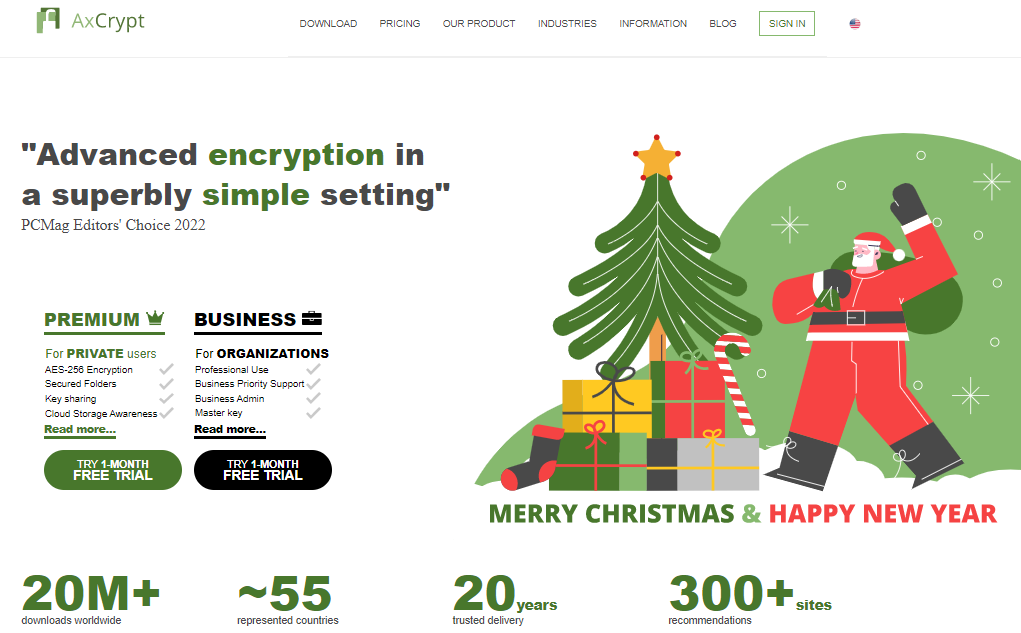 Sweden-based AxCrypt is an excellent encryption tool that allows you to easily protect your files and folders with top-tier encryption.
Using this highly-secure tool, you can take care of complex tasks, such as encrypting files using the U.S. government-approved AES (Advanced Encryption Standard) algorithm. Then, you can share the encrypted files using Public-Key Infrastructure (PKI) technology.
For this secure file sharing to work, the individual you're sending files to will also need to have an AxCrypt account. If they aren't willing to pay for the subscription, they can use the AxCrypt free version to receive encrypted files.
Key Features
Simple File Editing. Editing files encrypted by other security tools can be challenging, requiring users to decrypt the file, edit it, and encrypt it again. AxCrypt makes this process hassle-free by automatically decrypting a file before editing and encrypting it after.
Password Management. While AxCrypt doesn't let you capture and replay passwords like a full-on password manager, this feature offers a secure solution for storing this sensitive data. It also helps you generate passwords by clicking the "Suggest Password" button. Interestingly, the password will be 17 characters long with all character types, yet somewhat pronounceable.
Secure File Deletion. This feature ensures that no one, including you, can recover deleted files. This is made possible by a component that overwrites the file's data with random bytes before deleting it, foiling file-recovery tools.
Advanced Features. The Key Management menu offers more advanced features, including exporting your account or public key for sharing.
User Experience
AxCrypt operates with utmost simplicity in every regard, including installation. After downloading the software, you must sign in with your email address and enter a confirmation code. Then, you must create a single master password. Make sure to keep this password secure because if you lose it, you'll lose access to your files. AxCrypt doesn't allow any backdoors.
After installation, you can encrypt, decrypt, and delete files in a few clicks. You can even encrypt files by dragging them onto the AxCrypt window, making this tool highly user-friendly.
Pricing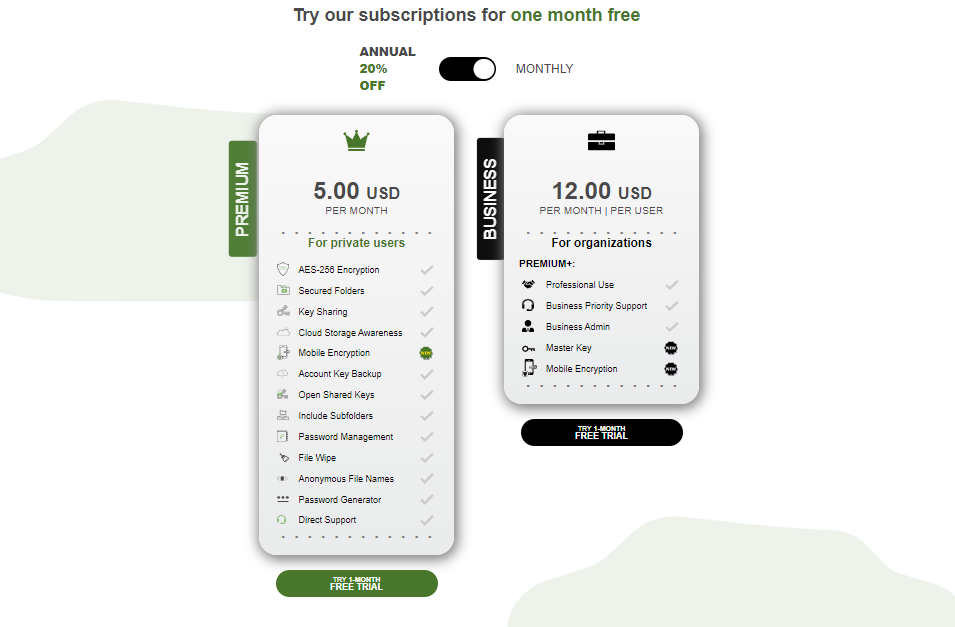 Most tools on our best encryption software list are self-contained utilities that only require a one-time purchase. However, AxCrypt requires an ongoing subscription, charging $5 per month for the Premium plan and $12 per month per user for the Business plan. This model is necessary because some of AxCrypt's features are server-based.
Suppose you opt to pay the annual subscription fee. In that case, the prices for the Premium and Business plans will drop to $3.75 and $9.92 per month, respectively.
There is also a free version available, but it's extremely limited. With the free version, Mac users can only view encrypted documents. By contrast, the PC version allows you to perform encryption but limits you to a less-secure algorithm that won't do much for your Windows desktop software security. In addition, you can only receive support from community forums instead of the company.
Pros
Extremely easy to use
Highly secure
Hassle-free editing of encrypted files
Secure file sharing using public-key cryptography
Irreversible file deletion
Cons
Only decryption is possible on mobile devices
2. CryptoForge
Best Text-Only Encryption Software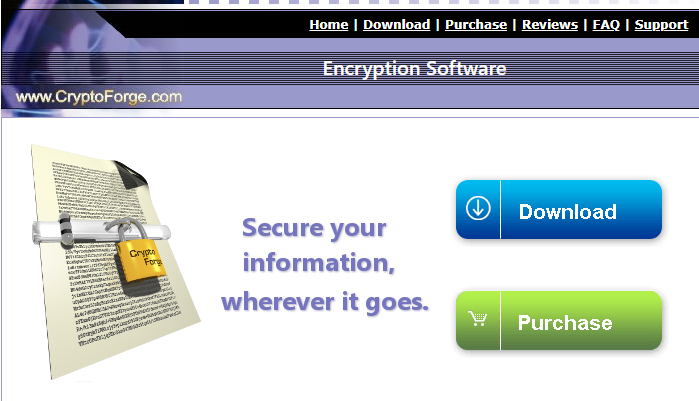 CryptoForge was created by Ranquel Technologies to make encrypting files and folders easy. This file-encryption software has some unusual features that make it stand out from other entries on our best encryption software list.
For starters, CryptoForge supports as many as four encryption algorithms. These include:
AES
Blowfish
Triple DES
GOST
When you encrypt files, you can choose from one of these algorithms or use all four. If you go for multiple algorithms, they will be applied sequentially. This way, your files will remain secure even if a bad actor discovers a flaw in one of the algorithms.
This tool also offers an unusual text-encryption approach. Namely, you can upload text, images, or files using the built-in editor and encrypt them. Then, you can use the resulting all-text encrypted document to transfer data using messaging systems that don't let users send binary attachments. The recipient doesn't have to have this software to encrypt the file. Instead, they can use CryptoForge's free Decrypter tool to unlock your message.
CryptoForge will also encrypt the file name automatically, not just its contents. As a result, you don't have to worry about prying eyes deducing the file's content based on its name.
Key Features
Large-File Encryption. CryptoForge allows you to encrypt files of up to 16TB. If the encrypted storage worries you, you can increase the compression level to the maximum. CryptoForge will compress your file before encryption either way, but this handy feature lets you control how much. This feature will skip file types that are already compressed, such as RAR and ZIP.
Built-in File Shredder. This handy tool overwrites file data before deleting it, thus preventing its forensic recovery. You don't have to encrypt files before putting them through the shredder; CryptoForge will do it automatically. By default, CryptoForge will overwrite data once. If this isn't enough, you can have the program overwrite the data up to 99 times before deleting it.
User Experience
Installing CryptoForge is quick and straightforward. After installation, you'll be asked to create a passphrase. Make sure to remember it since CryptoForge doesn't offer any back doors or escrow keys.
This encryption tool is barely noticeable on your system. It doesn't have the main window, just a settings dialogue. You can access the features using the right-click menu or the command line. The command line approach allows quick integration into automated processes but isn't particularly beginner-friendly.
Pricing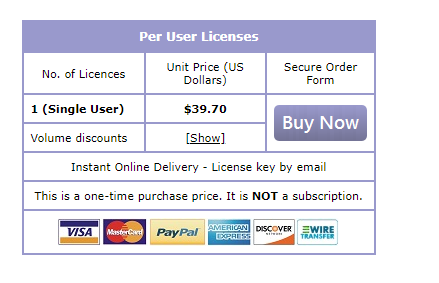 Most of the best encryption software programs are available for a one-time fee, and CryptoForge is no different. The price of $39.70 will get you a lifetime license.
Pros
Layering up to four encryption algorithms
Easy to use
Secure file deletion
Advanced text encryption
File name encryption
Cons
Fewer features than other encryption software options
3. Folder Lock
Best Encryption Software for Multi-Device Users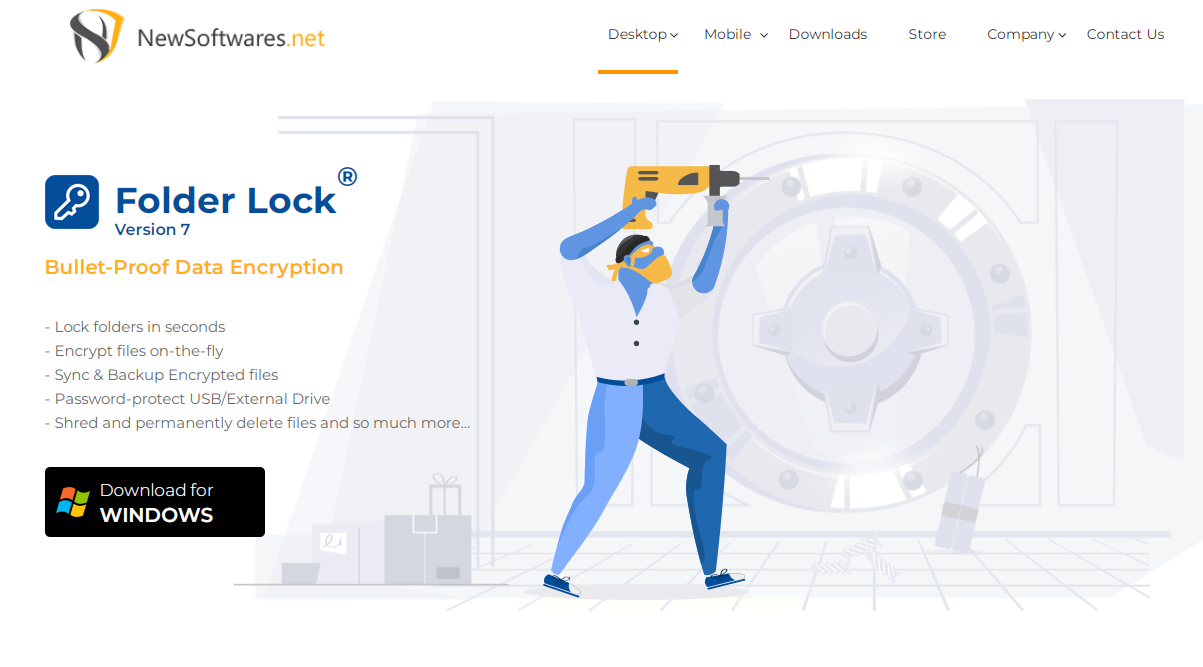 Folder Lock is powerful security software from NewSoftwares.net. Despite its name, it can encrypt more than just folders. It can also encrypt files or lock them without encryption. In the latter case, the program hides the files from the view of other apps and programs.
If you want extra security, you can create encrypted vaults. These storage containers look and act like ordinary folders until you lock them. Afterward, they become completely inaccessible.
Besides encoding files and folders and creating secure storage locations locally, Folder Lock offers some cloud storage capabilities. These different approaches to protecting your files and folder with encryption allow you to find the one that works the best for your private data.
Key Features
Encrypted Wallet. This nifty feature allows you to secure data that doesn't come as a file. You can use the wallet to store virtual cards containing your bank information, personal documents, or critical data for your business.
Stealth Mode. Besides hiding files and folders, Folder Lock can hide itself. After engaging the Stealth Mode, the program will disappear without a trace. The only way to bring it back is by pressing a pre-determined hotkey combination.
USB Protection. Folder Lock lets you transform entire lockers into self-decrypting files that you can store on a USB drive. You can either copy an existing locker onto the drive or create a new one directly on the removable drive.
History Cleaner. The files on your device aren't the only thing that can compromise your security. Your browsing history, temporary files, and cached web pages also pose a risk in addition to leaving a trail of evidence. This feature wipes out most of these traces in a matter of minutes.
User Experience
Installing and using Folder Lock is quite simple. After purchasing the program, you'll receive a registration key and a serial number. If you forget your master password, you can use the serial number to access your files.
Although this might benefit more forgetful users, it also leaves a backdoor that almost anyone can use to access your sensitive data. For this reason, you should disable this feature in the settings as soon as you install the program.
Pricing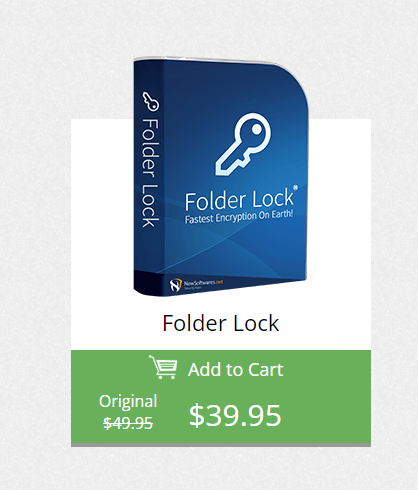 Like most competing products on our best encryption software list, you can purchase Folder Lock for a fixed fee and use it indefinitely.
If you'd like to test the program before committing to the purchase, you can download it and run it up to 25 times. Afterward, the program will not operate without payment.
Pros
Highly secured encrypted lockers
Easy way to lock files and folders
Accessible across multiple devices
Self-decrypting files
Many useful features
Cons
Product serial number can pose a security risk
Mainly mobile-oriented
4. NordLocker
Best Beginner-Friendly Encryption Software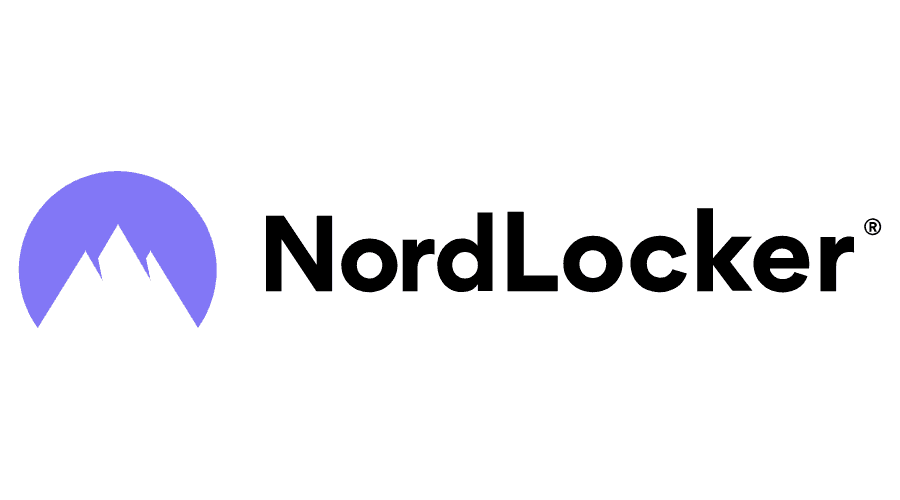 If the name of this encryption software sounds familiar, you're probably using or have heard of NordVPN. Since NordVPN is one of the best virtual private networks on the market, NordLocker is also expected to do great things, and the tool undoubtedly delivers.
NordLocker is primarily used to create encrypted lockers – storage containers that become completely inaccessible when locked. You can send the entire locker to the recipient's email address if you wish to share any of your files. Of course, NordLocker will encrypt the sent version, thus ensuring data security as it moves through the internet.
With NordLocker, you can protect critical data on your Windows, macOS computer, or cloud storage. The software uses AES 256-bit encryption, used by the best encryption software programs worldwide.
Key Features
Encryption Lockers. These lockers behave differently than in other encryption software programs. An open locker doesn't function as a regular folder. So, you can't edit files or create new ones directly in the locker. Instead, you can move or copy the existing files into the locker to keep them safe.
Secure Sharing. Instead of going through the process of sharing individual files, NordLocker allows you to share the entire locker in a few clicks. If the recipient doesn't have a NordLocker account, they'll receive an invitation to create a free one.
User Experience
NordLocker is exceptionally user-friendly, so installing and using this tool shouldn't be challenging for most users. After downloading the program, you must create an account and a master password. Unlike most similar programs, NordLocker doesn't check the strength of your password. Still, be sure to choose a strong password that you can easily remember, but no one can easily guess.
NordLocker will also create a 25-character recovery key during setup. You should store this key securely and use it if you forget your master password. If you lose the key and forget the password, you'll be irrevocably locked out of your files.
After completing the installation, NordLocker will guide you through its features and create a personal folder. Afterward, you can easily create new folders and drag files into them to protect them.
Pricing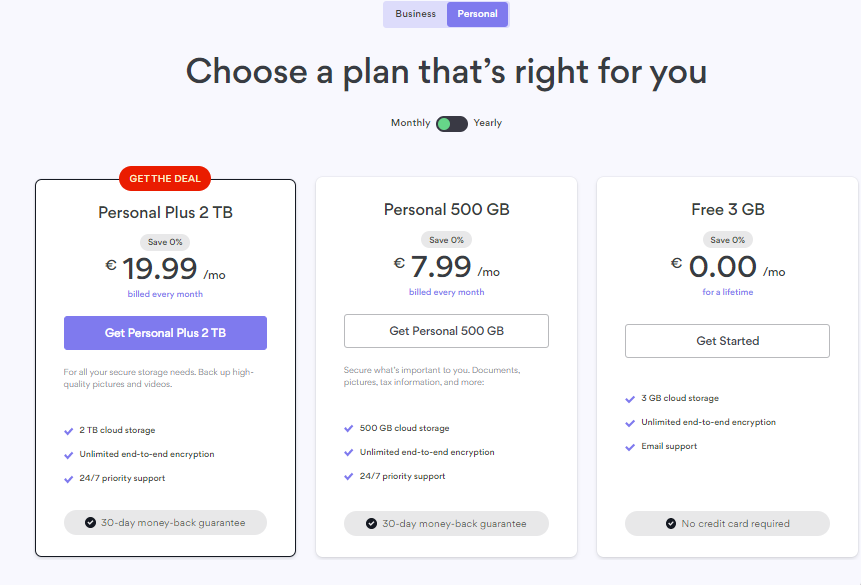 Due to its cloud storage capabilities, NordLocker requires a subscription. The basic version costs $8.51 per month. This version is meant for personal use. Professional versions go up to $18.99 per month per user.
NordLocker also offers free encryption software with limited capabilities. This option allows you to store 3GB of encrypted files, use unlimited end-to-end encryption, and rely on the company's email support.
Pros
Exceptionally easy to use
Quick and secure file sharing
Free encryption software version available
Dropbox integration
Cons
No secure deletion
No two-factor authentication
5. Boxcryptor
Best Free Encryption Software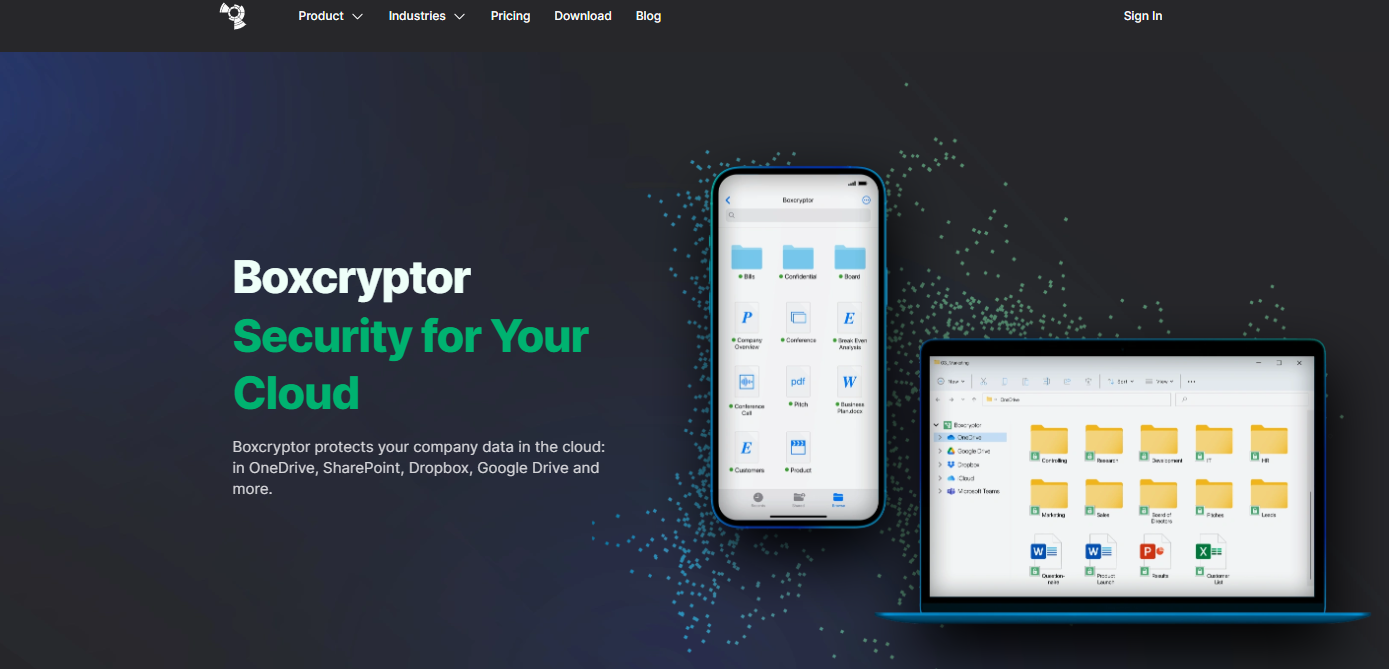 Boxcryptor offers the most generous free version among the best encryption software programs on our list. This version supports two devices and can integrate with Whisply, which is a service that offers end-to-end encryption for files sent to popular cloud storage hosts, such as Google Drive and Dropbox.
In addition, the local version of Boxcryptor is entirely free. This means that you can employ encryption software for as many files as you'd like as long as your computer storage can handle it.
The only catch is that you'll have to delete the original files manually. The program doesn't offer automatic deletion and doesn't even prompt you to do so. Therefore, you'll have to remember to do this each time you copy a new file to the encrypted drive.
This security software uses the highest encryption standards: RSA 4096 and AES 256-bit encryption. So, there's virtually no way malicious actors can crack the encrypted data.
Key Features
Comprehensive Cloud Storage Host Support. Boxcryptor can send files to almost every cloud storage host out there. So, you can choose the one that best suits your needs and budget. Wherever you send the files, you can rest assured you'll be the only one that can access them.
Automatic Integration. Boxcryptor will detect the cloud storage providers you use and add them to the virtual Boxcryptor drive. From there, you can encrypt and edit your files in just a few clicks.
User Experience
Boxcryptor offers an incredible user experience since it handles most of the work automatically. You can easily download and install the program on your preferred device. Then, you can simply drag and drop sensitive files to your virtual drive to encrypt them.
Unlike most programs on our best encryption software list, Boxcryptor asks you to set a master password before downloading the program. Still, the website will let you know whether you've chosen a strong password.
Pricing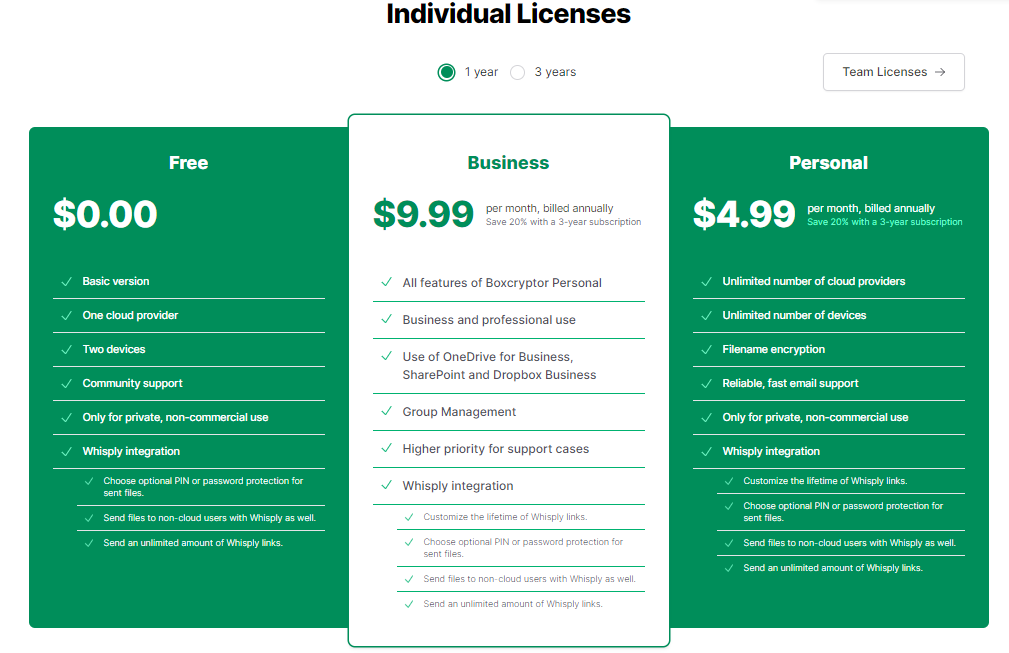 Boxcryptor requires a subscription rather than a one-off payment for the license. The basic version starts at $4.99 per month. This version is meant for encrypting personal files and allows an unlimited number of devices and cloud storage providers.
Pros
Free local encryption
Generous free version
Easy to use
Integrates with all major cloud hosts
Cons
Limited support on individual plans
6. Concealer
Best Encryption Software for Mac Computers
Concealer is an encryption software program designed by BeLight Software specifically for Apple Mac computers.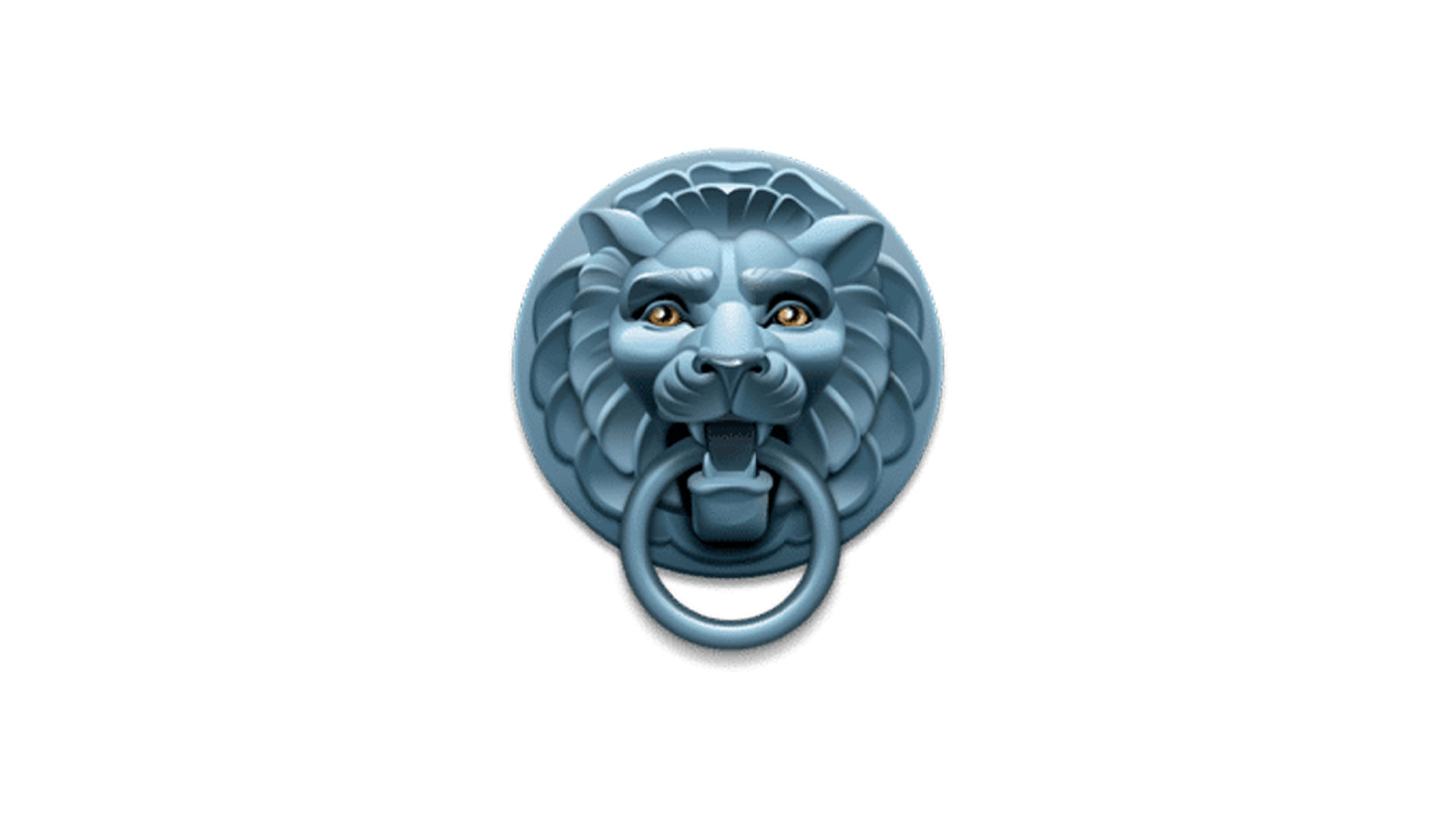 Using this software, you can encrypt individual files by dragging them into a designated area. Individual file encryption means you must manually delete the original file copy to protect your privacy and security. Besides files, you can encrypt folders, passwords, and software programs.
The encrypted files are kept in encrypted storage called a repository. The repository is secured with a master password. You can store the repository locally, on your Mac computer, or remotely on a removable pen drive. If you choose the local option, you can set the repository to auto-lock after a specific period. This way, you ensure no unauthorized individuals gain access to your encrypted data.
Concealer allows you to choose between AES 128-bit and AES 256-bit encryption. The main difference lies in the length of the secret key the encryption process uses.
Key Features
Cards and Accounts Templates. Concealer offers a lengthy list of preset templates for storing sensitive files like encrypted passwords, account logins, and software serial numbers. Each template is arranged in a visually appealing way with an intuitive layout, icons, and headings. If you want to use these cards elsewhere, you can export them to text files in a few steps.
Double Protection. Besides encrypting individual files, Concealer bundles them in a repository with AES 256-bit encryption. This effectively ensures double data encryption.
Password Generator. When creating your master password, you can rely on Concealer's password generator. Alternatively, you can use this tool to check whether your password is strong enough. Either way, you will need to remember the password since there's no way to access your files without it.
User Experience
With Concealer, everything is organized intuitively, making it an extremely user-friendly encryption app. The files you drag and drop into the repository get automatically organized. You can use the search function to go through your tabs and easily find what you're looking for.
Pricing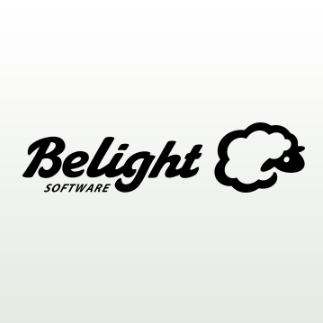 With Concealer, you can purchase a lifetime license for $19.99. If you'd like to use the program on multiple computers, you'll have to pay $34.99. This payment will allow you to install Concealer on up to five machines. Students and academics get a 30% discount on these prices. You can also use a free unlimited trial to encrypt a small amount of data.
Pros
Financial information templates
Visually-striking interface
Easy to use
Double protection
Cons
Lacks features of popular Windows-based programs
7. SensiGuard
Best Encryption Software for Windows Users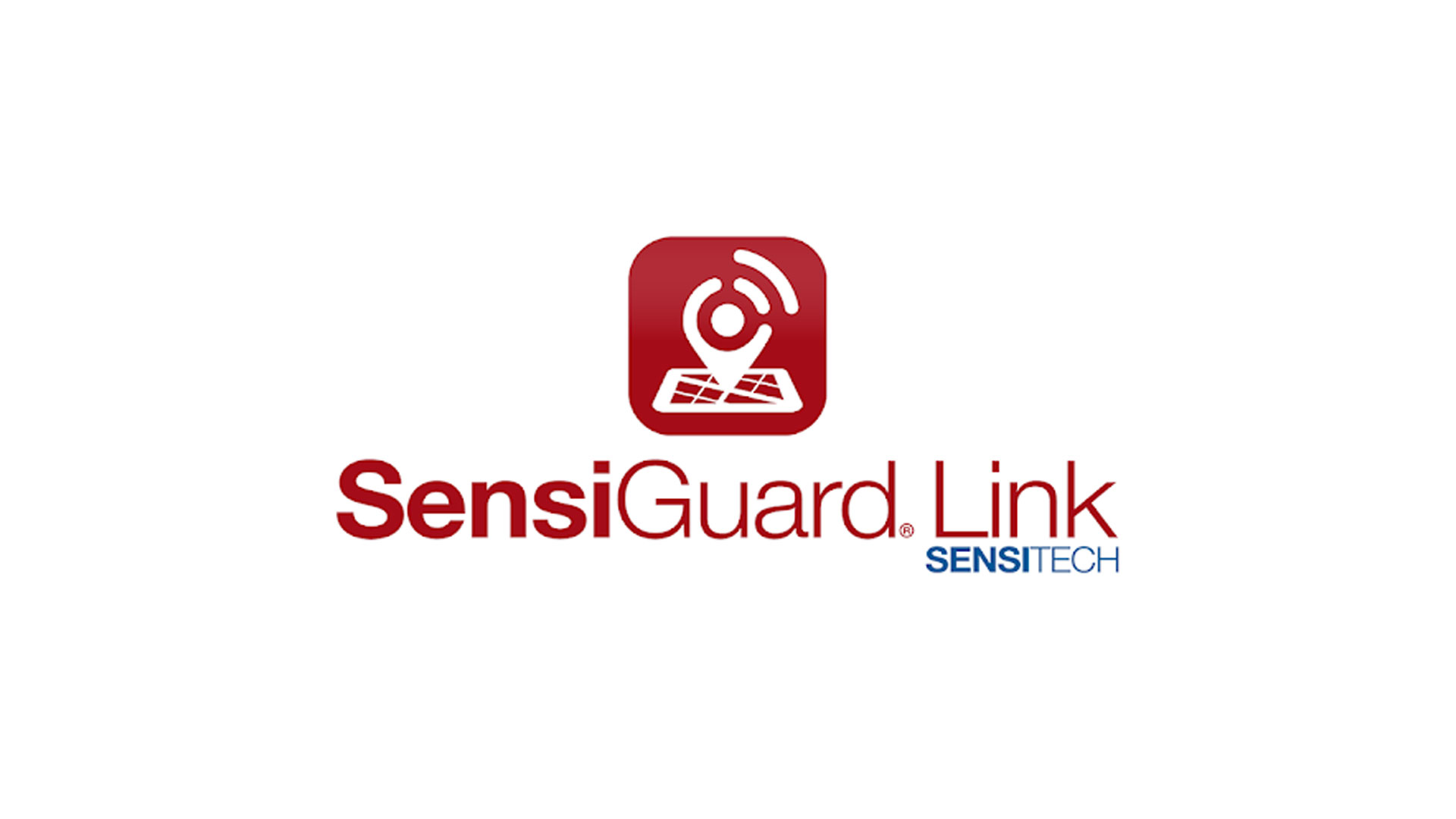 SensiGuard is a competent encryption software for Windows users that employs the AES 256-bit file encryption method. Before it encrypts files, SensiGuard compresses them. This saves space since encrypted data is typically larger than the original files.
SensiGuard is the perfect solution for users sharing their PC with co-workers or family members. Regardless of the Windows version your PC uses, you can encrypt and send files and folders without worrying about unauthorized login attempts.
Key Features
File Shredding. The built-in file shredder permanently deletes files by overwriting the data. This way, no recovery tools can piece them back together.
Password Manager. You can't add encrypted passwords to the Password Manager. Instead, this feature helps you remember your passwords and password-protect removable storage units. So, even if you lose them or they get stolen, their content won't be easily accessible.
User Experience
SensiGuard is extremely easy to use. A wizard will guide you through the installation from the get-go. It will also inform you whether your chosen password is sufficiently strong. You won't be able to proceed if you choose a weak password.
After installing the program, you'll be met with an intuitive interface where you can see files from your entire operating system. You can simply click on the desired files and folders to enable data encryption. Alternatively, enable file and folder encryption from the right-click context menu.
Pricing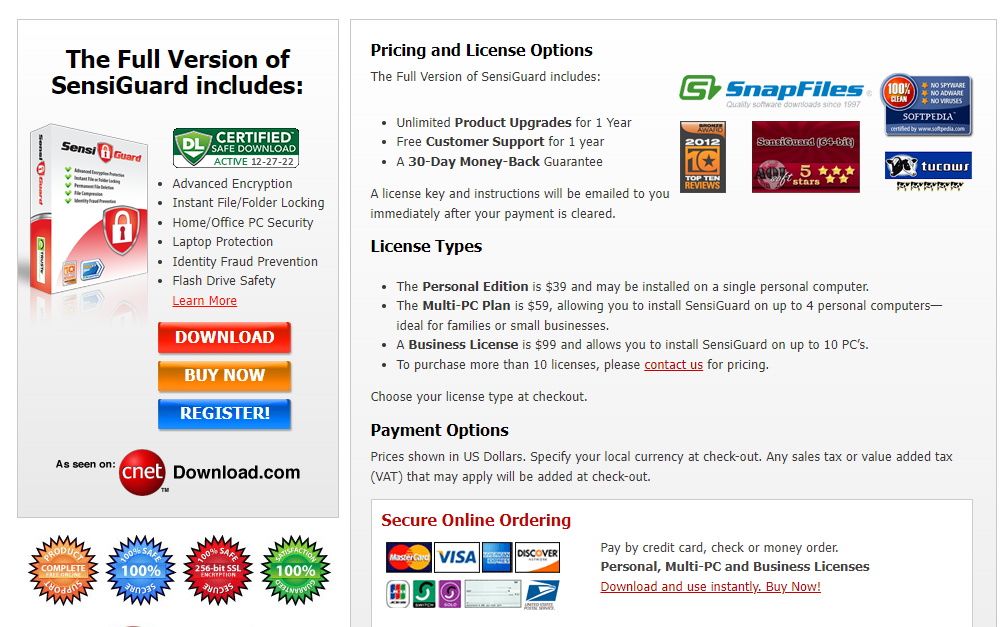 You can purchase SensiGuard for personal use for $39. The company discounts bulk purchases, so a 10-computer license will cost $99. Regardless of your choice, you're purchasing a lifetime license, so you don't have to worry about a monthly subscription.
After paying for the license, you'll receive unlimited product upgrades and customer support for a year. If you aren't sure whether SensiGuard will work for you, don't worry. The company offers a 30-day money-back guarantee, so you can test out the software.
Pros
High compression level
File shredding
Easy to use
Cons
8. Renee File Protector
Best Individual Encryption Software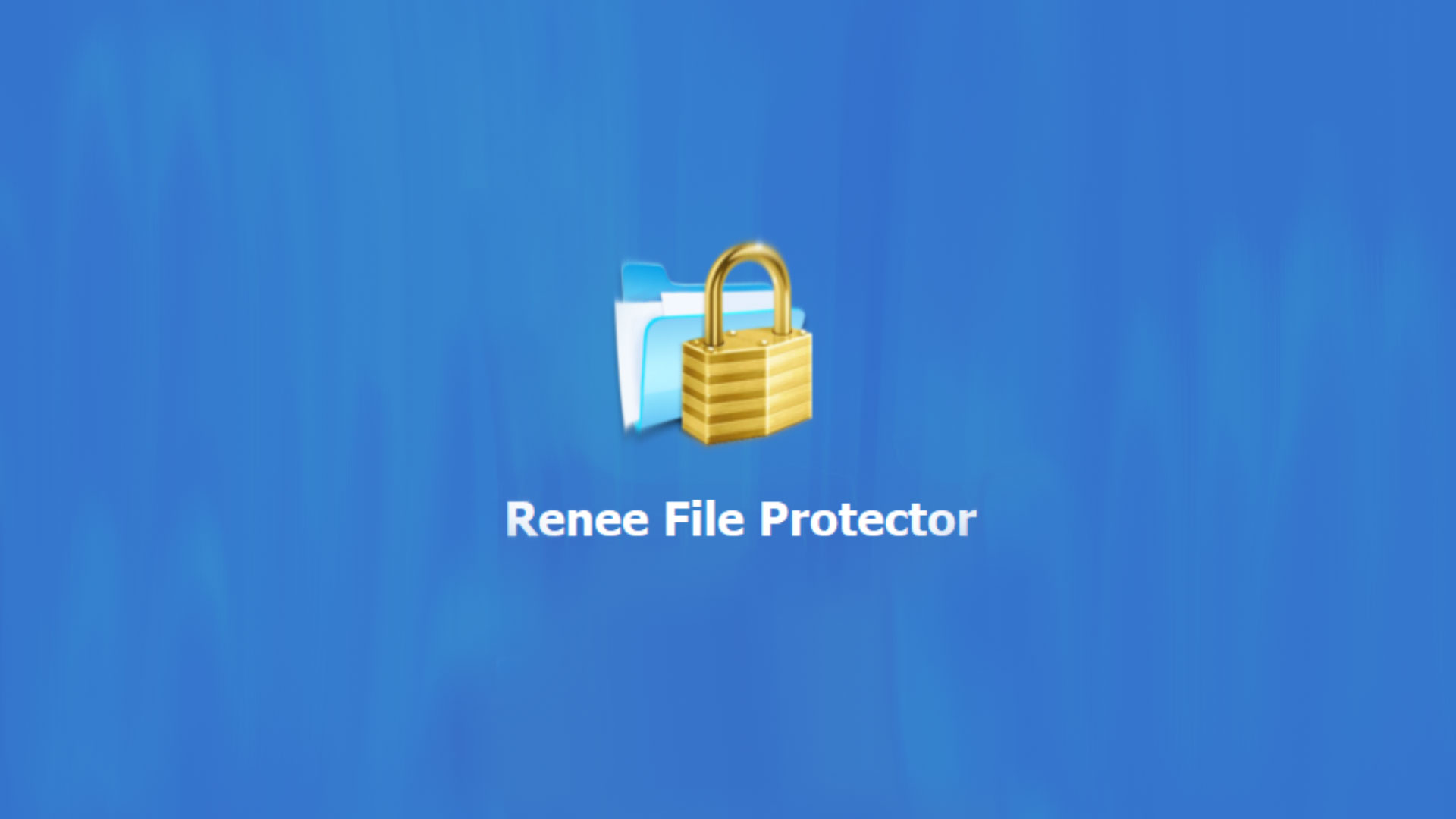 Renee File Protector is one of the best Windows encryption tools. It allows you to have different passwords for separate files and folders, thus creating multiple security levels. If you forget any passwords, the program will provide prompts to help you remember and recover them.
This feature is handy for forgetful users and sets Renee File Protector apart from other programs on our best encryption software list. Most encryption solutions require you to remember insanely complex passwords. If the hints don't help, you can recover your password via email.
When creating the said passwords, Renee File Protector will rate their strength. This way, you'll know whether they're good enough to resist a brute-force attack.
Besides encrypting your files and folders, you can hide them. In this case, they will completely vanish from your computer. The program can also hide itself, ensuring no one knows you use it.
Renee File Protector can also be beneficial if you suspect someone is accessing and altering your files. This software will monitor your files and keep a log of when they are accessed and by whom (for more monitoring software, read here). You can also use this program to protect your files from being changed. When activated, users will only be able to view the protected files.
Key Features
File Shredding. A file shredder is a must for efficient data management of sensitive information. This handy tool will ensure your deleted files are gone for good, and no data can be recovered.
Password Protection. Using Renee File Protector, you can password-protect all your external memory devices, such as USB sticks, memory cards, and external disks.
User Experience
This software program has a fairly familiar interface that any user can navigate. It allows easy browsing through the system, quickly finding files and folders to encrypt, hide, or protect from changes. Alternatively, you can drag and drop files onto the program's window and choose what to do with them there.
Pricing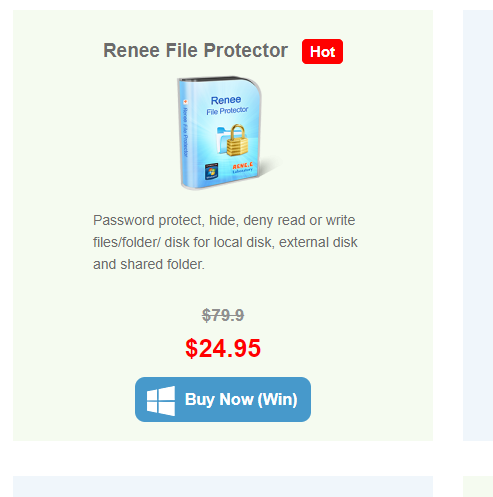 For $24.95, you can purchase a lifetime license for Renee File Protector. The license unlocks all the features and offers unlimited updates and customer support.
You can use the free trial if you want to try the program before buying it. This option comes with all the features but limits you to a single unchangeable password and offers no tech support. In other words, it's great for testing out the program but isn't a practical solution in the long run.
Pros
Strong encryption
Multiple security levels
Excellent hiding feature
Password prompts and recovery
Cons
Decoding the Best Encryption Software
Now that you're familiar with the best encryption software, their features, advantages, and disadvantages, it's time to choose the one most suitable for your needs. You won't go wrong using any of the items on our list, but some programs might fit your budget and system requirements better.
For a well-rounded encryption solution, we suggest using AxCrypt or Folder Lock.
If you're on a tight budget, try Boxycryptor's free version or purchase Concealer for under $20.
Finally, Windows users will enjoy the many perks of using SensiGuard or Renee File Protector.