What Is the Best Graphic Design Software?
No two graphic design software packages are the same. Each has its own strengths and weaknesses, which is why we've dived into what these 13 tools have to offer.
1 – GNU Image Manipulation Program (GIMP)
Our Take
GIMP is a brilliant free photo editing tool that benefits from the support of an extensive community. We love it because it provides so many more tools than you'd expect from a free piece of software.
Most people know of GIMP as a photo editing tool. That's why so many use it as an alternative to Adobe Photoshop.
But GIMP offers much more than that. It comes with a range of creative tools that allow you to build attractive illustrations and artwork from scratch.
Better yet, it's free software. That makes it ideal for experimenting with different design elements without worrying about moving on to a paid subscription.
Key Features
GIMP is highly flexible thanks to a dedicated community that constantly adds new features and customization options.
It uses GEGL scripts for open-source editing.
GIMP enjoys regular updates to key features.
It's compatible with a range of platforms, including Windows, Linux, macOS, BDS, and Solaris.
Pricing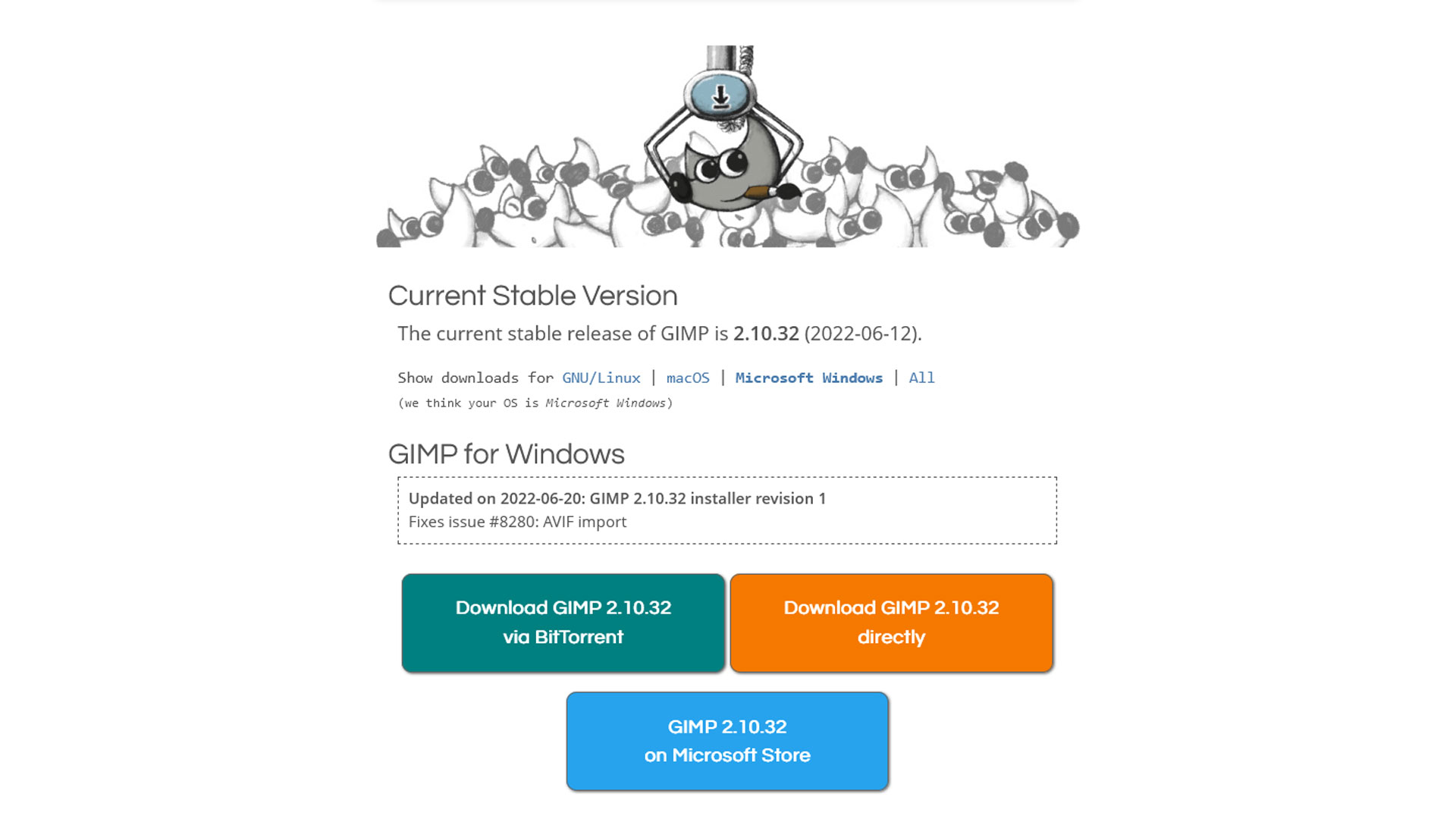 GIMP is a free tool that's completely open source.
Pros
Features several sketching tools, including pencils and airbrushes
Simple user interface for those new to the image editing world
Lightweight software that places minimal demands on your computer hardware
It comes with tutorials for nearly every feature
Offers layering tools so you can place new images under existing ones
Cons
A graphic designer using the macOS version may find the user interface isn't advanced enough
The small development community may not deliver updates as quickly as you'd like
All the tools and features can make it intimidating to new graphic designers
2 – CorelDraw Graphics Suite
Our Take
As a compete graphic design suite, CorelDraw is unmatched. It's also a great choice for beginners thanks to its user-friendly interface.
A graphic design app that combines professional features with a user-friendly interface, CorelDraw Graphics Suite is a collection of different graphic design tools.
The combination of tools makes it ideal for those who need graphic design software for any purpose. In addition to being useful for creating marketing materials and general graphic design, it has tools for vector-based graphic design as well.
Taking concepts from other vector graphics software, CorelDraw combines its many tools into a cohesive package.
Key Features
The software features a customizable user interface that allows you to set it up however you see fit.
It has a huge online digital library featuring hundreds of templates, fonts, interactive frames, and vector editing options.
Flexible payment plans ensure you only pay for advanced features if you need them.
The new "Pointilizer" system allows you to set variable parameters rather than limiting yourself to dots.
Pricing
Though you can't access a free version of CorelDraw Graphics Suite, the software comes with a 15-day free trial.
When you're ready to move onto the paid version, you have the option to subscribe or buy CorelDraw in full.
A subscription costs $23.75 per month or $285 per year. The 2021 full version of this paid graphic design software will set you back $665 for a one-time purchase.
Pros
Compatible with a Surface Pen without any lag or interference
Offers smooth transitions between desktop and tablet modes, allowing you to use touch features easily
The app-wide workflow makes working with vector illustrations simple
Supports multiple file formats, including exporting 48 file types and opening 35, including HTML, AutoCAD, and PDF
Cons
It doesn't come with the free mobile versions you get from the Adobe graphic design software suite
Its many payment options may seem confusing
Though user-friendly, it may not be the best design software for beginners
3 – Sketch
Our Take
Sketch is the ideal tool for beginners trying to get to grips with vector graphics. But experienced designers aren't left out as it features several powerful functionalities.
Sketch is a vector software that is ideal for web design and creating app interfaces. It's also useful for building interactive prototypes to test user interface ideas.
The tool offers a low learning curve, making it a good choice for beginners. Plus, it offers excellent integration options for various other graphic design apps.
But we keep coming back to the vector drawing features. If you want to create high-quality graphics for simple user interfaces, Sketch may be the right choice for you.
Key Features
Sketch is one of the best graphic design options for mobile and web design.
The app has a library of screen templates and responsive web design layouts.
A range of custom plug-ins makes this a more flexible graphic design tool than it first appears.
The low cost of a yearly subscription makes it a good alternative to many professional options.
Pricing
Sketch comes with a simple pricing structure.
The Standard version of this graphic design software costs just $9 per month. A more customizable business option exists, though it costs $20 per month.
Pros
Professional designers can share their entire interface via the cloud
Allows exporting of any layer or group as a PNG file
It has a very low learning curve compared to other graphic design software thanks to its intuitive interface
Autosaves all changes, so you never have to worry about losing work
It comes with libraries of standard design icons for iOS, Android, and Mac
Cons
Lacks the polish of some of the best graphic design software on the market
Currently only available on Mac
The drawing tools offer limited illustration capabilities
No automatic layout flowing options
4 – Affinity Designer
Our Take
If you're a Photoshop user who wants something different, Affinity Designer has you covered. It costs less than Adobe's offering while still providing some great tools.
| | |
| --- | --- |
| Best For | Photoshop Alternative |
| Price | Click to reveal |
| Platform | macOS, Windows, iOS |
| Templates | Available via third parties |
If you're looking for a cheaper alternative to the Adobe creative suite, Affinity Designer may be a good choice.
Its more intuitive interface makes it easier to use than Adobe Illustrator. It's faster too, while still offering a comprehensive array of drawing and editing tools.
While Affinity Designer isn't the most expressive app available, it still offers a solid range of vector art tools. It's also compatible with the Apple Pencil, which is ideal for more complex designs.
Key Features
Allows users to work in both pixel art and vector art environments without opening other graphic design apps.
Can zoom up to 1,000,000% to ensure pixel-perfect accuracy.
It's easy to lock and position your various design elements, thanks to the snapping feature.
Graphic designers will love the grid systems, which allow you to create and manipulate multiple grids simultaneously.
Pricing
Though Affinity Designer isn't a free graphic design software, it's one of the most affordable on the market.
An Affinity V2 Universal License costs $99.99 and is available for Windows, macOS, and iPadOS. The price drops to $69.99 for the Affinity Designer 2 license, though this isn't available for iPad. But iPad users aren't left out. They can get Affinity Designer 2 for a one-time payment of $19.99.
Pros
Rope and window stabilizers allow for the easy creation of smooth and accurate curves
Huge selection of colors for vector images and illustration editing
On-screen guides ensure objects and designs are laid out accurately
The iPad app is as powerful as the desktop publishing tool, despite being much cheaper
Cons
It doesn't feature a natural perspective grid
No vector graphics eraser in the Designer Persona
Not quite as powerful as the best graphic design software
No exporting files in AI
5 – Adobe Photoshop
Our Take
Adobe Photoshop is the most popular photo editing tool for a reason. It's still the best around for touching up photos and making your graphics sparkle.
When most people think of photo editing software, they think of Adobe Photoshop.
This graphic design software is so synonymous with editing photos that we often say an edited image has been "photoshopped."
This design software comes with the ability to function offline and features a strong suite of Adobe tools. Rapid editing is possible thanks to its drag-and-drop functionality.
Of course, advanced graphic designers will get more out of it than less experienced designers. Still, the user interface is simple enough for beginners to figure out how to edit images quickly.
Key Features
Connects to the Adobe Creative Cloud to allow quick synchronizing and more access to powerful graphic design tools.
The app features a huge range of interactive design tools for editing digital images.
Regular updates ensure a user-friendly interface design and the ability to create custom panels and windows.
Pricing
The basic Photoshop plan costs $20.99 per month and comes with a seven-day free trial.
If you want to utilize all its features, you can pay $54.99 per month for full access to the Creative Cloud suite, which includes Photoshop.
Pros
Comes with a free mobile application
A rich set of drawing tools and Adobe fonts
Ideal for editing interactive images, such as animations
Varied customization options, including the ability to create custom brushes, element isolation, and canvas size editing
Connects to the Adobe Creative Cloud, where you can find more photos and Adobe stock images in a vast library
Cons
Photoshop is one of the best graphic design apps, but it's also one of the most expensive
Recurring payments may put you off if you're looking for a basic photo editor
Poor support for vector drawing and raster files
The huge number of features may be overwhelming to anyone other than professional designers
6 – Genially
Genially may be the best graphic design software for those who want to integrate social features into their work.
It allows you to turn any content into professional graphics that look amazing on websites, blogs, and social media channels.
The app also comes with sharing features, allowing you to create social media posts to highlight your work quickly. Better yet, you don't need to install any additional plug-ins to create these social media posts.
Key Features
Choose from a huge range of templates and add your designs to them.
While it doesn't have all the features offered in many graphic design software packages, its simplicity makes it easy to use.
Ideal for creating interactive quizzes and gamification elements for your website.
The tool caters to video presentations as well as interactive images and infographics.
Pricing
Thanks to its free version, Genially may be the best free graphic design tool for people who want to get their feet wet with this technology.
Those looking for a paid option with more features can access the Pro, Master, and Team tiers.
Pro costs $7.49 per month, with the price rising to $20.82 per month for Master. A Team license costs $79.15 per month. All tiers have annual billing rather than monthly.
Pros
Great for creating visual or video presentations
Customize your content with more images, videos, and media formats
Training material is available for graphic design novices
Offers a large range of useful templates
Cons
Though the tool is relatively simple to use once you're used to it, Genially has a less intuitive user interface than other graphic design software
You can't import PowerPoint presentations from your computer with the free version
7 – Adobe InDesign
Anybody who works in publishing will view Adobe InDesign as perhaps the best graphic design software available.
It features a host of templates and tools that make it ideal for creating magazines, brochures, and similar marketing literature. Plus, you can easily export any PDF file into HTML for use on your website.
The user interface is similar to the one Adobe Illustrator and Photoshop use, making it instantly accessible to experienced graphic design professionals. It's also one of the most powerful editing tools available to those who work with vector graphics.
There's a fairly steep learning curve to navigate when you start with Adobe InDesign. However, it's worth the effort to access one of the most powerful marketing and vector graphics tools available.
Key Features
Adobe's AI-powered Sensei technology allows resizing of multiple shapes automatically.
Integrates with Adobe InCopy to allow sharing of colors, texts, and graphics.
Once you navigate the learning curve, it's easy to combine text and graphics to achieve outstanding results.
Automatically adjusts your template's design when you change the text thanks to the Adjust Layout feature.
Pricing
Adobe InDesign has the same monthly subscription price as Adobe Photoshop, with the tool costing $20.99 per month.
You can also access it with a subscription to the Adobe Creative Cloud suite, which costs $54.99 per month. The tool isn't available on Adobe Creative Cloud Express.
Pros
Adobe InDesign makes it easy to combine text and graphics
This graphic design tool allows resizing of multiple objects simultaneously
Has become the industry standard for desktop publishing
Allows you to tag text, such as contents pages and footnotes, with hyperlinks
Supports HTML exporting
Cons
It has a less intuitive user interface than other options
PDF comment integration doesn't work as well as it could
Not ideal for those who are new to graphic design software
Fairly expensive due to the monthly subscription
8 – Vectr
If you're looking for the best free graphic design software for vector art, Vectr is one of the top choices.
This vector software allows you to create stunning vector designs, as well as offering a useful suite of vector editing tools.
It's free to download, with a Chrome plug-in that makes it ideal for people who want to edit as they browse.
Key Features
The simple user interface makes this one of the best design software for beginners.
Its real-time sharing features allow you to invite others to view and edit your work.
The software offers an array of useful tools, as well as custom shapes and plenty of popular fonts.
The scalable graphics features allow you to resize images without losing clarity.
Pricing
Vectr is free vector software, with the team behind it committed to making it free forever.
Pros
An intuitive interface makes Vectr great for beginners
This graphic design tool is free forever
Image resizing tools come with AI functionality to ensure quality
You can share projects online with other collaborators
Cons
Vectr doesn't have a desktop version, which limits you to the online interface
It doesn't offer advanced features like some other graphic design software
9 – Inkscape
If scalable graphics are your thing, Inkscape is the best graphic design software for you.
Better yet, it's a free graphic design tool. New graphic designers, as well as hobbyists who want to play around with vector art, should find everything they need with Inkscape.
There's not much more to say. Though it isn't as feature-rich as software like Adobe Illustrator, Inkscape focuses on doing one thing very well.
Key Features
Inkscape offers an excellent user experience, which should be immediately familiar to veterans of Adobe Photoshop.
The strong community of developers ensures that updates come thick and fast. You'll always have new features to explore.
As it's an open-source graphic design software, you can personalize the tool as you see fit if you know how to code.
Pricing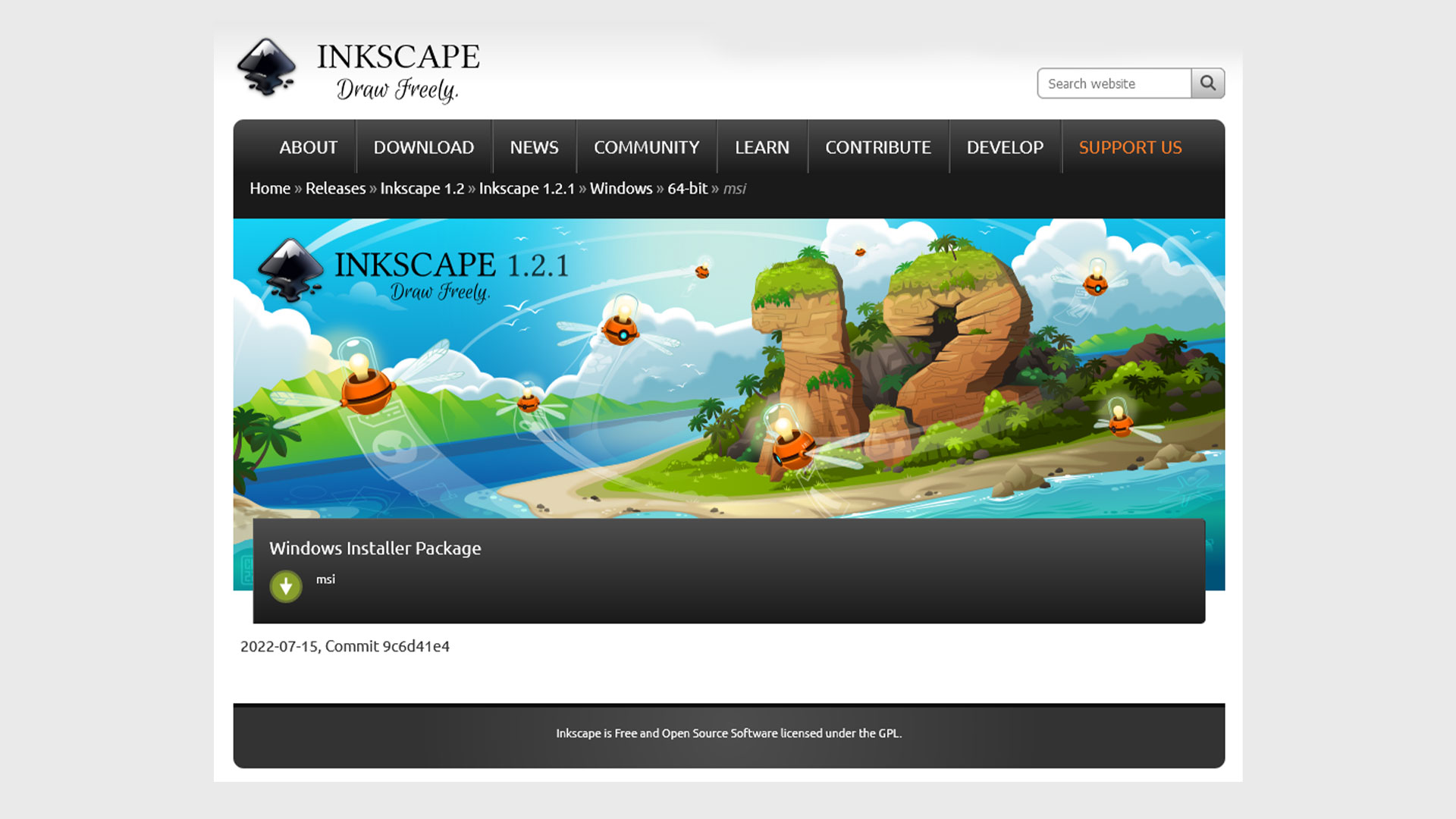 Inkscape is a free graphic design software with a dedicated open-source community behind it.
Pros
Supports multiple gradients and comes with tools for complex combinations
Compatible with a range of community-created plug-ins
Comes with preset filters and categories
Allows you to move nodes easily with Bezier handles
Cons
Some Mac users find the software a little buggy
It takes longer to process designs than other graphic design software
Limited compared to some of the best paid graphic design software
10 – Gravit Designer
Gravit Designer is an HTML-based tool that's useful for creating vector art and graphics.
Its vector editing tools make it an excellent graphic design software package for web designers. It's also useful for product design, especially during the early prototype stages.
A handy dashboard makes it easy for users to switch between designs instantly. Plus, it's available as both a browser-based tool and for several operating systems, including Mac, Windows, and Linux.
Key Features
Gravit Designer includes a powerful dashboard with a good interface design. You can use this dashboard to switch between tabs and alter a document's height and width.
The graphic design software offers several useful tools, including Pen, Lasso, and Bezigon tools.
You benefit from cross-platform capabilities that allow you to create a design using one operating system and then edit in another.
The software includes artboards and pages that come as part of its canvas settings.
Pricing
Gravit Designer has a free version that offers PDF exporting and compatibility and 500 MB of cloud storage.
The Pro version retails for $99.99, though it's often reduced to $49.99. This version works with a range of touch devices and offers more advanced exporting features.
Pros
The modern user interface is easy to customize and is great for beginners
Supports multiple file formats for importing and exporting
Simple editing of scalable vector graphics
Ideal for sharing designs using social media posts
The Pro version offers unlimited cloud storage
Cons
Official resources don't provide much guidance on how to use this graphic design software
No real-time collaborative tools
You need to have an internet connection to access the font library
11 – Adobe Illustrator
Adobe Illustrator has become the industry standard for vector illustrations, page layouts, and logos.
On top of its illustrative tools, Adobe Illustrator is also a useful graphic design software that allows users to create website mock-ups and simple drawings.
This is among the best graphic design software packages for vector drawing because it offers more features than you'd expect. Beyond creating simple vector illustrations, you can add custom shapes and easily apply text to designs.
Key Features
Adobe Illustrator offers exceptional customization options and is easy to use due to drag-and-drop functionality.
The app offers cross-platform compatibility for Windows and Mac users.
The smart user interface design allows you to customize your workspace as you see fit.
Useful in-panel editing features improve efficiency by allowing you to work on multiple artboards at once.
Pricing
As with many other Adobe graphic design software packages, Adobe Illustrator is available for a monthly subscription fee of $20.99.
It's also included in the Adobe Creative Cloud suite. For a monthly fee of $54.99, you get access to Illustrator, Photoshop, and much more. The tool is not included in the Adobe Creative Cloud Express.
Pros
It uses mathematical equations to generate graphics instead of storing pixels
Integrates well with other Adobe products via Creative Cloud
Offers access to over 90 million templates, graphics, images, and videos from Adobe Stock
Its graphic files are small enough to send via email
Choose from thousands of Adobe fonts to support your designs
Cons
One of the more expensive graphic design software packages focused on vector graphics
Though it offers small file sizes, the software requires a lot of hard drive space
Tons of features can make Adobe Illustrator overwhelming to new users
12 – Photoscape
If you have a huge photo archive, Photoscape offers an array of useful editing tools.
Beyond the basics, such as resizing, brightness adjustment, and filters, Photoscape gives users access to a batch editor. If you want to alter multiple photos at once, this is one of the better graphic design software packages for the job.
The price is another plus point.
Photoscape is one of the best free graphic design software packages around. While it obviously offers photo editing tools for beginners, professionals should find that there's more than enough here to support their work.
Key Features
Photoscape is a multi-lingual graphic design software that comes with support for the English and Korean languages as standard. Users can also access over 30 additional languages.
The simple user interface makes Photoscape great for new designers who find themselves feeling overwhelmed by the sheer volume of options Adobe's graphic design software offers.
The software's Design Module features a ton of photo editing tools that allow you to experiment with practically every aspect of your design.
Photoscape comes with well-labeled editing tools, meaning you won't waste a lot of time trying to figure out what you're doing.
Pricing
You don't have to pay a penny for Photoscape. It's free graphic design software that's available to Mac and Windows users.
Pros
The batch editing features are ideal for users who regularly edit a large number of images
This graphic design software can open RAW files and comes with tools to convert those files into JPEG images
The cross-platform design allows you to edit photos on both Mac and Windows devices
Serves as an integrated imaged editing and graphic design suite
Very lightweight compared to other image editing software, like Adobe Photoshop
Cons
Photoscape isn't available for the Linux operating system
Features fewer advanced image editing features than the Adobe suite of tools
13 – Xara Designer Pro X
Xara may be the best graphic design software for web and print design.
It comes loaded with a host of photo editing and web design tools, which makes it an excellent choice for creating stunning web pages.
It's also easy for beginners to get a handle on, thanks to its drag-and-drop functionality. Placing an item on a page is as simple as selecting it and pulling it into place.
Key Features
Designers can access anti-aliasing effects, allowing them to improve the quality of their on-screen images. Blending and softening edges ensure your illustrations look better than ever.
Xara is compatible with Google Drive and Dropbox, allowing you to sync files between the two and share images easily.
It offers support for many file types, including JPEG, GIF, and PNG. Crucially, Xara allows you to import and export PSD files, which are the Adobe standard.
The zoom tool magnifies your image up to 25,000%, making it ideal for picking out issues.
Xara's excellent editing options make it a great choice for image scaling and rotating.
Pricing
Xara Designer Pro X's pricing varies based on the type of subscription you choose and whether you go for the cloud option.
The basic Xara Designer Pro package costs $19.99 per month. You can reduce this to $14.99 per month if you're willing to make an annual payment of $179.88.
If cloud functionality is important to you, the Cloud Pro+ version of this graphic design software will set you back $22.99 per month. Again, you can reduce the cost, this time to $16.99 per month, if you make a one-time annual payment.
Pros
Offers faster performance than many other graphic design software packages, allowing for rapid editing
The powerful vector rendering engine delivers complex graphic designs efficiently
Can sync files between Dropbox and Google Drive
Supports Adobe's standard file format
Cloud capabilities allow you to view and edit documents via your web browser
Cons
The app is only available for the Microsoft Windows operating system
Xara has a fairly steep learning curve that may confuse new users
The masking feature isn't as streamlined as we'd like
Find the Best Paid and Free Graphic Design Software
When combined, the 13 apps highlighted in this article offer the best graphic design software available today. Each has a purpose, with some being suitable for advanced users while others are better for beginners who want to come to grips with image editing.
Consider your needs before making your decision. For example, the Adobe suite of software packages offers a ton of advanced features. However, you may not need those features for a basic project. In many cases, a free tool may do the job adequately without requiring you to shell out money for a subscription or pay an expensive one-time fee.