What Are the 10 Best Note-Taking Apps on the Market?
The list of the best note-taking apps below consists of both free and paid plans. While some apps have a steeper learning curve and more complex features, others only target taking notes in plain, minimalist interfaces.
Let's dive right in.
1. Evernote – Best Note-Taking App for Businesses
Evernote is one of the best note-taking apps that has it all. It's available as a mobile app, browser extension, and desktop app. You'll hardly be able to find an alternative app or web clipper that offers as many features and functionalities as Evernote. You can download an app for iOS and Android devices in their respective stores.
Given its relatively high price, this app can be a major turnoff for users on a tight budget. However, if it suits your budget then you're in for a sophisticated, organized, and fully synchronized note-taking experience.
The search tool is very fast and responsive and the app can handle large notebooks with ease. There has also been a recent redesign in the editor that now makes it easier to format notes, change the font color and size, and more.
Great note-taking apps like Evernote don't leave their users without assistance. You can explore tips and tricks on the official Evernote company blog to make the most out of the software.
With Evernote, you can save, record, search, and organize your notes, thoughts, images, voice recordings, and files. The system stores your notes in the cloud, so they are easily accessible across devices.
Unlike the Apple Notes app for Apple devices, which is closer to digital sticky notes or reminder apps, Evernote is like a large filing box where you can do advanced searches for information.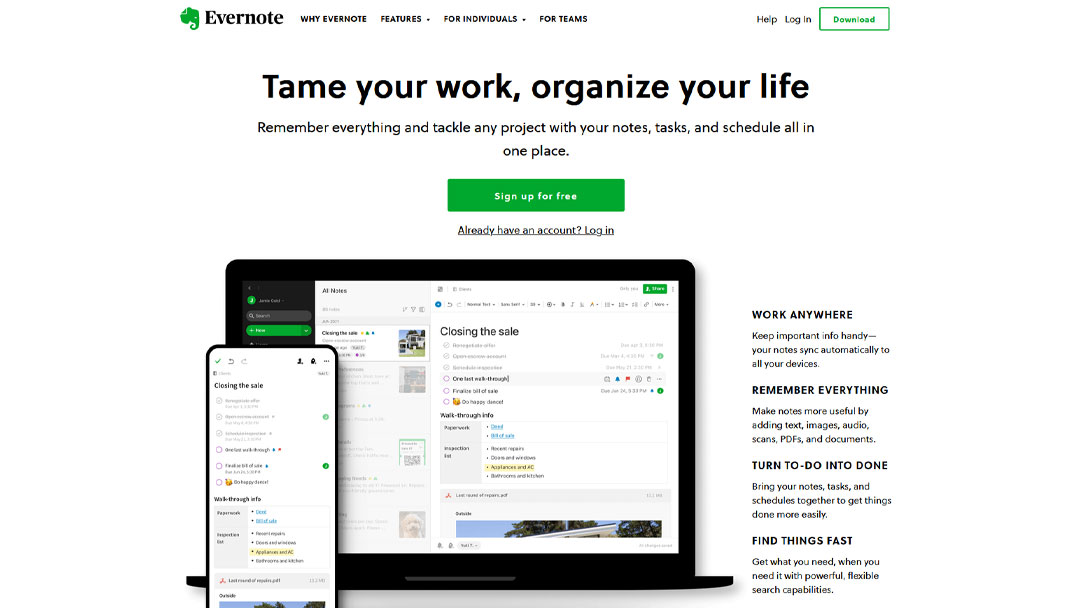 Key Features
Web clipper
Templates
Calendars
Scanned documents reader
Numerous integrations (Slack, Google Drive, Microsoft Teams, etc.)
Search handwriting
Advanced search in Office docs, presentations, images, or scanned documents
Pricing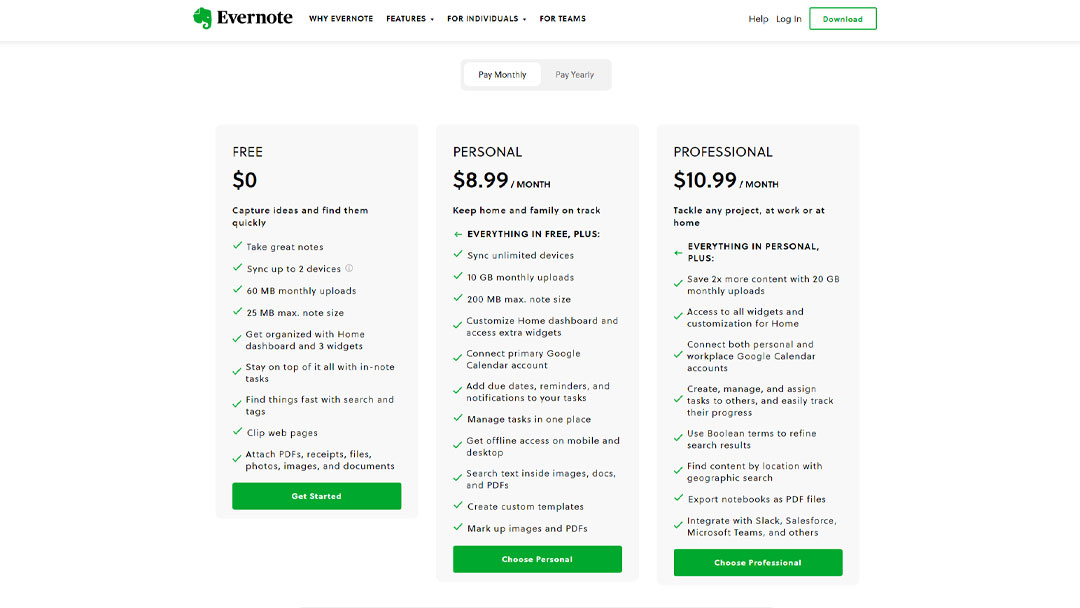 At the time of writing, Evernote offers three plans:
Free – $0.0 per month
Personal – $8.99 per month when billed monthly, $6.67 per month when billed yearly
Professional – $10.99 per month when billed monthly, $9.17 per month when billed yearly
Pros
Feature-dense software
Easy digital note-taking
Advanced search in all document types
Syncs across all your devices
Cons
Expensive premium plan
Numerous free account limitations
2. Zoho Notebook – Great Note-Taking App for Web and Desktop
Zoho Notebook is an all-in-one note-taking app that can tackle all notes-related needs of professionals, students, and hobbyists alike. The app is completely free to download and use, with a more advanced version being available at an affordable price.
The Notebook app has seen steady improvements over the years and is now capable of syncing content across devices and major platforms online. The software is available as a web clipper extension for your browser, mobile app (for iOS and Android), and desktop app.
Zoho Notebook is one of the top note-taking apps that can also record audio notes, add password protection on specific notes, and has plenty of sharing and collaboration options.
The free Zoho version is more than enough for making and organizing basic notes in the mobile or web app. There's no storage limit, no in-app purchases, and all you have to do is focus on the essence of this note-taking software.
The major downside, however, is the lack of instant collaboration features.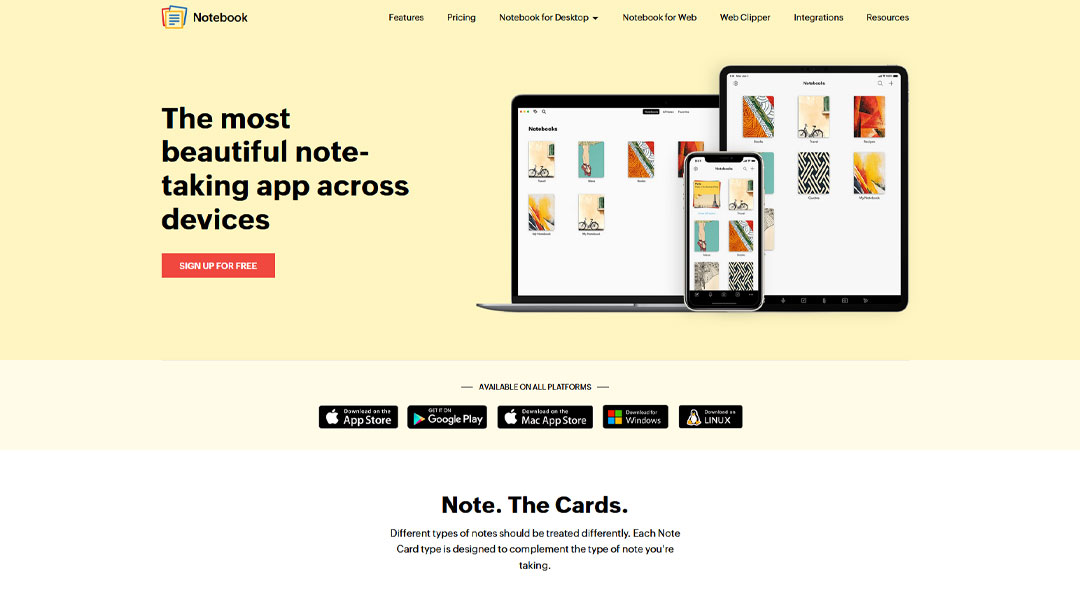 Key Features
Merge and link notes
Turns emails into notes
@mention to share notes
100 GB storage in the Pro plan
1 GB file upload size
Users can set reminders
Web clipper
Google Suite, Zoho Ecosystem, Slack, and Teams integration
Pricing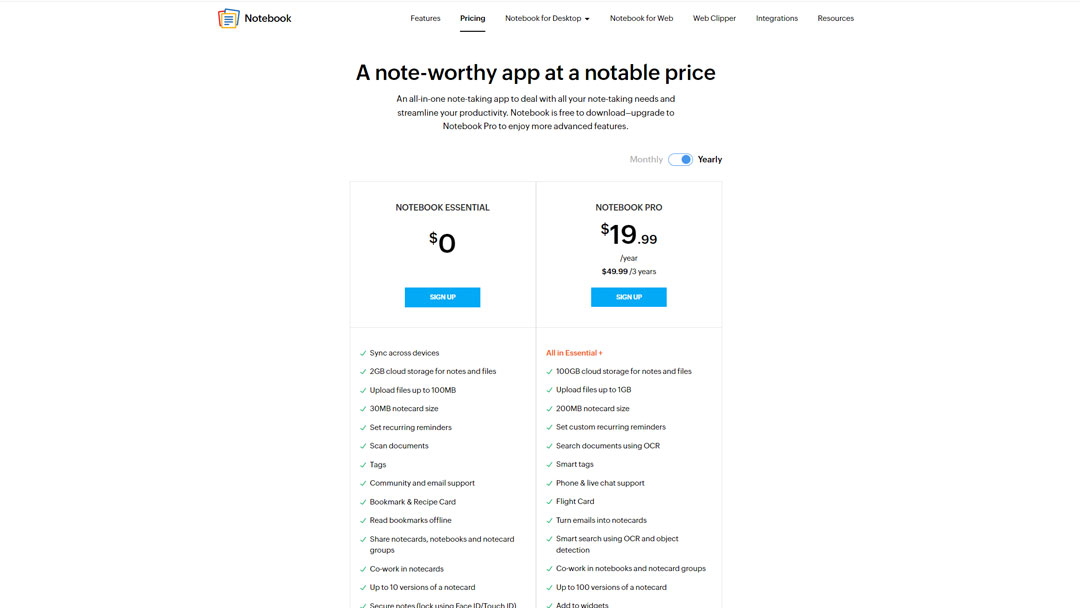 Zoho Notebook has a free package called Notebook Essential and a Notebook Pro plan that costs $19.99 when billed yearly. For monthly payments, you'll pay $1.99.
Pros
The user has access to data offline
Affordable pricing
Easy to use
Can scan documents, business cards, and tabular data
Cons
Lacks note templates
It doesn't support guest note sharing
It doesn't have the Annotate PDF feature
3. Notion – Best Overall Note-Taking and Task Management App
Notion isn't your simple note-taking app. It's a comprehensive software that works in blocks. It has hundreds of pre-made templates, table database blocks, a robust text notes editor, and excellent project management possibilities.
Notion can cater to all types of users. You can write notes, create schedules, import web pages, and have a well-organized digital notebook with very little effort. The focus on the creative side and unique design make Notion one of the top apps for taking notes.
Many people mistake Notion for a project management tool. But in essence, this software is better described as an advanced note-taking tool with powerful project management features on the side.
Notion has all the features you can expect from highly-ranked productivity apps. You can store notes on the cloud, integrate with other apps, use it on Android and Apple devices, and play with templates for creating any note.
Other note-taking apps offer robust features in terms of efficient note organization, but they can hardly compete with Notion. The built-in text editor is built for focus due to its distraction-free interface. You can use shortcuts to easily add to-do lists, images, web pages, videos, bookmarks, pages, headings, etc.
You can organize notes in databases, folders, and files inside of pages, tag the notes with keywords, add teammates, create due dates, and more.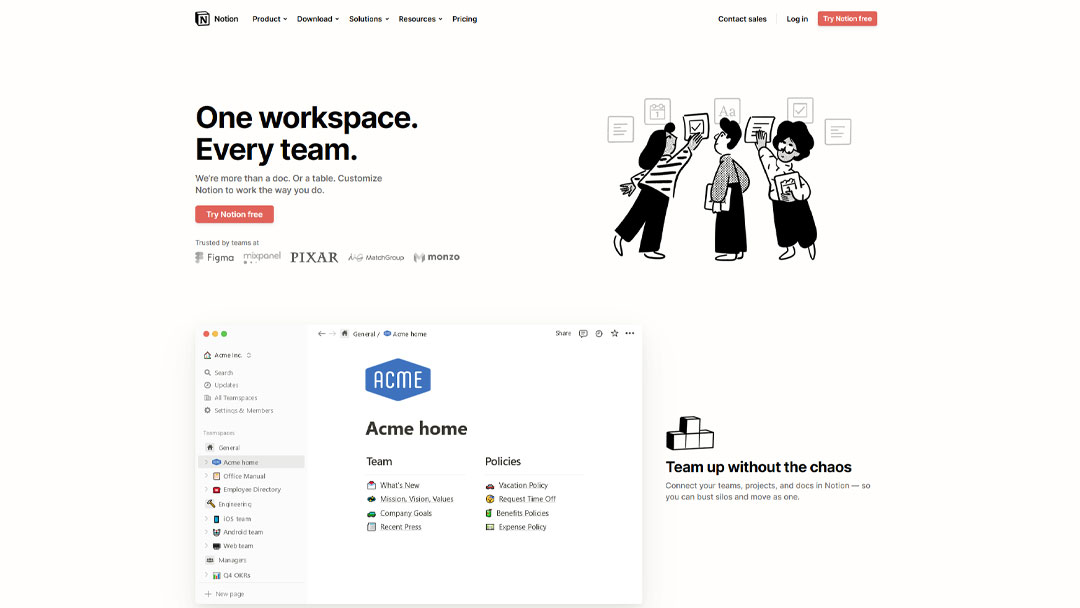 Key Features
Intuitive and easy-to-use text editor
Table database blocks
Bookmark saving and display
Board database block
To-do lists
Public pages
Endless customization
Pricing
Notion offers a free version with unlimited blocks as well as a limited block trial for teams. There are three paid plans, including:
Plus (formerly known as Team), $8 per month per user when billed annually, $10 when billed monthly
Business plan for companies and teams, $15 per user per month when billed annually, $18 when billed monthly
Enterprise plan for advanced support and controls for organizations at a custom price
Pros
Page creation
Integrated templates
Fun dashboard
Great for team sharing
Cons
Very few functionalities in the offline mode
The Kanban board could be better
4. Hive – Best Note-Taking App for Meetings
Hive Notes is a robust note-taking app with powerful integration features that works great with Zoom, Outlook, Google Calendar, and other apps and meeting platforms. Users can access their Hive Notes during Zoom meetings for effortless note-taking and sharing.
Real-time collaboration tools allow all meeting participants to see the notes but also to assign action items within the meeting. As a result, virtual meetings offer a brand-new experience that's much more interactive.
Hive constantly updates its features and makes it easy to organize one's workload, insert new assignments, and move notes around. It's one of the reasons why project managers across industries love the platform.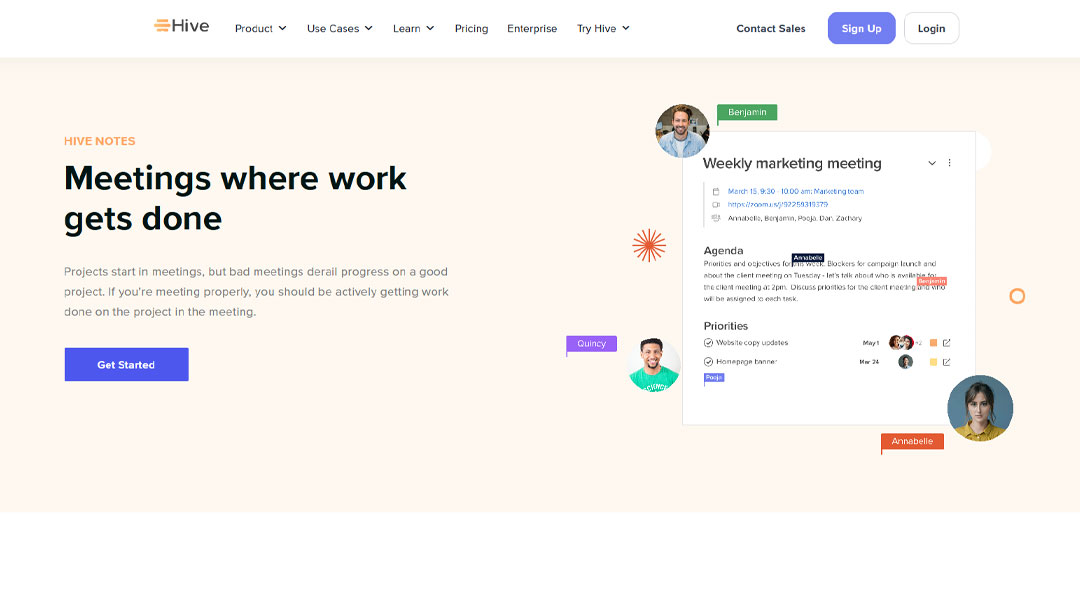 Key Features
Link notes to calendar meetings
Share notes with meeting attendees
Agenda creation
Task automation
Meeting alerts that link to the meeting note
Pricing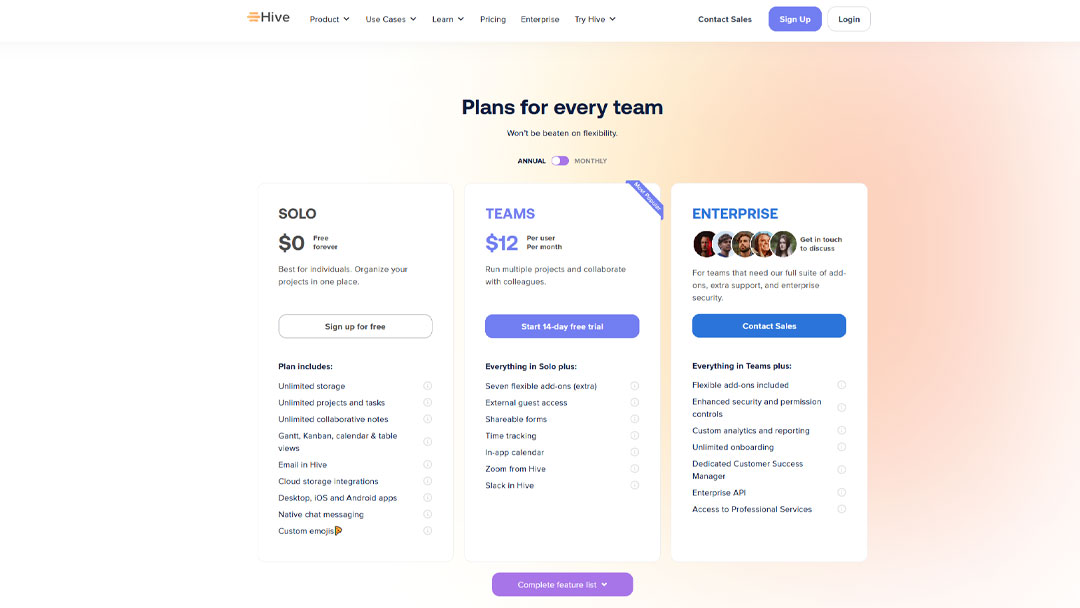 The Hive Notes app is available as part of the more extensive Hive project management software. The company offers three plans:
Solo or free forever plan for $0.0.
Teams plan for $12 per month per user with a 14-day free trial
Enterprise plan with custom pricing
Pros
Ideal for Hive users
It makes in-meeting note-taking a breeze
Easy to use
Cons
The note-taking tool is only available as part of the Hive project management package
Not suitable for general use, given that the focus is on meeting note-taking
5. Typora – Best Note-Taking App for Individuals
Typora is your go-to note-taking app if you're after distraction-free software. Most note-taking apps on the market are equipped with dozens of features, customization options, and functionality to make sharing and editing easier. However, very few of them put the action of note-taking in the center. That's where Typora excels.
With Typora, you have a distraction-free environment for creating content. It has a simple interface and a cross-platform editor you can use on Mac, Windows, and Linux computers. This open-source program is ideal for those who need a clean space to start writing a blog or book.
In Typora, you can format your notes to include headers, images, lists, code fences, tables, diagrams, and much more. You can also track the word count, use the outline panel to see the structure of your document, and organize files using the file tree panel and side panel.
Key Features
Outline panel
Auto pair
Code fences
Live preview
Focus mode
TypeWriter mode
File manager
Custom themes
Syntax highlighting
Pricing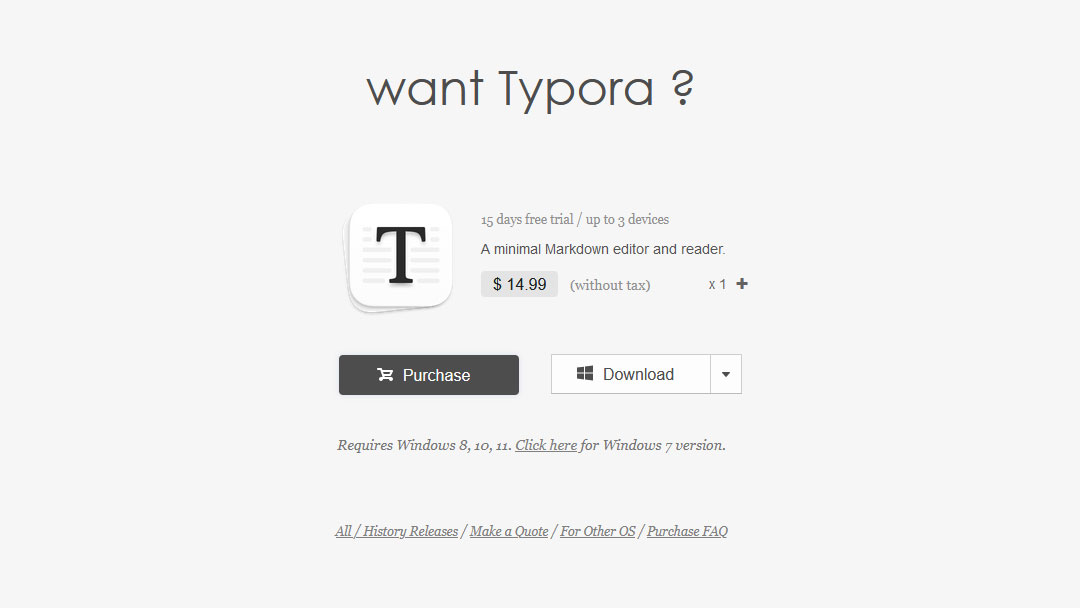 Typora comes at $14.99 for a lifetime purchase with a 15-day trial.
Pros
Distraction-free writing mode
Markdown syntax
Can export to HTML, PDF, and more
Free to use
Cons
Not suitable for collaboration
Limited cross-platform support
6. Bit.ai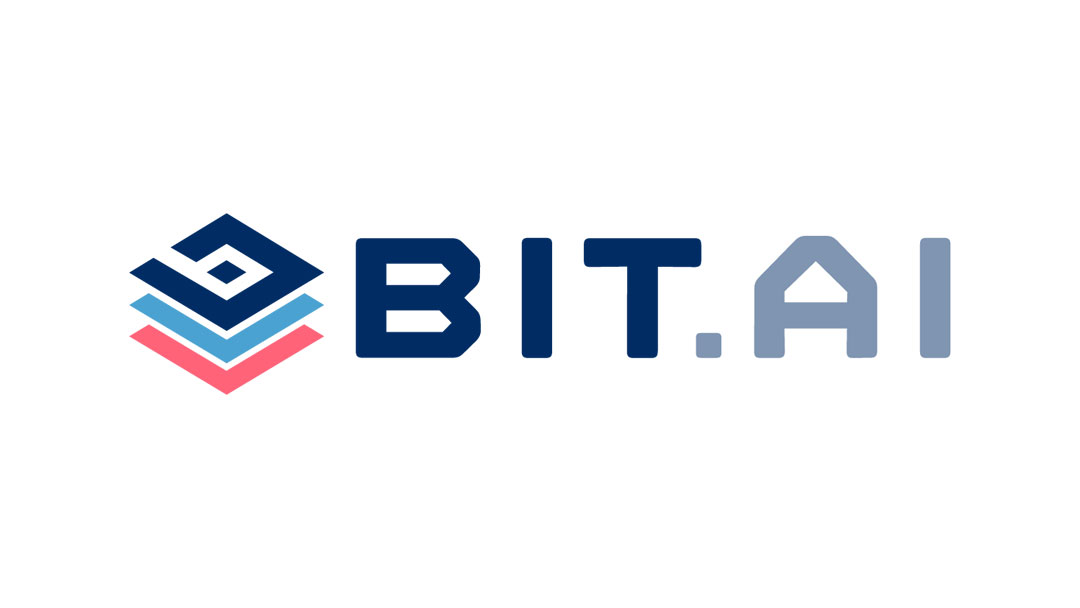 Bit.ai is one of the leading workplace and document collaboration platforms for teams and individuals alike. It's the perfect place to organize your knowledge in a single platform, regardless of where you're located.
The system lets you create dynamic notes, wikis, documents, projects, knowledge bases, technical documents, client portals, training guides, and much more.
Choose from different template galleries, invite team members, use a smart text editor, and pick a project-specific theme color and design to bring note-taking to another level.
Users can integrate numerous media embeds into their notes, including:
YouTube videos
Vimeo
TED
CloudApp
Pinterest Boards and Pins
Facebook
Twitter
Google Docs, Slides, and Sheets
OneDrive files
Tableau
Trello
Canva
Figma
Much more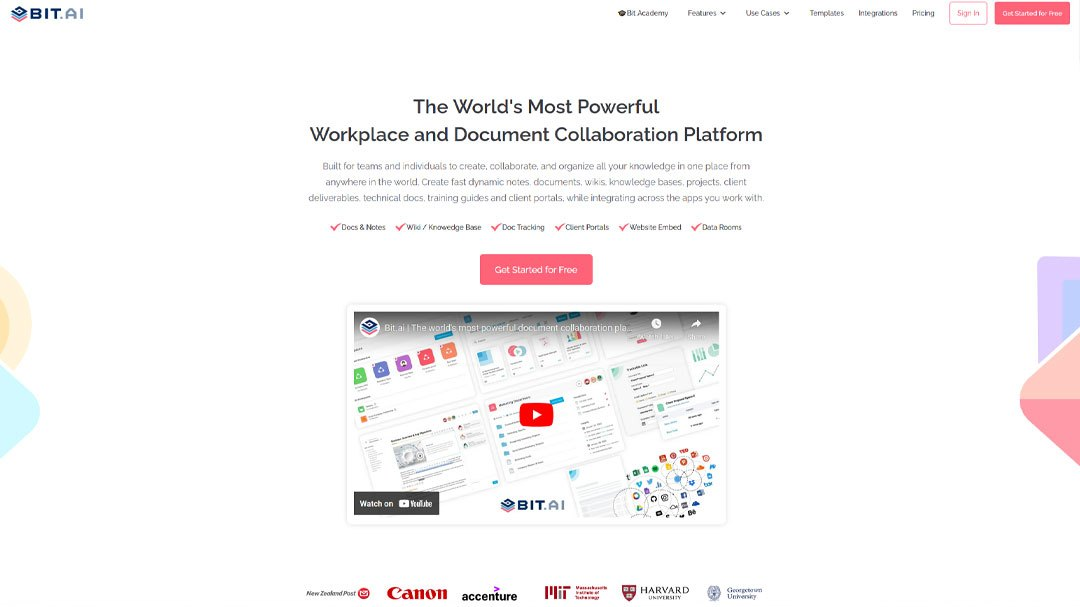 Key Features
Multiple workspaces
Folders and subfolders
Content library and control
Cloud upload
Document editor
Auto formatting
Document themes
More than 100 file formats supported
Code blocks
Real-time collaboration
Pricing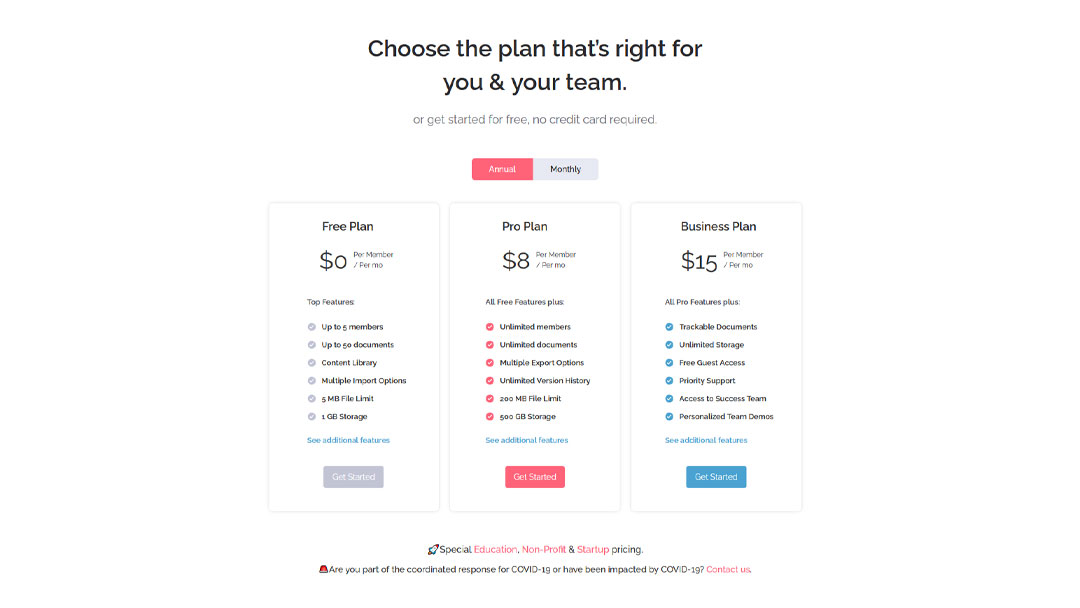 Bit.ai has a free plan with limited features. There's also the Pro plan for $8 per month per user when billed annually and $12 per month when billed monthly. The Business Plan for teams is $15 per month when billed annually and $20 per month for monthly payments.
Pros
Ability to embed media
Plenty of tutorials online
Easy to use
Cons
No app version is available
Limited formatting
7. Nifty PM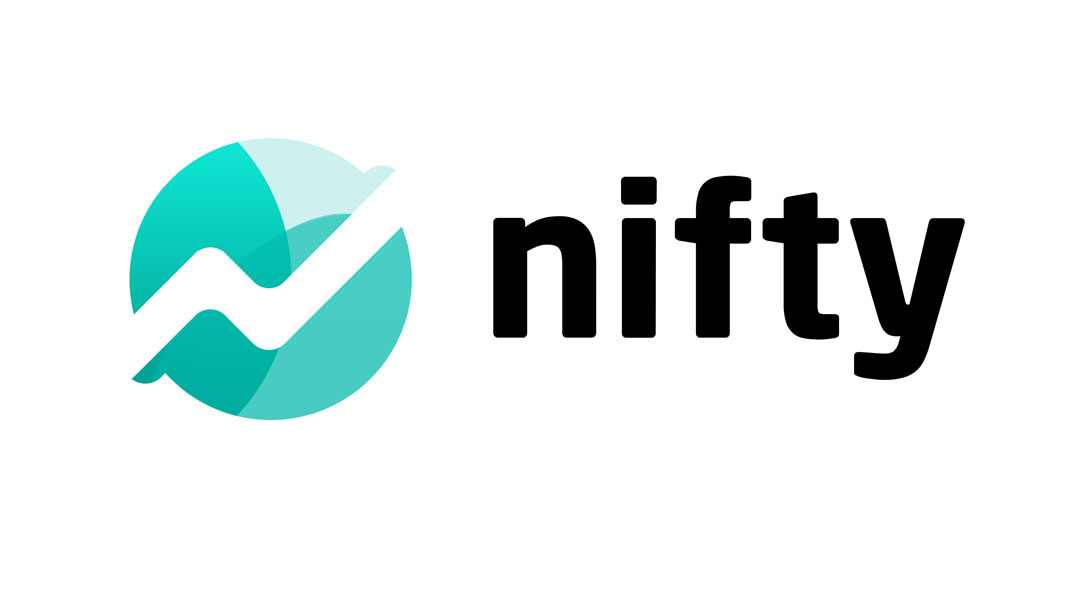 Nifty is a project management software that makes working on large-scale projects with large teams a breeze. The system has a collaborative workspace for organizing tasks, tracking time, managing documents, and more.
The Nifty project management tool isn't your regular note-taking app. It's an all-in-one solution for collaboration with a chat feature, task management, and deadline-highlighting functionality. Users can leave comments to collaborate with team members directly on tasks. There's also a robust integration with Zoom and Google Drive.
Users can use the chat or built-in docs tool for note-taking whenever they need to brainstorm new ideas. Instant collaboration on documents, discussions feature, and interactive Gantt charts make note-taking easy in this software.
The software is available for desktop use as well as for iOS and Android apps. Users can set milestones for tracking projects, color-code them depending on the progress and due date, and organize projects into folders depending on locations, departments, and managers.
You can set different user roles and permissions for different team members, including members, owners, admins, and guests.
Nifty supports integration with other project management tools like Asana, Basecamp, Trello, and others.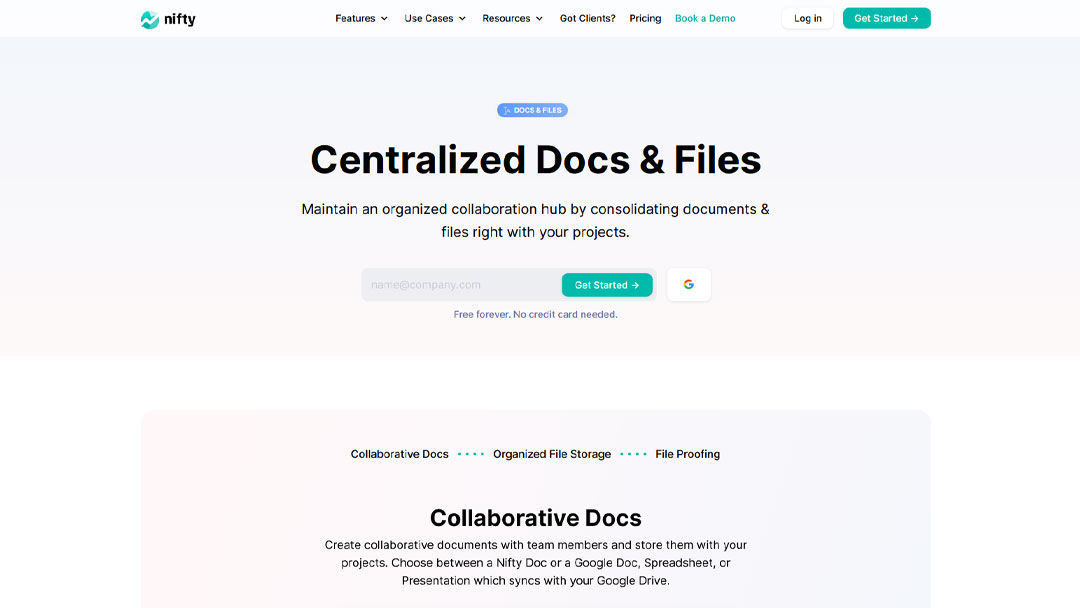 Key Features
Discussions
Docs and files
Time tracking
Reporting
Project portfolios
Gantt chart milestones
Pricing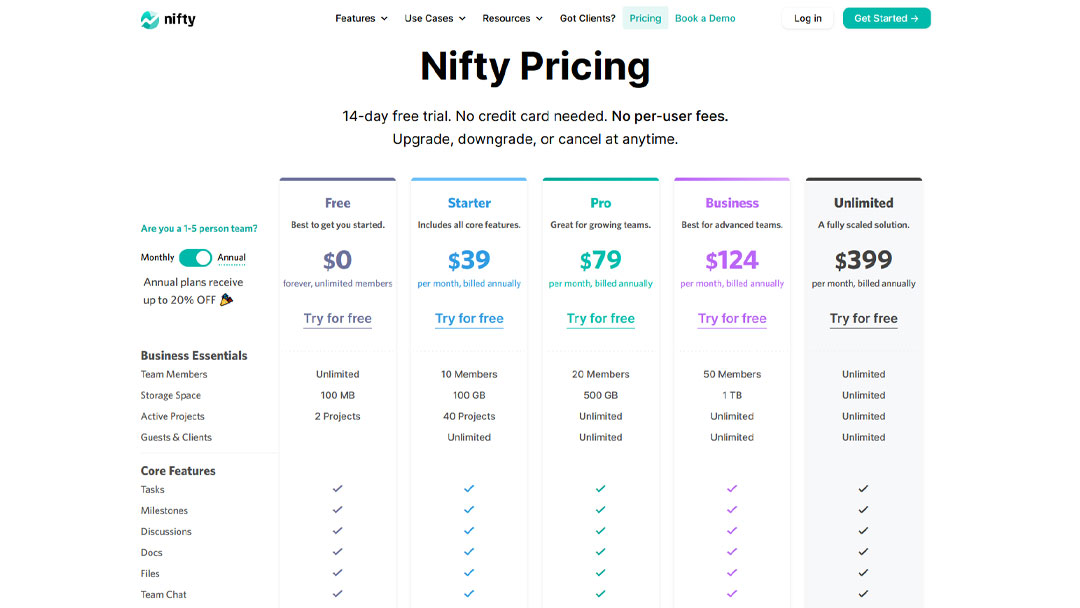 Nifty has numerous plans depending on your needs:
Forever free version
$5 per month per member Starter plan
$10 per month per member Pro plan
$16 per month per member Business plan
Enterprise plan at custom pricing
Pros
Regular updates
Affordable all-around project management tool
Intuitive interface
Great mobile app
Cons
Lacks custom automation
No dashboards
No PDF annotation
8. ClickUp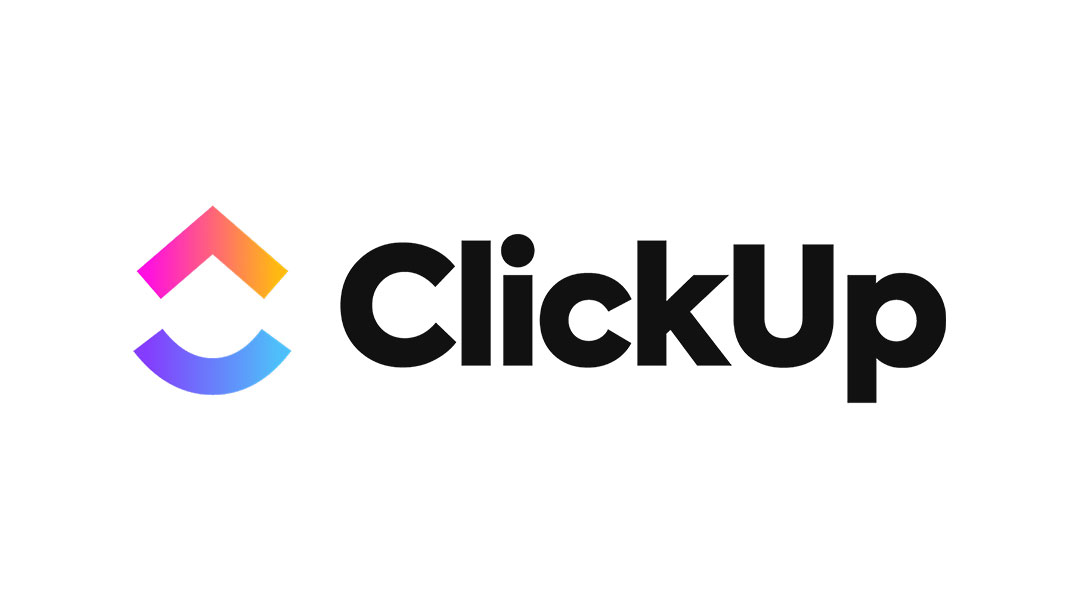 ClickUp is a project management tool ideal for users who wish to streamline their daily activities. The platform includes plenty of collaboration tools, an online whiteboard, a resource management feature, data dashboards, custom charts, and more.
The platform is available for free, but there's also a premium version with advanced features. The free plan doesn't include a user limit, supports time-tracking features, and has robust file editing functionalities.
The user also has access to Gantt charts, Kanban boards, and Spreadsheet view to advance their project management skills (Curious about project management software? Check out our review of Jira).
Best of all is that whenever you need help, ClickUp has 24/7 customer support both for the premium and free versions.
Overall, the app is straightforward to set up, and it includes a customizable task link. Users can access all the needed tools from the vertical bookmark bar. You can also create custom project templates, assign sub-tasks, automate projects, and much more.
As an admin, you can organize teams and departments into different Spaces, group projects into folders, and divide tasks into lists. Every ClickUp plan has a dedicated Notepad where you can make notes on projects. Create grocery lists, save images and links, and convert notes to tasks.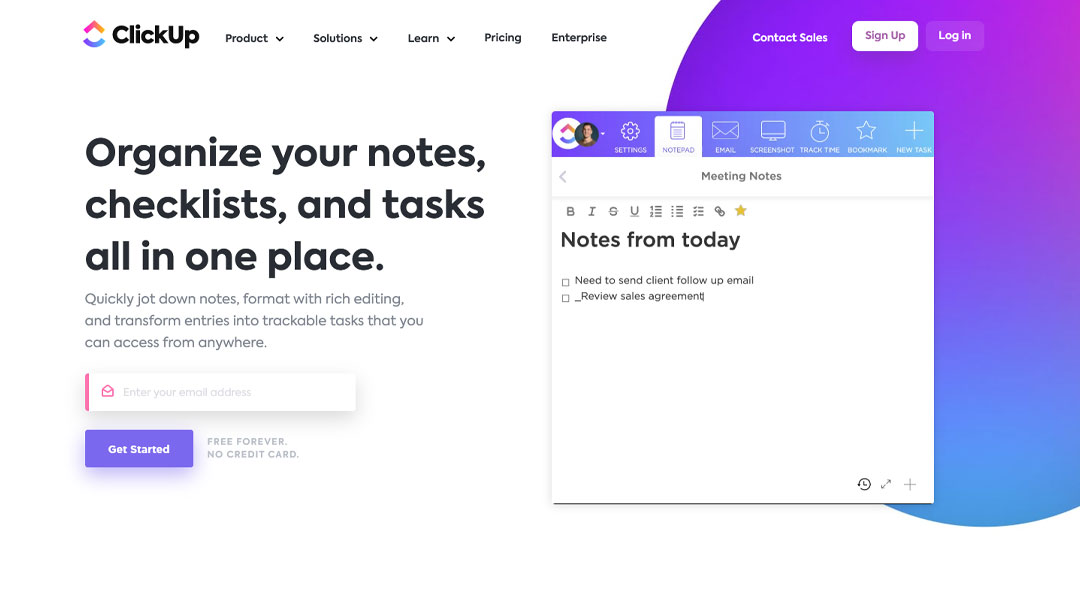 Key Features
Project management functionality (Kanban board, Gantt charts)
Workflow creation features
Data visualization
Time tracker
Milestones
Custom fields
Effective dashboard
Pricing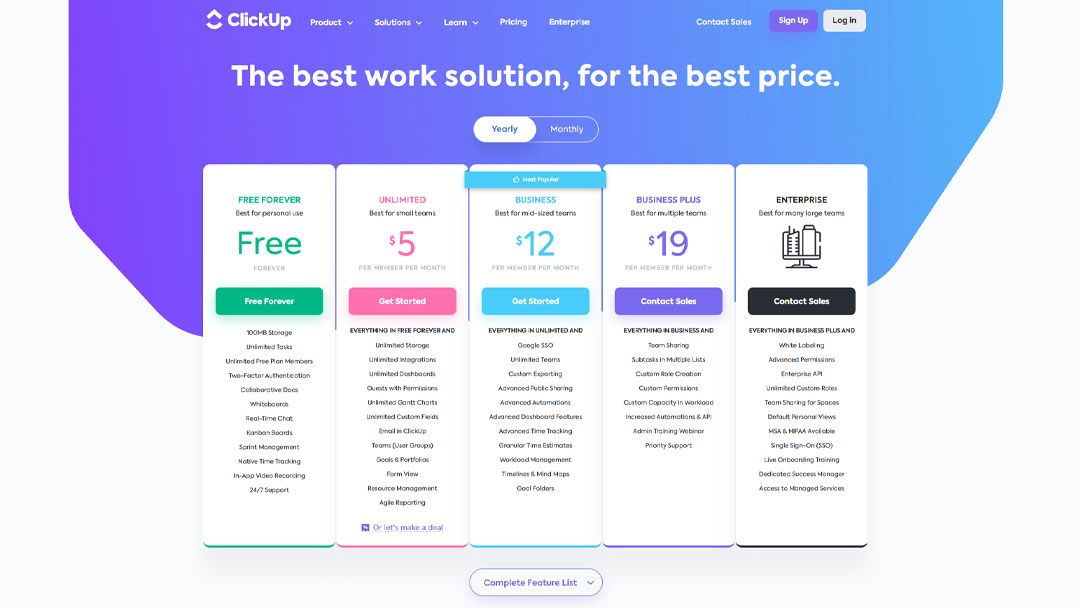 ClickUp has five plans in total:
Free forever plan
Unlimited plan for small teams at $5 per month per member when billed yearly, $9 when billed monthly
Business plan for mid-sized teams at $12 per month per member when billed yearly, $19 for monthly payments
Business Plus plan for multiple teams at $19 per month per member when billed yearly, $29 when billed monthly
Enterprise plan for organizations at custom pricing available upon request
Pros
Excellent free note-taking app
Plenty of customization features
Automation builder
24/7 live support
Cons
Some users may find the customization part overwhelming
Not the best software for project feedback
Pulling data from custom fields is still unavailable
9. Coda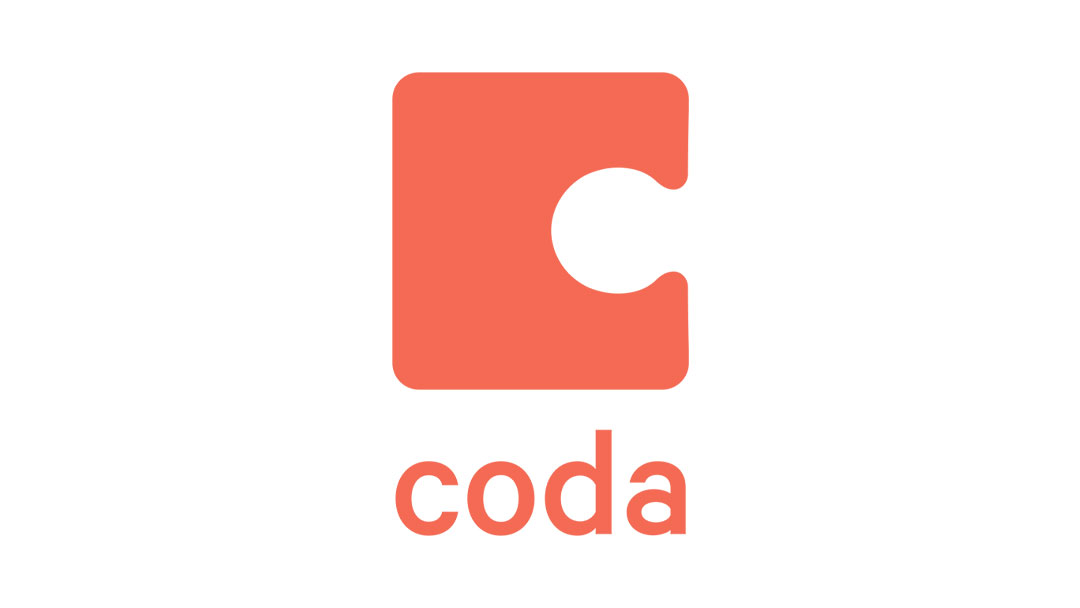 Consider Coda your go-to all-on-one productivity app that brings all your spreadsheets, documents, and databases into a single interface. Coda's primary purpose is to help team collaboration and workflow streamlining.
Thousands of teams around the world rely on this tool.
Coda has a drag-and-drop interface for creating documents and notes. It's easy to organize information inside documents and embed videos, images, charts, and other types of files into your doc.
The spreadsheet feature makes for easy data entry and visualization across projects. Users can type in formulas and add custom functions to automate data for data analysis. There are also databases, including integrations with PostgreSQL and MongoDB, for easy data manipulation across resources.
The built-in chat feature makes for easy communication across teams. The comment system is easy to use, and everyone can leave text notes and annotations on shared documents.
The intuitive interface of Coda makes it easy for everyone to grasp and get started. The wide range of features allows for document creation, note-taking, and data analysis.
However, given that Coda is a premium tool, some users may find it too expensive. There's also limited customer support, so it can be challenging to get assistance if you run into issues.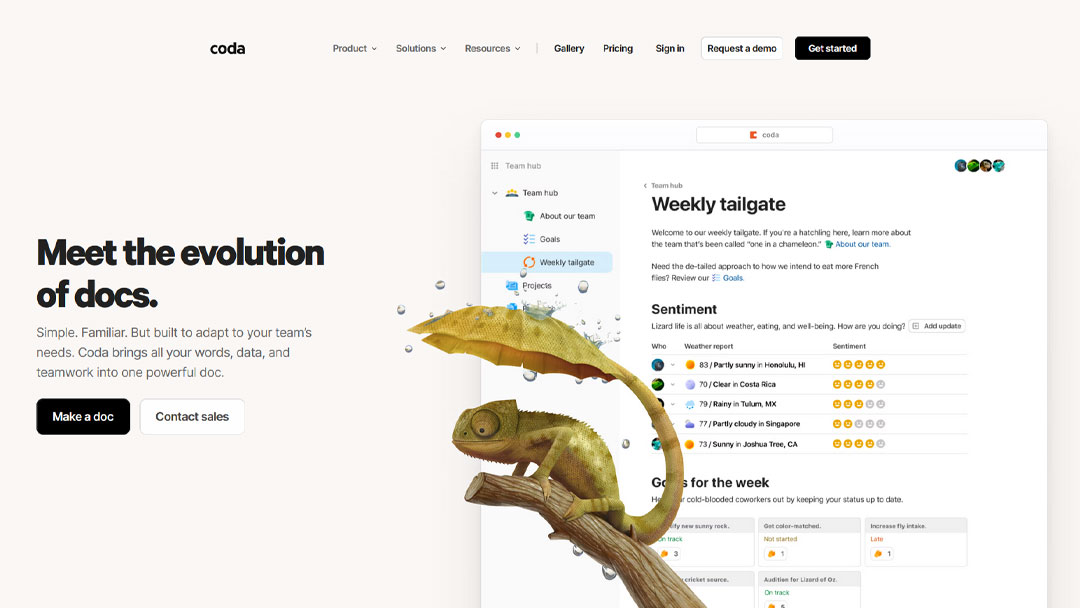 Key Features
Data automation
Robust document editing with a project tracker
Third-party apps integration (Slack, Jira, Dropbox, Asana, GitHub, Gmail, Teams, Airtable, and more)
Drag and drop interface with numerous templates
Customized dashboards
Reminders
Progress tracking
Note-taking tools
Pricing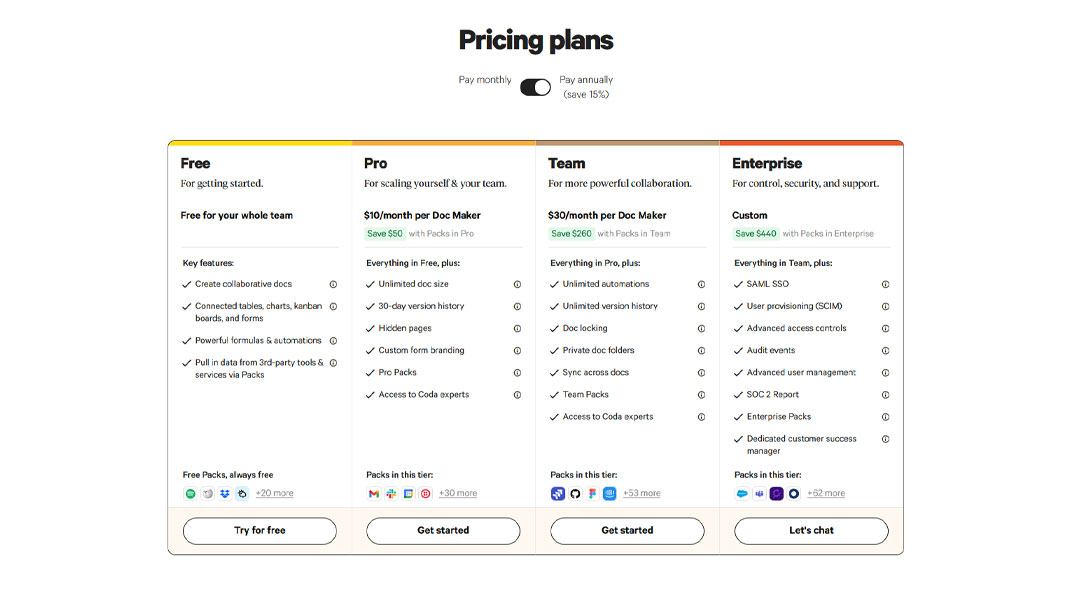 Coda has four plans in their offer:
Free plan
Pro plan at $10 per month per Doc Maker when billed yearly, $12 for monthly payments
Team plan at $30 per Doc Maker when billed yearly, $36 for monthly payments
Enterprise plan at custom pricing
Coda has flexible pricing options for each plan depending on the number of people in your team and the number of Doc Makers you need. For example, a team of 30 people with five Doc Makers in the Team plan would cost $150 per month. For 10 Doc Makers, you'd pay $300 for the same number of people.
Note: A Doc Maker in Coda is a person responsible for creating docs for other team members to use.
Pros
Numerous integrations
Drag and drop interface
Smooth templates
Data highlighting features
Intuitive platform
Agile and collaborative
File sharing
Excellent organizational features
Cons
Steep initial learning curve
Expensive plans
Limited customer support
The dashboard could be more comprehensive
10. nTask Manager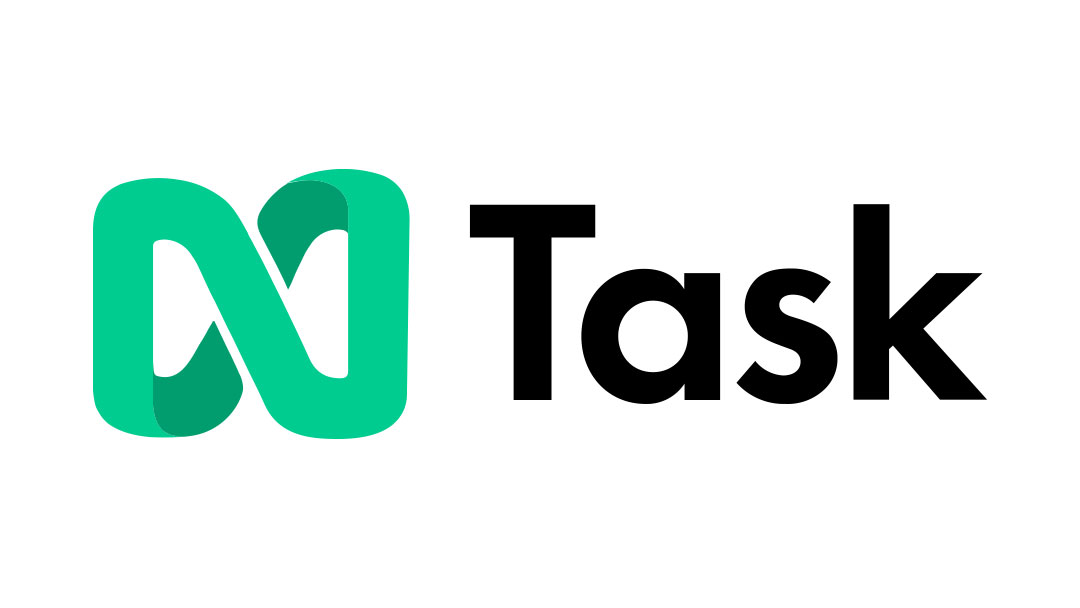 nTask Manager is a popular online task management tool for teams and individuals working on various tasks and projects. With nTask, you can manage different projects simultaneously on a single, intuitive platform.
With nTask, you can create product launch checklists and tasks, schedule and prioritize them, use Kanban boards for workflow visualization, track issues and bugs, and much more.
If you work with teams, you can also use the meeting software to create a meeting agenda and streamline your team communication.
Project planning also becomes much easier thanks to a smart timeline that maps out project deadlines. There are also discussion points where you can make notes of key parts of the meeting and share your notes with other participants.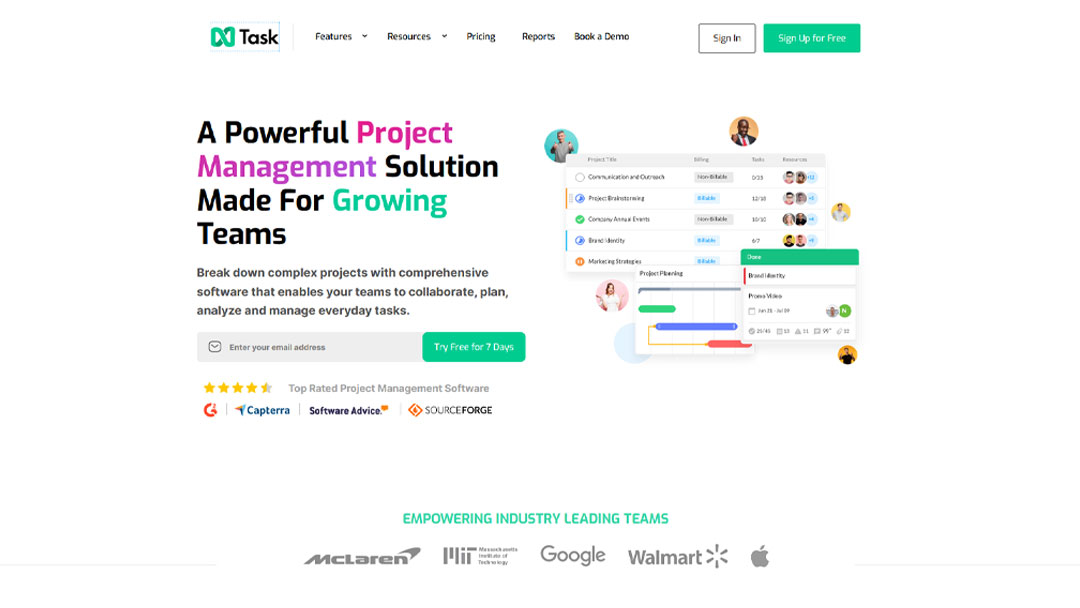 Key Features
Task deadline setting
Task assignment to team members
Creating notes for each task
Third-party tool integration
Real-time collaboration for tasks and projects
Project labels
Pricing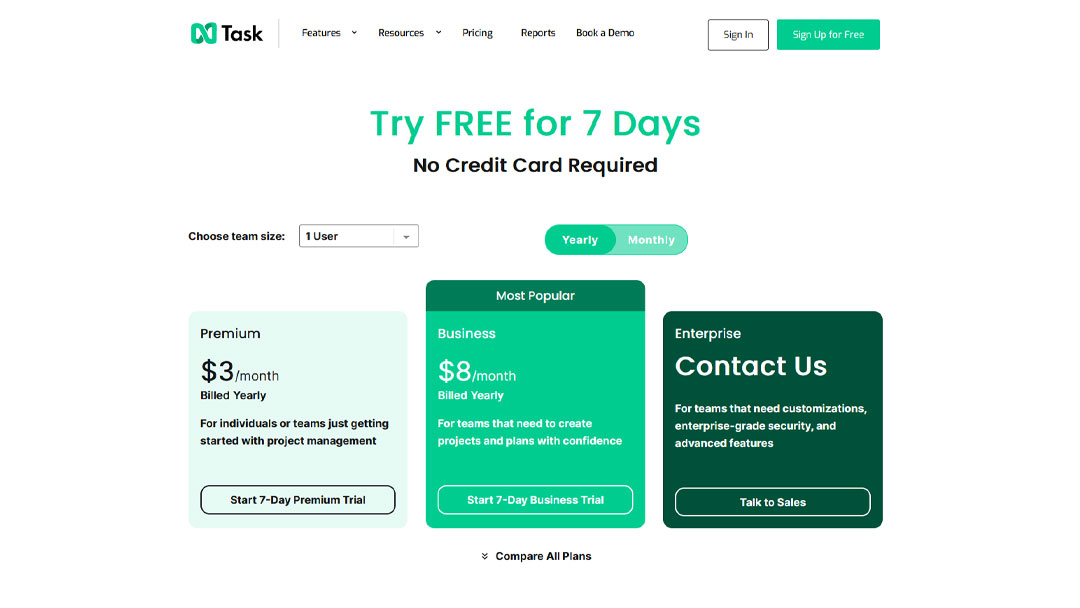 nTask has different pricing options depending on the team size. You can choose from 1, 5, 10, 15, 20, 30, and 50 users. Three plans are available:
Premium plan at $3 per month when billed yearly
Business plan at $8 per month when billed yearly
Enterprise plan at custom pricing
The Premium and Business plan both have a free 7-day trial, so you can test the app before committing.
Pros
Very simple and intuitive interface
Easy integration with Slack, Asana, Gmail, and other third-party apps
Free version available with many powerful features
Ability to label projects and tasks
Cons
No mobile app available
No calendar view
Poor customization options
How to Choose the Right Note-Taking App for Your Needs
There are dozens of digital notes app solutions for individuals, professionals, and students. Whether you need a simple, free note-taking app or a robust project management software with note-taking features, you can find a little bit of everything in the list above.
While built-in programs like Apple Notes offer enough features for basic note-taking, the note-taking apps provided in this article will help you achieve much more. Create notes in note apps like Evernote, Notion, or use complex project management tools like Coda to streamline your work process.
Here are some tips to help you find the right app:
Consider your needs. Do you need simple software where you can jot down quick notes? Or do you need a more robust program where you can embed images, record your voice, and similar?
Go for cross-platform compatibility software. Chances are, you'll want to use the note-taking app on more than one device. An excellent note-taking app will sync notes across platforms and devices, including web, desktop, and mobile apps.
Think about the extra features. You'll find many apps with extra features like task management tools, reminders, etc. If you're hunting for an app that's more than just a simple tool for taking notes, you can find the software with those features.
Read online reviews. When you find an app that has the features and functionalities you need, dedicate some time to reading online reviews. See how satisfied users are with the specific tools you need and whether the app is easy to use. Also, reading reviews will help you identify potential problems or issues.
Test it out. Most premium note-taking apps come with free trials. Test multiple options to get a feel for how the software works and whether it meets your needs before committing.