It may feel like podcast hosting services are a dime a dozen since the medium experienced its explosion in popularity. However, the best podcast hosting services offer something that most others can't.
Your challenge is that it's hard to separate the wheat from the chaff when there are so many podcasting hosting providers available. You want something that gives you everything you need to run a successful podcast without costing a huge amount of money.
What Are the Best Podcast Hosting Platforms
In this guide, we dig into the top podcasting platforms. Covering everything from analytics to how each platform helps you reach more podcast listeners, our guide helps you choose the right podcast hosting site.
We look at the following:
The best overall podcast hosting service provider
The best for WordPress
The best for episode migration
The best for brands and private podcasting
The best for monetization
The best for podcast creation
We even have a bonus choice for those who need a free podcast site. Let's get started with our number one pick.
1. Buzzsprout – Best Overall
Buzzsprout is one of those hosting companies that try to make things as simple as possible. It does so with a stream of automated features that make it easy for podcast hosts to upload episodes and monetize their work.
But don't let its simplicity fool you. Behind the user-friendly interface are detailed sets of analytics that tell you everything you need to know about the performance of your podcast episode.
Nice extra touches, such as the ability to add chapter markers to a podcast episode, make Buzzsprout one of the best podcast hosting sites.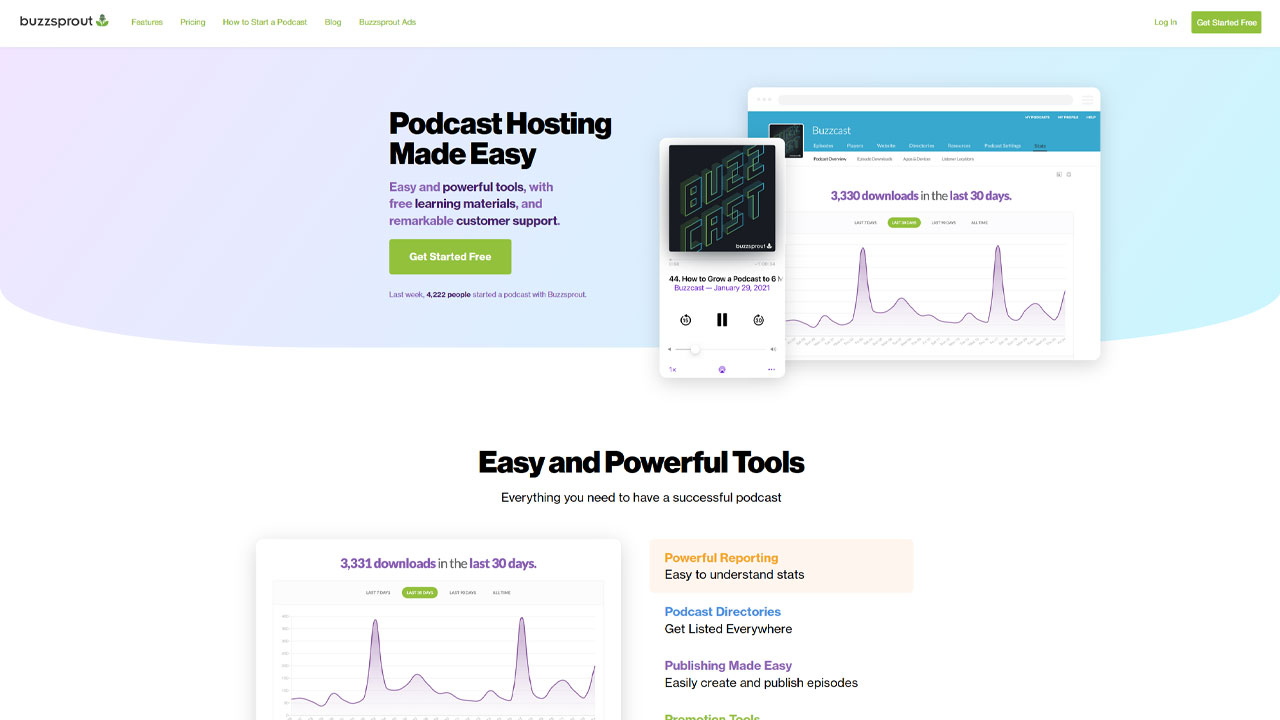 Key Features
Lists your podcast in all of the leading podcast directories
Advanced statistics help you see how your audio and video podcasts perform with your audience
Useful transcription services let you create text versions of your podcast episodes
Automated optimization of your podcast files means you never release a half-baked product
Pricing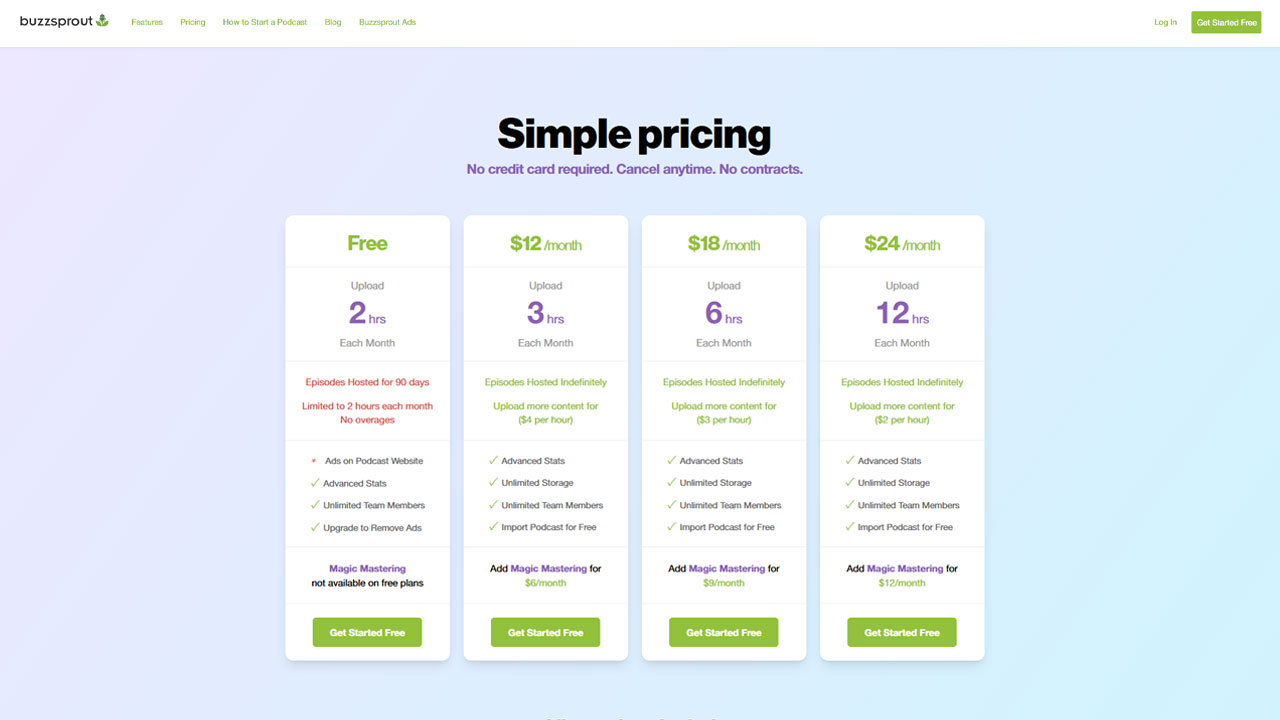 Pricing varies from free to $24 per month.
On the free plan, you can host a podcast online for 90 days but can only upload two hours per month. You get unlimited team members and advanced analytics, though you have to deal with ads on your podcast.
As you move up the tiers, you'll see plans costing $12, $18, and $24 per month. With the top plan, you can host episodes indefinitely while getting unlimited storage and team members.
Pros
One of the best free podcast hosting plans around
Easy to use
No limits on team members
Unlimited podcast hosting at the higher-paid tiers
Cons
The analytics can be a little difficult to understand
2. Castos – Best for WordPress
If you're ahead of the game, you may already have a website to promote your podcast. But if you don't have the tech know-how to upload podcasts onto the site, Castos has you covered.
This clever WordPress plugin lets you upload episodes and even gives them a built-in player with a few clicks. Add a description and your episode is off to the races.
Castos Productions offers some editing services to give your podcast a professional sheen. You also get stats and the ability to republish episodes to YouTube.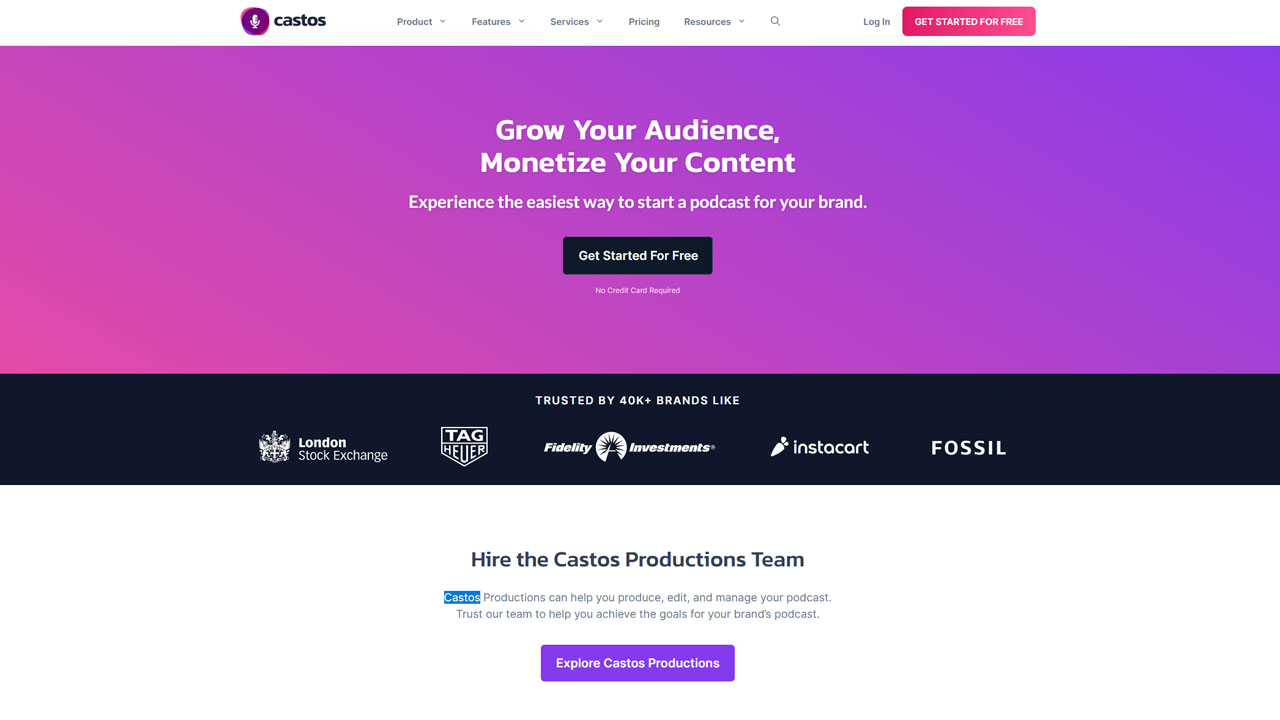 Key Features
Fast uploading to WordPress websites
Detailed podcast analytics
Automated transcriptions generated in minutes
Republishing to YouTube
Pricing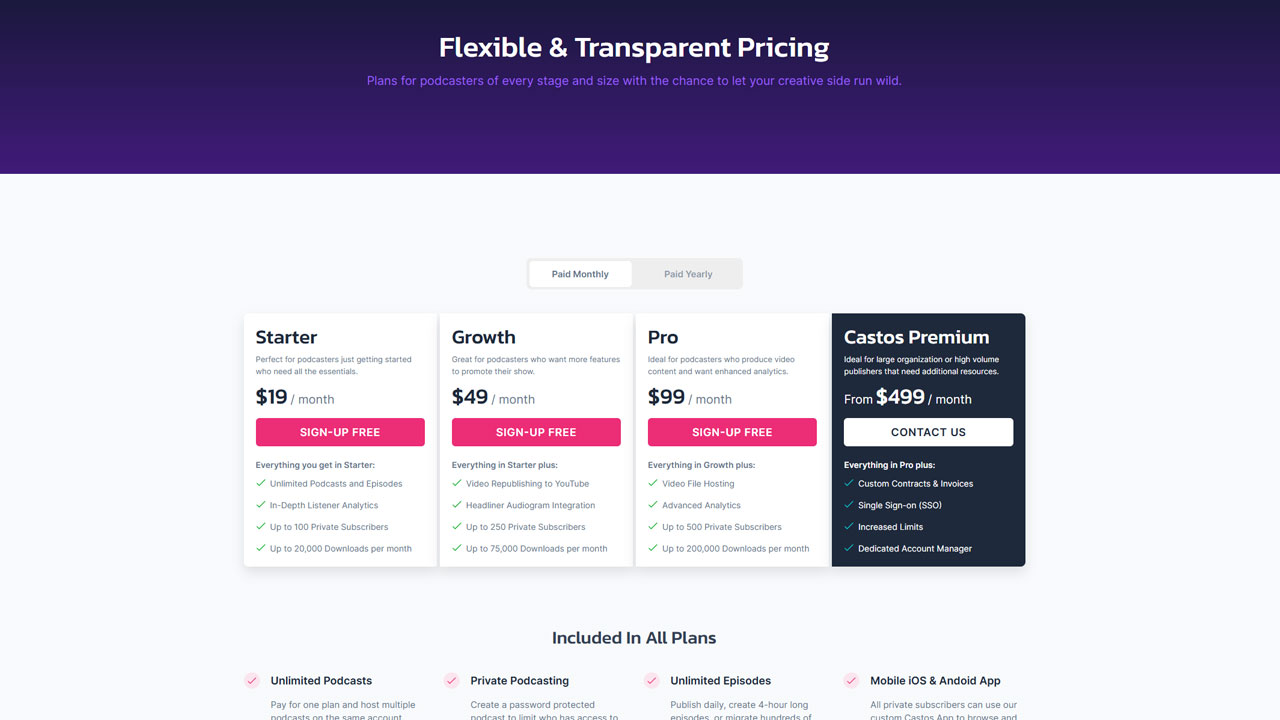 You get a choice of three price tiers with Castos, ranging from $19 to $99 per month. Even the lowest tier offers unlimited storage. But you can only upload videos and get access to advanced stats with the Pro tier.
Pros
Simple uploads to a WordPress website
It comes with a 14-day free trial
Transcriptions boost search engine optimization
Cons
No podcast service directory
Not available outside of WordPress
3. Blubrry – Best for Episode Migration
If you want to compile a bunch of existing episodes onto one website, there are no better options than Blubrry. With its free episode migration, you can have your podcast up and running on its own website without paying through the nose.
You get unlimited bandwidth and the ability to invite team members to work on your episodes. Plus, the publishing, monetization, and recording tools allow you to use Blubrry as your podcast creation hub.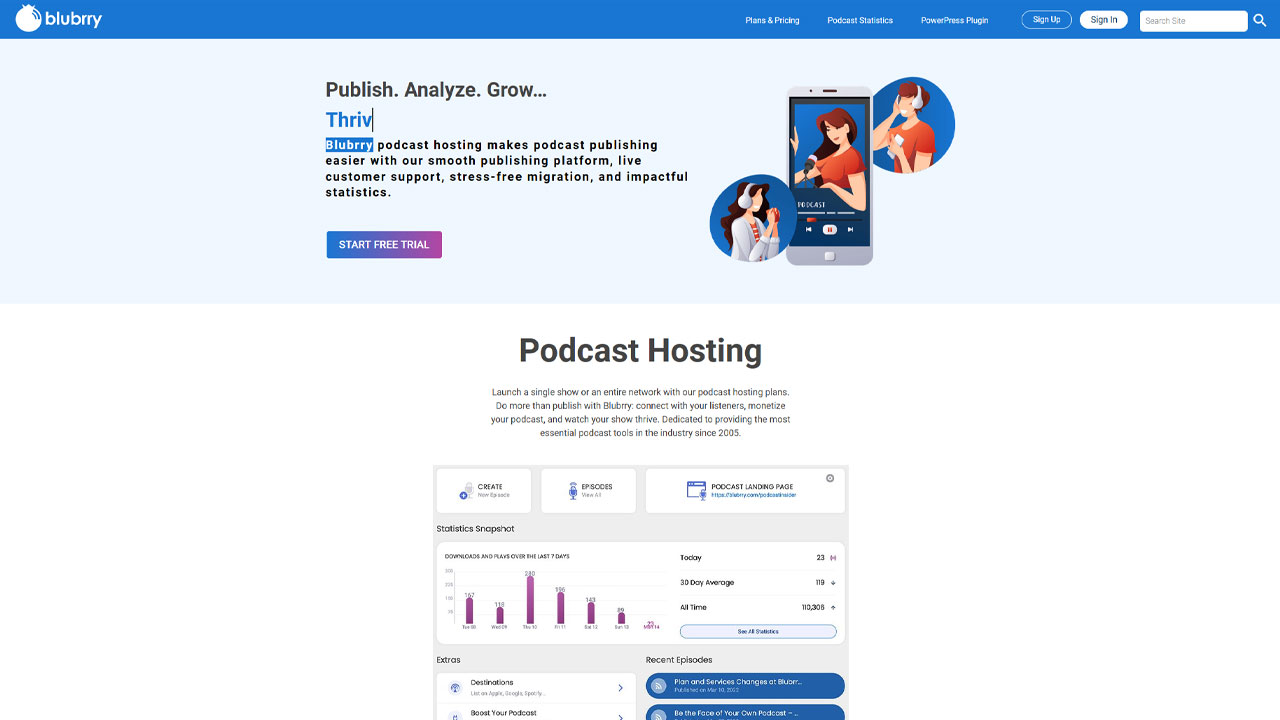 Key Features
Unlimited episode migration
As much bandwidth as you'll ever need
Customized embedded player
You get a free WordPress website
Pricing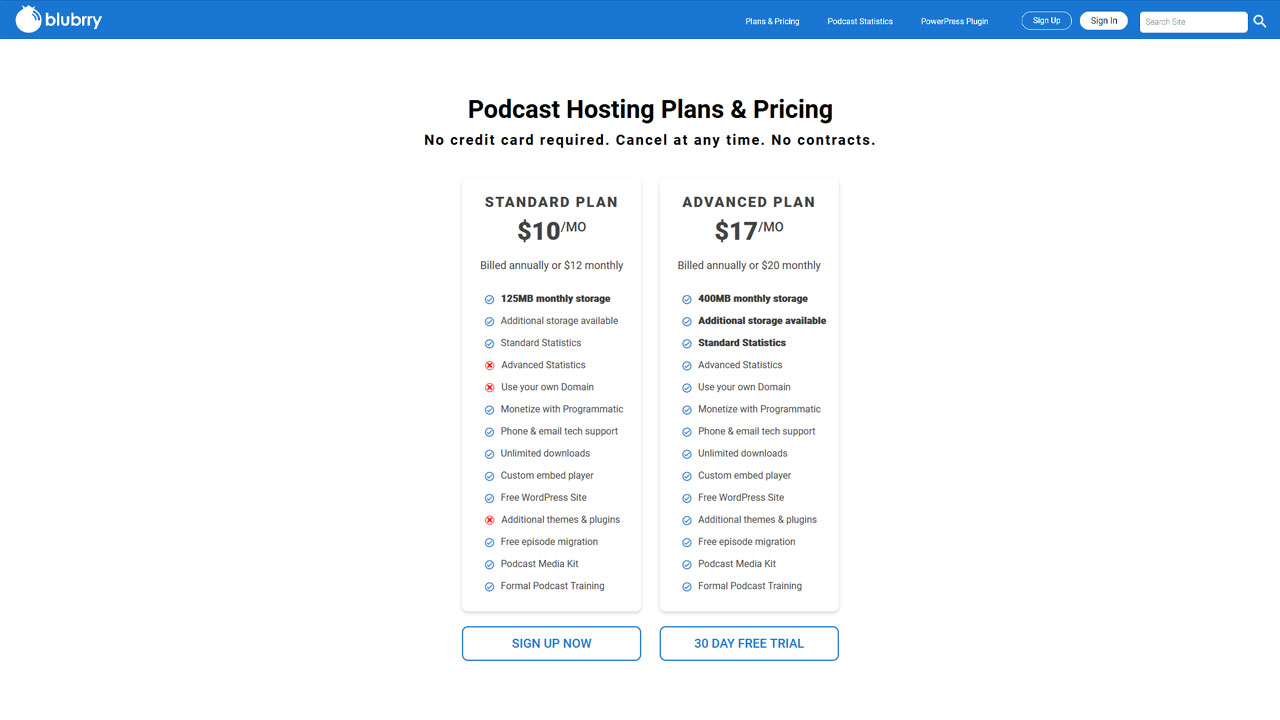 Blubrry has two plans, costing $12 and $20 per month, respectively. The big difference between them is the amount of monthly storage you get. The Standard Plan nets you 125Mb, with the advanced plan giving you 400Mb.
Pros
Migrate as many podcast episodes as you like
Handy monetization tools
No download limits
Free WordPress website
Cons
Limited storage means it's not great for prolific podcasters
4. Transistor – Best for Brands
If you need a smart podcast player for a membership or subscription site, Transistor is your podcasting hosting platform of choice.
You can easily nurture members with podcasts intended solely for them. Plus, the analytics suite gives you an in-depth breakdown of your audience's listening habits.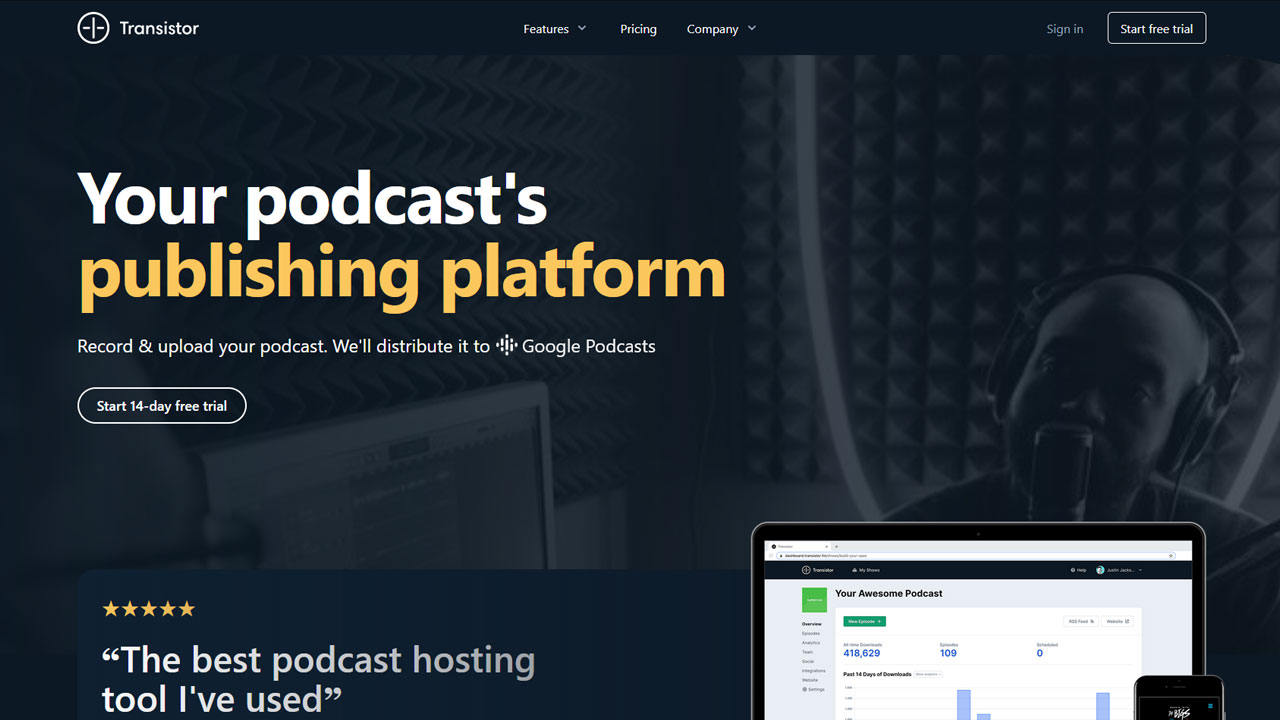 Key Features
Built-in branded website
Easily embed podcasts to websites, social channels, and blogs
Private podcasting for membership websites
Upload unlimited episodes on all plans
Pricing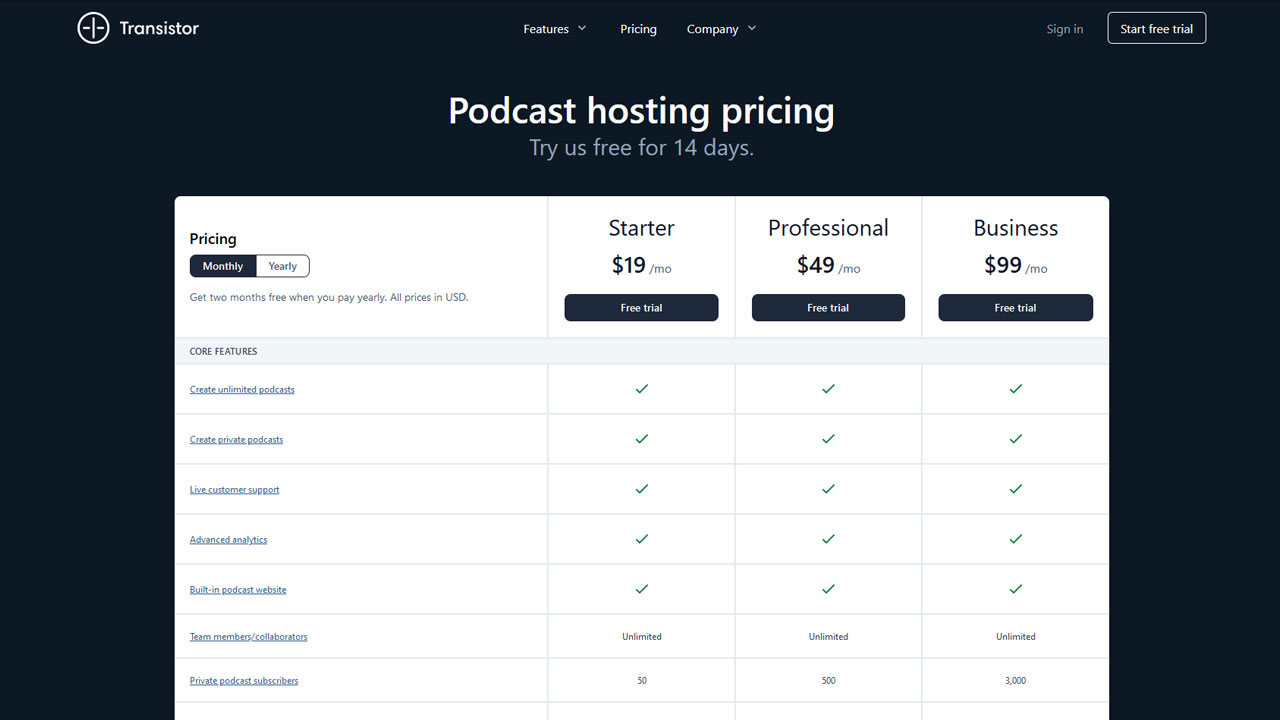 Transistor's pricing ranges from $19 to $99 per month. The biggest differences between the plans lie in the number of downloads and subscribers they facilitate.
Pros
Superb analytics
Can create private podcast episodes
No limits on hosting multiple shows
Easy to manage podcasts
Cons
No free plan
Download and subscriber limits on all plans
5. Podbean – Best for Monetization
Podbean is the right podcast host if you want to monetize your work easily. You get access to an array of features, such as podcast recording and live streaming. Plus, it places no limits on downloads.
The platform helps you upload podcasts with great audio quality on every major platform. It also features useful social sharing tools. Plus, it's great for private podcasting, making it a great choice for those with subscription services.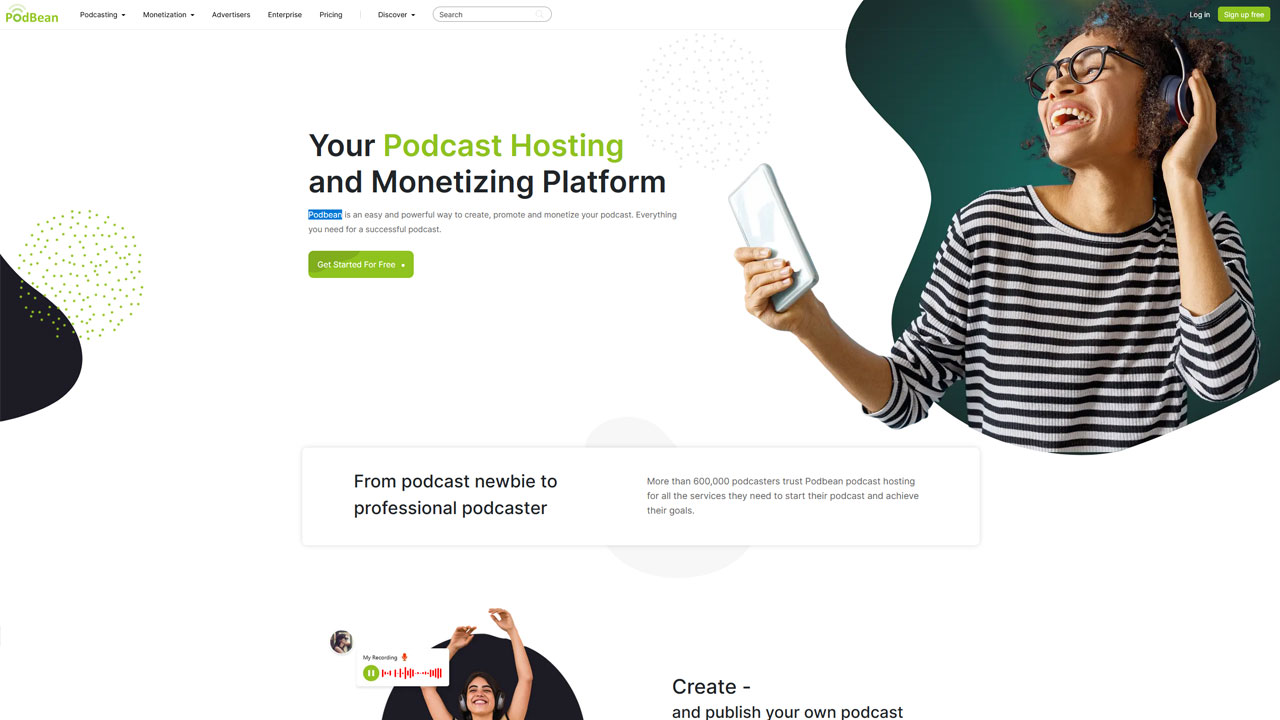 Key Features
Simple podcast scheduling
Ideal for creators, thanks to a range of helpful template options
Podbean's advertising marketplace makes it easy to find sponsors
Live streaming lets you chat with listeners in real time
Pricing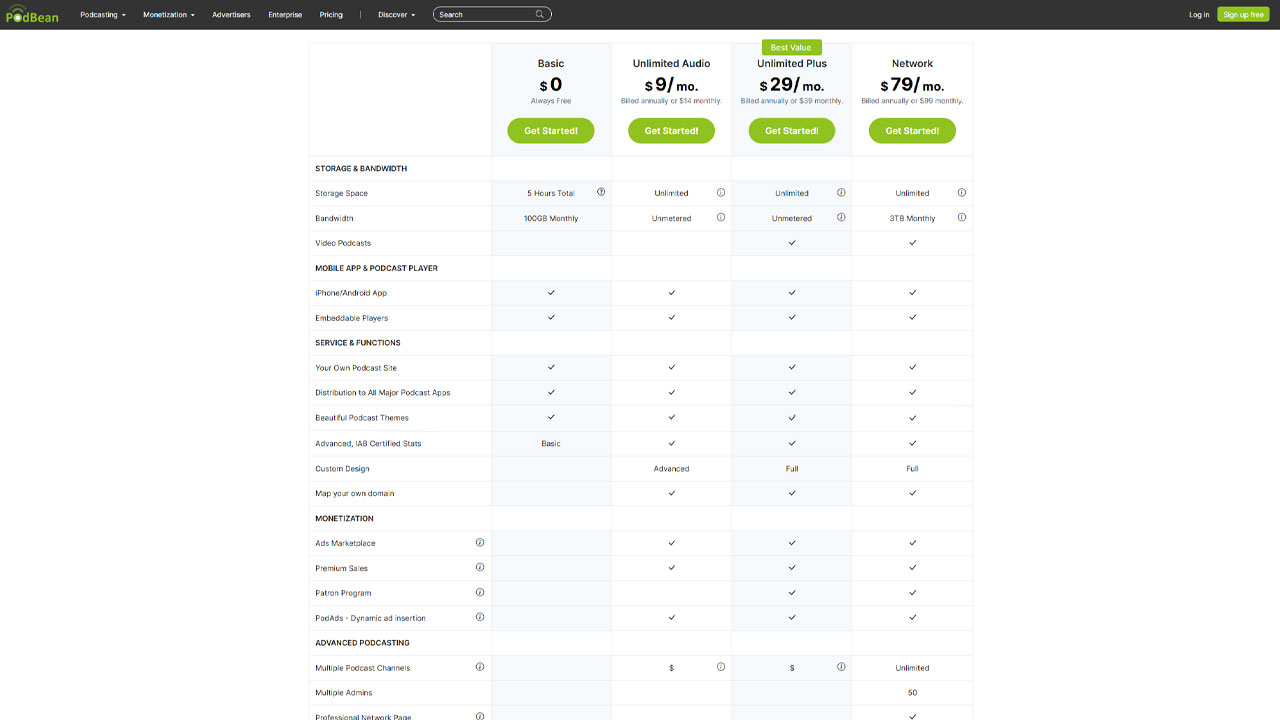 Podbean has a basic free tier, which lets you upload five hours in total. The paid options range from $14 to $99 per month.
Pros
Offers easy access to sponsors
A helpful free plan lets you try before you buy
Supreme customization options
Available on Android and iOS devices
Live streaming
Cons
Cover art templates and features could be better
You're limited to five hours of storage on the free plan
6. Fusebox – Best for Podcasting Software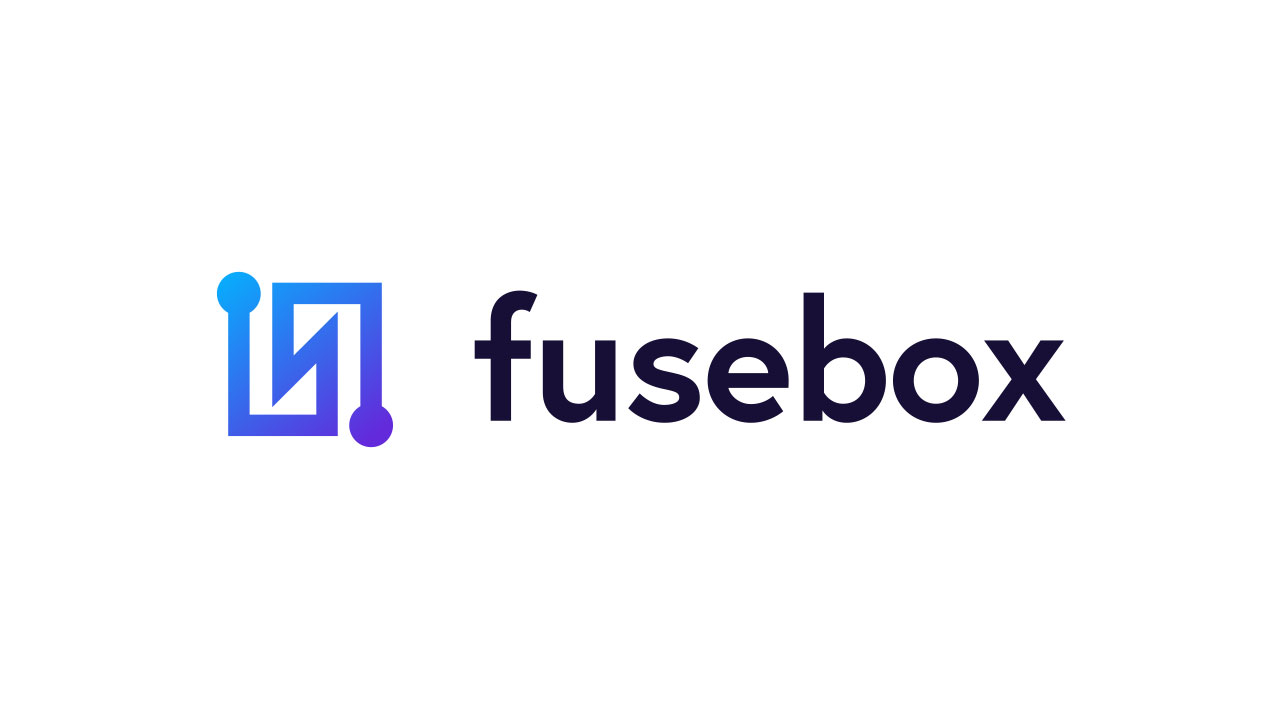 Fusebox has a lot going for it to make it one of the great podcast hosting providers. You can upload unlimited podcasts, ensuring your audio files always find a home on your website. Plus, if you need to get multiple podcasts into major podcast directories, Fusebox gives you the tools.
And tools is the operative word here. As a full-service podcast hosting platform, Fusebox offers multiple embedded players for use on your website. It even has a live text feature that creates transcripts automatically.
As podcast hosting companies go, Fusebox is one of the best because it's made by an experienced podcaster.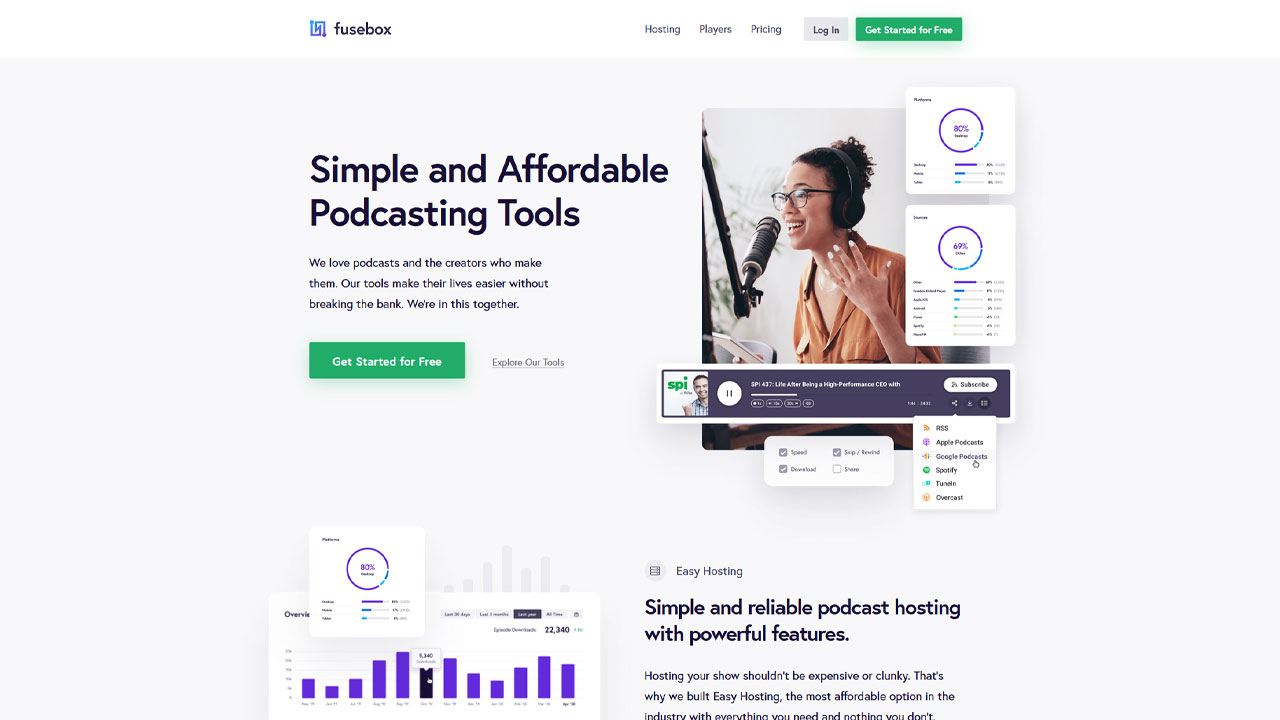 Key Features
Email capture for public and private podcasts
Automated transcript plug-in that can handle unlimited episodes
Easy RSS feed upload and directory entry
Customizable podcast players
Pricing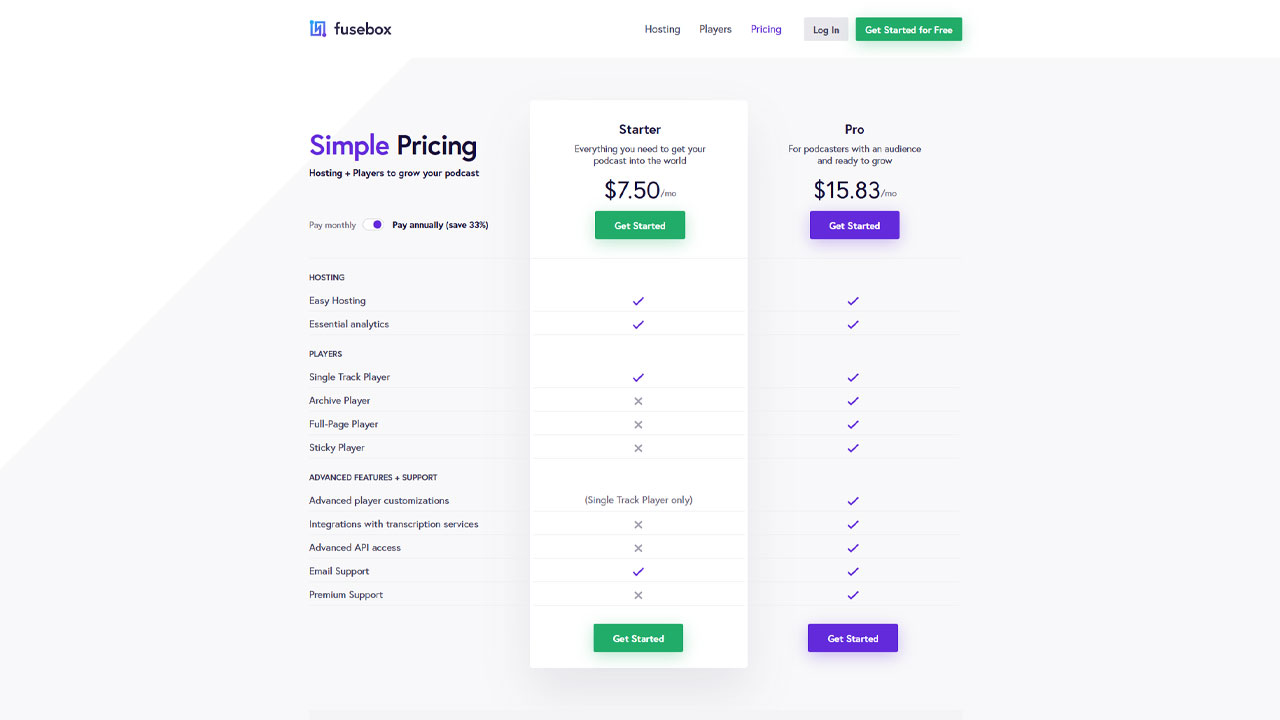 Fusebox has two plans, with its Starter tier costing $9 per month. Forking out an extra $10 per month nets you more players and several advanced features.
Pros
One of the best podcast platforms for embedded players
Expand your podcast audience with RSS and directory submissions
Transcripts created with a plug-in for the podcasting hosting platform
Embedded email capture
Cons
You only get email support with the top tier
Only available for WordPress
Find the Right Podcast Hosting Platforms for Your Needs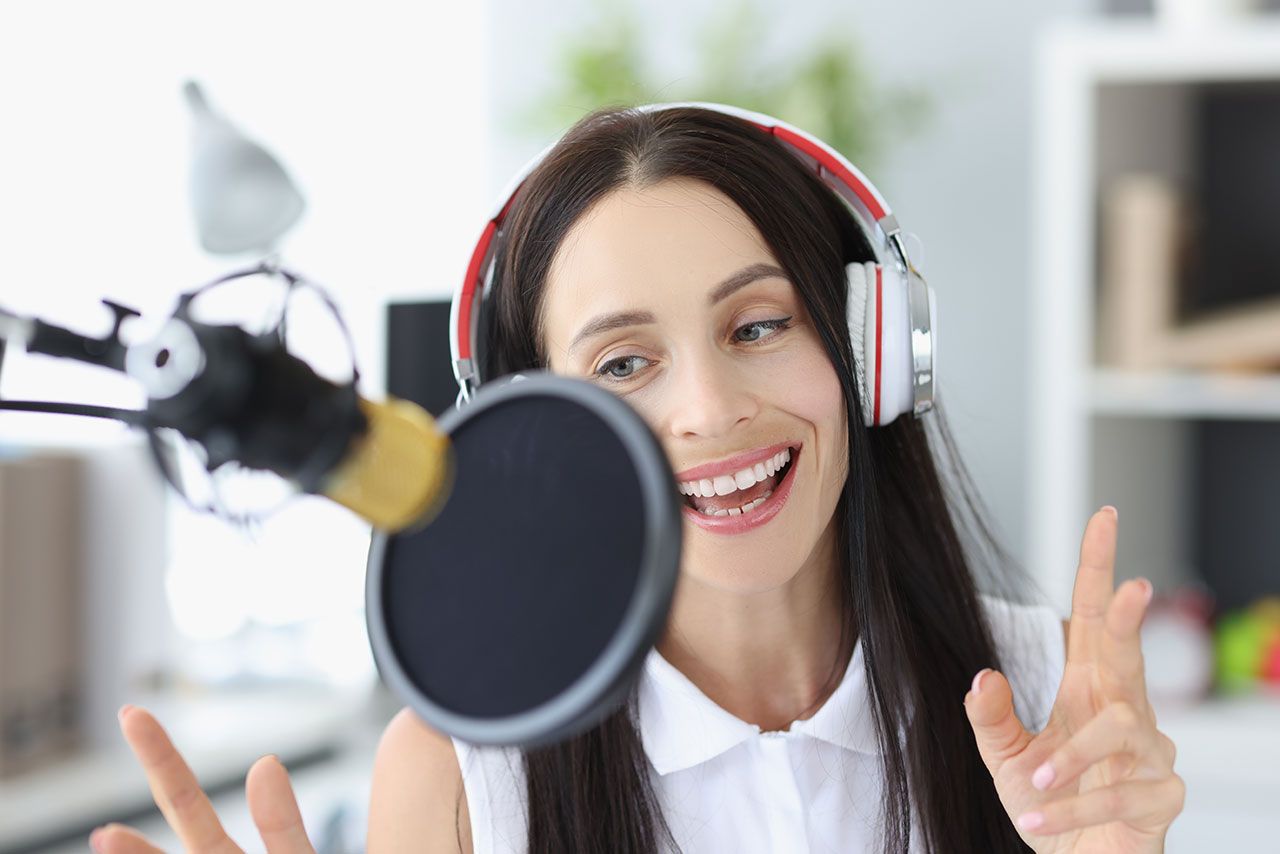 Choosing the right podcasting platform is vital to the success of your show. You can't go wrong with any of the six options featured on our list. However, it's critical that you consider your needs and budget before making a choice.