How Rank Tracking Tools Boost SERP Performance
Rank tracking can effectively make a search engine work for the business. Every rank tracking tool should be able to track geotargeting, website titles, and search volumes. Furthermore, the best SEO rank tracker should provide means for keyword research and comparable graphs for easier data monitoring.
If a business properly utilizes the best rank tracker tool available, it can adjust its SEO strategy and approach online marketing from a different angle. As a result, SERP tracking tools can profoundly impact the entire funnel, from lead generation to conversions and sales.
Best Rank Tracking Software in 2023
Here are the top 11 best rank tracking tools for your SERP ranking.
1. Semrush
Best for Comprehensive Use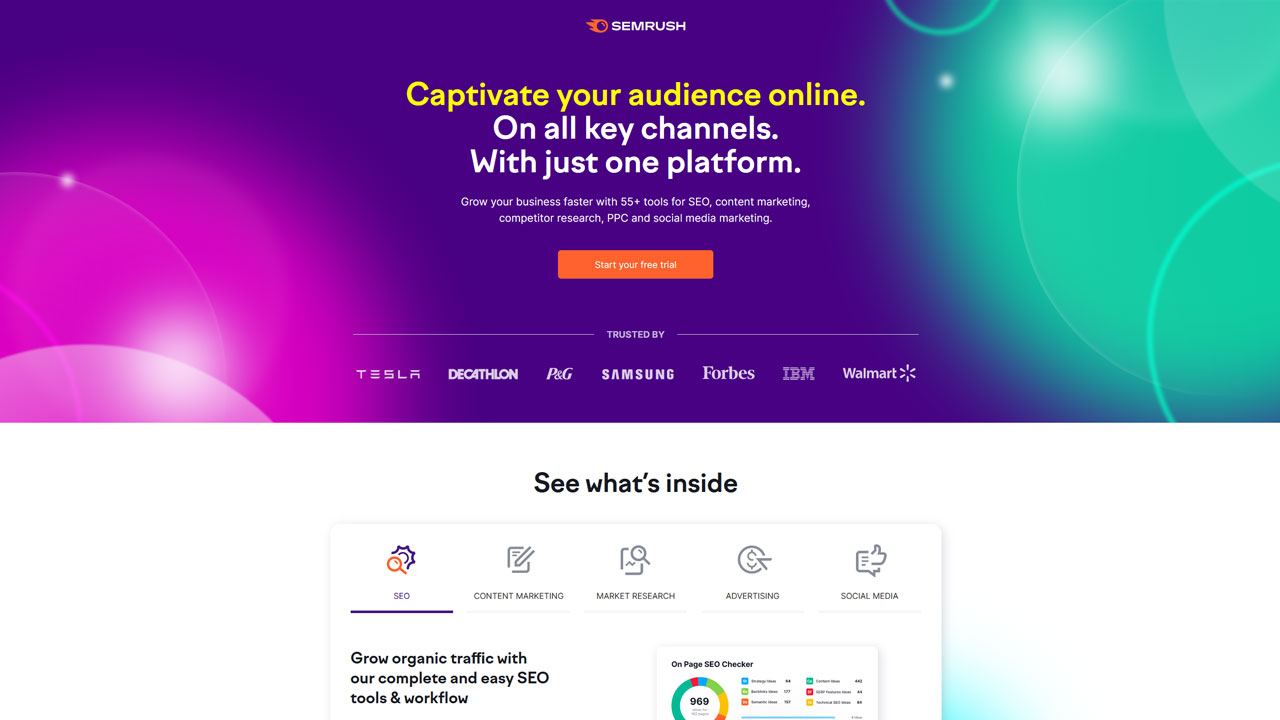 Key Features
SERP tracking
Website diagnostics
Keyword tracking
Competitor analysis
Backlink monitoring
User Experience
Semrush has positive user reviews, testifying to a superb user experience. The platform is easy to use and delivers reliable results. The reliability of Semrush makes it a staple of many businesses worldwide, and client satisfaction is evident in numerous testimonials.
Pricing Plans
The platform offers a one-week free trial. After which, Semrush has three monthly pricing plans:
Pro – $120
Guru – $230
Business – $450
Pros
Improves marketing strategies
Performs backing audits
Boosts social media engagement
Creates detailed reports
Cons
Extensive research may increase time consumption
No white-label reports
2. Serpstat
Best for Small Business
Key Features
Detailed keyword research
Ad analysis
Competitor metrics
Keyword rankings
Site ranks
User Experience
User reviews for Serpstat are high. Many small business owners single out the user-friendly software and its ability to boost search engine rankings. On the negative side, some users mentioned subpar backlink metrics and slower customer support responses in North America.
Pricing Plans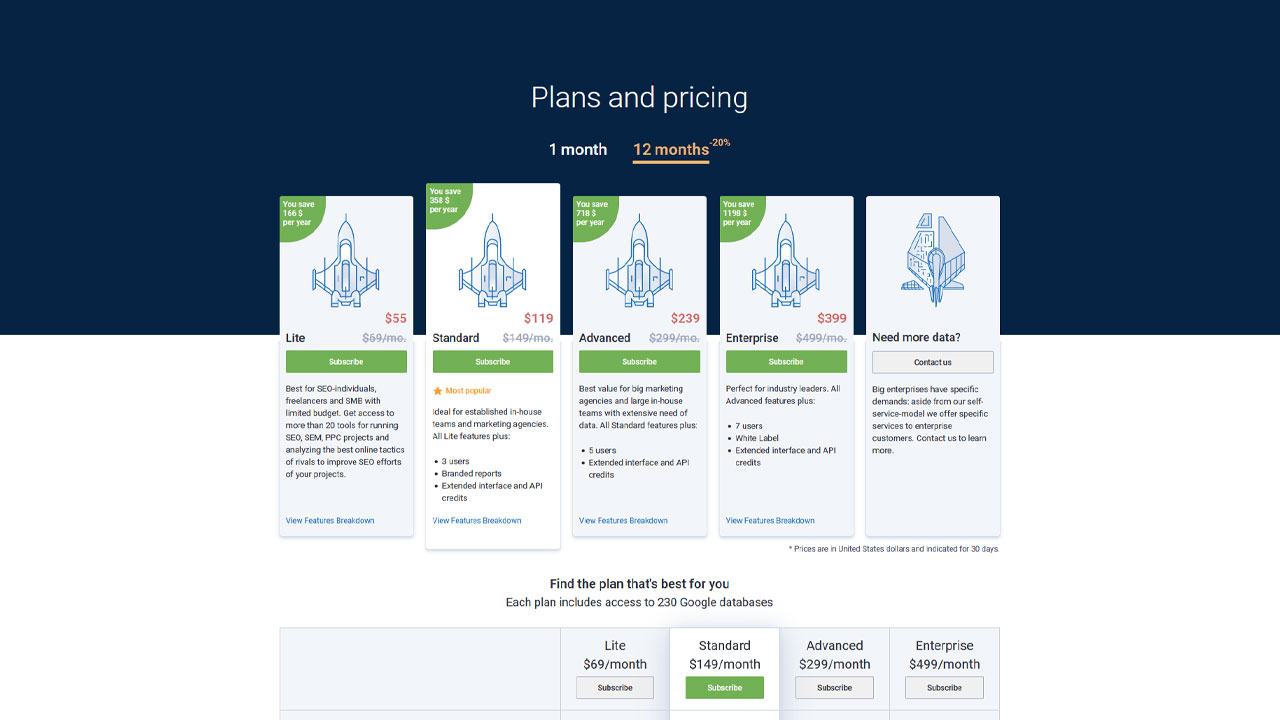 Serpstat has a freemium model with somewhat limited features. For professional users, the platform offers four pricing plans:
Lite – $55
Standard – $119
Advanced – $239
Enterprise – $399
Pros
Keyword rank tracking
Website audits
Excellent price-to-power ratio
Advanced SERP features
Cons
Weaker backlink metrics functionality
Slower customer support in certain time zones
3. Sitechecker
Best All-in-One Solution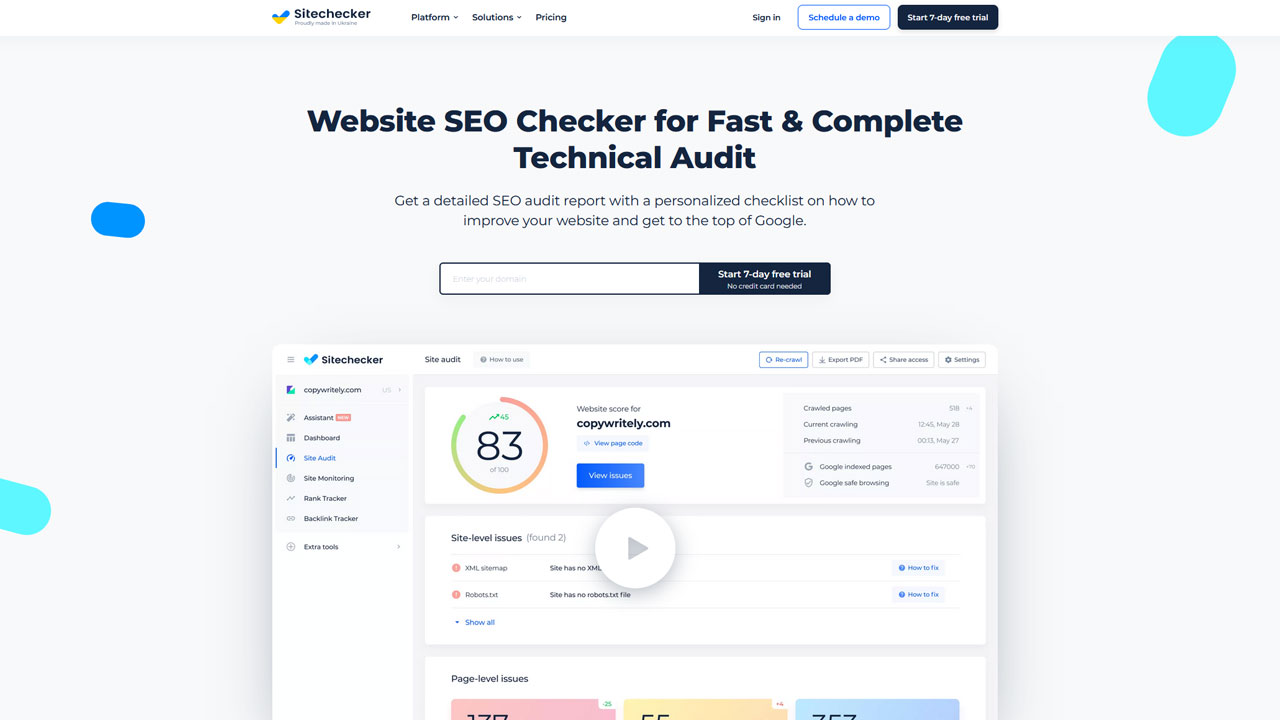 Key Features
Website monitoring and audit
Numerous rank-tracking features
White-label SEO tool
Backlink rank trackers
SEO rank checker tools for Google Chrome
User Experience
Many users have rated Sitechecker highly and consider it the best SEO rank tracker tool with an abundance of features. Sitechecker provides a superior user experience with regular updates and advanced web ranking data analysis. The only significant user complaint was about website evaluations, which can display occasional errors.
Pricing Plans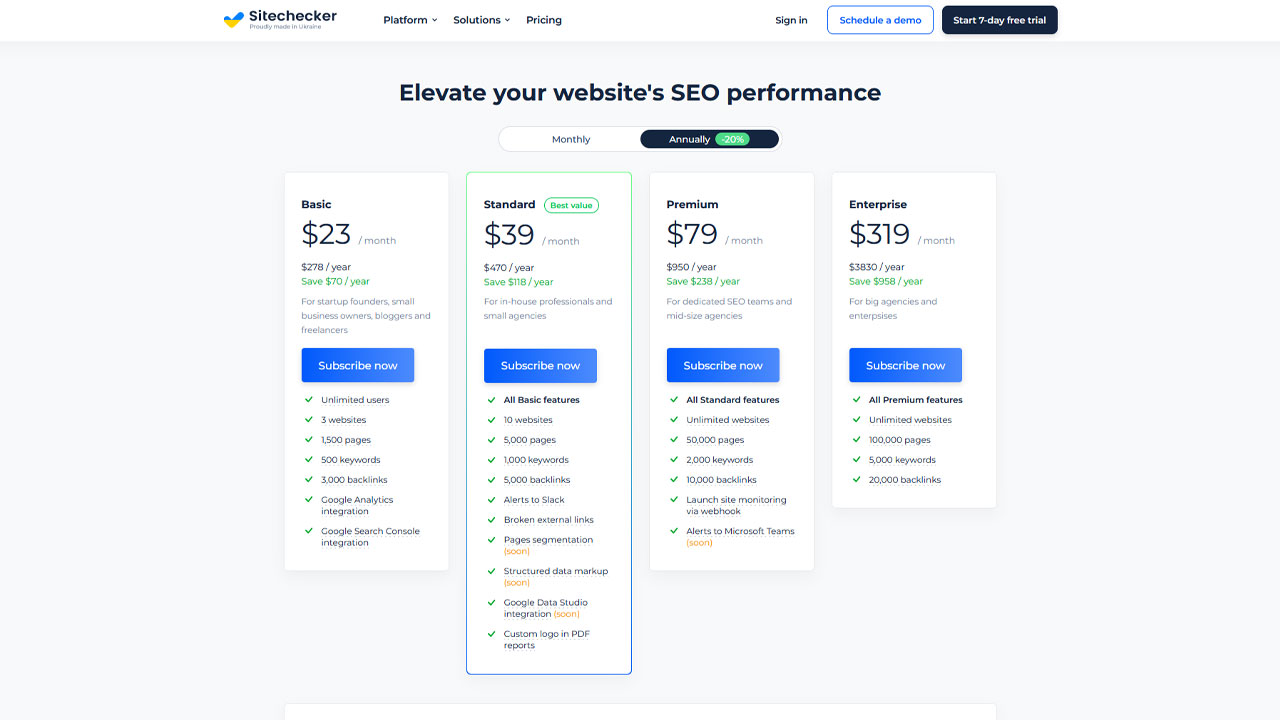 The platform has a 7-day free trial period. After that, users can opt for one of four pricing plans in Sitechecker:
Basic – $23
Standard – $39
Premium – $79
Enterprise – $319
Pros
Straightforward user interface
Content analysis
Broken link repair
Competitor strategy research
Site traffic statistics
SEO rank-checking tools
Cons
Occasional errors in site evaluations
4. Zutrix
Best for Real-Time Tracking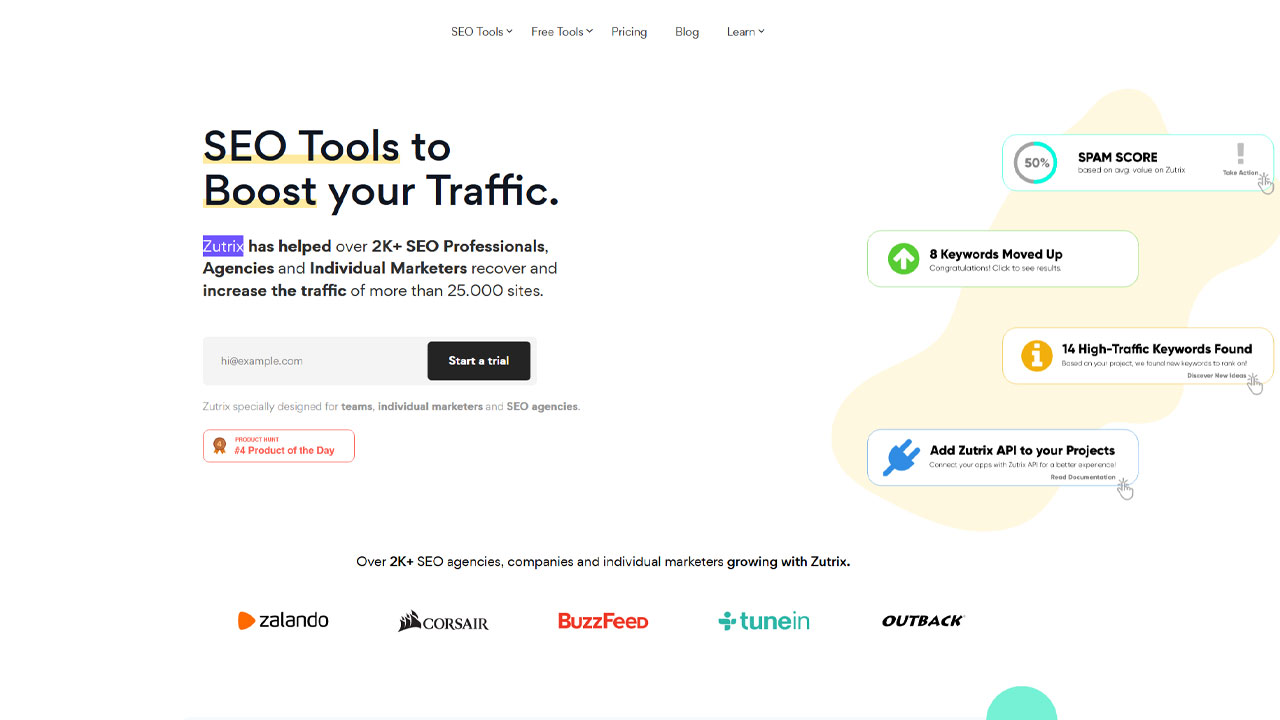 Key Features
Supports unlimited domains
Provides real-time notifications on email, Slack, and Telegram
Location-independent rank tracker tools
Provides scheduled reports
Analyzes competitor current and historical data
User Experience
User reviews for Zutrix are mainly positive, with some exceptions. Most negative experiences come from users expecting advanced features that haven't yet been implemented properly. However, clients who understand the WIP aspect of this tool have been satisfied with the platform's user-friendliness and versatility.
Pricing Plans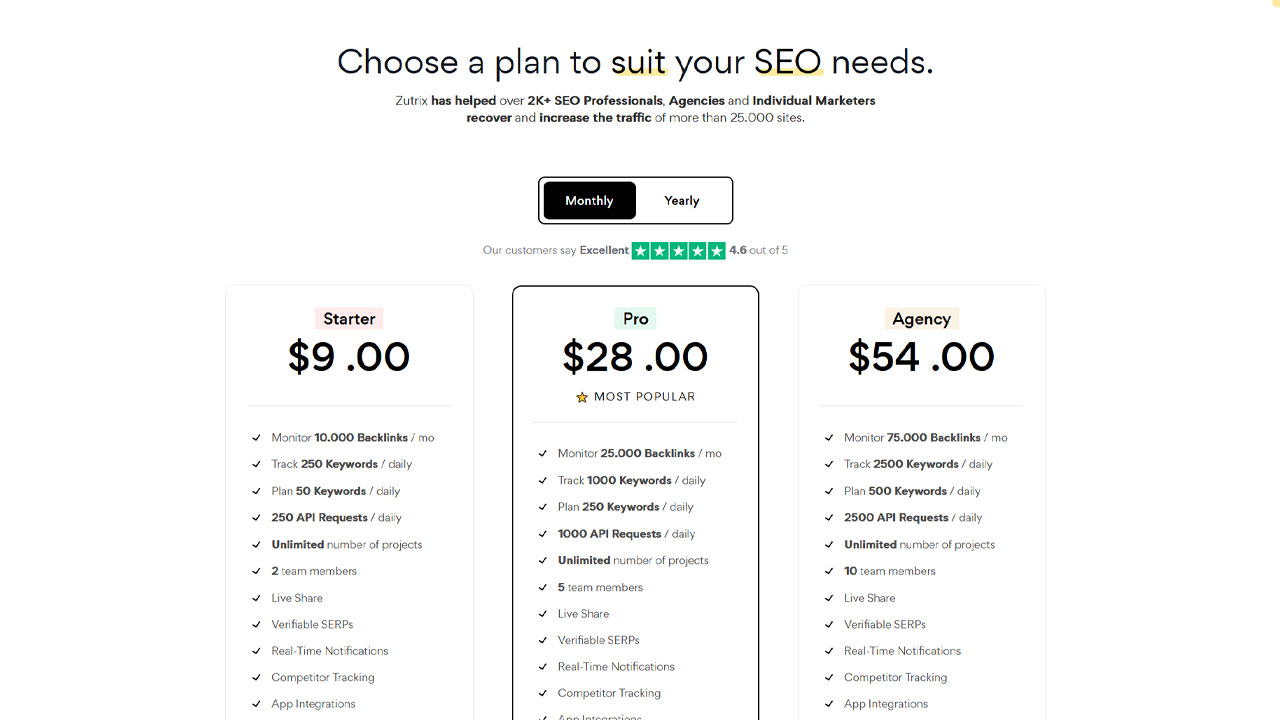 Zutrix has a completely free version without a time limitation. However, this variant doesn't offer the full functionality of the platform. For users with more significant tracking needs, Zutrix comes in three affordable pricing plans:
Starter – $9
Pro – $28
Agency – $54
Pros
Ease of use
Keyword research tools
Real-time notifications
Versatile SEO rank tracking tools
Pulls keywords from the Google Search Console
Cons
5. Pro Rank Tracker
Best for SEO Rank Tracker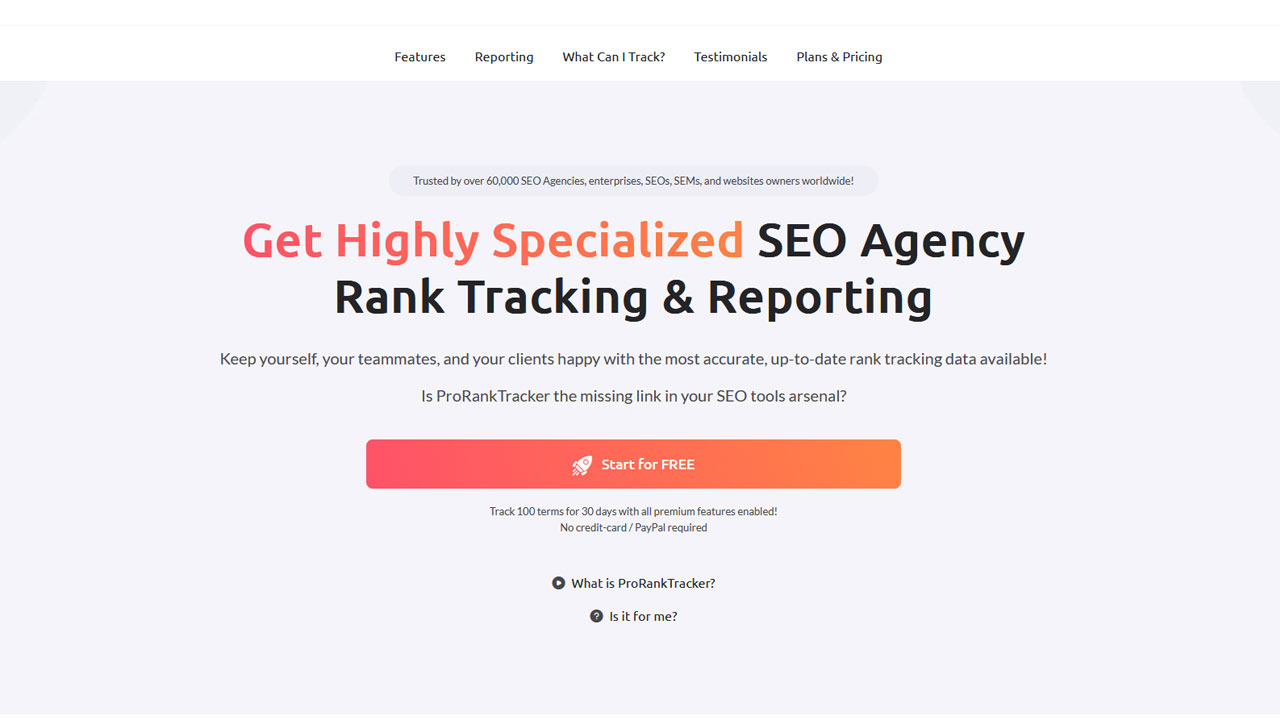 Key Features
Support for search engines
Provides a complete search engine results page
Can perform site audits
Advanced web ranking discovery
Detailed reporting
User Experience
Users have reported mostly positive experiences with Pro Rank Tracker. It provides complete user satisfaction when utilized as an SEO rank-checking tool. On the other hand, some were disappointed at the lack of advanced features apart from keyword rank tracking.
Pricing Plans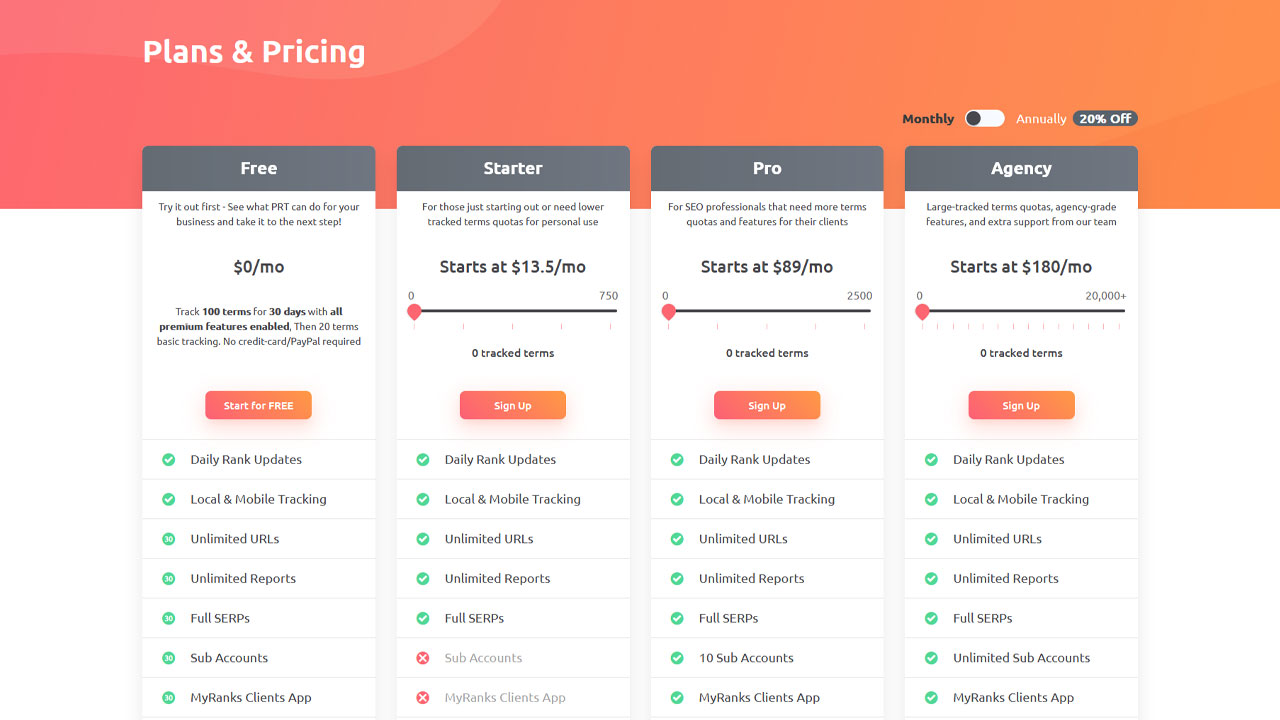 Pro Rank Tracker offers an entire month of free trial use. After that, the platform has three plans priced on the number of tracked terms:
Starter – $13.5-$69
Pro – $89-$149
Agency – $180-$740+
Pros
User-friendly
Reliable keyword tracking
Help desk available to all users
Cons
6. Ranktracker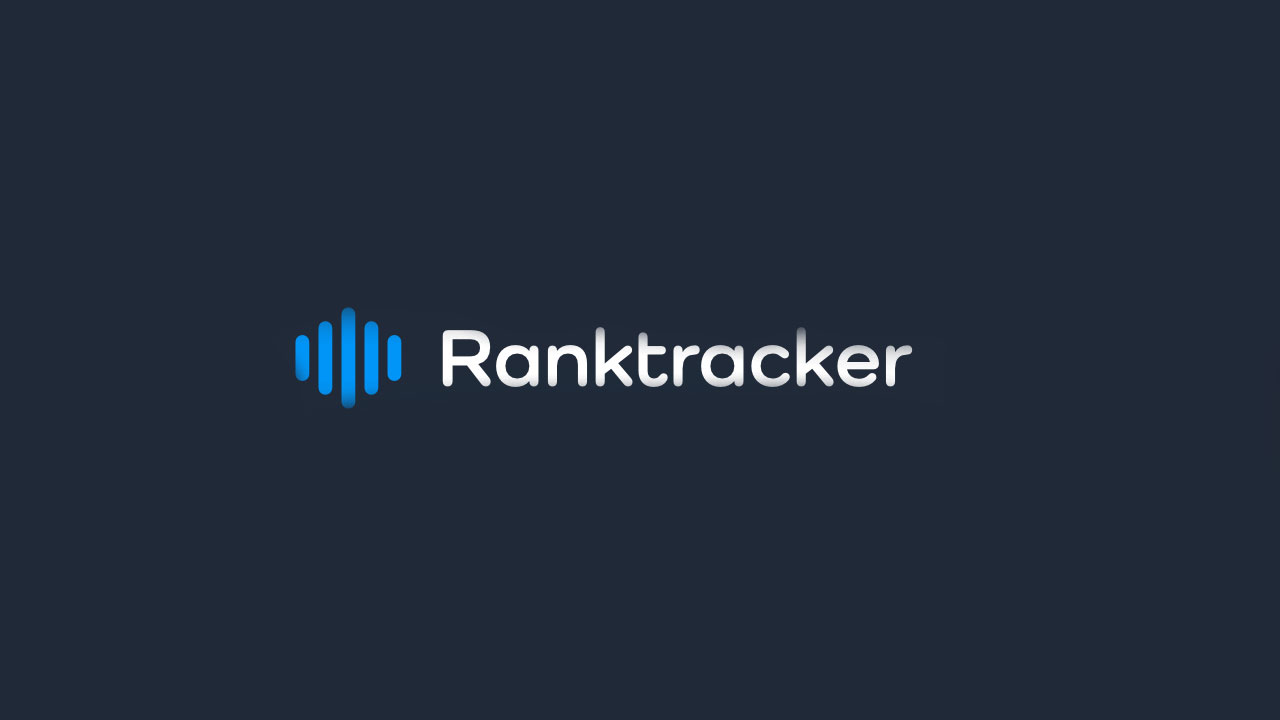 Ranktracker is among the best keyword-tracking tools, with several features that boost keyword rankings and improve SEO performance. Also, it features Google Search Console and Analytics, as well as other integrations.
In addition, Ranktracker provides site audit tools and supports keyword tracking and analysis. Although these functions are useful, they're less robust than Rantracker's search engine position tracker and similar features.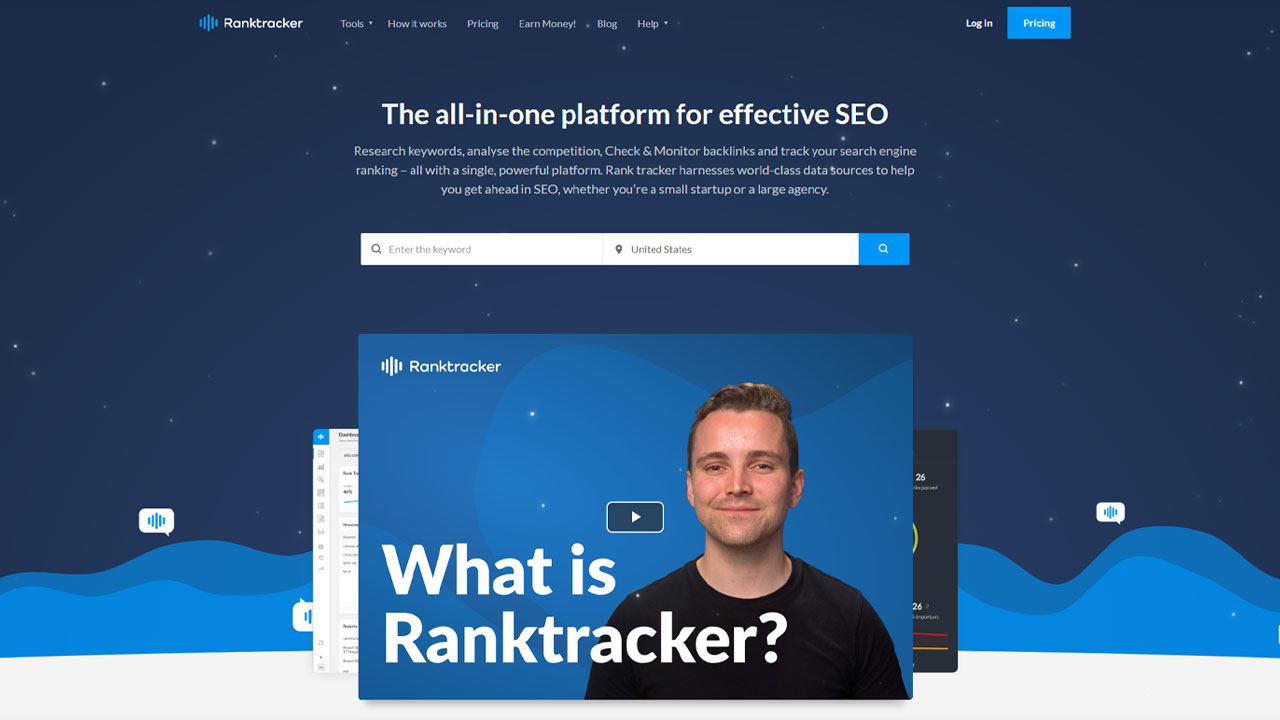 Key Features
Tracking keyword rankings
Expansive keyword explorer
SERP tracking tool
Website audits
Backlink checking
User Experience
Ranktracker has mostly favorable user reviews, praising the platform's interface and rank-tracking feature. Some users have complained about slower and relatively unresponsive support.
Pricing Plans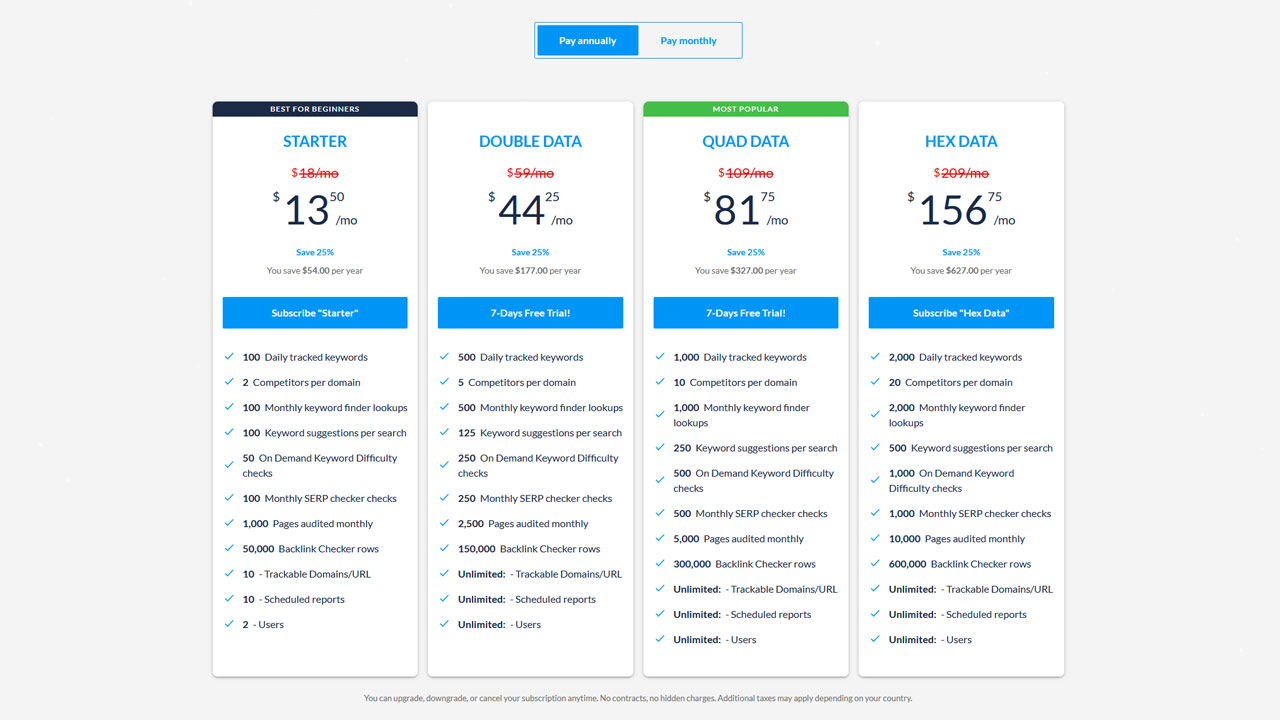 Users can try the platform for free, although this is a one-time testing function rather than a trial period. There are four pricing plans for Ranktracker:
Starter – $12
Double data – $41
Quad data – $76
Hex data – $146
Pros
Excellent keyword tracking and research tools
Local, national, and global rankings
Customizable reporting
Cons
Limitations on certain features
Website audits could be better
7. Nightwatch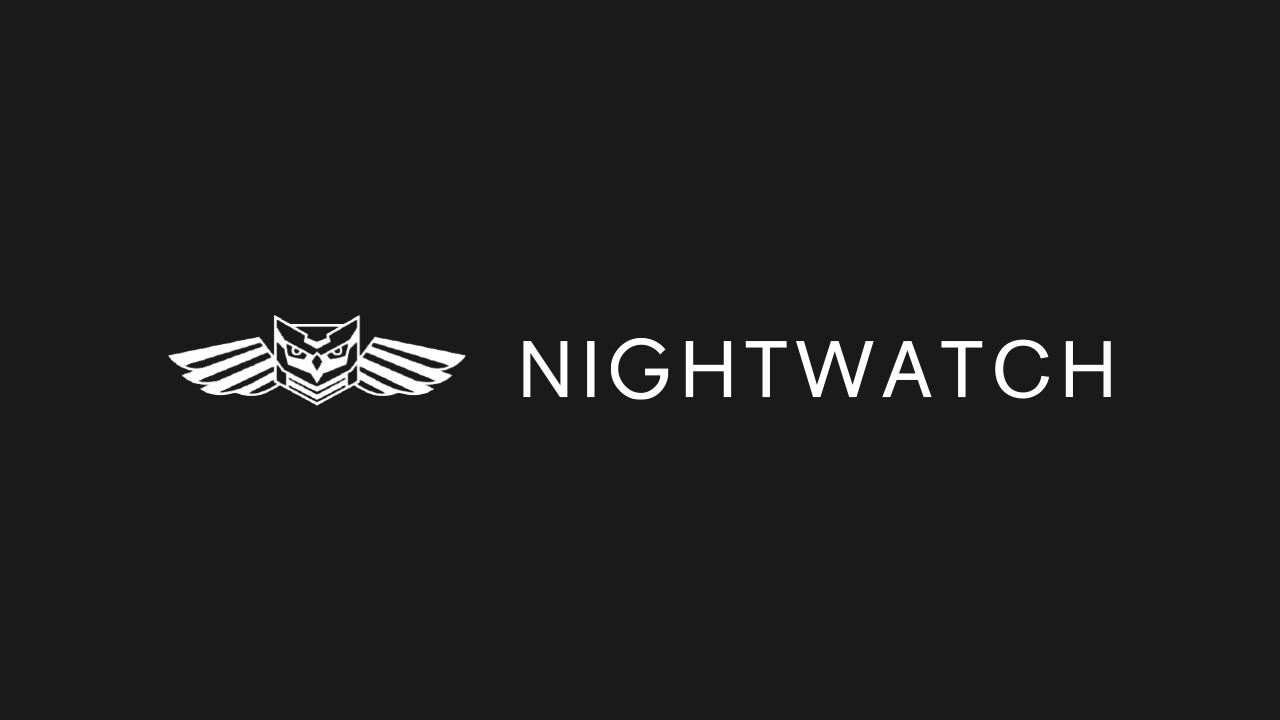 One of the most vital attributes of Nightwatch is its straightforward user interface. This keyword ranking checker software features comprehensive data lists, charts, and graphs to make analysis easier.
Nightwatch provides insight into keyword rankings, Google Analytics, results on different search engines, and more. The service also comes with a 14-day free trial.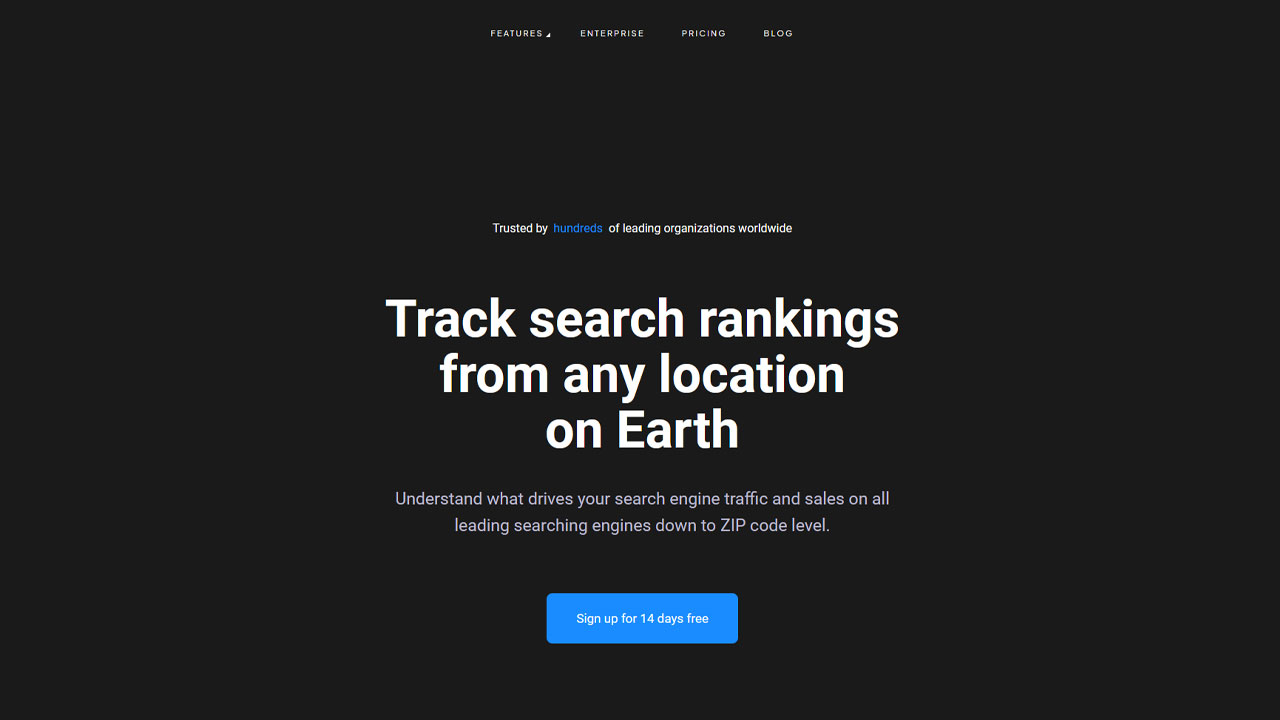 Key Features
Rank tracker tools
Backlink checks
Generating reports
Site audit
Helpful integrations
User Experience
Nightwatch has garnered positive user reviews due to its customization options and functionality. Most customer reviews cite no complaints or significant disadvantages. The only notable downside users pointed out is the challenging setup process for locational keywords.
Pricing Plans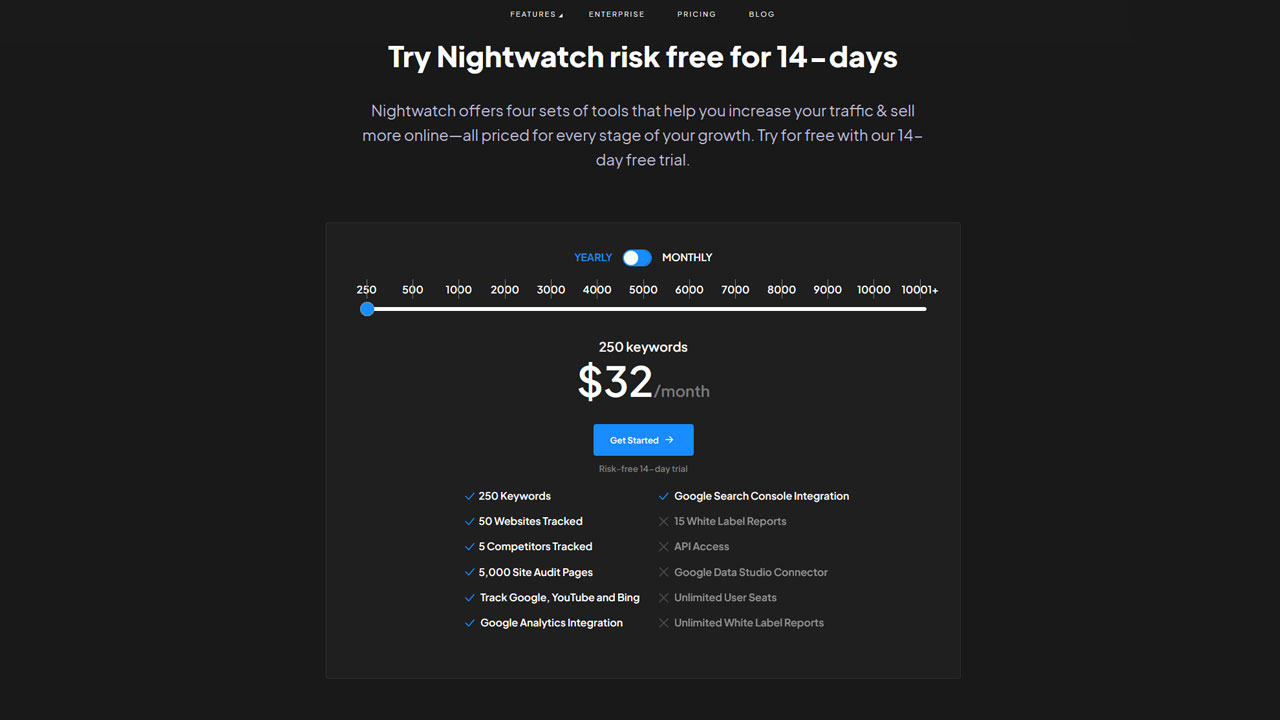 Users can try Nightwatch for free for 14 days. Besides the trial period, the platform has a customizable pricing plan according to the selected number of keywords.
The lowest price is $32 for 250 keywords, while the highest is $559 for 10,000. If the user wants more than 10,000 keywords, they can contact the sales team.
Pros
Some of the best rank tracker tools in the price range
Very user-friendly interface
Comprehensive reports
Cons
Locational keyword position tracking can be clunky to set up
8. MonsterInsights
MonsterInsights is a WordPress plugin that serves as a rank checker. The plugin is considered the best ranking tracker tool for Google Analytics in its category.
Built by the developer of Yoast SEO, MonsterInsights represents a powerful analytics solution for WordPress users.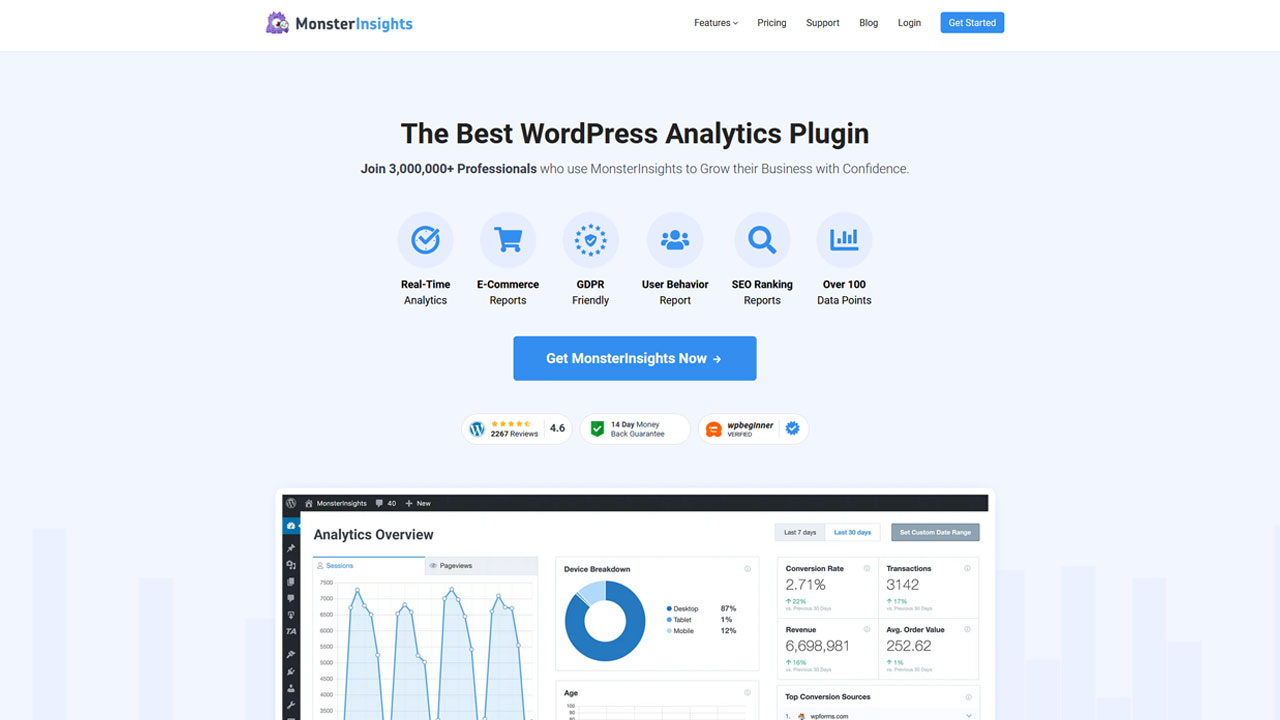 Key Features
Link tracking
SEO score monitoring
Focus keyword tracking
Analytics reporting
Custom dashboard
Real-time reports
User Experience
User reviews for MonsterInsights are overwhelmingly positive. According to customer feedback, the strongest points that set the plugin apart from other rank tracking tools include easy setup and detailed analytics.
Pricing Plans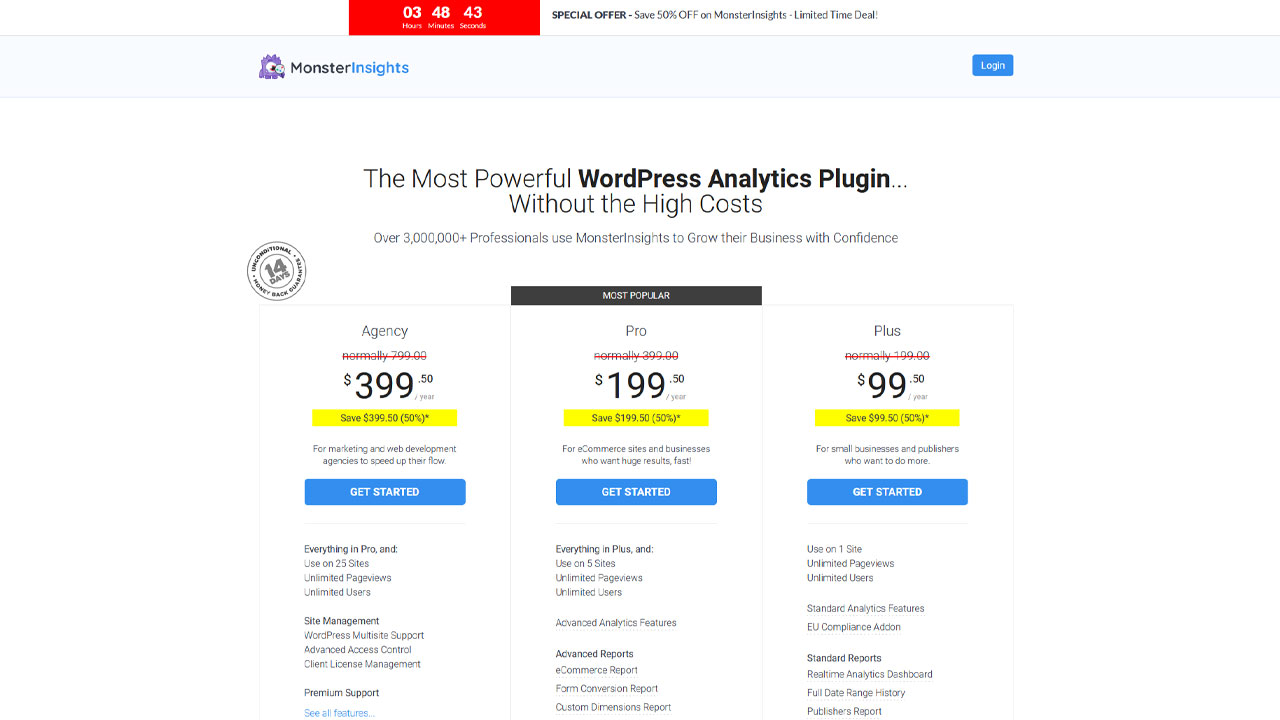 MonsterInsights has a completely free, albeit somewhat limited, Lite version. The paid variants come in three pricing plans:
Plus – $99
Pro – $159
Agency – $319
Pros
Easy to install and set up
User-friendly interface
Direct user account access
Highly customizable
Straightforward report exporting
Cons
Relatively costly for a plugin
9. SerpWatcher/Mangools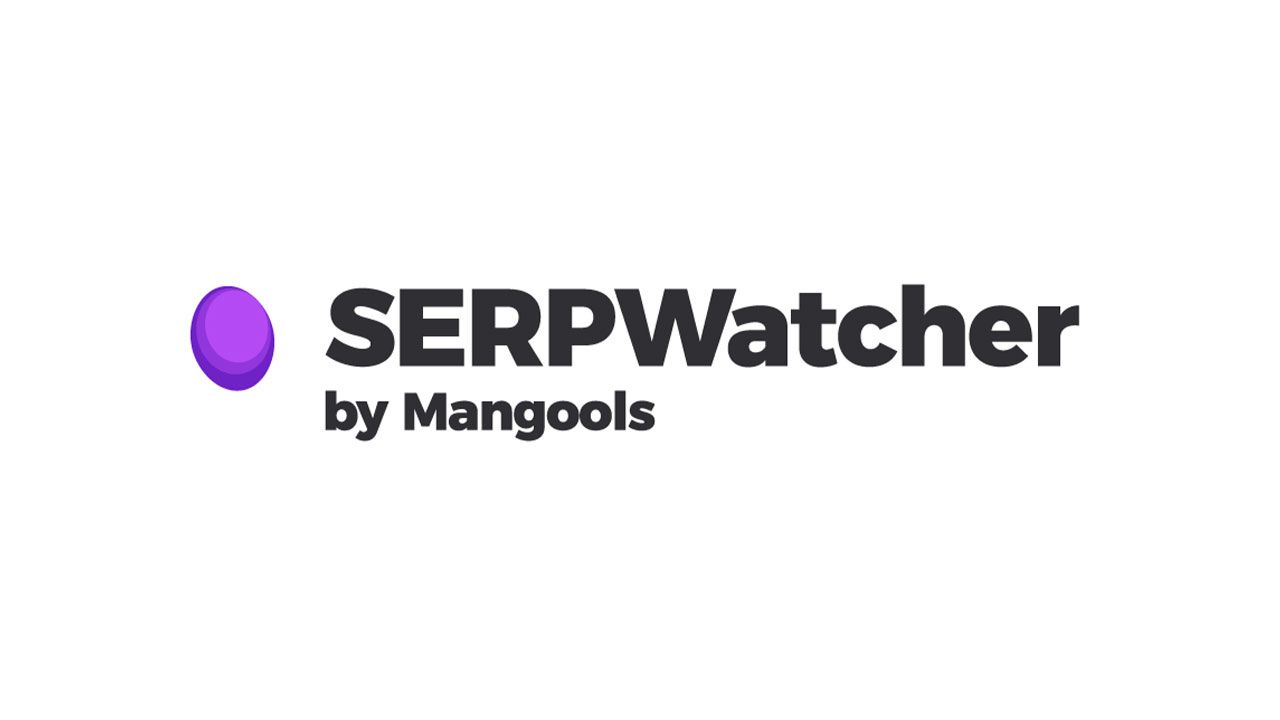 Mangools was initially built for researching target keywords and finding organic keywords to boost search volume. However, the software kept growing in functionality, resulting in a specialized suite of keyword rank tracker tools: SerpWatcher.
The software applies exclusively to Google search results and has certain limitations in functionality. Still, it represents an affordable solution for a boost in SEO strategy.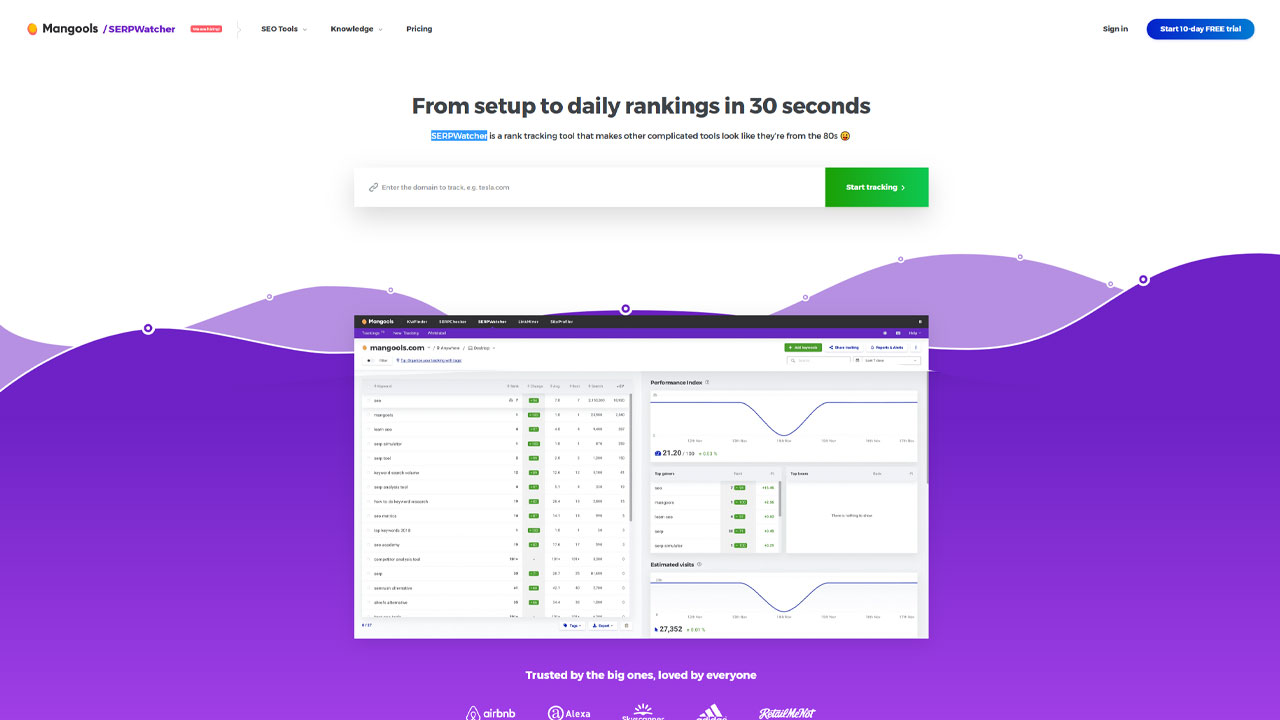 Key Features
Track keyword rankings across unlimited domains
Track keywords by location
Supports mobile search results
Daily reports
Estimates visit based on chosen keyword search volume
User Experience
Mangools' SerpWatcher has medium to high reviews, with users showing particular satisfaction with SEO features and customer support.
While analytics and reporting aren't rated on the level of the best rank checker tool, they are still more than decent, according to most users.
Pricing Plans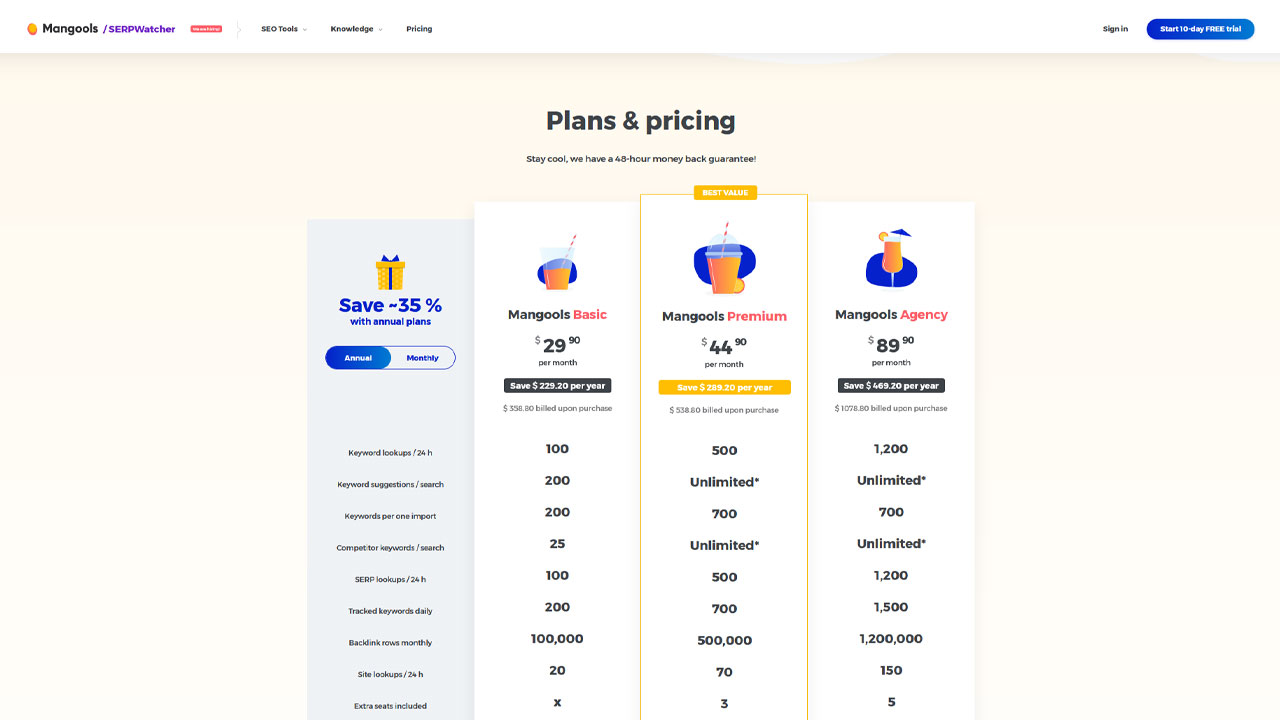 Users can try SerpWatcher for 10 days free of charge. Then, they can opt for one of three relatively affordable pricing plans:
Basic – $30
Premium – $45
Agency – $90
Pros
User-friendly
Weekly and monthly reporting
Custom email notifications for changing keyword positions
Google My Business Profile tracking
Advanced web ranking analysis
Extensive integration
Cons
Separate mobile and desktop reporting
Somewhat inaccurate traffic data
Not standalone – must be purchased with Mangools suite
10. SEO PowerSuite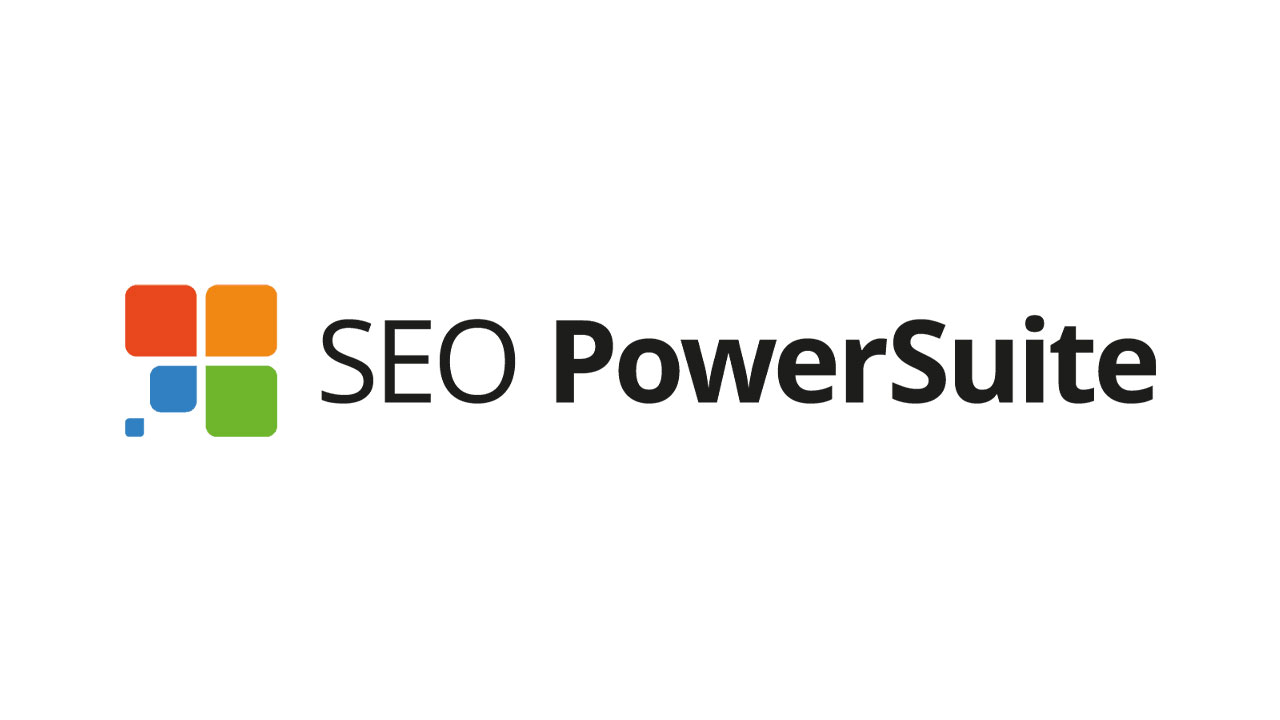 SEO PowerSuite is a rank-tracking software tool with a fully operational desktop client. It features automated solutions and provides organic keywords based on the search results from the user's URL.
As a keyword-tracking tool, SEO PowerSuite boasts powerful analytics and ranking data features.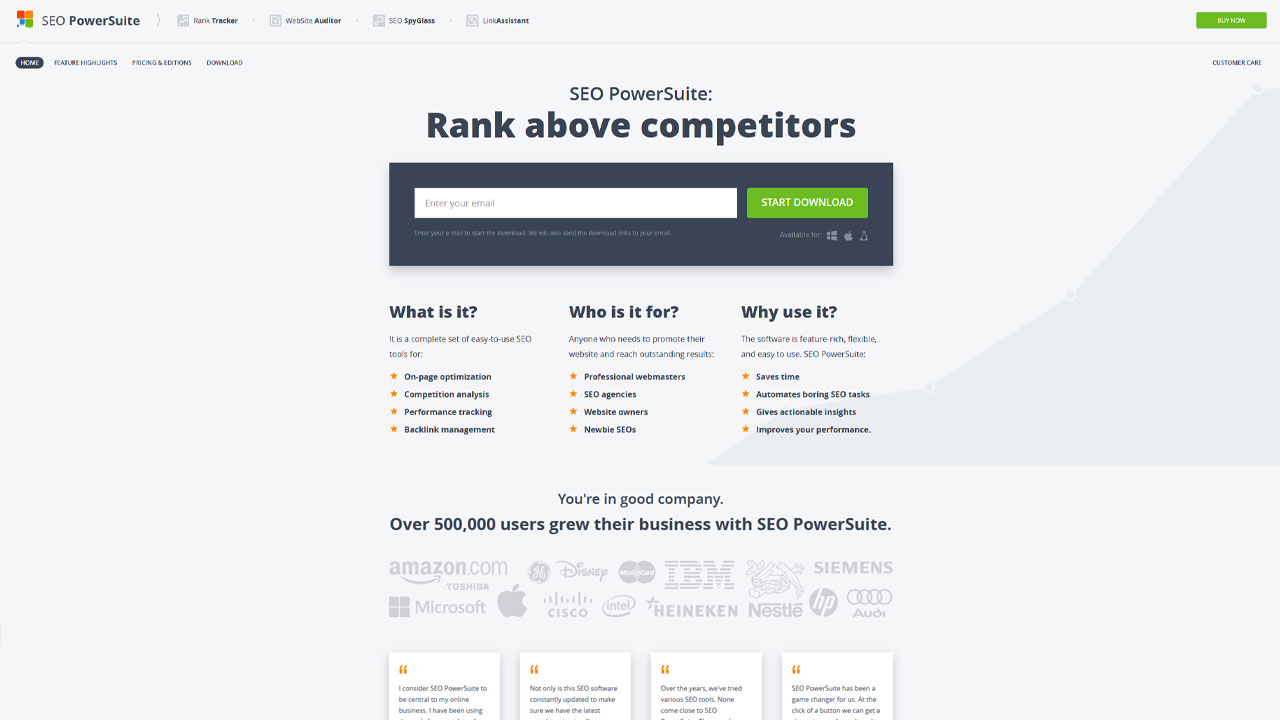 Key Features
Analyzes keyword positions
Estimates keyword difficulty
Able to track keyword positions
Includes four dedicated apps
Fast analytics
User Experience
Reviews for SEO PowerSuite are mostly favorable. Users single out SERP tracking functionality and competitive keyword analysis as solid points.
On the other hand, some customers have pointed out that the software doesn't represent the best keyword rank tracker on the market.
Pricing Plans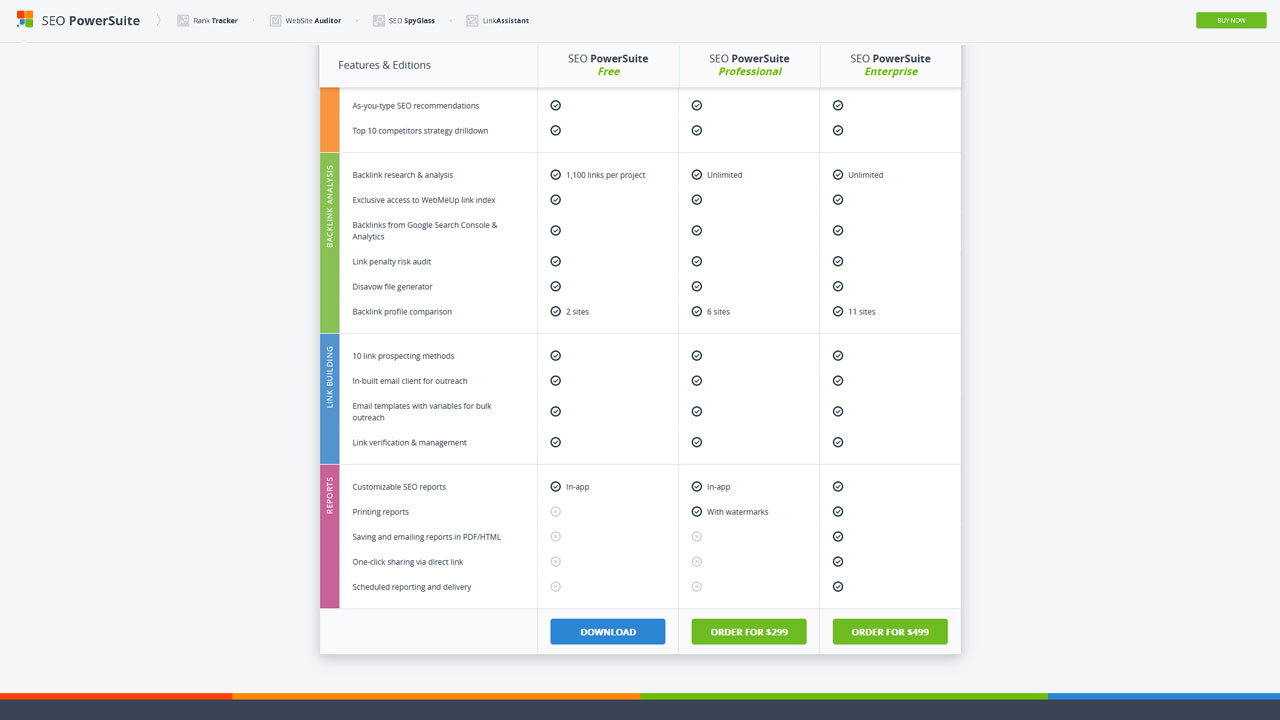 The platform doesn't have a trial period, although users can receive certain free bonuses with their purchases. There are only two pricing plans for SEO PowerSuite. The licenses are one-time purchases instead of monthly subscriptions:
Professional – $299
Enterprise – $499
Pros
A complete SEO suite with four applications
Cross-platform compatibility and synchronization
A large number of features
Dedicated semantic SEO tools
One-time license purchase
Cons
It may slow down weaker computers
Certain features may require additional subscriptions
11. SE Ranking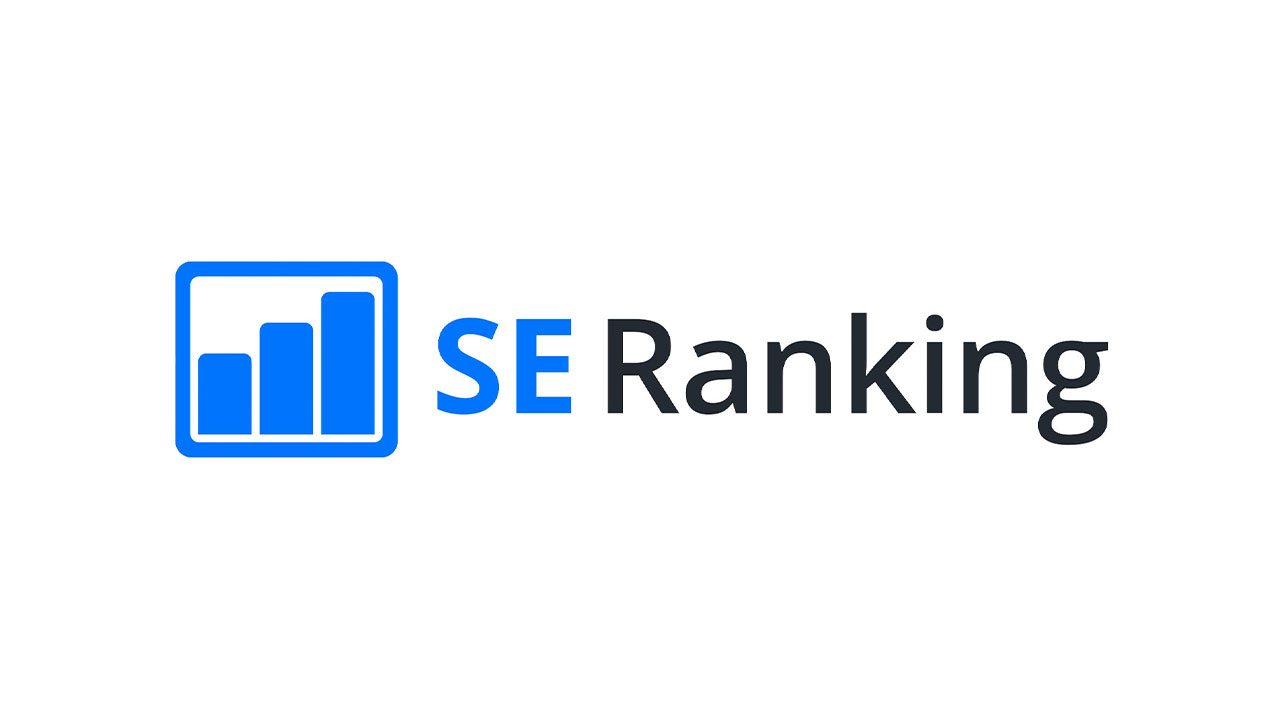 SE Ranking has become the go-to solution for many businesses due to its numerous features and affordable pricing. As a keyword tracking tool, SE Ranking keeps track of user keywords across the most significant search engines.
The software can present details on search volume and other valuable statistics. With the addition of SERP features, SE Ranking can easily be seen as the best keyword tracking tool in its class.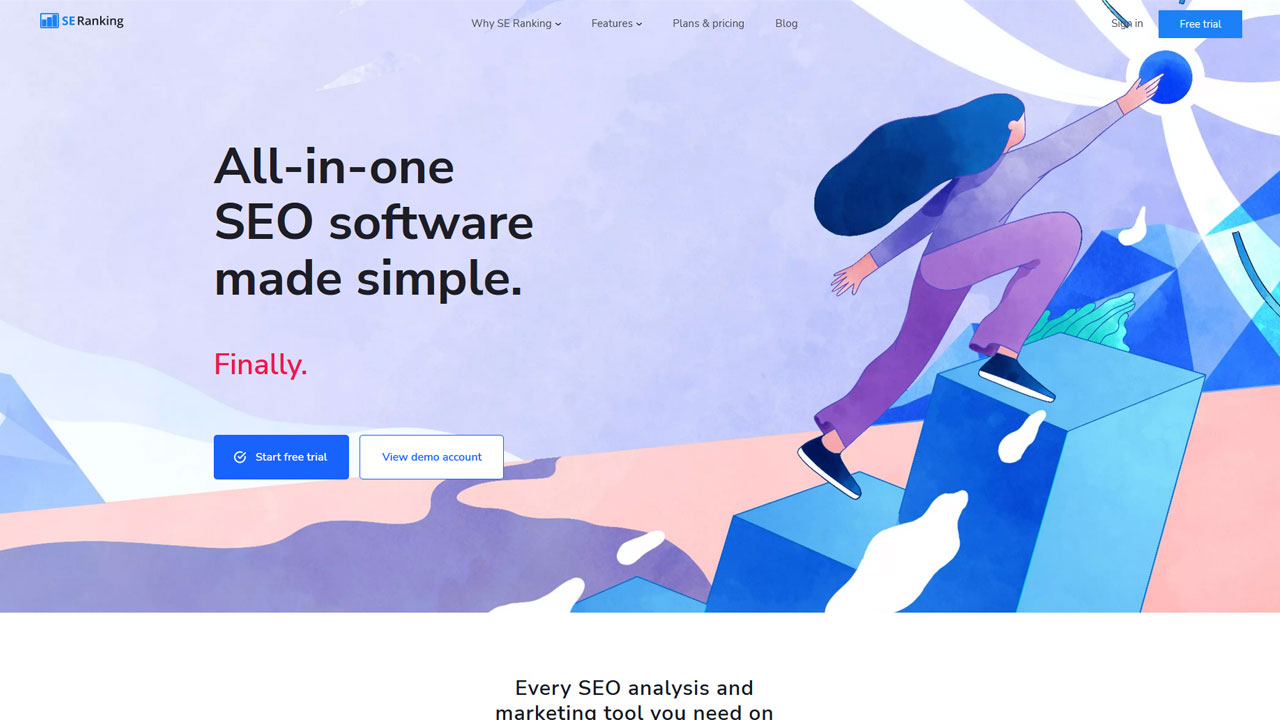 Key Features
Versatile keyword-tracking software
Competitor analysis
An unlimited websites website audit
Backlink checking and tracking
White-label SEO
Lead generation
User Experience
SE Ranking has overwhelmingly positive reviews. Users see it as the best keyword tracker tool in the price range, praising its white-label, tracking, and reporting features. Some customer reviews state that the interface could be more polished but don't consider its current state a significant flaw.
Pricing Plans
SE Ranking offers a two-week free trial with unlimited use of numerous SEO tools. For users who decide to purchase a subscription, the platform has three pricing plans, customizable by keyword count:
Essential – $31-$55
Pro – $71-$119
Business – $151-$719
Pros
Easy setup
Mobile support
White-label reporting
Competitor tracking
Cons
Doesn't track traffic trends
Insufficient data sources
Discover the Top Rank Tracking Tools in the Market
Searching for the best SEO rank tracker on the market reveals numerous options. Some trackers will serve a particular purpose better than others, although the best software will offer similar basic features.
Fortunately, the variety of leading tracking software means there are solutions for every budget and business type. Finding the right match for your company will improve SEO, SERP, keyword management, and overall online marketing performance.
Choose the ideal tool to track your rankings, and your business will receive a significant SERP boost in 2023.