Finding the best transcription software is a tough task. Of course, you're looking for speed and accuracy. But cost plays a part, as do the specific features your audio transcription software offers.
Plus, there are a ton of services available, which can make choosing transcription software seem daunting.
In this guide to the best transcription software, we split a range of speech-to-text software packages into several categories:
The best human transcription
The best real-time transcription
The best for meeting transcription
The best transcription software for ease of use
The best for live captions
The best transcription software for playback control
The best software for accurate transcription
And several more
What Is the Best Transcription Software for Audio and Video Files?
When choosing an audio or video transcription software, you have a bunch of factors to consider. How accurately does it transcribe your audio file? Does it offer human or automatic transcription? And what features do you get for your money?
With this list of our picks, you'll find several transcription programs that meet your needs.
1. GoTranscript
Best Human Transcription Software
If you're looking for the most accurate human transcription that also supports multiple languages, GoTranscript is your software of choice.
Its team of professionals can easily handle video and audio files, offering transcription services in over 60 languages. Plus, they offer a guarantee of 99% accuracy, which many automated solutions can't match.
The organized dashboard makes the software easy to manage. What's more, it allows you to define speaker labels if you have multiple speakers you want to track in the transcription.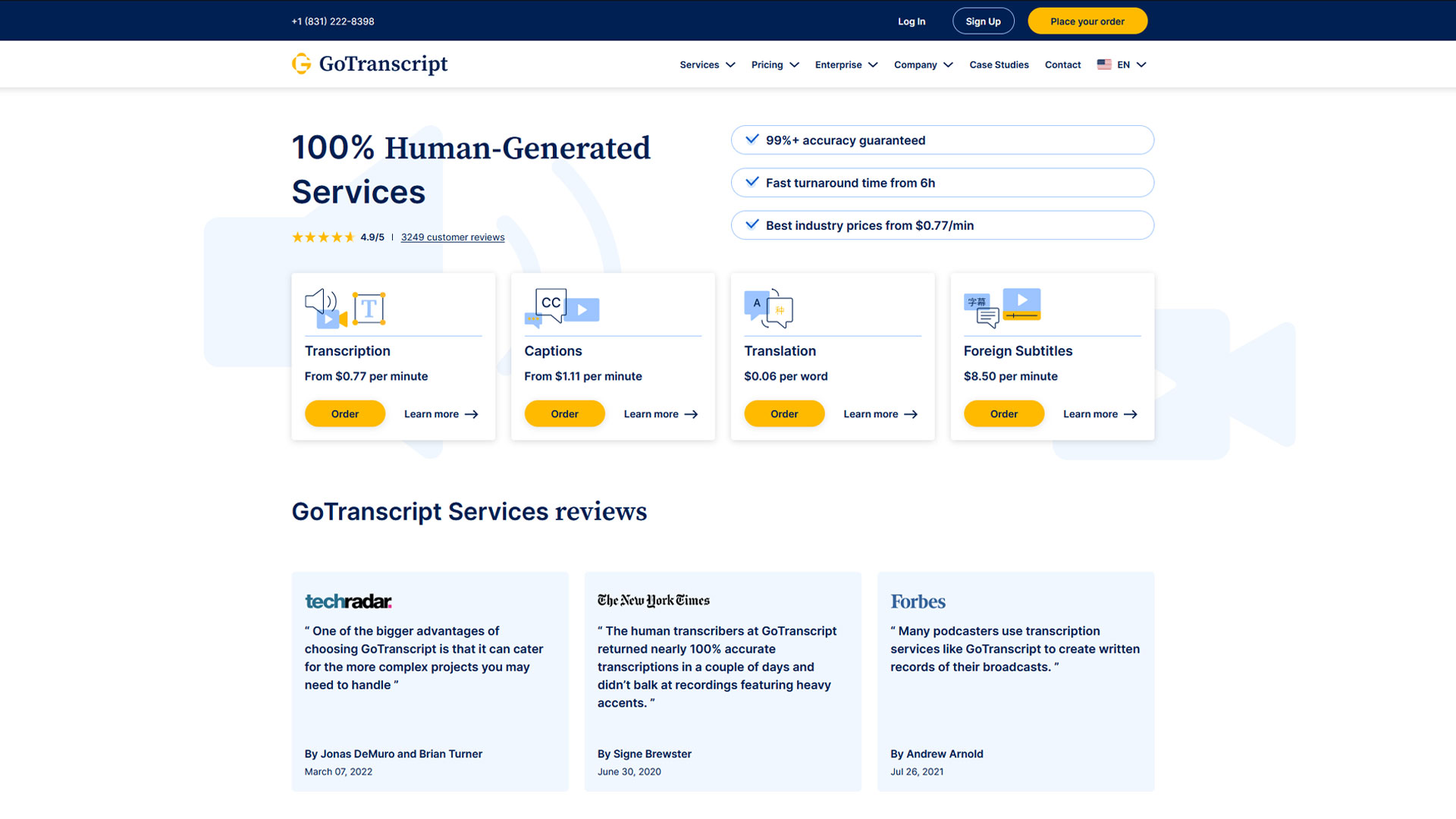 Key Features
Human-powered transcription ensures accuracy
A global team of experts offers transcription in over 60 languages
Free trial up to $10
Supports most file formats, as well as Dropbox and YouTube content
Pros
Exceptional accuracy
Low prices for human transcription
Tons of languages supported
Easy-to-use dashboard
Cons
No autosaving when editing
Turnaround time of five days
No automatic transcription software tools
Pricing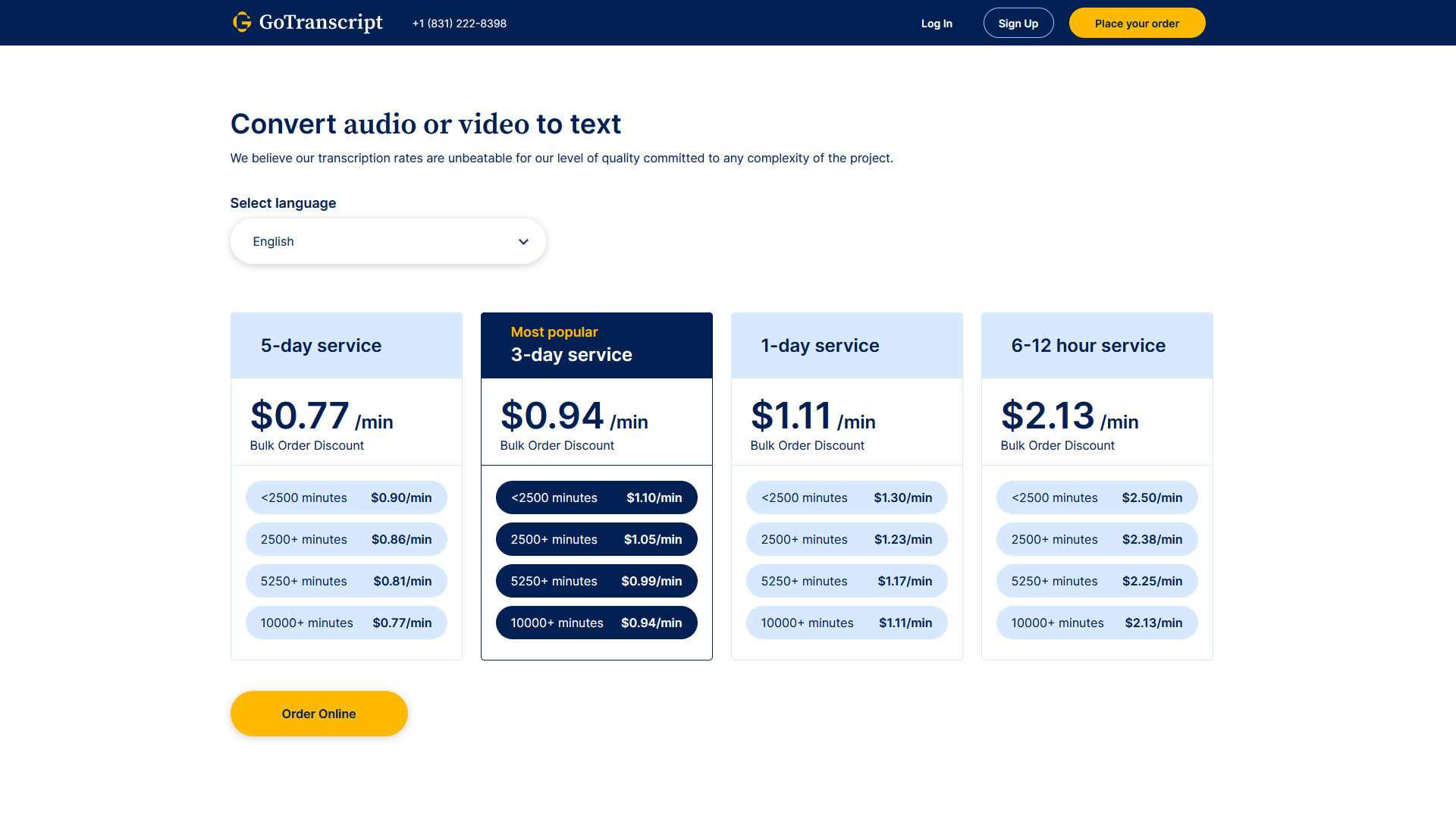 GoTranscript pricing varies depending on the specific service you use:
Transcription – $0.77 per minute
Captions – $1.11 per minute
Translation – $0.06 per word
Subtitles – $8.50 per minute
The software also offers a free trial good for up to $10 of services.
2. Trint
Best Real-Time Transcription
Created by an award-winning journalist and foreign correspondent, Trint is designed with the needs of journalists in mind.
It's a powerful real-time transcription and speech recognition software, making it perfect for transcribing as you talk. It supports multiple languages and offers flexible payment plans for its AI-based transcription services.
The platform is available on iOS and web devices, in addition to having cloud-based and Software as a Service (SaaS) options. Sadly, there's no Android support at the time of writing.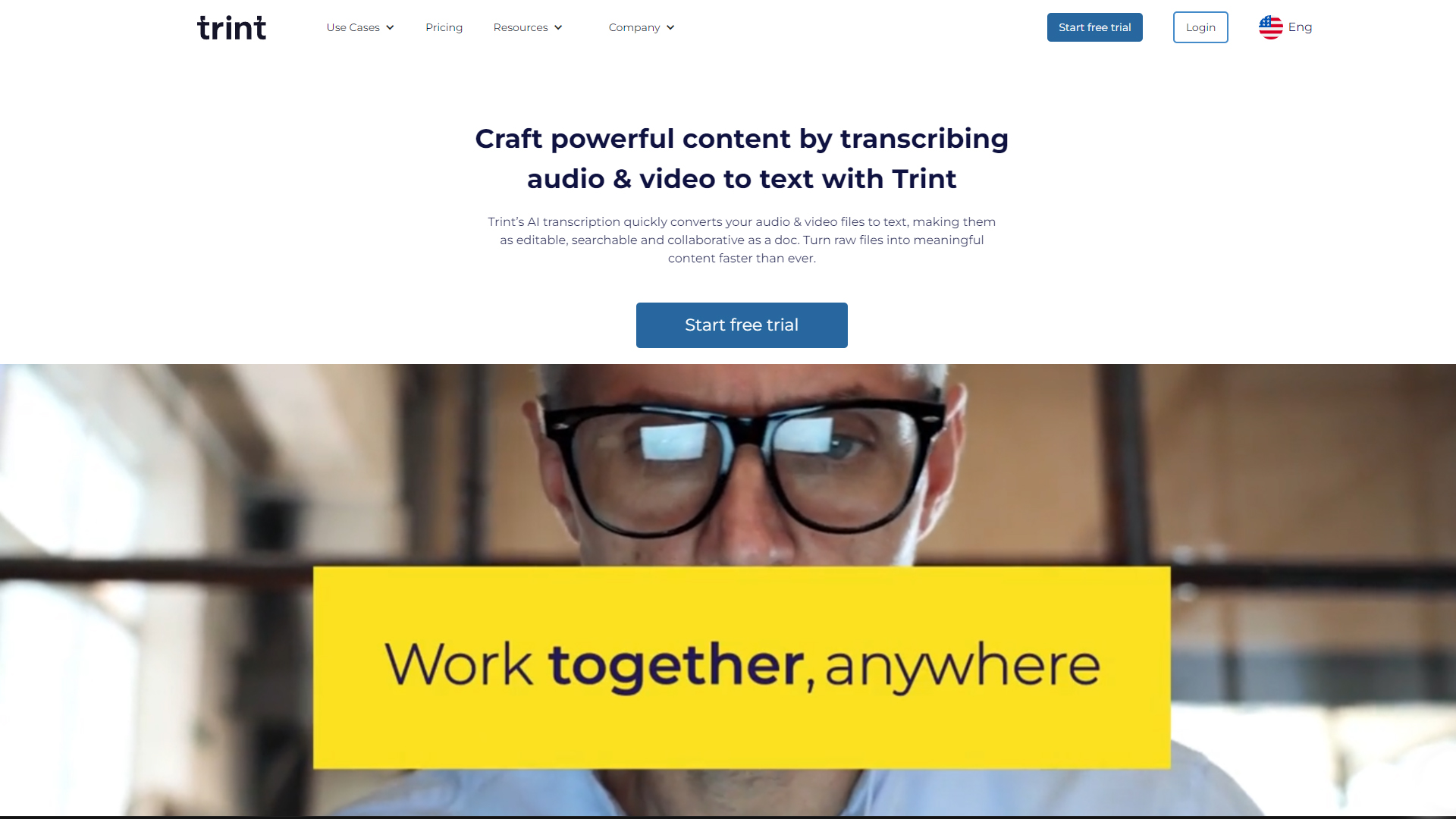 Key Features
Transcriptions are available in 31 languages
Allows you to share finished transcriptions in several file formats
ISO-certified data security standards
Useful tools support this AI transcription software
Pros
It comes with a free trial
Captures audio and transcribes in real time
Flexible payment plans that you can pause at any time
Integrates with Adobe Premiere Plus and several other apps
Cons
No Android mobile application
Not ideal for heavy transcription loads
Some translations are worse than others
Pricing
After a seven-day free trial, Trint offers the choice between Starter, Advanced, and Enterprise packages.
Prices start at $50 per user per month, with the Enterprise package offering custom pricing based on your needs.
3. Otter.ai
Best for Meeting Transcriptions
Otter.ai is a popular service for transcribing audio and video content automatically. Leveraging AI technology, it's perfect for capturing audio and transcribing in real-time.
This service offers a desktop application as well as apps for Android and iOS devices which gives you plenty of options for transcribing on the go.
Otter.ai also integrates with Cisco Webex, Zoom, Microsoft Teams, and Google Meet, making it the transcription software of choice for virtual meetings.
Also, this software also comes with tools that allow you to search for specific keywords and adjust payback speeds as you see fit.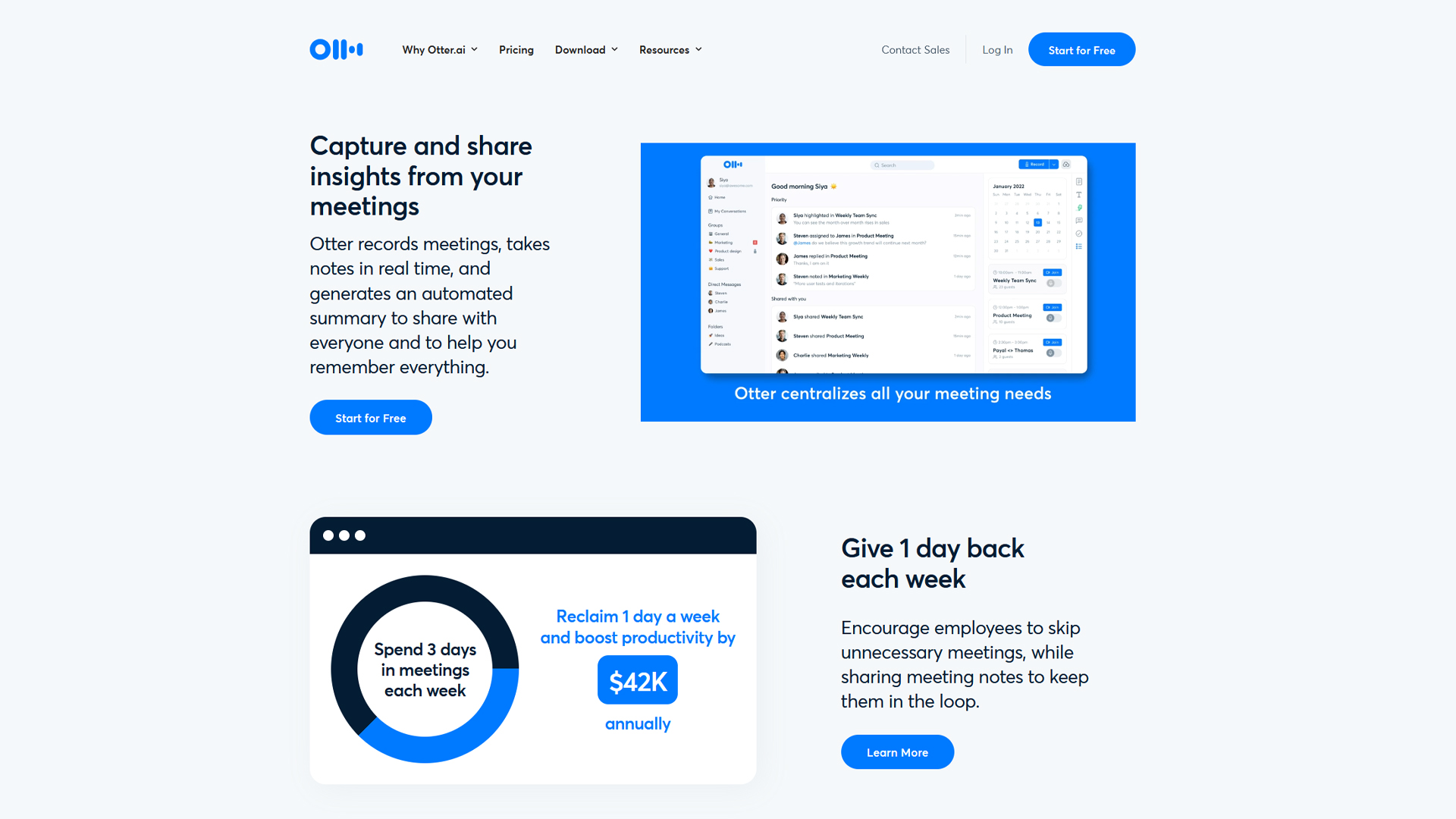 Key Features
Real-time transcription that's compatible with some of the leading virtual meeting software
Speaker identification services
Offers on-the-go usage thanks to the Android and iOS apps
Transcription editing tools allow you to alter the output
Supports several file formats, including mp3, PDF, txt, and Microsoft Word
Pros
It comes with a free version
Multiple integrations make it perfect for meetings
Available as a web-based or mobile app
Real-time and recorded file transcription
A strong suite of transcription editing tools
Cons
Poor transcription accuracy when compared to other automatic speech recognition software
Sometimes struggles to identify the end of sentences
Only supports English
A little pricey
Pricing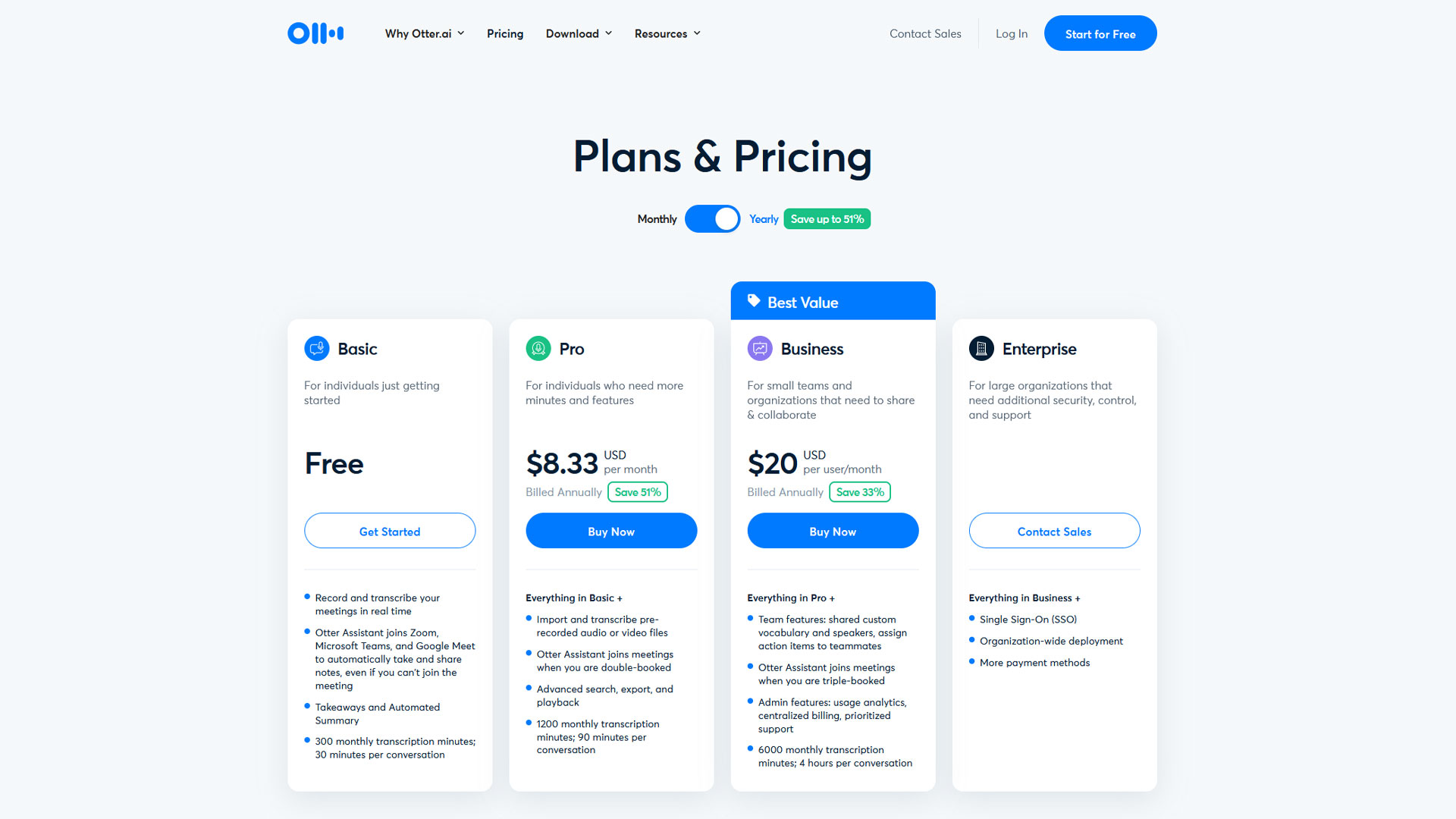 Otter.ai's Basic tier gives you access to 300 monthly transcription minutes, with a maximum of 30 minutes per recording.
The Pro tier costs $8.33 per month and ups your usage to 1,200 monthly minutes with a limit of 90 minutes per conversation.
The Business tier increases usage to 6,000 monthly minutes with a limit of 240 minutes per conversation. That comes at $20 per month.
Finally, there's an Enterprise tier that offers custom pricing based on your needs.
4. Descript
Best transcription software for ease of use
Some users want more than basic transcription services. For those people, Descript may be the best transcription software on the market.
In addition to its automatic transcription tools, Descript offers tools for podcasting, video editing, and screen recording. Plus, they're all offered on a simple dashboard, which makes this a superb platform for beginners.
The handy free version allows you to get to grips with what the tool offers. In addition, the Descript developers have created a ton of tutorial videos that show you its main features.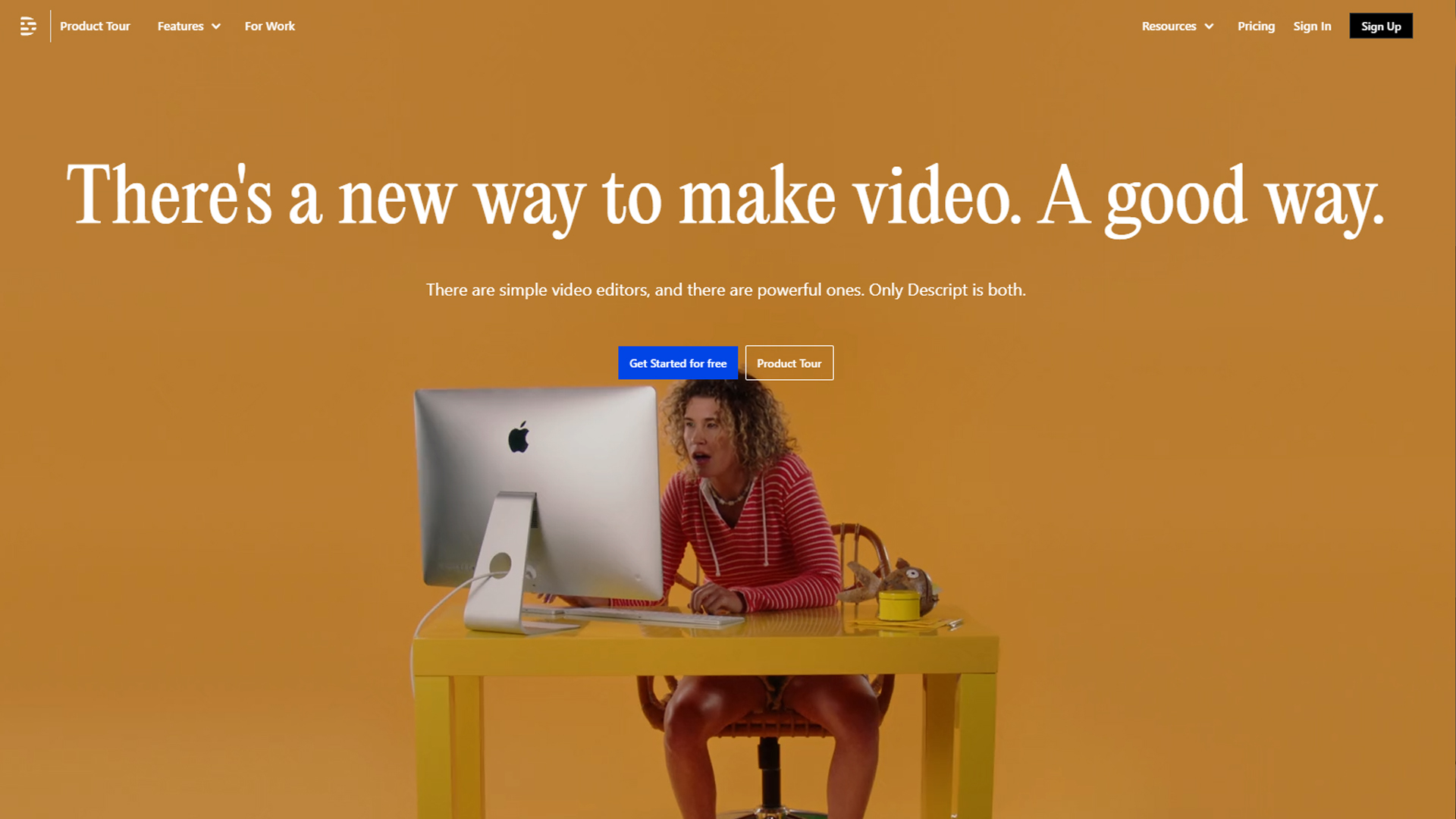 Key Features
Automatically removes filler words like "um" and "like"
Live training and video tutorials for your team
Support for a range of tools
SOC 2 Type 2 data security
95% accurate AI transcription supported by human transcribers
Pros
Streamlines transcriptions by removing filler
Extremely easy to use
Plenty of support offered to new users
Affordable pricing
Offers remote recording options
Cons
Poor automatic transcriptions for languages other than English
No mobile apps for Android devices
Pricing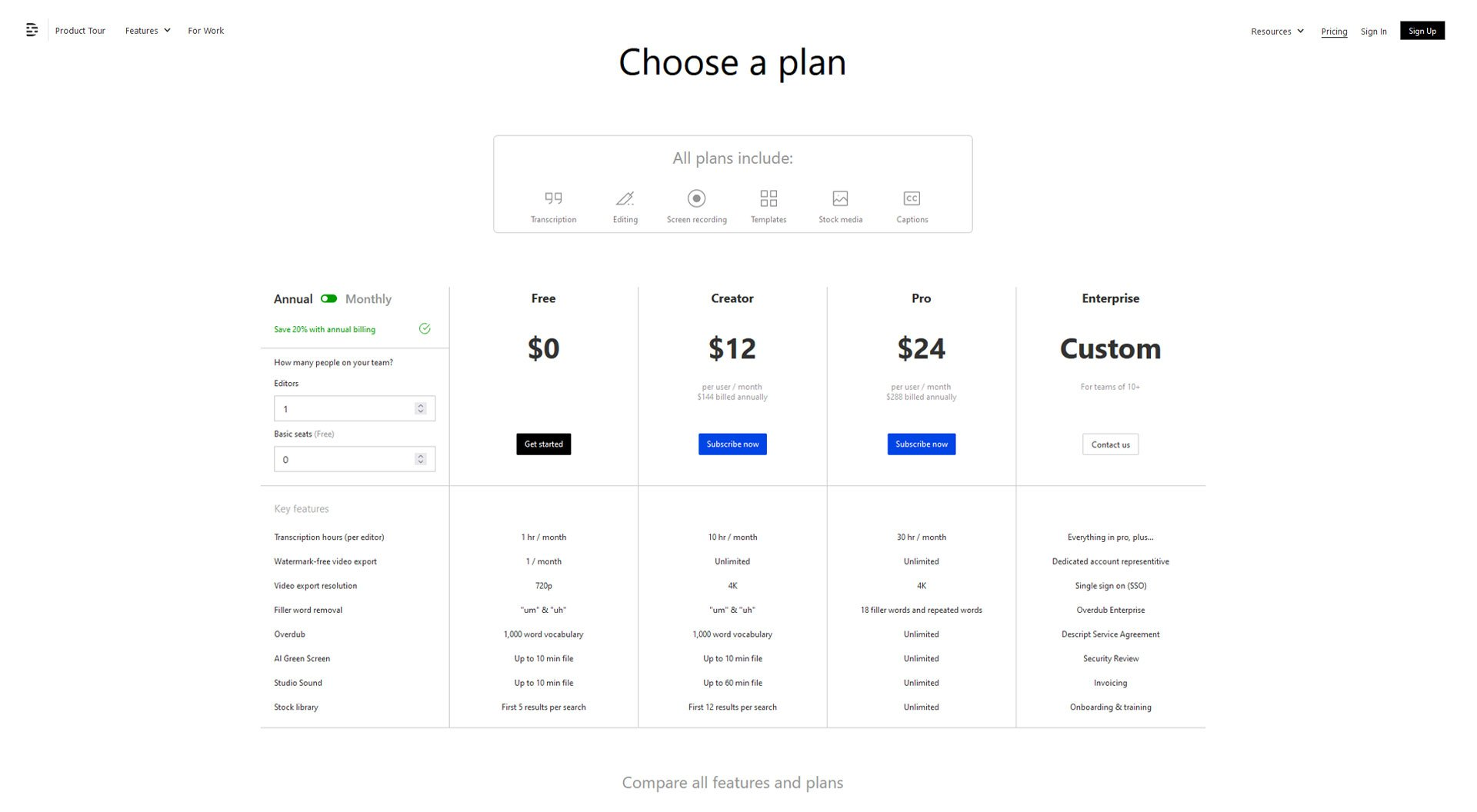 Descript offers a limited free version that gives you an hour of transcription per month.
The Creator package increases that to 10 hours per month for $12. With the Pro tier, you get 30 hours per month for $24.
Also, Descript has an Enterprise tier for those who need more than the standard tiers and free version offers.
5. Rev
Best for Live Captions
Rev built its reputation by offering some of the most accurate human transcriptions available. However, advances in the software have helped it find its way onto our list.
Its AI-generated transcription service can offer live captions for several video file formats. These services extend to virtual conferences, Zoom meetings, and video presentations.
This platform also offers transcription in over 15 languages, though it's a little less reliable for some languages than others.
On the human transcription side of things, Rev offers 99% accuracy, though it may take a little longer to receive your transcription than it does with other services.
Still, if you want to add live captions to a video file, there are few better options available.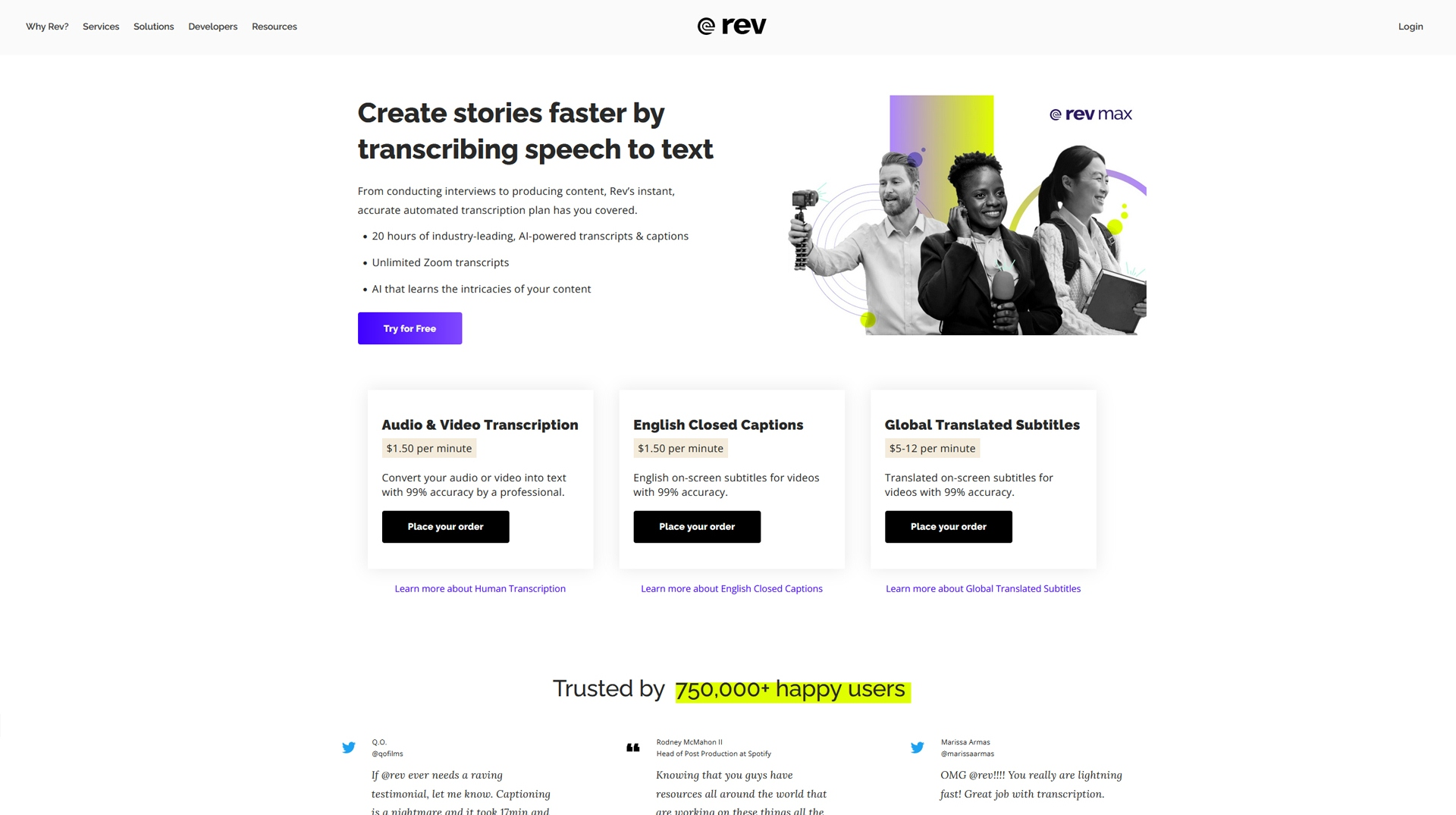 Key Features
Offers automated and manual transcription services
Live captioning for Zoom and other video formats
Simple pricing that ensures you get what you pay for
24/7 customer support from its professional transcriptionists
Pros
Clear, convenient, and simple
Transparent pricing
Offers affordable rates
Excellent AI-driven live transcriptions
Cons
Delays for manual transcription happen more often than we'd like
The translation isn't perfect for other languages
Human transcribers occasionally make mistakes due to accents or industry-specific terms
Pricing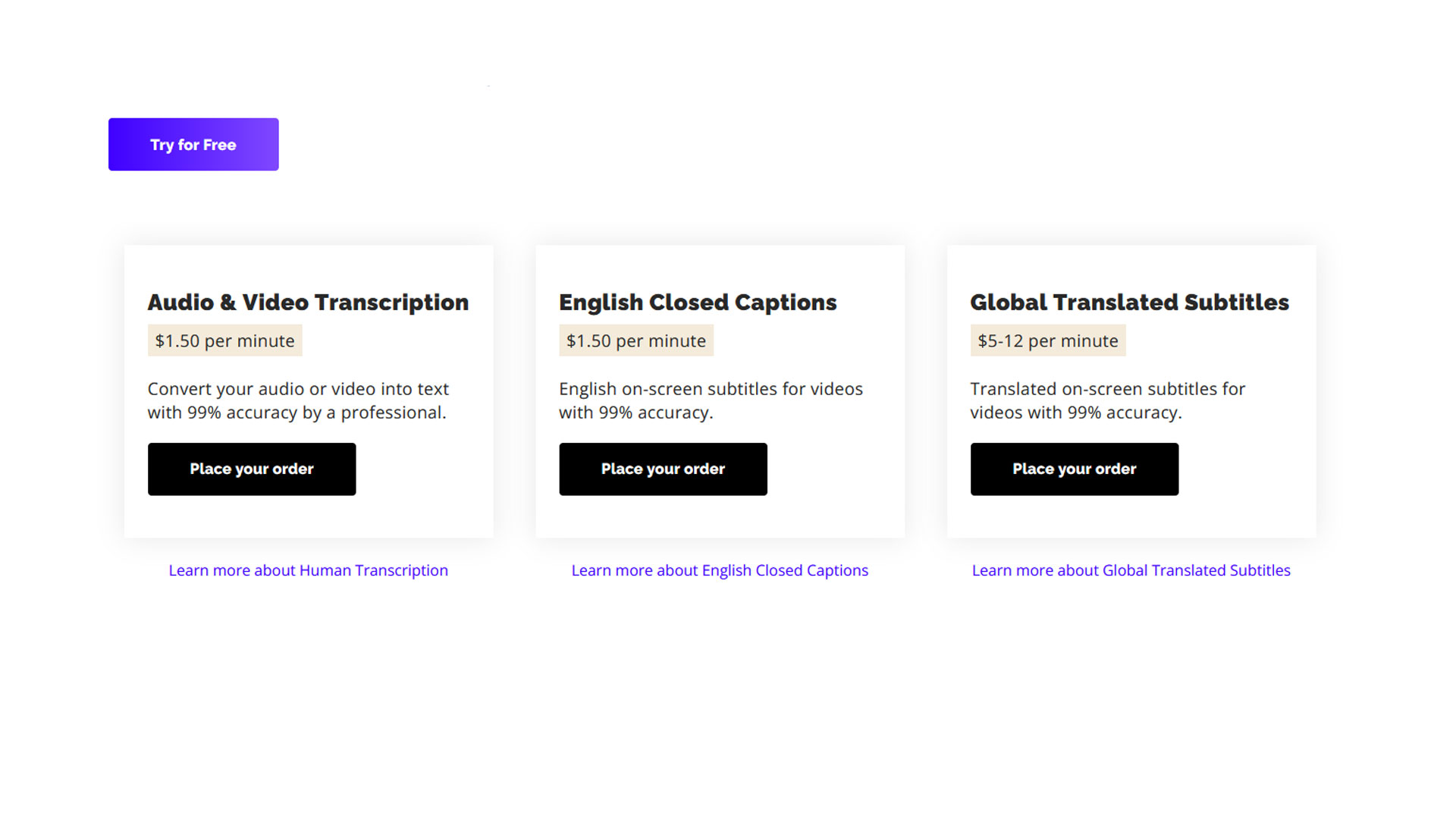 Rev keeps things simple with its pricing. Fees start from $1.50 per minute for human transcription and $0.25 per minute for automated. If you want live captions for your Zoom meeting, you'll pay $20 per meeting host.
6. Express Scribe
Best for Playback Control
As one of the older software packages for transcribing audio on the market, Express Scribe has developed a range of tools that make it one of the best transcription services.
Available on both Mac and Windows, the software supports over 45 video and audio formats. This makes it ideal for transcribing everything from lectures and interviews to movies and simple voice notes.
But it's the USB foot pedal support that makes this software stand out. Plug in your foot pedals, and you get full control over your playback. Speed things up to increase the words per minute or slow things down when you have a tough passage for Express Scribe to transcribe.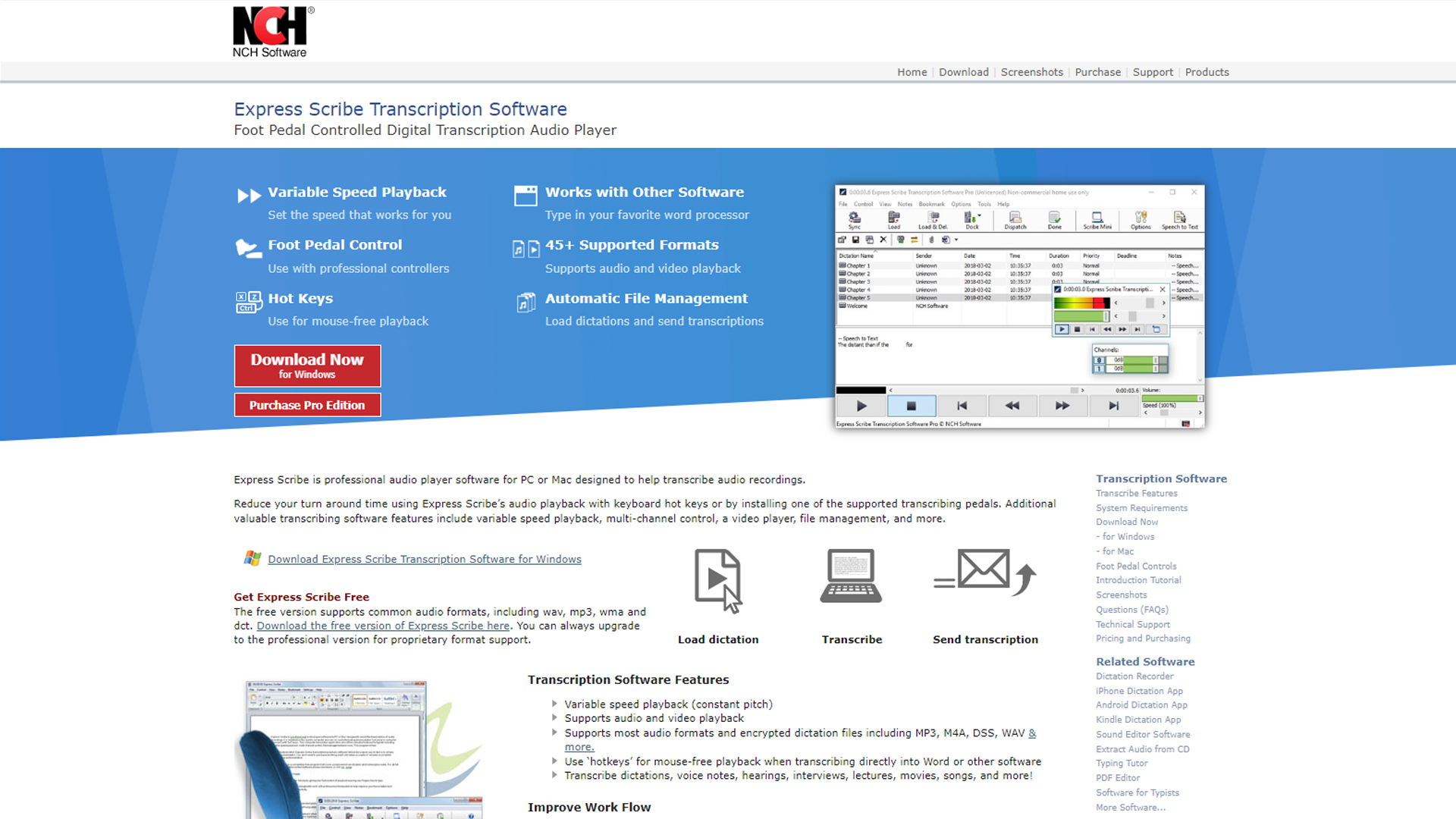 Key Features
Offers video and audio transcription
Support for a huge number of audio and video file formats
Allows you to use USB foot pedals to dictate playback speed
Includes automated tools for sending and receiving files
Pros
Exceptional file format support
Ideal for professional transcribers
It comes in free and paid varieties
Low system requirements
Hotkeys allow for a mouse-free experience
Cons
Customer support can leave a lot to be desired
Doesn't currently have a cloud-based or web version
It may get confusing for new users
Pricing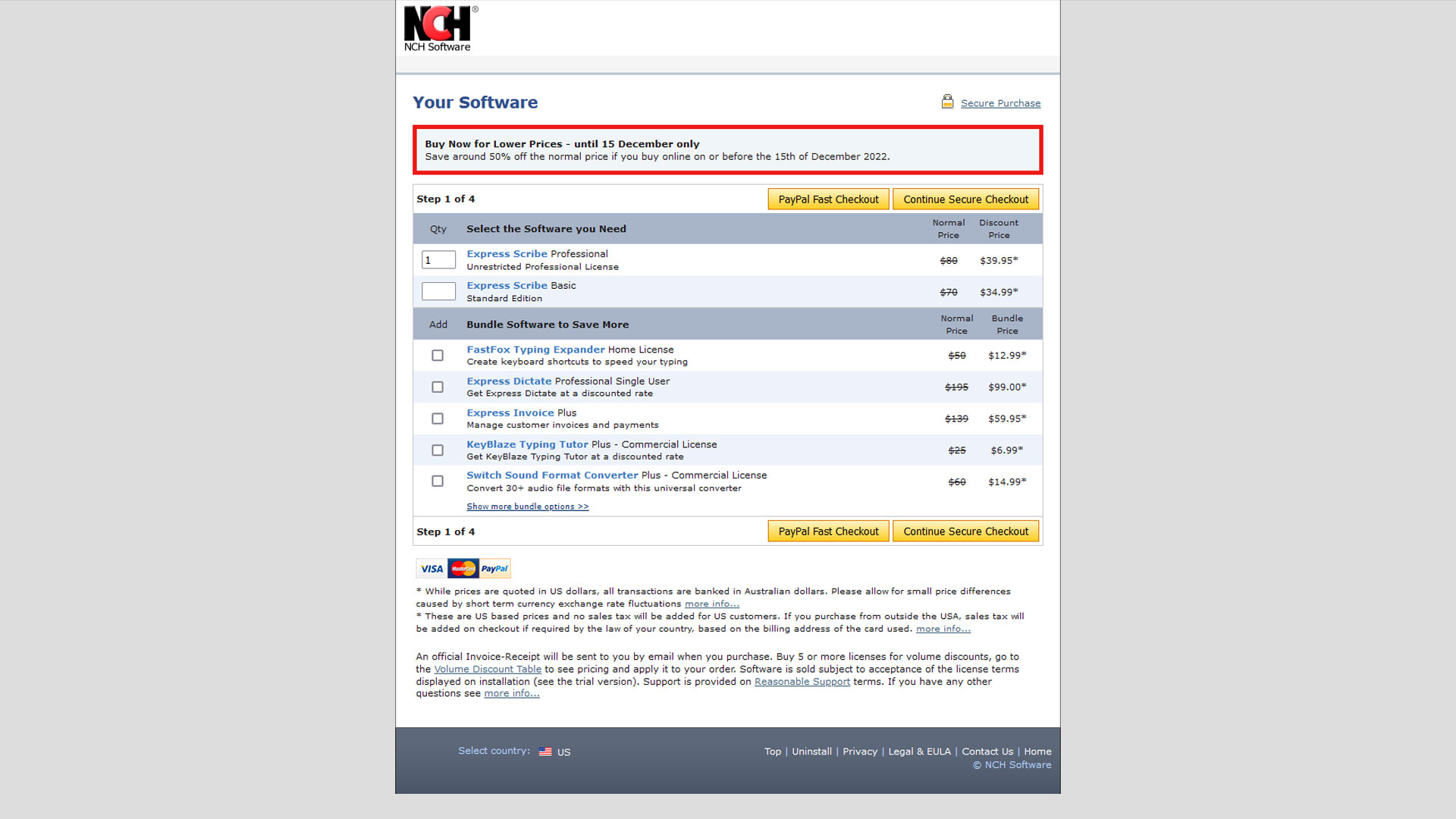 Express Scribe Basic is available at a flat price of $70, with the Professional version costing $80 per license. You also have the option of bundling the software with other NCH tools, which can save you some money on those extra packages.
7. Sonix
Best for Accurate Automation
So, you don't want to deal with the hassles of self-transcription, but you've also heard that many automated solutions aren't as accurate as you'd like. Where do you turn?
Sonix is our choice for an automatic transcription service that prioritizes accuracy above all else. Used by major companies, including Adobe and Warner Bros, Sonix is one of the most powerful automated transcription software packages around.
The user-friendly interface is ideal for less tech-savvy users. Plus, it's just as effective for transcribing video recordings as it is when transcribing audio. Just upload files using the simple interface and let Sonix do the rest for you.
Combine this ease of use with a set of editing features that allow you to eliminate background noise, and you have a strong AI transcription service.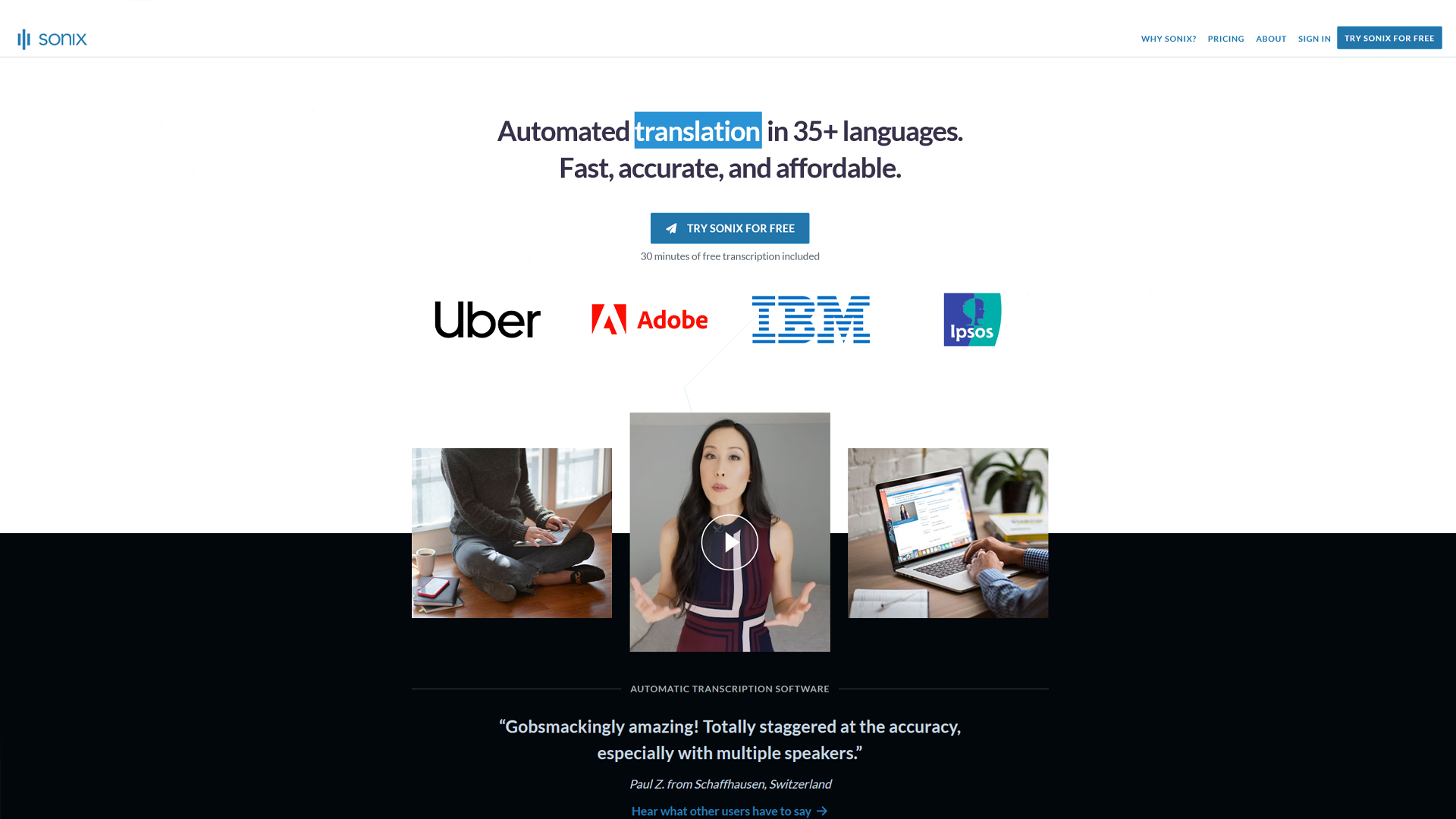 Key Features
Transcribes audio video files without hiccups
Supports 35 languages
Features automation tools for subtitles and captioning
Useful file-sharing and publishing tools
Integrated with Zoom, Adobe Premiere, and several other software packages
Pros
Produces encrypted dictation files with two-factor authentication for access
Extremely accurate automated transcription
Compatible with a range of software packages
Useful editing tools help you create clean recordings
Cons
No mobile apps for people who transcribe on the go
Grammar-driven to the point of extremes
It becomes expensive if you use the Premium tier
Pricing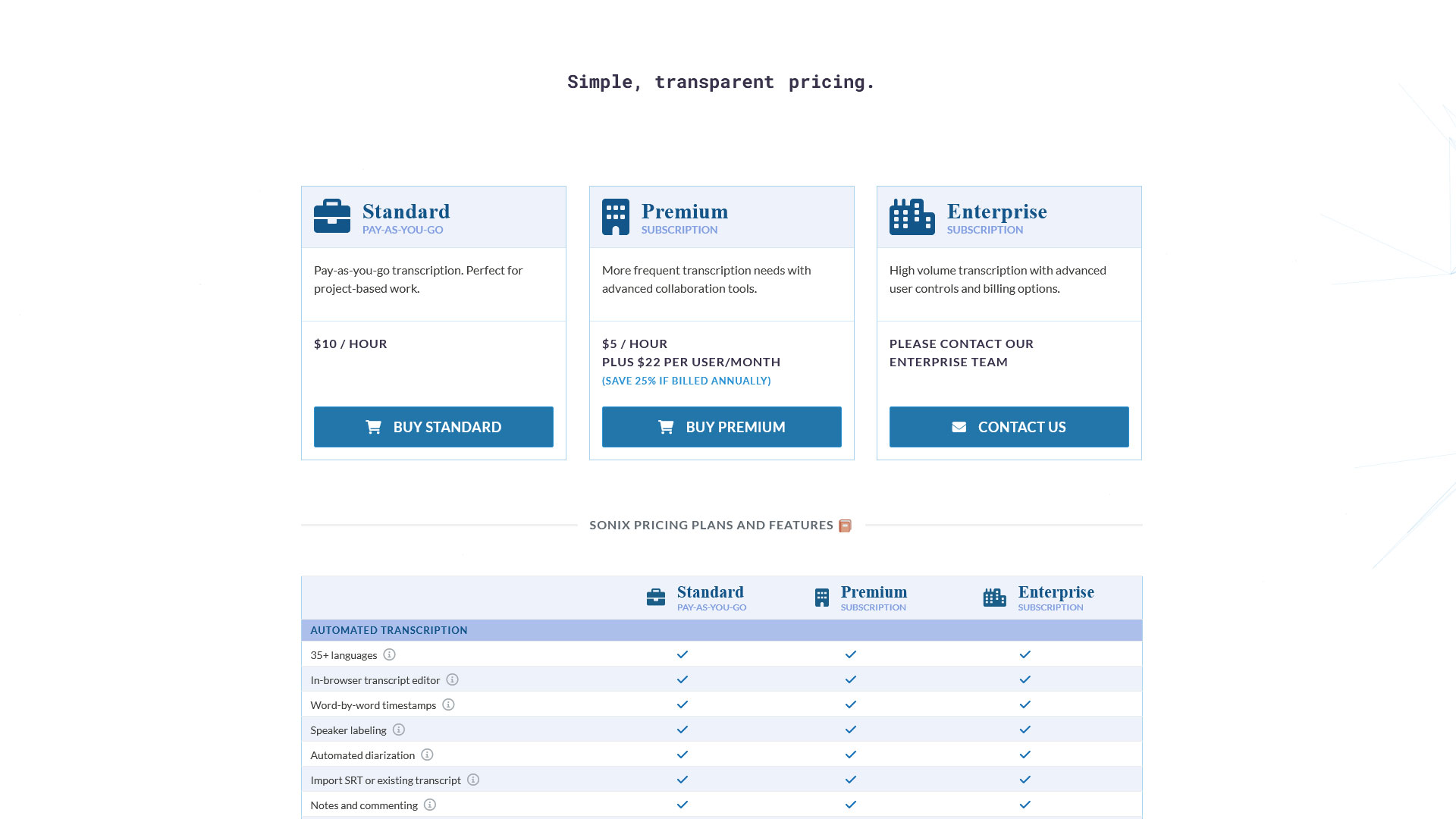 Sonix offers three pricing tiers, starting with Standard. Offering a pay-as-you-go service, Standard costs $10 per hour. The Premium tier cuts the hourly price to $5 but tacks on a $22 per month subscription fee. A customizable Enterprise tier is available for bulk transcription.
8. InqScribe
Best for Affordability
If simple and cheap are what you're looking for, InqScribe delivers. This software is available for Windows and Mac users, allowing you to transcribe audio and video files from almost any storage device.
InqScribe supports several file formats, including XML, HTML, and YouTube. Plus, its intuitive interface allows you to operate it mouse-free. Professionals will also love the compatibility with USB foot pedals, which provides plenty of playback flexibility.
The major downside is that InqScribe doesn't have dedicated customer support. However, there's a healthy community that serves as a knowledge base, as well as a handy user guide, to help you along.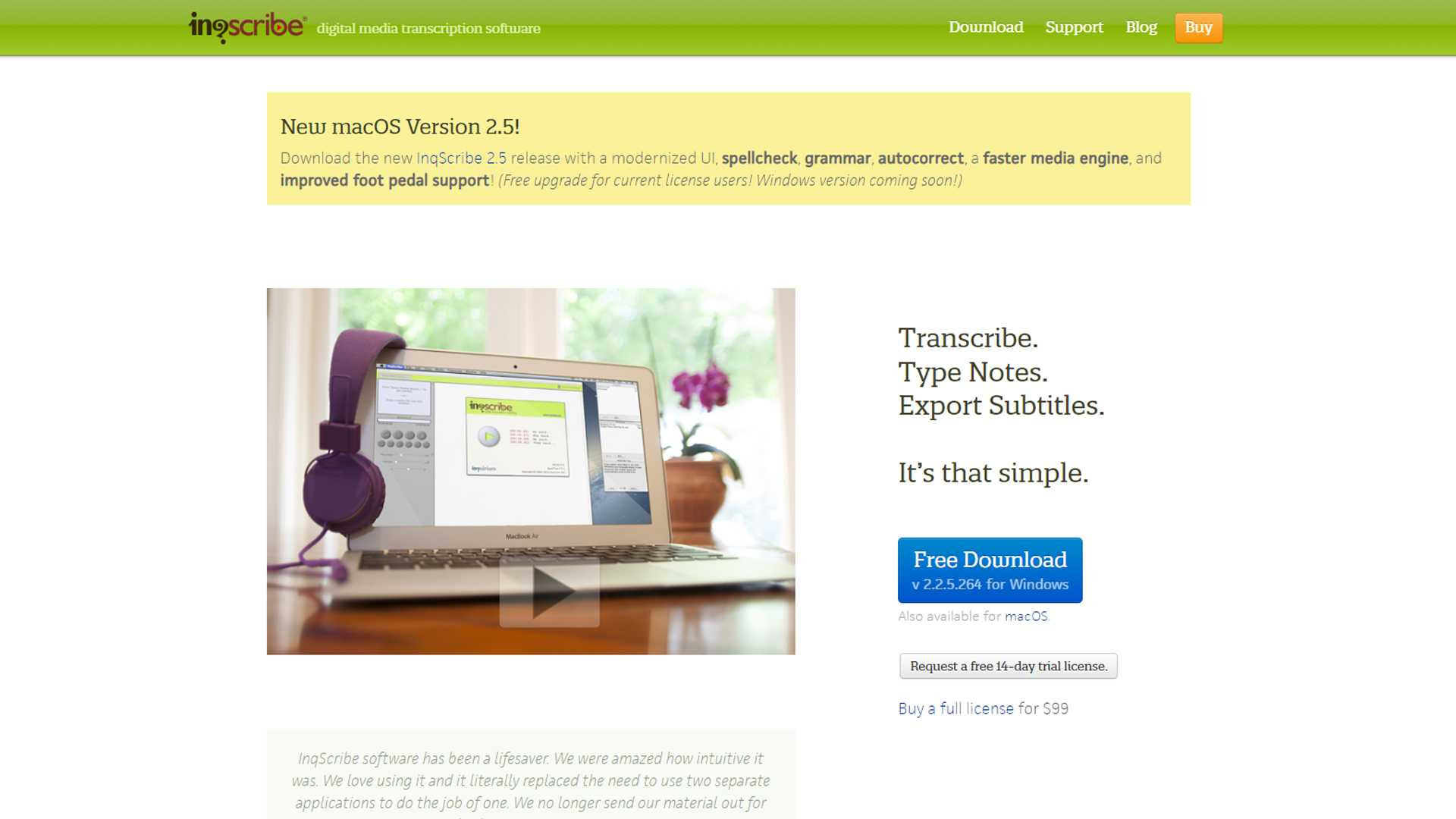 Key Features
Notetaking tools allow you to type as you transcribe
Allows multiple languages on a single document
Use keystroke shortcuts to insert frequently used text
USB foot pedal functionality
Pros
Supports multiple languages
Affordable when compared to many other tools
Excellent notetaking capabilities
Easy to use
Cons
No automated transcription support
Lacks traditional customer support
Only available for Mac and Windows
Pricing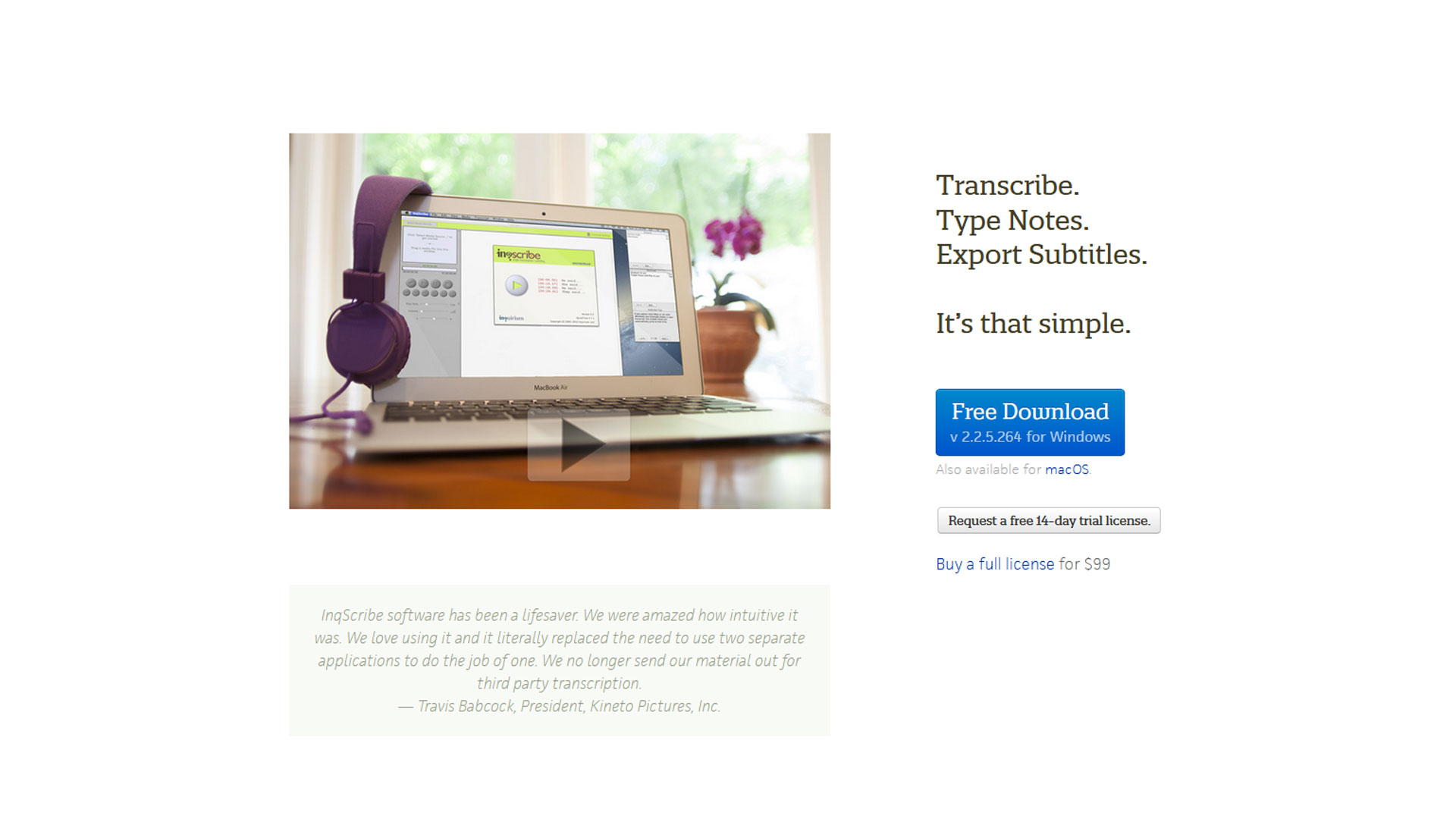 There are no complicated subscription fees to deal with when buying InqScribe. A flat fee of $99 nets you a license to use the software. Bulk discounts are available when buying five or more copies.
9. Audext
Best for Flexible Pricing
No matter what your budget may be, Audext can provide affordable transcription services for your audio or video file. Its flexible plans allow you to subscribe for regular transcriptions or pay for a one-off service as and when you need it.
Accuracy is a little hit-and-miss, though. Audext's Professional service offers 99% accuracy, but this drops to 80% for its automatic transcriptions. Still, the software has a built-in text editor that allows you to fix mistakes. Plus, you can place timestamps wherever you need them.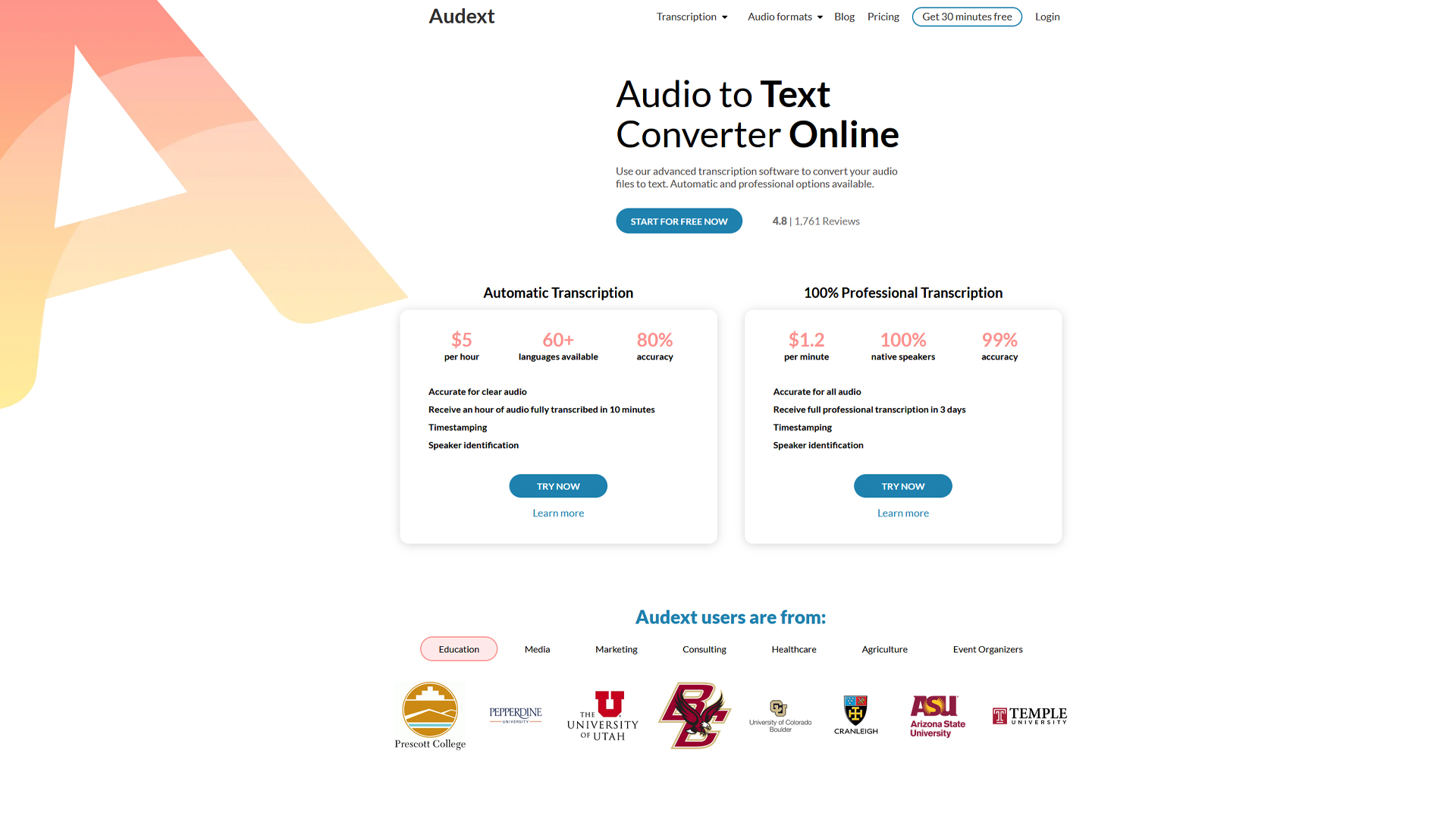 Key Features
Built-in text editor for finding and replacing key phrases
The platform supports mp3, mp4, .wav, and several other audio file formats
Rapid turnaround times of 10 minutes per hour of audio
Speaker identification
Flexible transcription methods
Pros
Pricing options for all needs
Fast and fairly accurate
A user-friendly dashboard makes it ideal for novices
A strong community of human transcribers
Cons
Less accurate than other automated transcription platforms
Three-day wait for professional transcriptions
Pricing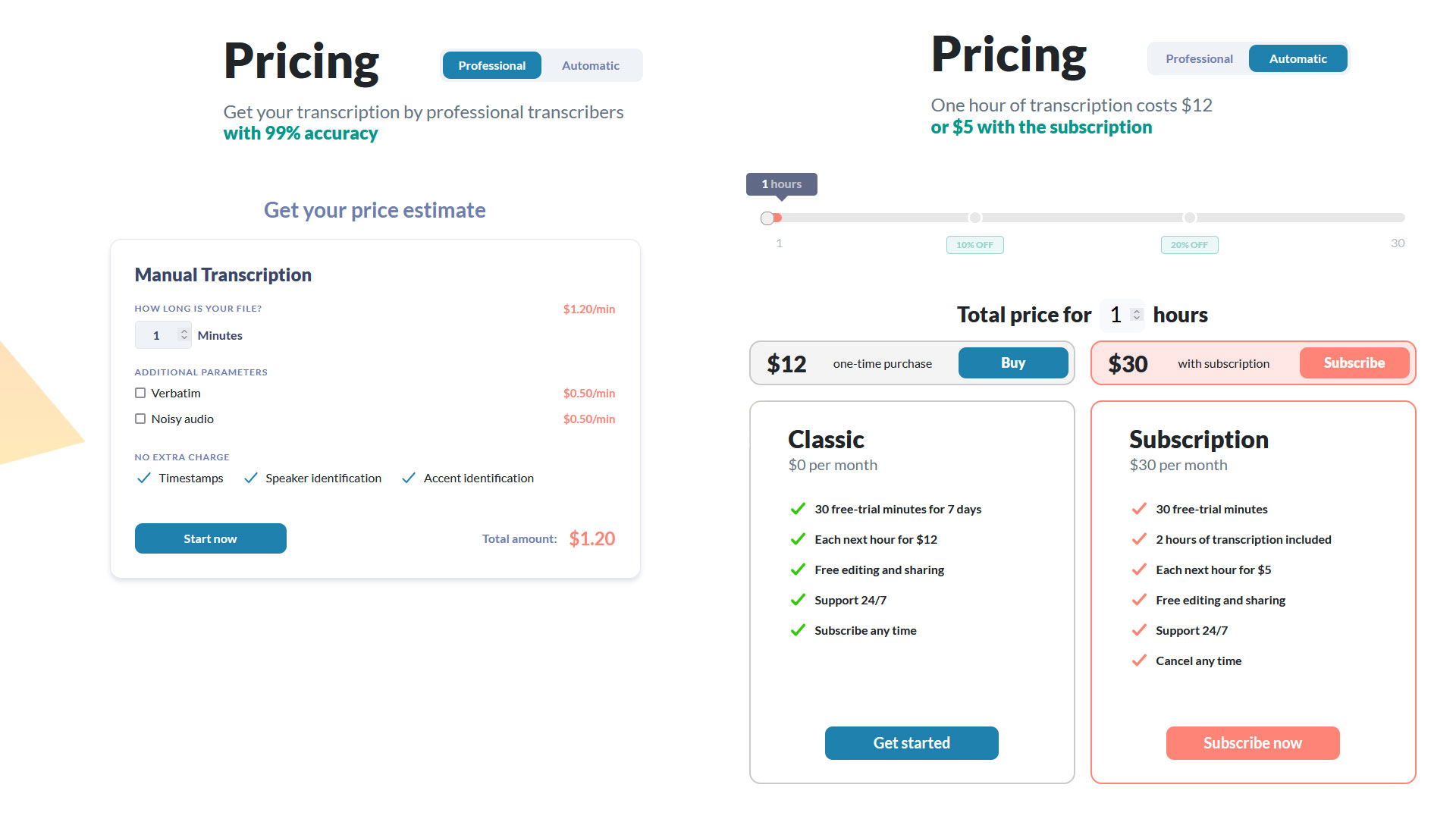 Pricing varies depending on the number of hours you need to transcribe. Expect to pay $12 per hour if you're making a one-time subscription. The cost drops to $5 per hour with a subscription.
Speaking of subscriptions, Audext offers a free Classic Tier that gives you 30 free trial minutes over seven days. The Subscription tier costs $30 per month, with an Enterprise package also available.
10. SpeedScriber
Best for Speed
Speed is in the name, and it's exactly what you get with SpeedScriber. Offering an automated service, this transcription software is only available for macOS devices. It'll transcribe most video or audio files in a matter of minutes and offers quick uploads for your imported files.
Security is also a strong point, as the software is PCI DSS and GDPR compliant. Customer support is extensive, with live chat and support tickets available, as well as a regularly updated knowledge base.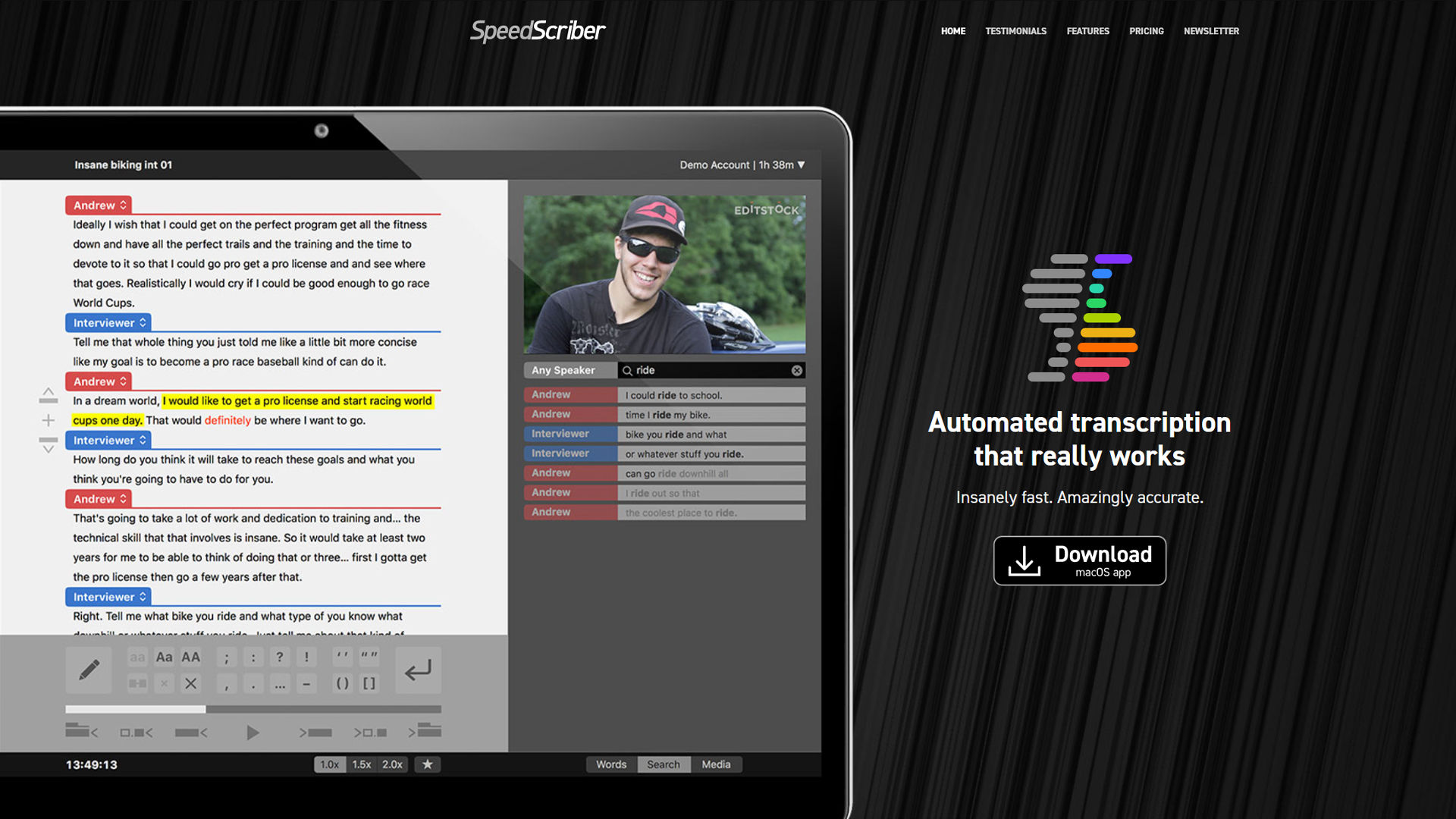 Key Features
Fast importing from Finder and Apple Final Cut Pro X
Rapid transcription
Editing, printing, and exporting tools
Built to run perfectly on your macOS device
Pros
One of the fastest transcription packages available
It comes with 15 minutes of free transcription
Integrates with several major video editing platforms
Cons
Only available for macOS
Speed doesn't always mean accuracy
Pricing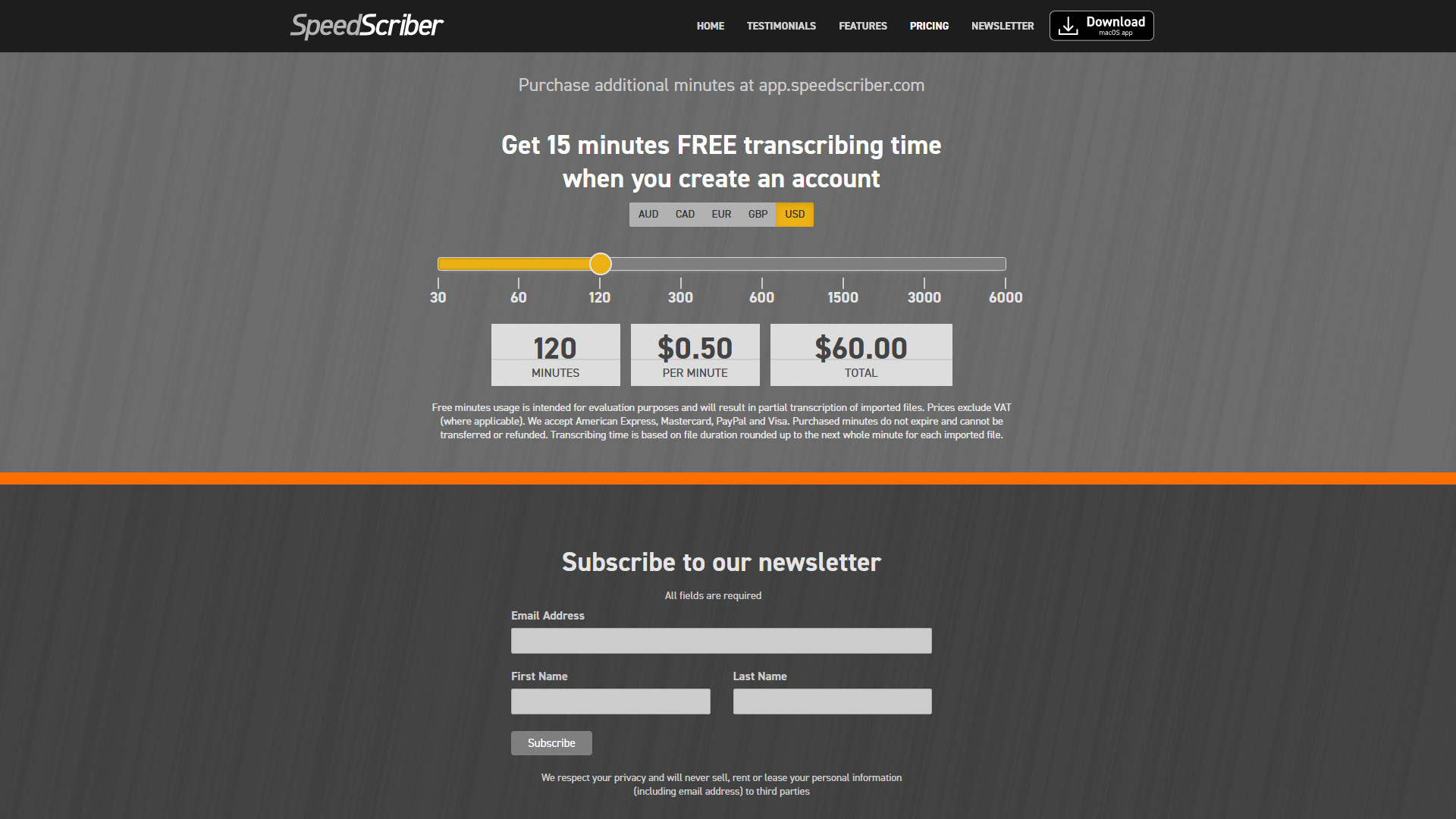 SpeedScriber keeps things simple when it comes to pricing. You'll pay $0.50 for every minute of audio you need to transcribe.
11. Transcribe by Wreally
Best for Security
If you're transcribing sensitive material, you need to know that your software offers top-notch security. The platform offers self-transcription and automatic transcription services. With self-transcription, the text you enter never leaves your computer. If you go down the automatic route, Transcribe by Wreally deletes your audio and video files as soon as it finishes generating your transcription.
Beyond its security features, Transcribe offers over 60 languages and three transcription methods. Magical Automatic Transcriptions handles the automated side of things, while Self Transcription and Voice Type with Dictation allows you to handle the transcription yourself.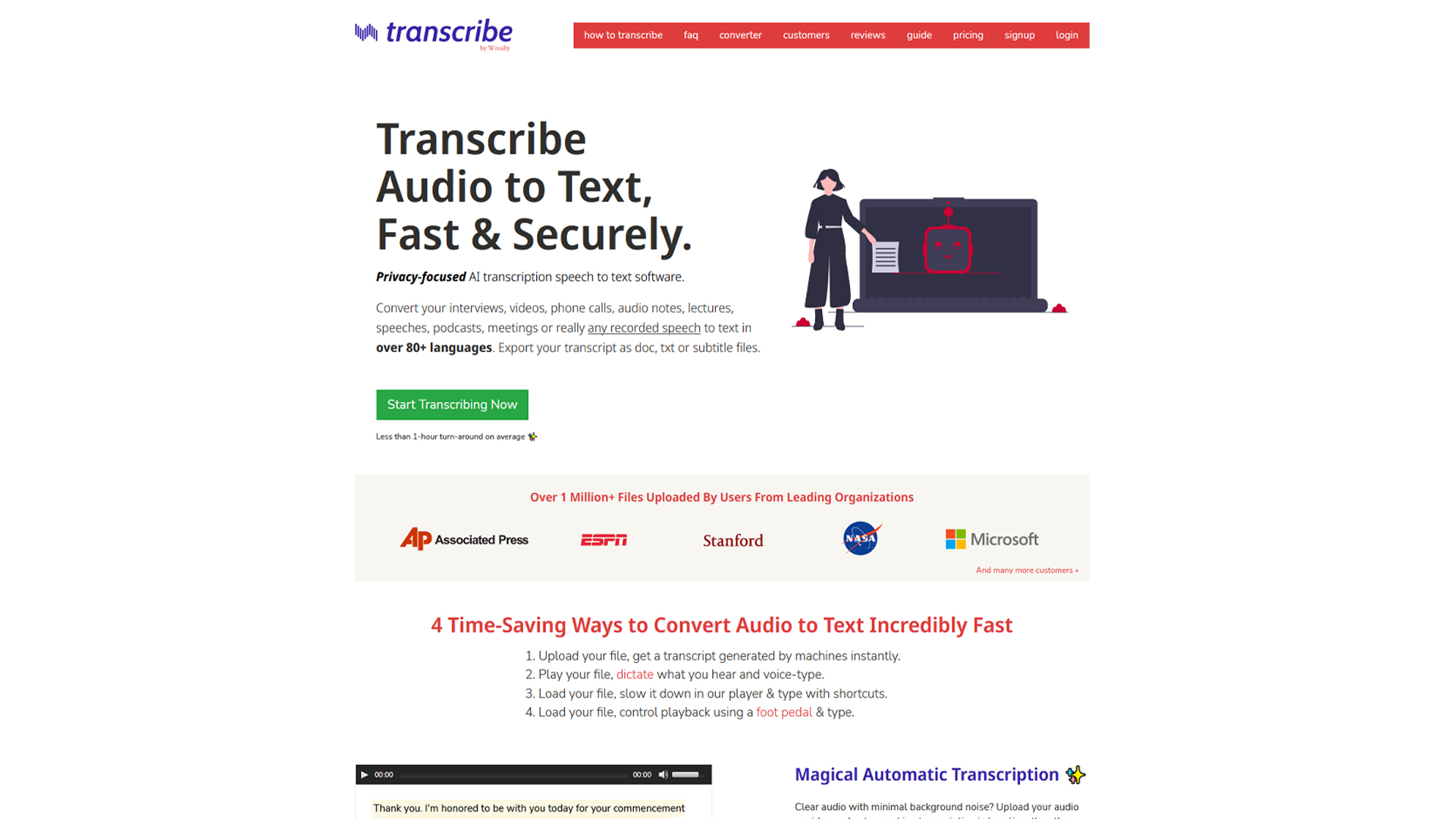 Key Features
Intelligent security features
Compatible with USB foot pedal tools
Allows you to work offline
You can export files in .doc or .txt formats for use in Microsoft Word or Google Docs
Pros
The most secure transcription software available
Auto looping allows you to control playback
Creates subtitles automatically
You don't have to be online to use it
Cons
One of the most expensive transcription platforms
Pricing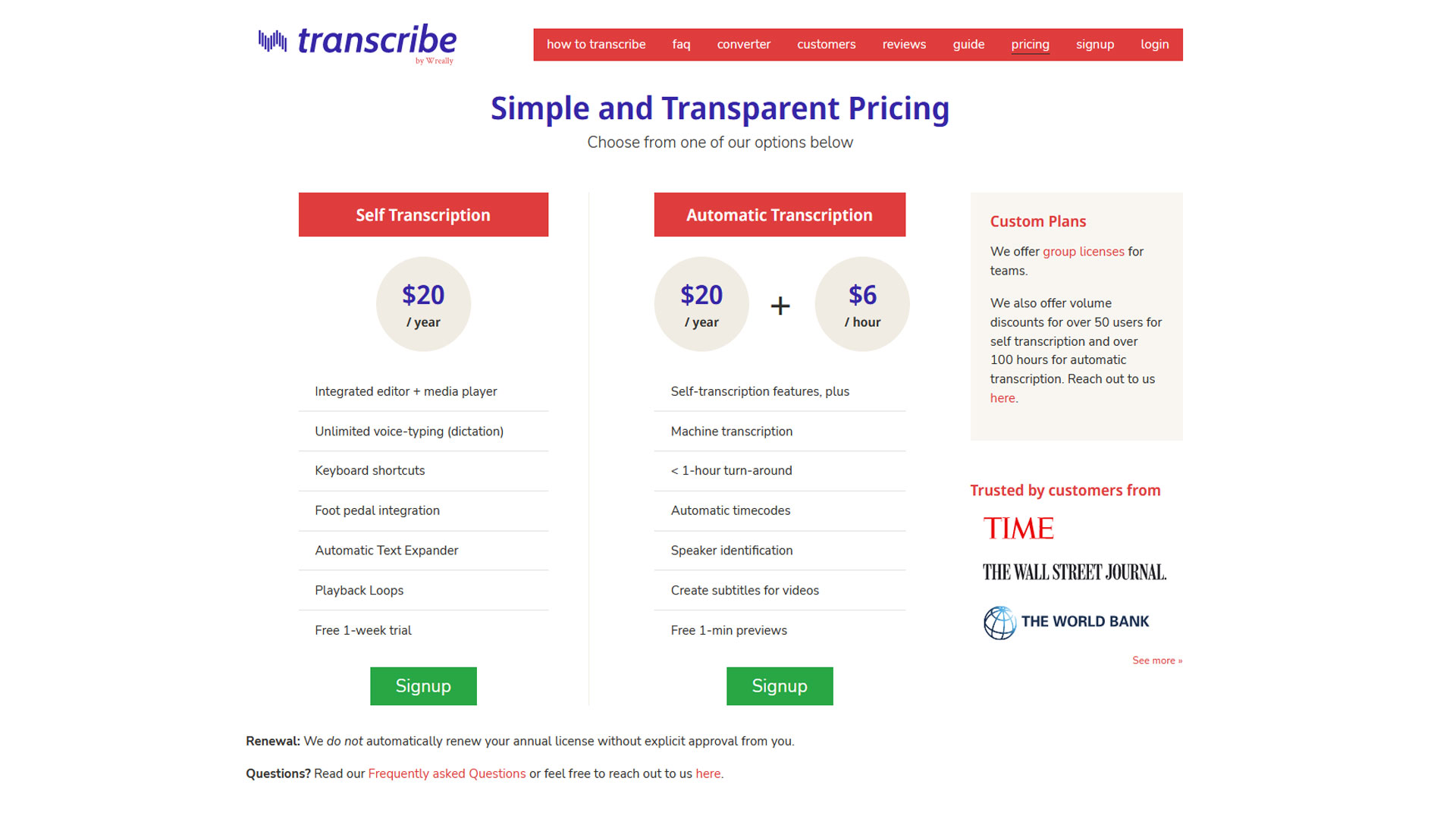 Transcribe by Wreally offers affordable pricing for self-transcription, with users paying $20 per year. However, costs can ramp up quickly for automatic transcription. In addition to paying $20 per year, you pay $6 per hour.
12. TEMI
Best for Audio Transcription
With TEMI, you get software that delivers superb sound while offering automated services that achieve between 90% and 95% accuracy. It's compatible with a wide range of audio file formats, meaning you can import almost any type of audio file and get a transcription in minutes.
In addition to its audio file compatibility, TEMI integrates with Zapier and delivers files in Word, PDF, VVT, and several other formats. The file editing and sharing tools also make it a good choice if collaboration is key to your project.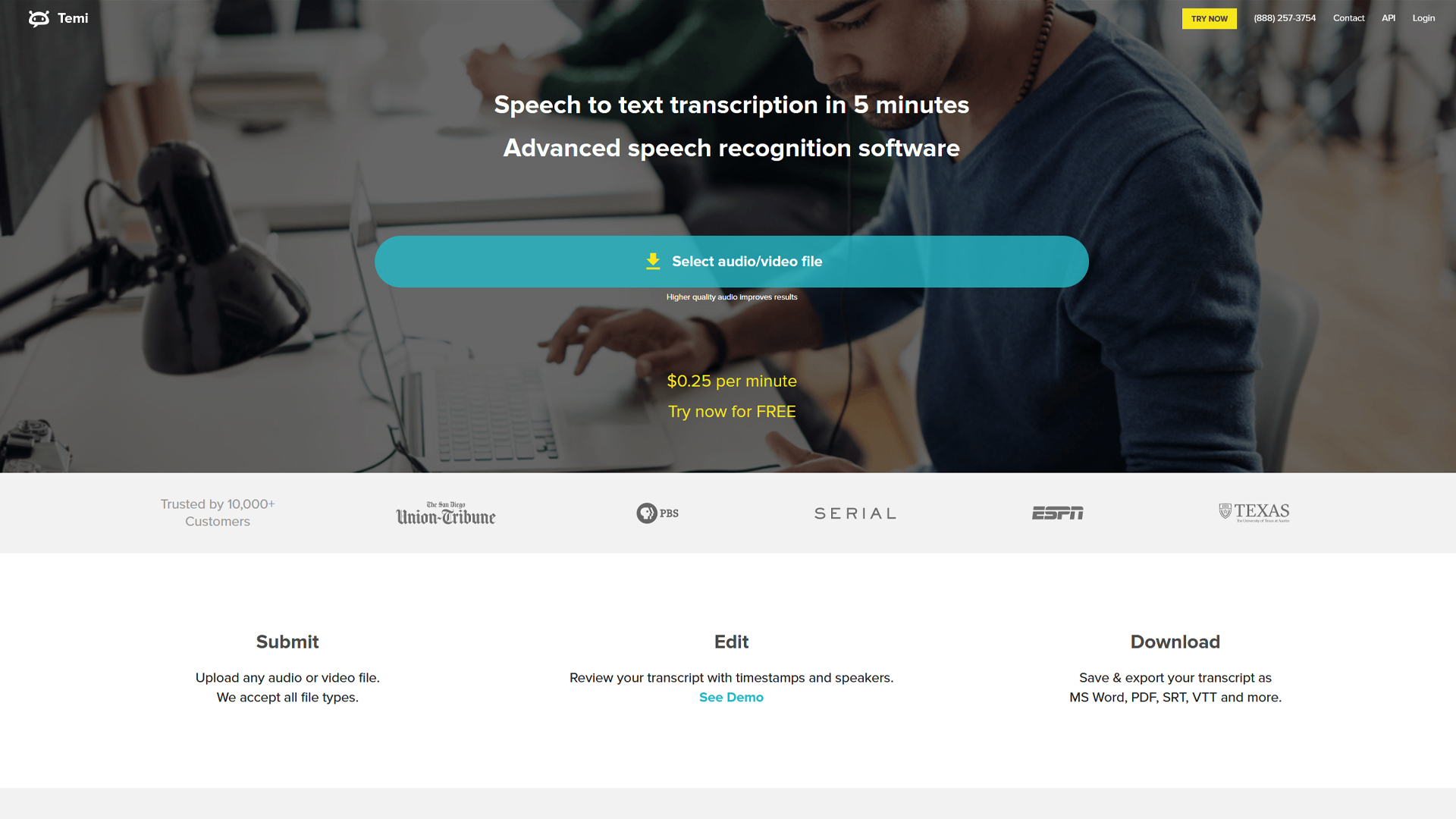 Key Features
Excellent tools for recording clear and accurate audio
Automatic transcription with a high accuracy percentage
Available for mobile devices as well as desktop
Useful editing tools allow you to alter transcriptions after creation
Pros
Ideal for recording audio away from home
The free trial offers 45 minutes of transcription
Crisp audio quality on recordings
TLS 1.2 data encryption
Cons
Only available in English
Not as accurate as manual transcription
Pricing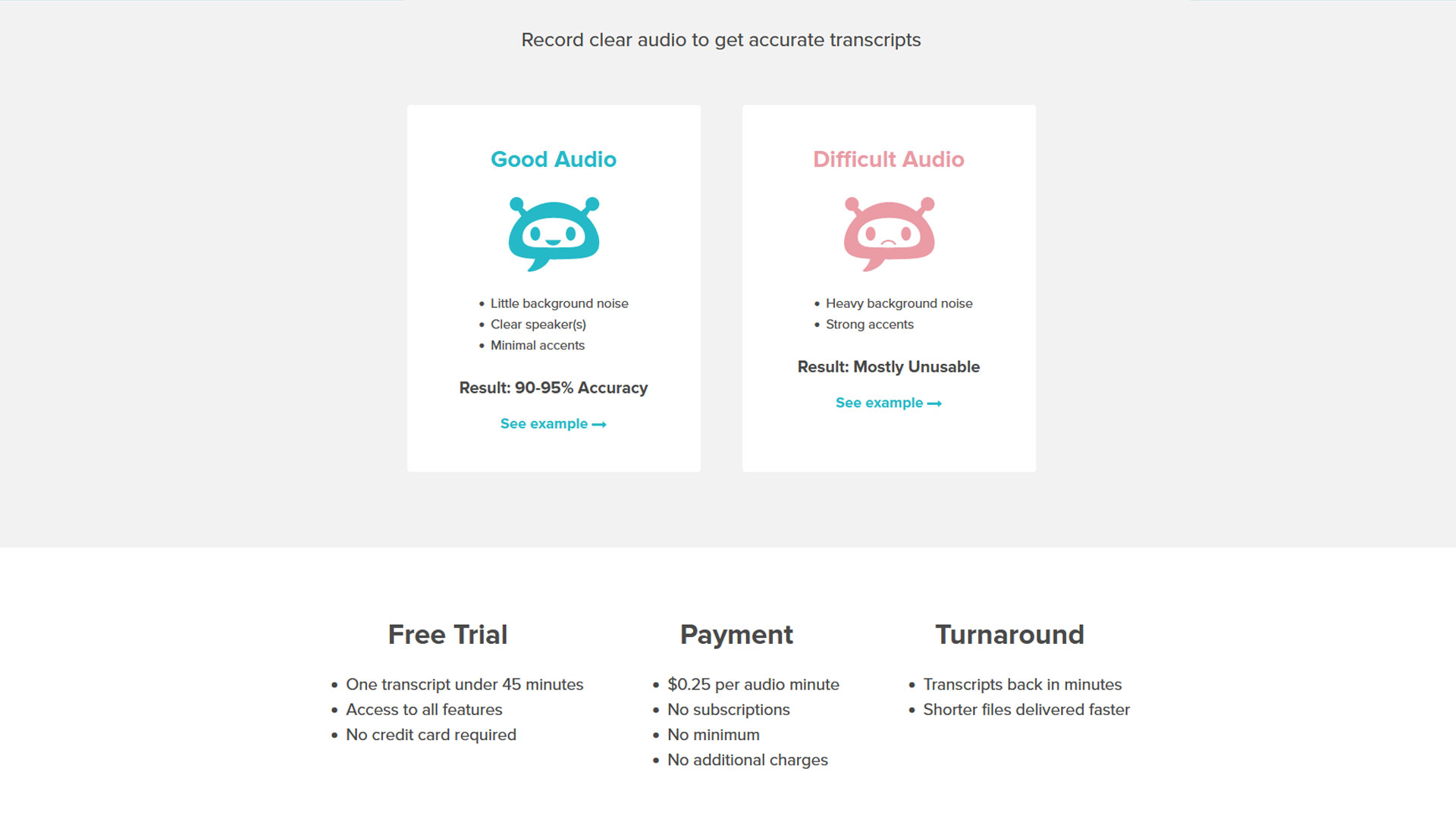 TEMI has a simple price structure, charging just $0.25 per minute. You don't have to worry about subscription or service fees.
13. Happyscribe
Best for Large Files
Most transcription software easily handles files that have a couple of hours of audio. But what if you need to transcribe more than that? Costs can skyrocket when you have a large file, which is why you need software that is made for files of all sizes.
Happyscribe fills that niche by offering human and automatic transcription for files of all sizes. It comes with an interactive text editor, as well as timestamping and speaker identification features. Most importantly, it places no restrictions on the size of the audio or video file you upload.
Key Features
Unrestricted transcription is ideal for any file size
Support for 62 languages
Integrates with popular platforms, including YouTube and Zapier
Simple collaboration tools
Pros
Great for large audio and video files
A wide range of import and export options
Built-in text editing tools
One-click sharing
Cons
Less than 90% accuracy for automated transcriptions
Additional charges for subtitling service
Pricing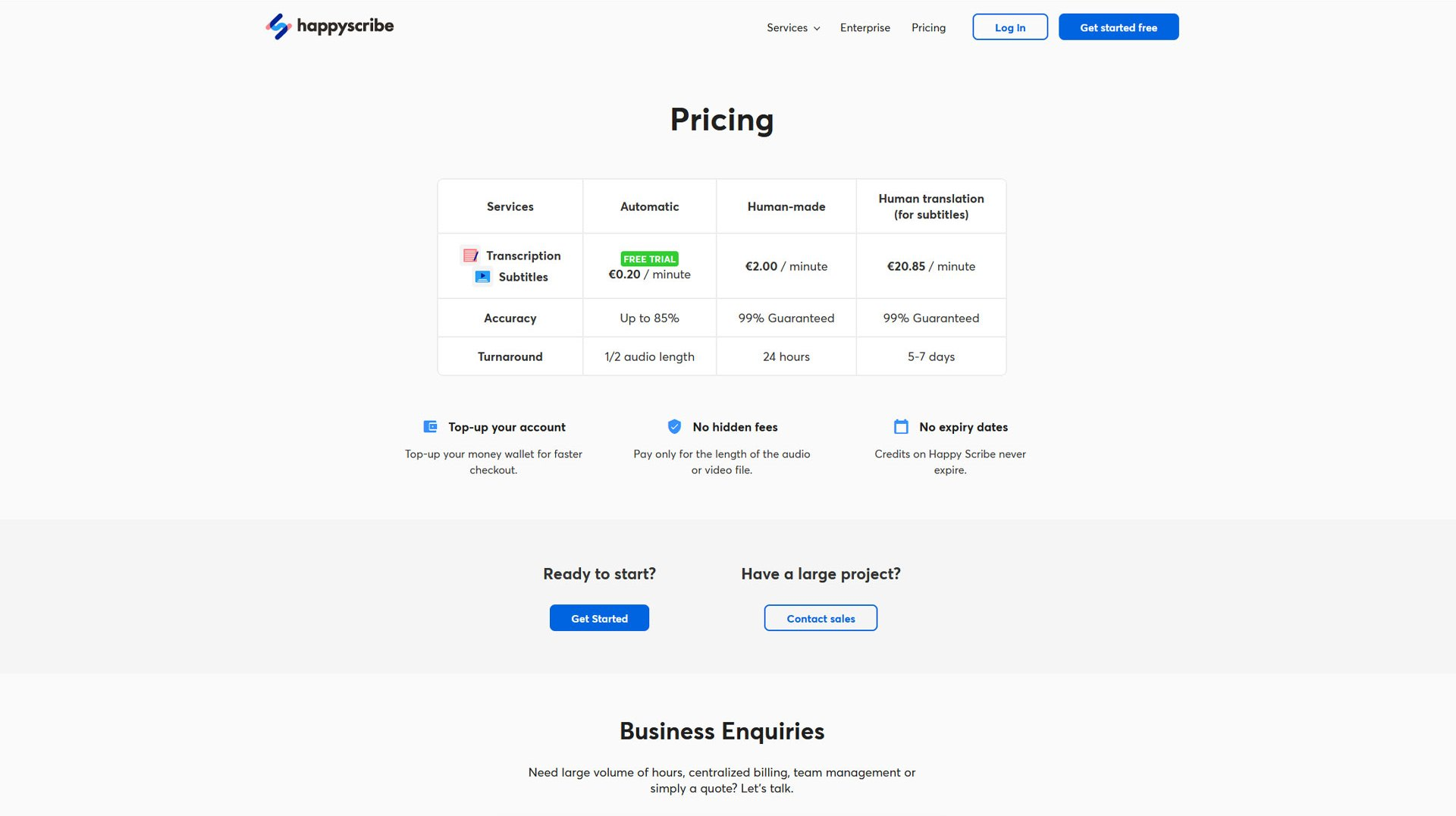 Automatic transcription starts at $0.25 per minute, meaning you'll pay $15 per hour of audio. The price increases to $2.25 per minute for manual transcription, with subtitles setting you back $24.79 per minute.
14. oTranscribe
Best Free Transcription Service
People who want a quick and easy transcription may not want to pay, especially if accuracy isn't a major concern. oTranscribe has got you covered if you fall into this category. As an open-source platform, it gives you a range of free tools for self-transcription.
These tools include pausing, rewinding, and fast-forwarding, all of which you can control with a keyboard. It also offers YouTube support and exporting to Google Drive. Audio and video format compatibility varies depending on the browser you use when accessing the software.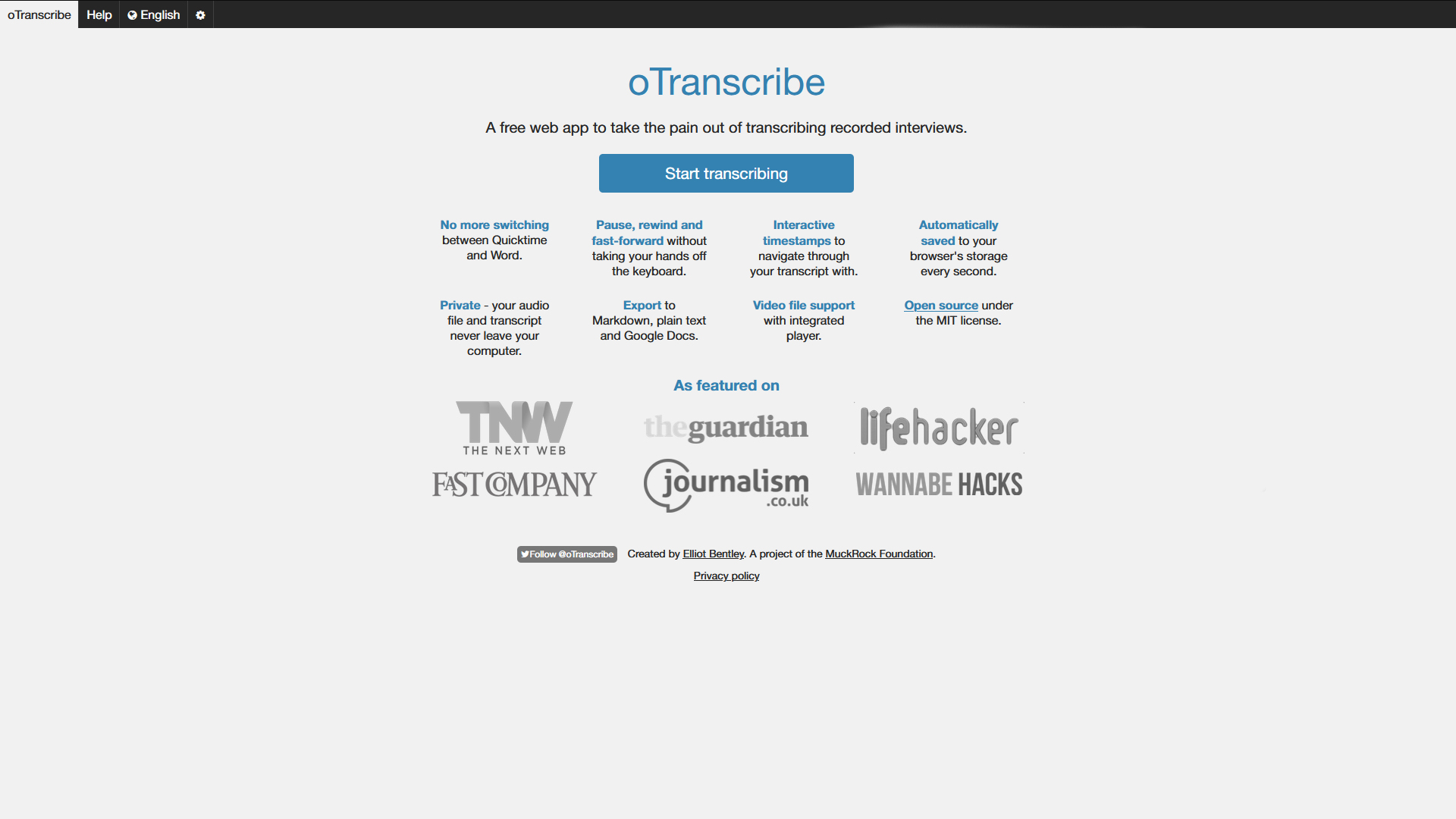 Key Features
Several useful playback control tools
Local storage to enhance security
Allows you to create your own keyboard shortcuts
It uses a single window to simplify transcription
Pros
It doesn't cost a penny to use
Local storage ensures data security
A dedicated community you can access via Twitter and email
Cons
You need to be online to export to Google Drive
Only imports OTR file format
No automated services
Pricing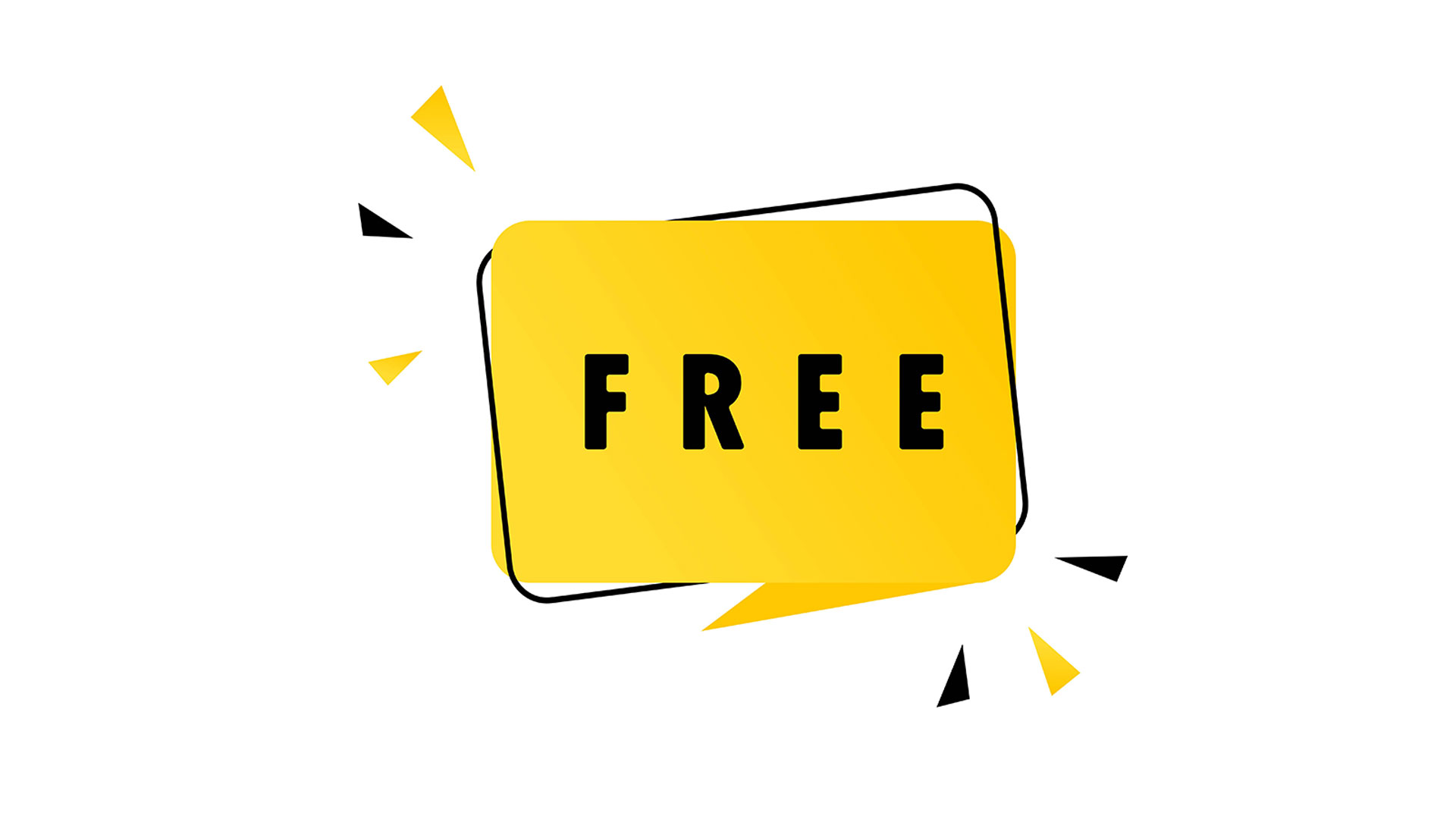 You can put your wallet away with oTranscribe, as the software is free to use.
15. Maestra
Best Transcription Software for Voiceovers
Maestra is a little different from most transcription packages. It's a text-to-speech app that happens to have a built-in text editor. This combination of features makes it useable as a transcription platform, especially for those who wish to create voiceovers.
Once you've inserted your text, Maestra reads it back to you using a range of natural-sounding AI voices. You can make quick edits if the voiceover doesn't work. Plus, the software supports 50 languages and allows you to add voiceover files to your videos instantly.
Key Features
Automatic voiceovers in dozens of languages
Easy subtitle exporting in .txt, .cap, .vtt, and .srt formats
High-end data encryption technologies secure your text
Team-based channels enhance collaboration
Pros
Works as both a text-to-speech and transcription software
Large selection of voices to choose from
It makes it easy to create video voiceovers
Cons
High cost
Matching text to video may require some extra work
Pricing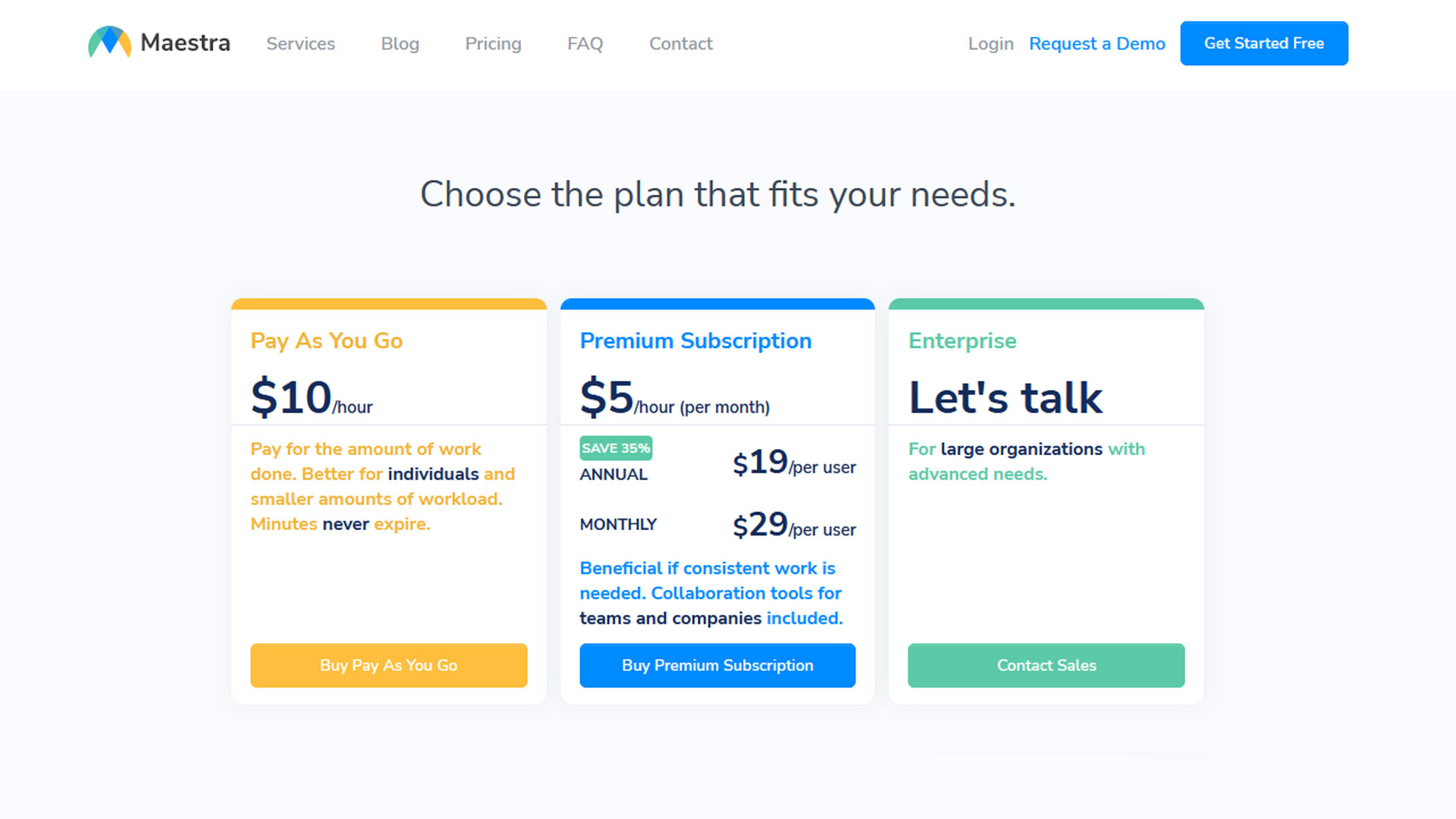 Maestra offers pay-as-you-go transcription in addition to subscription options. You'll pay $10 per hour on the pay-as-you-go service, with this hourly rate falling to $5 if you subscribe to the Premium tier. However, a Premium subscription adds a $29 per month charge. Enterprise solutions are available for businesses.
Find the Best Transcription Software for Your Audio or Video File
Choosing the right transcription service depends as much on your needs as on the service's features. If you're looking for video transcription programs, a software package that focuses on audio files or self-transcription won't do the job. But if transcribing a video recording isn't a concern, you may get greater accuracy from a program that only offers audio transcription.
Some software packages offer media playback, such as an integrated video player. While that's great for crafting voiceovers, it's a little too much for people who aren't interested in video. The point is that your needs take priority over any software's feature list.
With the 15 options we've examined in this article, you're sure to find the right transcription software. Our advice is to write a list of the most important features and start your search by looking for a platform that matches that feature list. Make your choice based on your budget and your needs, and you'll start transcribing audio and video files in no time.