Blooket is a gamified learning platform that allows teachers to "level up classroom engagement." It provides an assessment-centered tool, specifically for formative assessment. Students answer questions on their own devices and receive points for correct answers. With these points, students can buy virtual "Blooks." The platform offers hundreds of pre-made quizzes, or you can create your own unique set.
How Blooket Works
Blooket is a unique, interactive learning platform incorporating gaming elements to increase classroom engagement. The platform focuses on formative assessment. It allows students to answer questions on their own devices and receive points for correct answers. The objective of formative evaluation is to continuously assess student understanding and provide constructive feedback to instructors to enhance their teaching methodologies.
The points students earn can be used to buy and sell virtual "Blooks," adding an extra layer of gamification to the experience. These adorable images provide a reward system that's appropriate for all ages.
Blooket offers hundreds of pre-made question sets for users to choose from or the option to create a unique set tailored to their specific needs.
What Are Blooks?
Blooks are adorable, brightly-colored block characters representing various creatures and objects. As students play Blooket games and answer questions correctly, they will accumulate virtual currency within the game. This currency can then be used to purchase random Blooks from a Blook set. These Blooks come in several themed sets and allow students to trade and sell their Blook characters with each other. Whether you're a collector, a fan of cute creatures, or enjoy the thrill of the game, Blooks are a fun and unique aspect of the Blooket experience that students will love.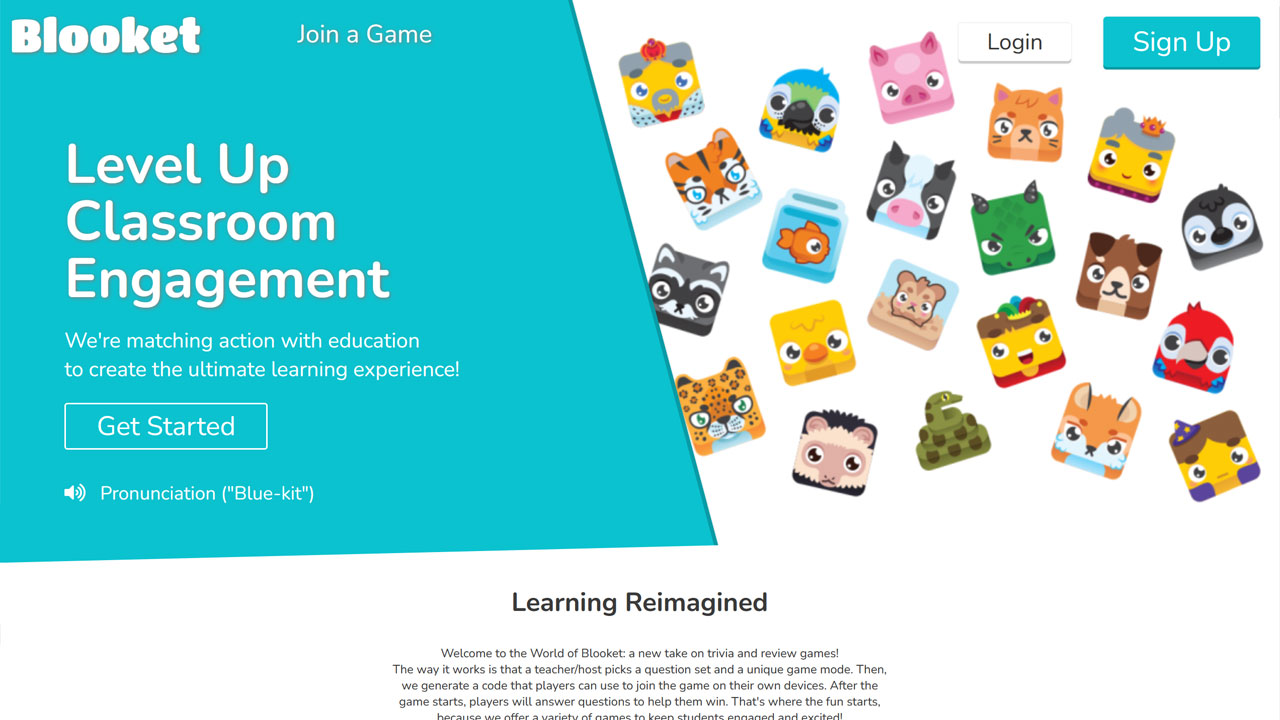 Features: Pros and Cons
Here's a rundown of Blooket features with their advantages and disadvantages compared:
User Interface
This platform requires minimal instruction, and its straightforward navigation allows users to get started quickly and easily. All you need to do is sign up, and you can immediately begin hosting games or creating question sets.
The UI is easy-to-use, with big, colorful icons and easily-readable text. However, the platform is potentially unsuitable for screen readers or similar accessibility software.
One downside is the absence of a FAQ page, but there is a helpful tutorial for teachers new to the platform. This tutorial provides a comprehensive guide to help teachers understand how to use Blooket to effectively enhance their students' learning experience.
Question Sets
One of the benefits of using Blooket is that students receive instant feedback on their progress on their devices and the class screen. Instant feedback allows for real-time assessment of their understanding. The potential for creating question sets is unlimited.
However, the platform could be more expansive in its learning potential. So far, it only offers basic multiple-choice questions as the question type.
Game Modes
The platform offers several unique game modes to play and compete in, such as Tower Defense, Cafe, Gold Quest, Racing, Monster Brawl, etc. Each game mode is easy to pick up and play, and the performance depends on the student's accuracy in answering questions. Some of these games can also be played solo for practice.
On the downside, the games offered on Blooket may not integrate well enough with learning objectives. The disconnect between the games and questions could hinder their effectiveness as a tool for education.
Blooket offers a fun gameplay experience designed to be competitive and to encourage students to work through questions quickly. Despite the engaging nature of the games, some game modes may be distracting for a student.
Design Philosophy
Blooket, although a web platform, incorporates the familiar design philosophy and visuals of mobile games. It's clean, familiar, and easy to navigate, with an engaging reward system.
If you are not a fan of in-game currency, virtual markets, and loot box-like drops, you should know that this platform has a similar approach. However, the system is fair and does not involve grind or predatory practices.
If this design puts you off, you may need time to get used to this approach. However, once you get comfortable with it, you will find that the platform offers an enjoyable and fair learning experience.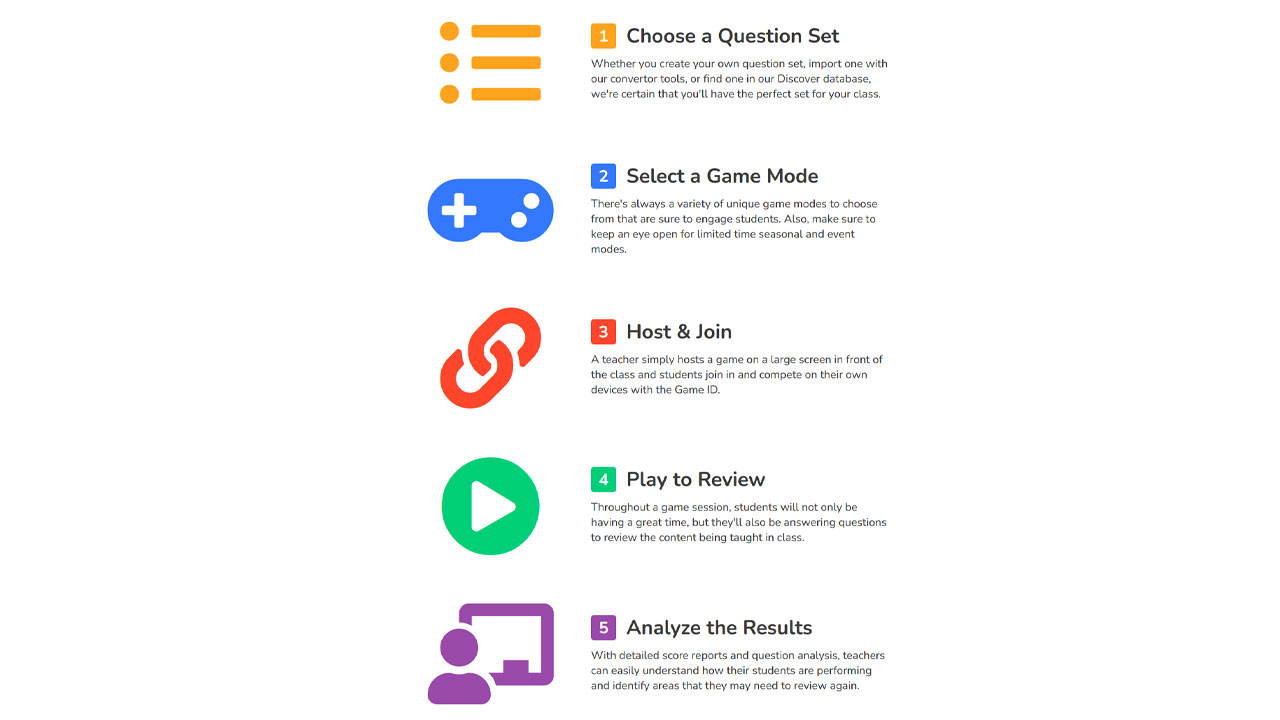 Blooket Pricing
Blooket is one of the market's most affordable interactive education tool options. It offers a range of pricing options to fit the needs of different users. Their feature-rich, free-forever plan supports up to 60 students at one time. This plan is a budget-safe option for those who want to try it out. For more advanced features, such as question set folders, more in-depth game reports, and the ability to support up to 300 players, Blooket offers the Plus plan, which is billed annually for $35.88 ($2.99 per month) or a monthly, cancel-anytime Plus Flex plan for $4.99.
Blooket offers group subscriptions for schools and teams, such as Friends, Department, Small School, and School. These include multiple Plus plans and cost $250, $450, $750, and $1,000, respectively.
How to Use Blooket as a Teacher
To start using Blooket, users must create an account by signing up directly or using their Google account.
After creating an account, you will have access to a dashboard screen. You can make your question set on the dashboard or browse hundreds of pre-made question sets from other users. To create a question set, click the "Create" button on the dashboard and complete the form. You'll have the option to name the set and add a title image and questions. If you want to try out existing quizzes, click the "Discover" button to find the perfect quiz for your course.
You can "host" the game and share it with your students or try it out in "solo" mode. After selecting a question set, you can choose a game mode with several different mini-games available. If you decide to host, the students join and compete with each other individually or as teams for high scores. It is possible to save your progress after each game to continue later.
Some games offer a homework feature, allowing teachers to schedule a homework game with a due date and time. If you choose to host a live game, you can customize the game length and decide whether it should end after a set amount of time or after collecting a set amount of points.
The Settings page allows you to easily switch from a teacher profile to a student profile.
How to Use Blooket as a Student
As a student, accessing the Blooket platform is straightforward. Once they log in, they'll see the dashboard, where they can select the "play" option. To join a game that a teacher is currently hosting, they only need to insert the valid game ID into the designated field. This will allow them to join the game in real time and start answering questions, competing with their classmates, and earning points. The platform provides students with a fun way to learn and review what they've been learning in class.
What Teachers Say About Blooket
Reviewers across the web have consistently reported positive experiences with Blooket. Many have noted that the platform makes the classroom experience easier and more enjoyable, with students actively participating and engaging in their learning. Teachers appreciate the easy-to-use interface and the gamified elements that keep students entertained and motivated.
The Ultimate Learning Experience
Blooket is a unique and innovative platform that brings a new level of engagement and excitement to the classroom. Its assessment-centered approach and gamified design make it the ultimate learning experience for a modern class.
Blooket provides a platform that is both accessible and effective. It is well worth exploring as a solution to help improve student outcomes. We hope this review has taught you everything you need to know about this convenient and fun tool for interactive education.