Buzzsprout has enjoyed an exciting evolution over the years. What started as a simple podcast hosting platform has become a one-stop shop for all of your podcast episodes.
The question that remains, is how does this podcast host compare to others on the market?
The good news is that Buzzsprout is one of the best podcast hosting platforms (for more podcast hosting platforms, read here). In this Buzzsprout review, we dig into what makes this podcast hosting service so unique, in addition to covering some downsides that may affect your decision.
What Is Buzzsprout?
Buzzsprout markets itself as one of the easiest ways to get your podcast episodes online. Think of it as a podcast creation suite that gives you everything you need to create and publish your episodes.
It lets you upload your video or audio file to various podcast directories. Plus, you can access several promotional tools that help you find sponsors, advertise, and monetize your podcast.
Buzzsprout offers superb customer support too. In addition to direct contact with the Buzzsprout team, you're given access to a host of guides, video tutorials, and podcasting courses to help you get your podcast online.
Simply put, Buzzsprout makes it easy to create podcasts. Whether you have an existing podcast you wish to port over or are completely new to the industry, a Buzzsprout account may be your key to becoming a major podcast player.
In our Buzzsprout review, we'll examine what makes this podcast hosting platform special.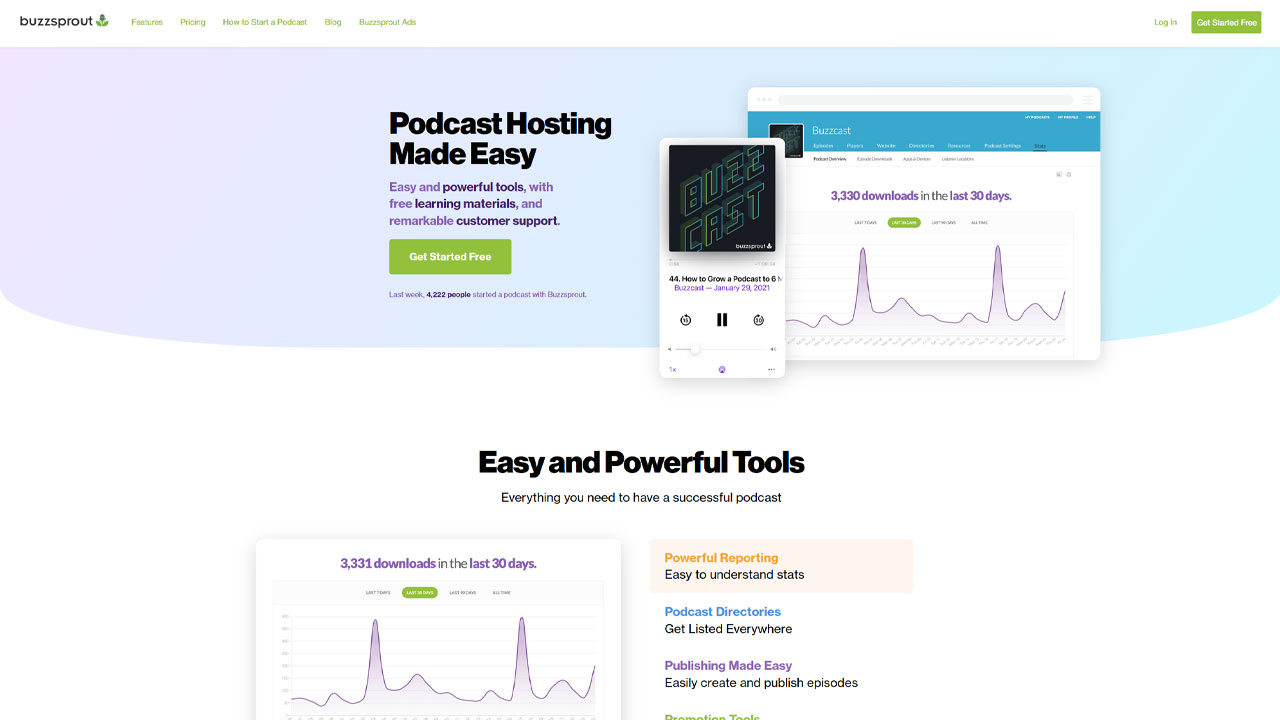 The Buzzsprout Review – Looking at the Key Buzzsprout Features
You have a podcast episode recorded and want to upload it to the most popular podcast directories. Buzzsprout helps you do that with these essential features.
Multiple Members per Account
You may have multiple people working on the same podcast. For example, there's a host, their marketing team, and their editors, all of whom need access to your podcast episodes.
Buzzsprout ensures you all have access by allowing unlimited team members in its podcast hosting plan. You can easily add another member to your account from your Buzzsprout dashboard and remove members who no longer work on the podcast.
As such, Buzzsprout lets you focus on getting your new episode right while giving the rest of your team access to advanced editing, marketing, and publishing features.
Exceptional Hosting
A podcast hosting provider needs to nail the hosting aspect of its offering. Buzzsprout delivers in several ways here, making hosting your podcast on the service accessible.
First, it gives you a podcast website, which serves as a landing page for your new podcast. You can tinker with this custom domain by adding your own branding, in addition to optimizing it to make it more likely that search engines rank it highly.
Best of all, it's a free website, meaning you don't have to deal with creating and paying for a personal site.
You also get unlimited storage with the service's premium plans. That's ideal for advanced podcasters who run multiple shows. It's also suitable for those with existing podcasts who want to port existing episodes to the platform.
Furthermore, Buzzsprout allows you to manage multiple podcasts in one account. Consequently, you can start working on the first episode of a new podcast while your team keeps your other podcast series going.
There are some downsides to the Buzzsprout hosting experience. Though you get unlimited storage on the premium plans, you can only upload a limited number of monthly content hours. Many podcasters may find these limitations a massive hindrance, mainly if they publish regularly.
The free plan also has hosting issues, as it automatically deletes episodes after 90 days. To ensure a certain podcast stays available, you have to pay to maintain your hosting.
Automatic File Conversion
Audio files come in an array of formats. That can be problematic with many hosting solutions, as they require you to upload a specific type of audio file before they can submit to major podcast directories.
That's not the case with Buzzsprout.
Any file you upload gets automatically converted to the mono MP3 file format. You don't have to do a thing, which is great for new podcasters who don't have the technical knowledge to mess around with file types.
Unfortunately, this automation isn't perfect. The free version of Buzzsprout converts to MP3s with a low bitrate of 96kbps (kilobytes per second). If audio quality is essential to you, that low bitrate can be a problem.
Thankfully, the premium version of Buzzsprout takes this up to 192kbps, in addition to converting your audio into stereo files.
The Affiliate Marketplace
Affiliate marketing is one of the best ways to monetize your podcast. Buzzsprout has an Affiliate Marketplace, which makes it easy to access affiliate programs.
The marketplace gives you access to brands and companies that want to promote their products on your podcast. Once you've created an agreement, Buzzsprout creates an affiliate link that it embeds into your podcast.
Newbies and professionals alike can take advantage of this to earn commissions from product placements in their most popular episodes.
Exceptional Distribution
Creating your Buzzsprout podcast is just the first step. You need to distribute that podcast to ensure it gets out to your audience.
Buzzsprout offers several ways to do this, including access to a vast podcast directory. Assuming your content meets the platform's guidelines, it automatically syncs your podcast to many leading directories:
Spotify
Apple Podcasts
Google Podcasts
TuneIn
iHeartRadio
Stitcher
Alexa
Podchaser
Beyond automatic directory submission, every account generates its own RSS feed. You may need this RSS feed when submitting to directories on your own. Your RSS feeds contain all episode details and even let you set timestamps and chapter markers.
Finally, Buzzsprout helps you share recent episodes across your social media accounts. It generates email links and URLs that are great for social sharing. Plus, Buzzsprout makes it easy to share across multiple platforms with social media buttons for Facebook, LinkedIn, and Twitter.
Advanced Analytics
If you need stats, Buzzsprout has them by the bucketload. The tool has many analytics that show you who your visitors are and what platform they've used to access your podcast.
If you want to know what device a listener uses to check out your podcast, Buzzsprout's statistics can tell you. The same goes for basic metrics, such as how many downloads your podcast achieved.
It's all wrapped up in a relatively simple user interface that lets you see how podcasts have performed over the last week, month, year, or over their entire existence. You also get little notifications whenever you hit a podcasting milestone.
Automatic Transcription
Some people prefer writing over the spoken word. Others may want to reference your podcast in a paper, meaning they need access to a timestamped transcript to help them along. In either case, you can provide what these listeners need with Buzzsprout.
The tool can automatically transcribe every podcast you upload using its clever artificial intelligence (AI) systems. This AI "listens" to the podcast and writes it down word for word.
The mention of AI may have you worried. And yes, Buzzsprout's transcription service could be better. If your audio is garbled or a speaker needs to be clearer with what they're saying, the AI may potentially make mistakes.
Still, a clear podcast should get a transcript with at least 90% accuracy, which may be good enough for you.
There's also the fee to consider. Unfortunately, transcription isn't included in the standard Buzzsprout pricing. You have to pay $0.25 for every minute you transcribe, which is a hefty fee. If you have a 60-minute podcast, that means you're paying $15 for a transcript. Multiply that over 100 podcasts, and the cost soon mounts up.
Magic Mastering
Let's start by pointing out that Buzzsprout's Magic Mastering doesn't come as part of its general services. It's an add-on. But it's an add-on that helps you create a nice professional sheen for your podcast.
How does it work?
Magic Mastering touches up your podcast audio. It's almost like an automated editing tool, though we wouldn't call it a replacement for manual editing. Instead, it focuses on audio balance and clarity to create crisper podcasts that are more pleasurable to the ear.
In practice, this should mean that you end up with no weird audio imbalances. It works for music as well as for spoken word, ensuring your podcasts come across as clear as day without strange audio glitches interrupting the experience.
Solid Customer Support
We've already touched on the support that Buzzsprout offers to users.
It starts with an extensive knowledge base, with plenty of courses and resources offering step-by-step instructions on how to use the platform.
If you need more in-depth support or deeper insights into a problem, you have access to an in-house support team. Buzzsprout proudly proclaims an average email response time of 27 minutes, meaning you get help quickly when you run into issues.
How Does Buzzsprout Compare to Other Hosting Platforms?
Our Buzzsprout review helps you understand the nuts and bolts of the platform. But you must figure out if it's the right host for your needs.
That means comparing it to other podcast hosts.
Buzzsprout vs. Podbean
Podbean offers many of the same features as Buzzsprout, though they're obviously wrapped up in a different user interface (compare Podbean and Buzzsprout here). However, its standout feature is its mobile app.
Available for Android and iOS, this app makes it easier to record and distribute your podcasts on the go. If you create podcasts on the move, it's a better choice than Buzzsprout.
The downside is that Podbean costs more to use than Buzzsprout. The latter's top tier costs $24 per month, with Podbean's coming in at $29.
Buzzsprout vs. Libsyn
Buzzssprout's free plan makes it a better choice than Libsyn for new podcasters. The latter charges for even its most basic plan.
You also don't get unlimited uploads with Libsyn, as its plans limit you to a maximum of 3000 Mb if you choose its top tier. Speaking of tiers, Libsyn costs a lot of money. If you want to get that 3000 Mb, prepare to fork out $150 per month.
Where Libsyn shines is in its multimedia hosting. In addition to podcasts, you can host text files, videos, and PDFs. Of course, that isn't much use if you're recording audio podcasts.
The Buzzsprout Review – Is It Right for You?
Buzzsprout offers all of the tools that new and professional podcasters need. It's easy to upload your audio, and the tool handles the conversion process for you. Buzzsprout also gives you an RSS feed in addition to automatically uploading your podcast to a bunch of directories.
The free version of the tool can help you get to grips with podcasting. Sadly, it has storage and upload time limitations that could prevent your podcast from building traction with its audience.
Still, if you're willing to utilize a paid plan, Buzzsprout is a superb tool. Combine its basic offering with add-ons, such as Magic Mixing and automated transcription, and most podcasters should find everything they need.