Contact managers aren't a one-size-fits-all solution. Your business is unique and has different management requirements from other companies. Tools that prove highly convenient in one organization might fail to meet your basic needs.
Therefore, you need to understand your target market, industry, and business requirements to find the right platform.
To make your search easier, we've divided the best contact management software into a few categories:
Contact management for comprehensive use
Contact management for ease of use
Contact management for integrating with Gmail
Contact management for improving pipelines
Contact management for mobile use
Contact management for marketing automation
Contact management for large companies
Contact management for email campaigns
Contact management with a detailed dashboard
Contact management for unlimited contacts
Contact management for robust data import
What Are the Best Contact Managers?
The following contact management systems can store all your contacts in a convenient place and elevate your customer relationship management.
1. HubSpot
Best Contact Manager for Comprehensive Use
Getting started with HubSpot's contact management system is effortless. The interface is intuitive, allowing you to navigate your information and contact database software without any issues.
One of the most impressive marketing tools in HubSpot is the automatic enrichment of your contact details. The system lets you easily manage customer data by updating the database after every interaction, making your communication more personalized.
But before you deal with data, you may want to tackle your sales pipeline first. HubSpot lets you do so from the Deals or Settings screen.
Another great thing about this contact management software is that it comes with reports and dashboards. There are many pre-made reports that can be modified and saved under different names. Unlike some other business tools, HubSpot lets you create customized reports with customer information from scratch.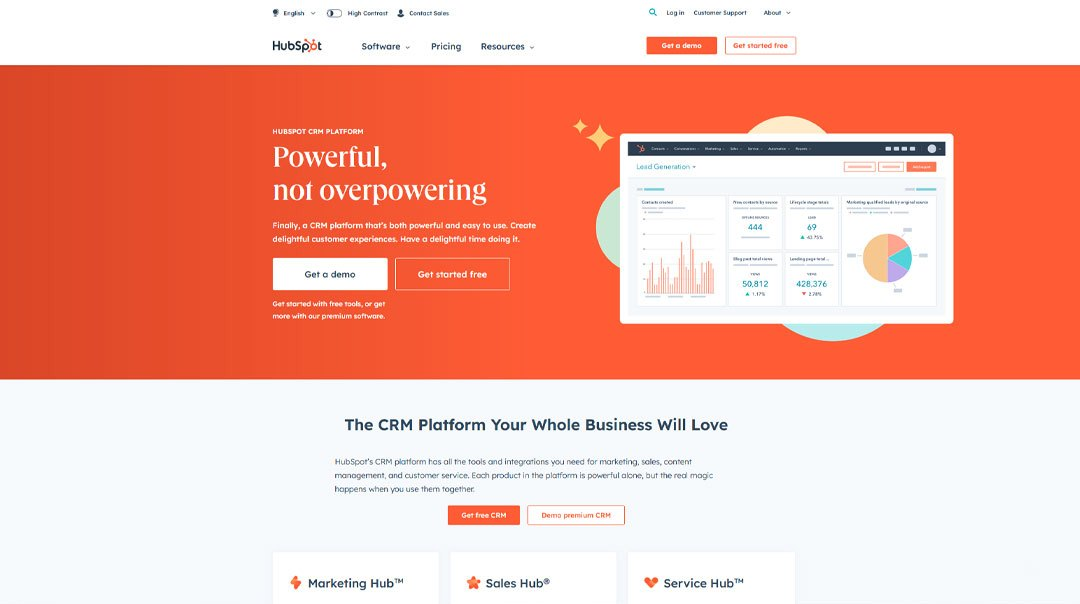 Key Features
Allows prospects to appoint meetings and synchronize them with a calendar in your data storage
Personalized team collaboration and email campaigns to enhance sales activities and lead generation
Tracks customer relationships and pipeline management through reporting dashboards
Automatic call logs of phone calls and emails for up-to-date information
Pricing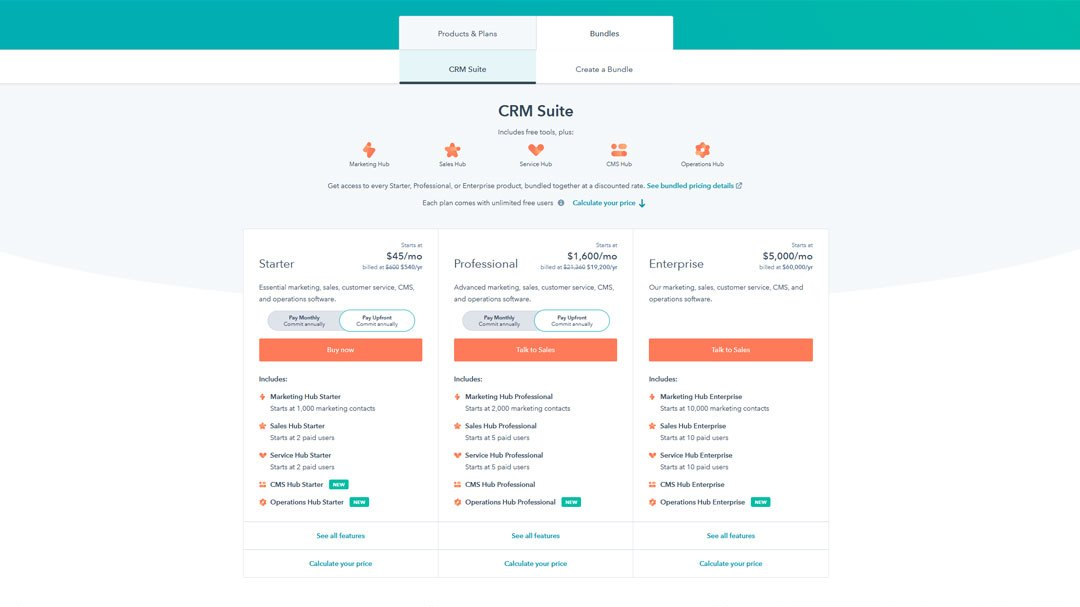 The HubSpot contact management software has three plans:
Starter – $45 per month
Professional – $1,600 per month
Enterprise – $5,000 per month
Pros
Allows viewing relevant customer contact information on the fly
Speeds up various sales tasks through marketing automation
Creates customizable web forms for better sales efforts and lead generation
Cons
Modifying email templates using data on your website visitors can be challenging
2. Zendesk Sell
Best Contact Manager for Ease of Use
If you're looking for an intuitive contact management platform, Zendesk Sell might be your best option. It's the top contact management software for your small business, with lots of potential to streamline your activities.
Zendesk Sell gives you a comprehensive view of all your lead records, including phone numbers, communication history, notes, and transaction history. You can incorporate additional information using custom fields.
In addition, this contact management software lets you import contact data from CSV files. It also integrates with other business software, such as marketing, analytics, and accounting tools. Finally, there are reports on your contact lists.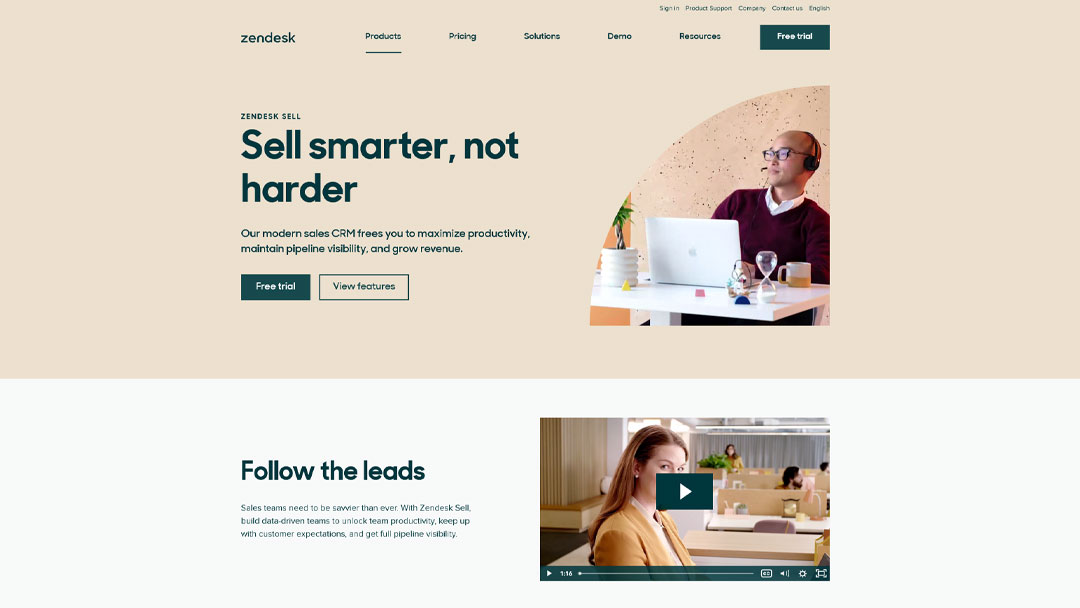 Key Features
Pricing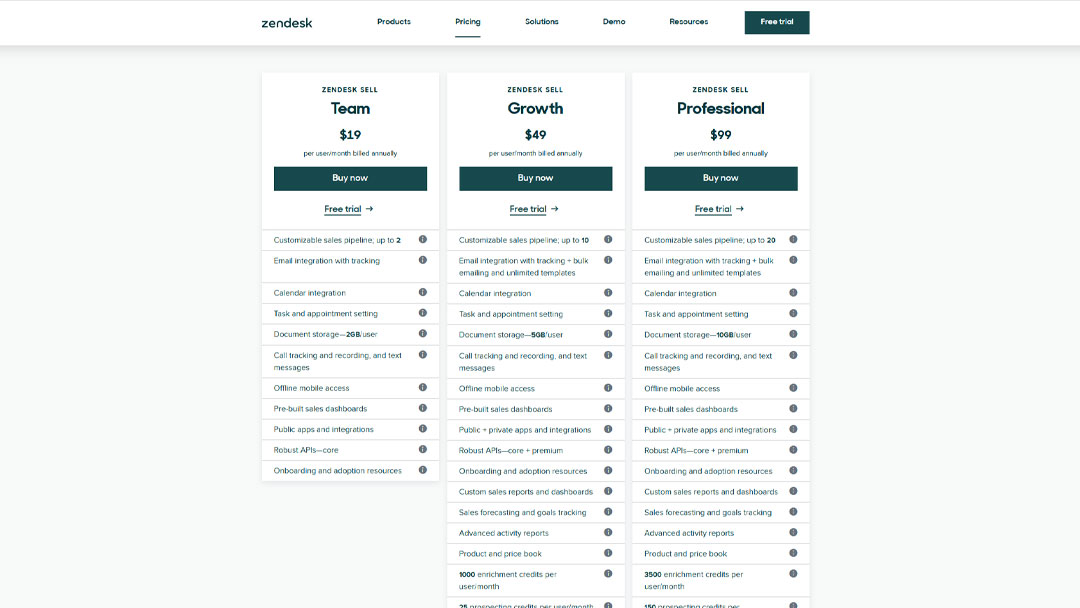 Zendesk Sell's contact management system has three pricing plans:
Team – $19 per month per user
Growth – $49 per month per user
Professional – $99 per month per user
Pros
One of the best contact management software for beginners
It automatically populates contact records with social media accounts
You can connect lead web forms with your contact database
Gives you insights into your sales processes for better decision-making
Cons
Pricey as you upgrade to higher packages
3. Streak
Best Contact Manager for Integrating with Gmail
Your sales teams sometimes need to integrate a contact management system with third-party apps to stay on top of business contacts. That's where contact management software like Streak comes in.
You can use Streak's contact management tools directly from Gmail. The app allows you to automatically sort contact details from your email threads into CRM information. There's email tracking, too, which sends notifications whenever your emails are opened. Other robust contact management features include sharing and email templates.
The contact management software has a few more marketing automation and collaboration features. For example, you can set up several teams and assign roles or permissions for each member, such as owners and payers only.
If you wish to take your sales process to a whole new level, you can combine the email snippet and mail merge features. These help you create and save contact data templates with customized text. You can then send emails to multiple people in your contact management system, which can save time. If some of your leads aren't in your pipeline, their email addresses can be uploaded as CSV files.
The Streak content management solution also provides custom pipeline views. These enable you to sort, group, and filter data in many arrangements. Once you find the perfect configuration, you can save it and share it with others.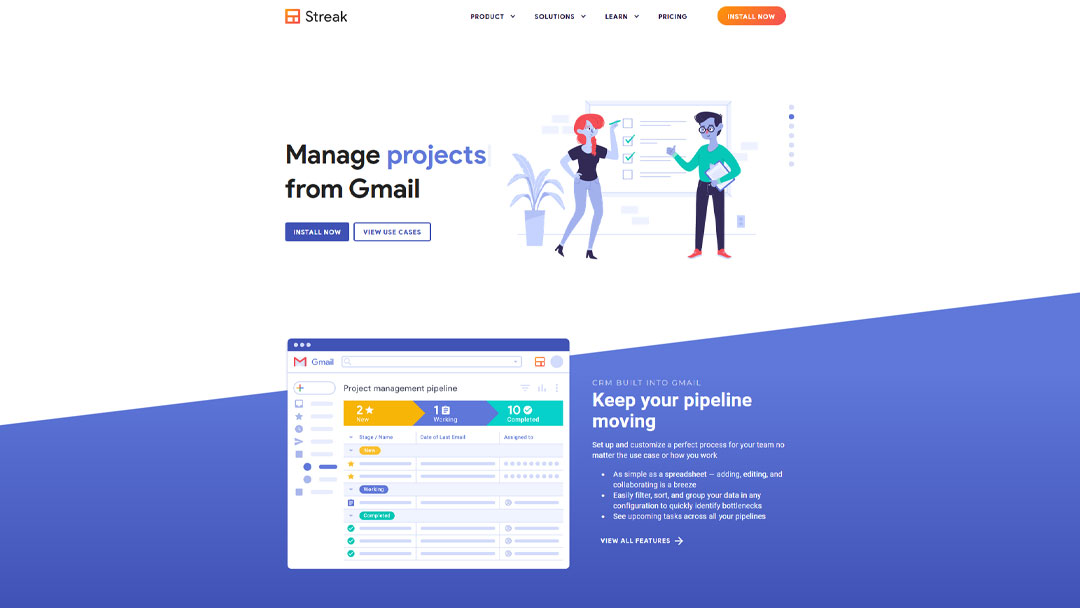 Key Features
Gmail integration
Sorting and filtering contact information like customer interactions
Incorporating relevant business information into contact records for your sales team
Customized workflows to advance sales efforts and productivity
Pricing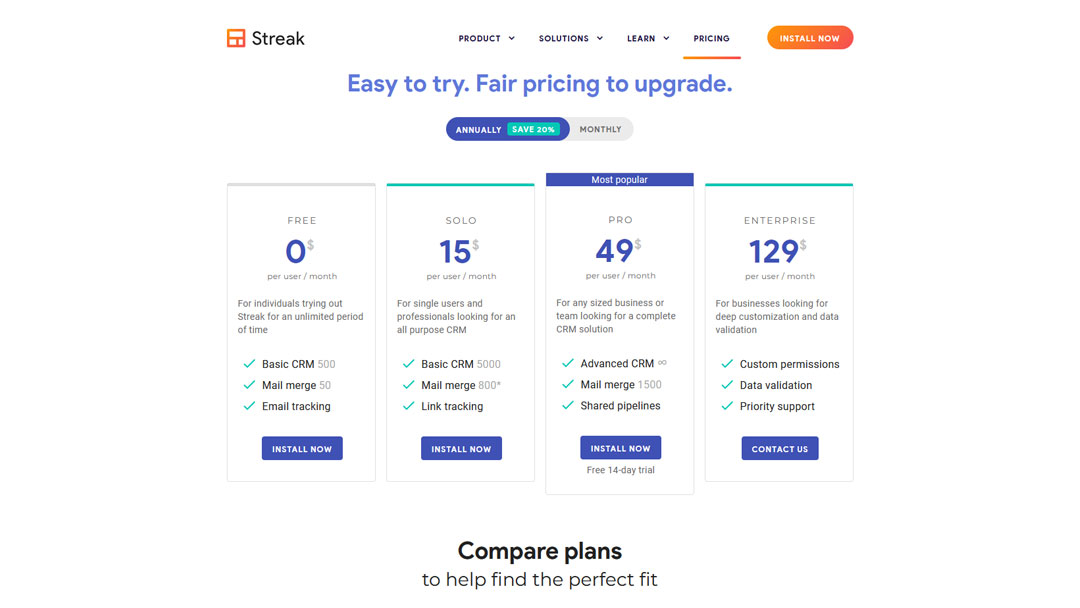 You can choose from four Streak plans:
Free
Solo – $15 per month per user
Pro – $49 per month per user
Enterprise – $129 per month per user
Pros
Cons
Customer service doesn't always respond
Few native integrations for your sales pipeline
4. Pipedrive
Best Contact Manager for Improving Pipelines
Pipedrive CRM is a sales-oriented platform. It boasts an array of features that can help boost your sales through data, automation, and smart contact information.
One of the most important Pipedrive features is the ability to easily manage and edit your contacts. To relocate them from one end of your pipeline to another, you need only drag and drop the items.
Even though Pipedrive doesn't have sophisticated information collection capabilities, you can gather your data using online forms. The forms can be placed virtually anywhere, including your newsletters and websites.
If you wish to separate lead management forms from post-sales support, Pipedrive enables you to set up more pipelines with a straightforward interface. There are even tools for retrieving web data about contacts from LinkedIn and other online sources.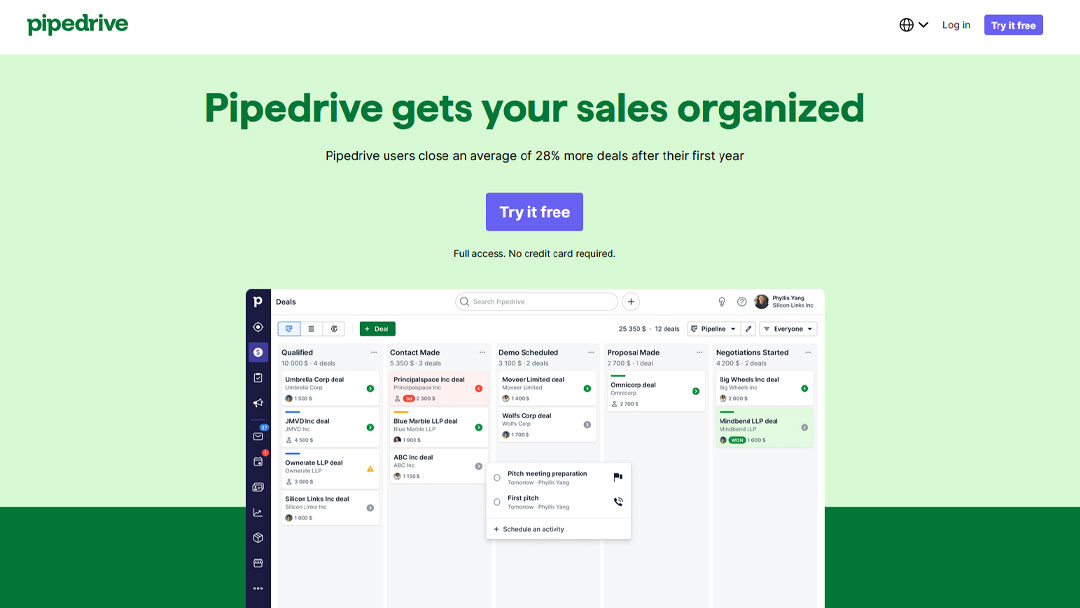 Key Features
Tracking of tasks, notes, emails, meetings, and calls in one platform
Segments and sorts contact data for improved targeting
Automating follow-ups, data entry, and other repetitive tasks
Builds and tracks custom pipelines to keep abreast of all deals
Pricing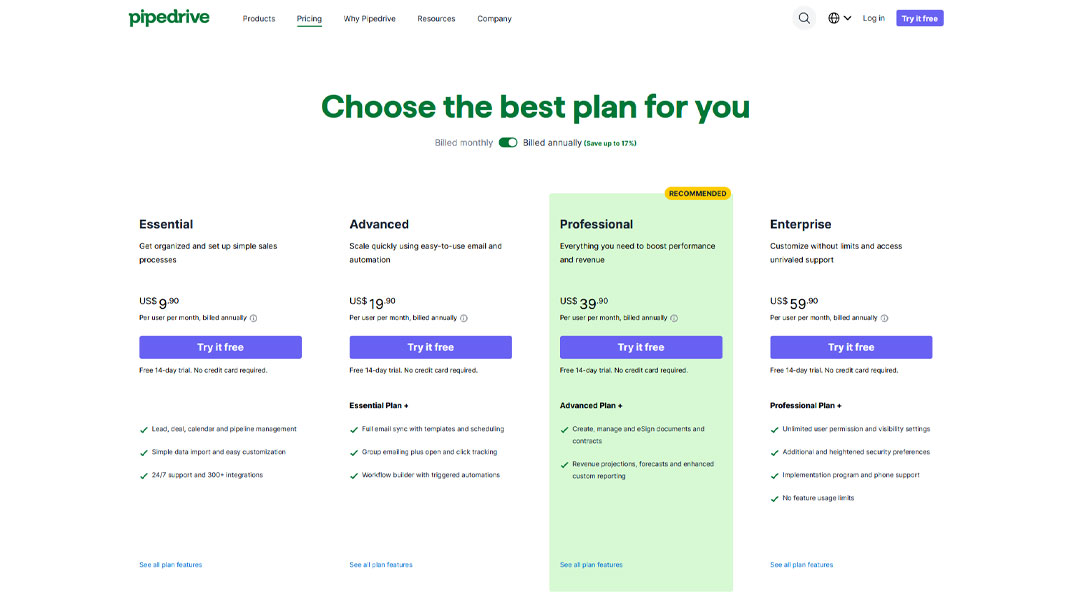 The Pipedrive contact management software has three monthly plans:
Essential – $9.90 per month per user
Advanced – $19.90 per month per user
Professional – $39.90 per month per user
Pros
Exceptional pipeline features
Lets you stay on top of contact information easier due to the removal of duplicate contacts
Excellent web form capabilities
Cons
Lack of advanced analytics and contact management tools for reporting
Limited tutorials on getting started with your contact management software
5. Bigin
Best Contact Management Software for Mobile Use
If you're looking for a contact management platform for smartphone use, you can't go wrong with Bigin. It has a tight integration with iOS, which is essential if your customers use iPhones and iPads. The developers of this contact management software have incorporated some of the most well-known Apple features, such as specific notifications and widgets for your mobile phones, scribbling responses with Apple Pencils, and receiving Apple Watch alerts.
Apple iOS 14 supports many widgets, and you can now use Bigin to set your reminders on your home screen, which serves as convenient post-it notes. The Bigin widgets show events, calls, and tasks while letting you set up new activities.
Besides being fully optimized for smartphone use, Bigin is also a great option if you need access to comprehensive contact reports. Its advanced analytics allows you to track your sales performance, pipeline stages, deal statuses, and other key performance indicators.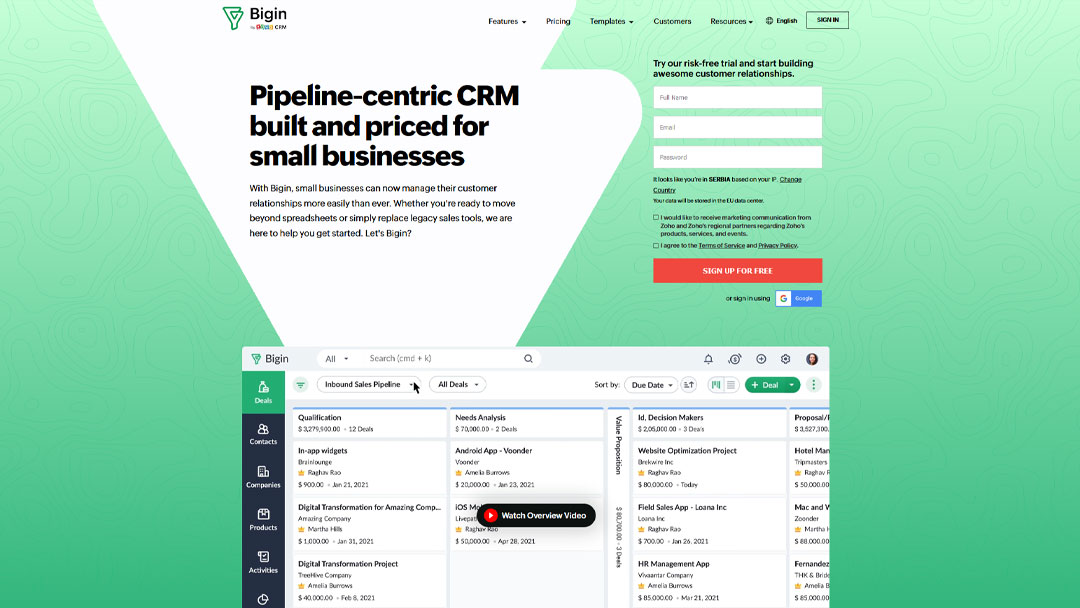 Key Features
No compatibility issues when used on mobile devices
Segments contacts automatically based on their interactions with you
Crafts engagement campaigns
Analyzes incoming traffic and provides advanced reports
Custom interactions, depending on your contact information and activity
Pricing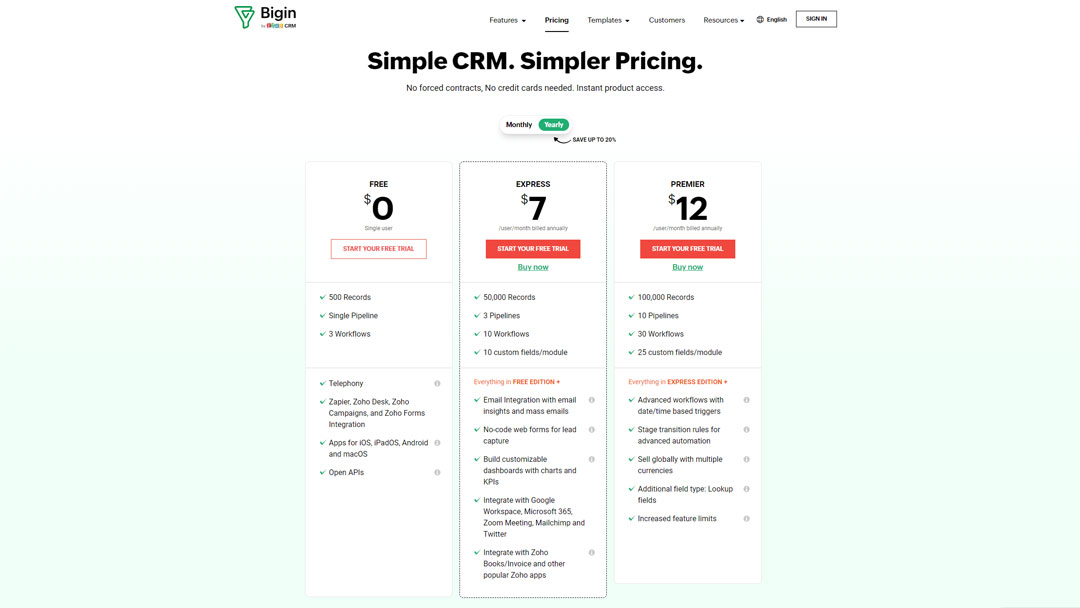 There are three pricing models for Bigin:
Free
Express – $7 per user per month
Premier – $12 per user per month
Pros
Better on-the-go client communication due to a seamless mobile interface
Smoother contact organization with convenient features
Sorts contacts according to their status, allowing you to stay on top of the latest developments
Cons
Lack of some basic functionalities, such as adding custom fields to contact records
6. ActiveCampaign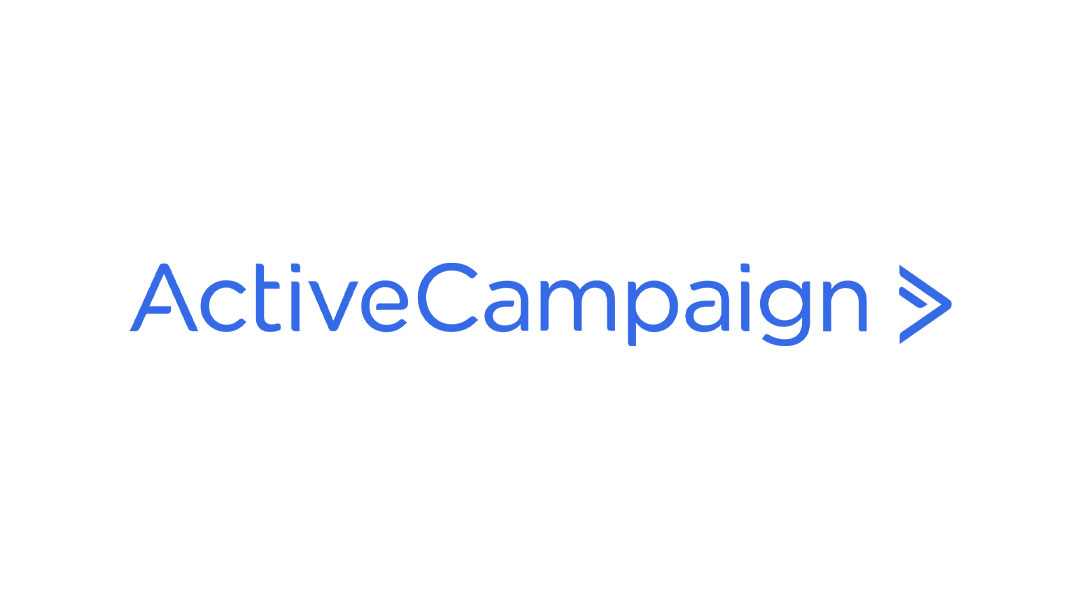 Best Contact Manager for Marketing Automation
ActiveCampaign is an excellent contact management tool geared toward marketing automation. There are robust autoresponders that eliminate the need for manual responses and speed up your workflow. It comes with automated contact, list, and lead management for seamless integration into your daily routine.
Another notable feature is the Conversations section. It lets you send targeted messages to your audience, which can enhance customer experience. Plus, it can create a high-quality sales funnel for converting more visitors.
Finally, ActiveCampaign gives you a holistic view of all relevant data. You can use the convenient overview to quickly gauge the performance of your marketing and sales efforts.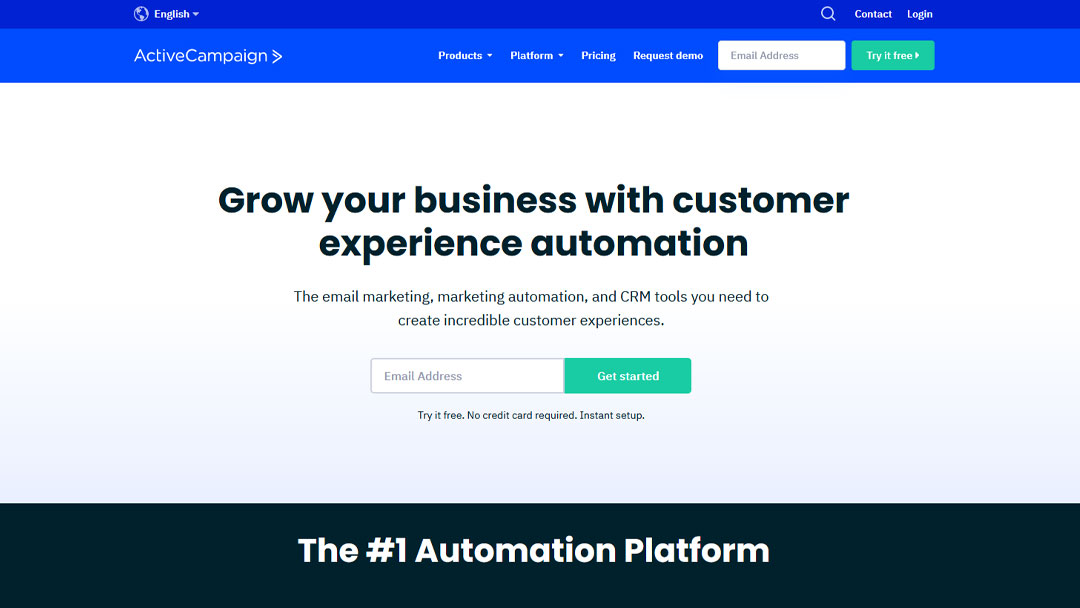 Key Features
Highly automated
Thorough reporting
Terrific email deliverability
Free account migration
Pricing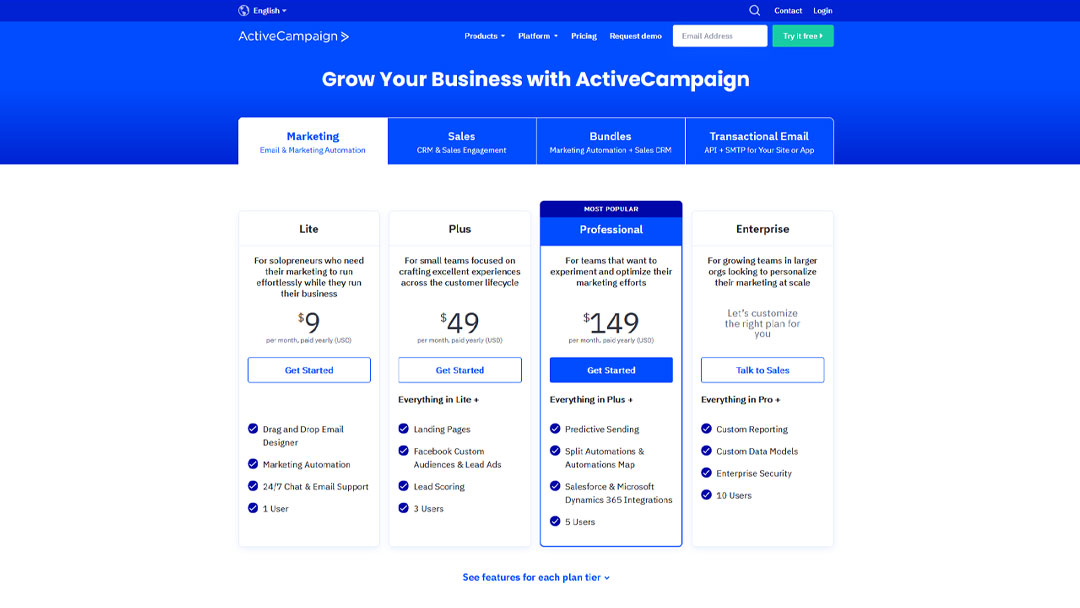 ActiveCampaign offers four plans:
Lite – $9 per user per month
Plus – $49 per user per month
Professional – $149 per user per month
Enterprise – Custom pricing
Pros
Lets you focus on strategic duties by performing administrative tasks automatically
Helps elevate customer communication and experience
Cons
7. Freshworks CRM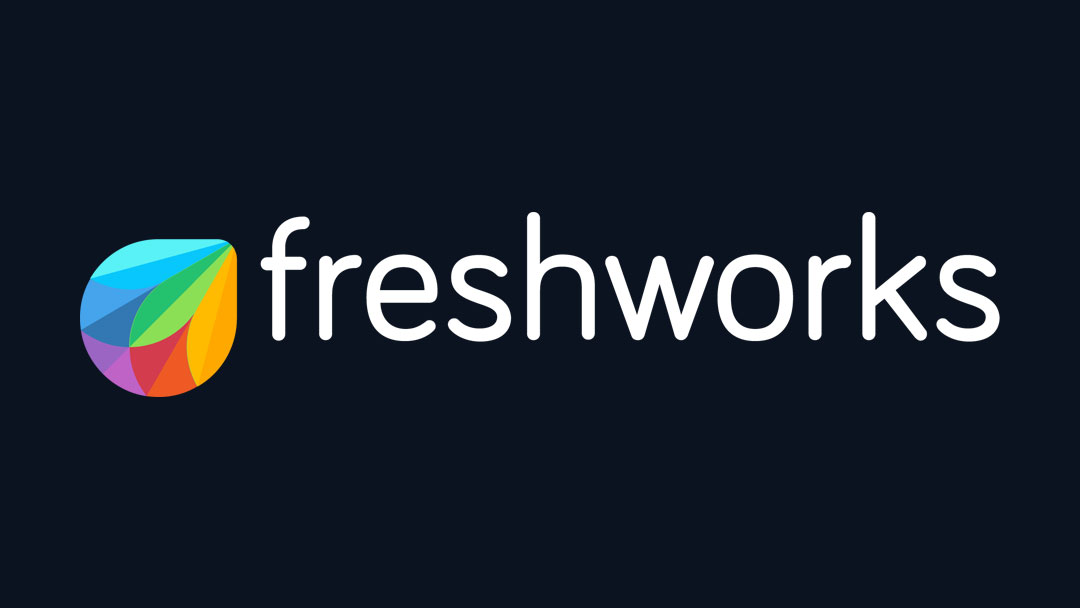 Best Contact Management Platform for Large Companies
Freshworks CRM comes with exceptional features to help your large company manage a large number of employees. Its standout feature is its lead scoring. It enables you to rank your leads based on engagement levels, giving you more control over your pipelines.
Reports are also satisfactory. There are over 30 report types, from leads generated per month and email activity to manual call logs. Each report is generated instantly.
Another great thing about the system is the navigation. There's a side icon-based menu that lets you jump between email tools, reports, deals, contacts, and leads.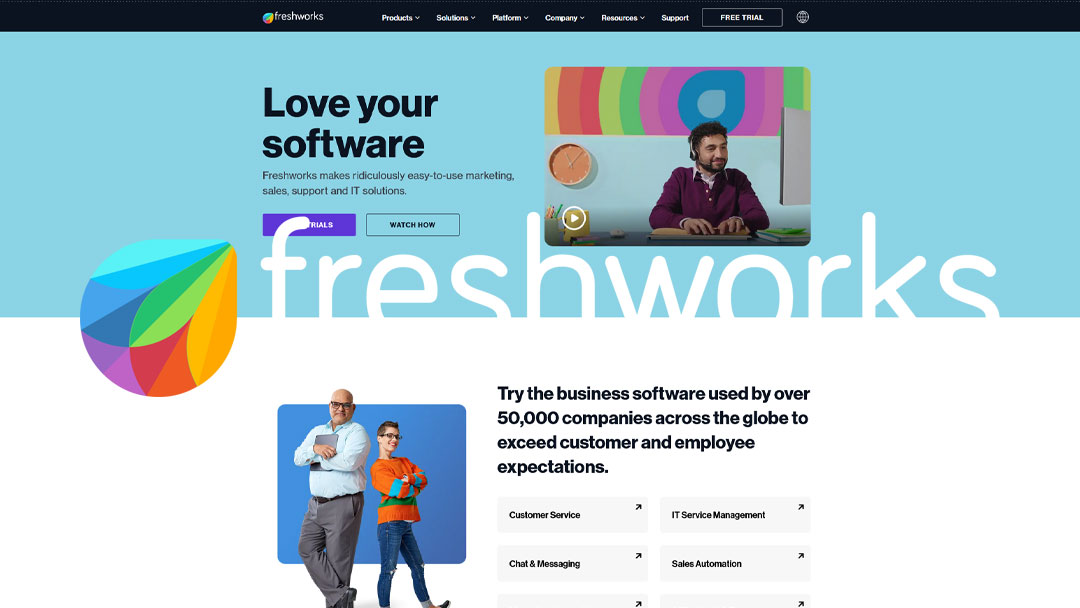 Key Features
Excellent navigation tools
Lead scoring
Reports
Multiple categories
Pricing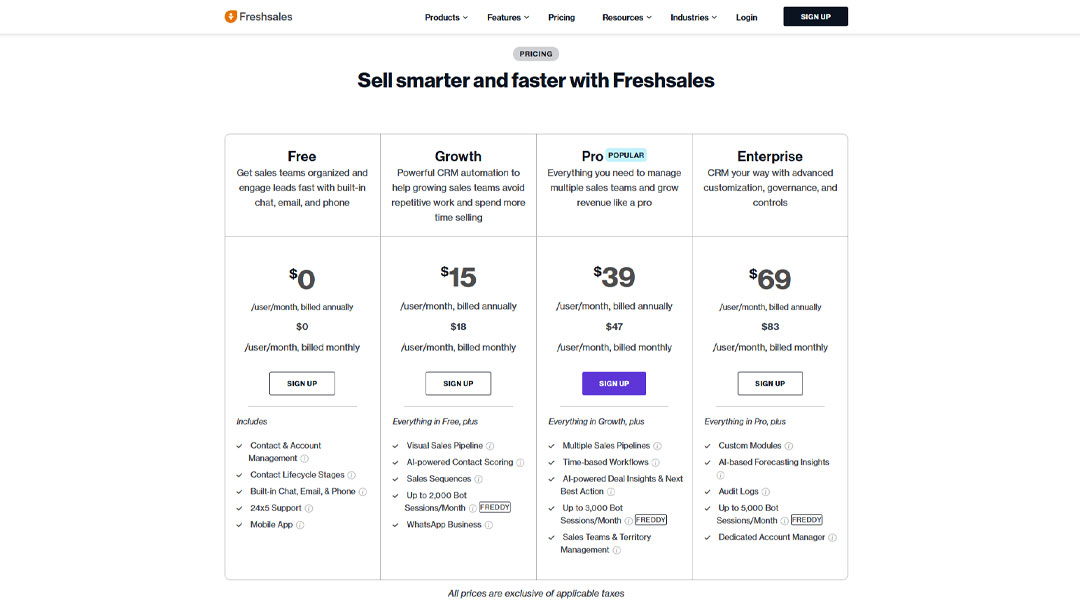 Freshworks Contact Management CRM has four plans:
Free
Growth – $15 per user per month
Pro – $39 per user per month
Enterprise – $69 per user per month
Pros
Easy exploration of contact information
Robust management tools for large sales teams
Cons
Some processes are tedious
Limited customization
8. Moosend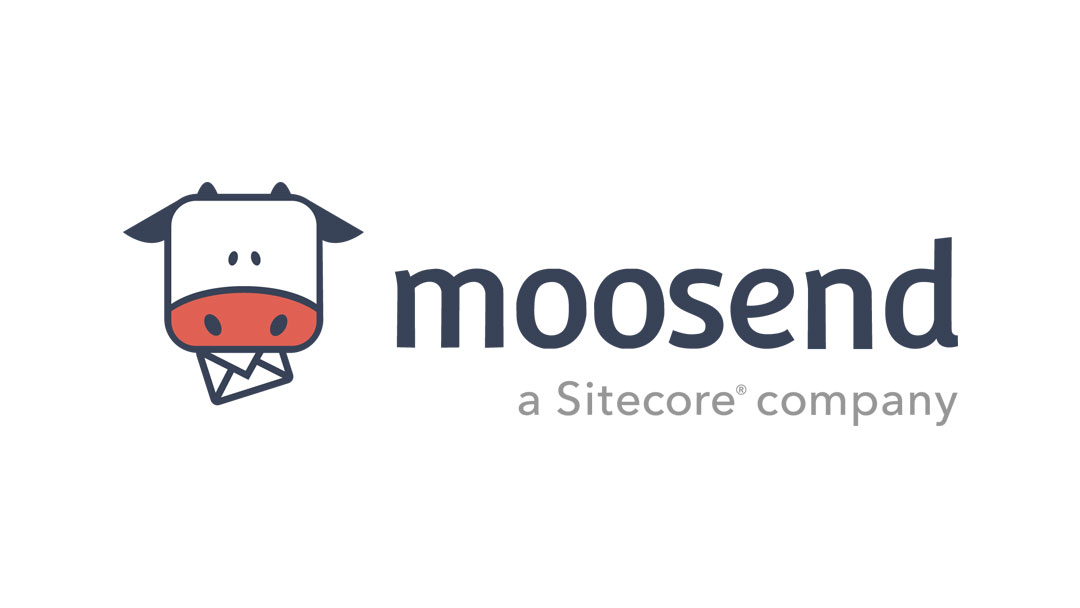 Best Contact Manager for Email Campaigns
Moosend is an affordable software that works great as an email marketing service. It lets you choose from more than 75 templates, allowing you to customize the experience for all audience groups.
Additionally, Moosend provides reports on your contacts and email campaigns. The reports are varied and detailed, enabling you to assess and modify your workflow within seconds.
There are also flexible marketing automation options. The tool helps you send newsletters and other content on time, boosting your chances of conversion.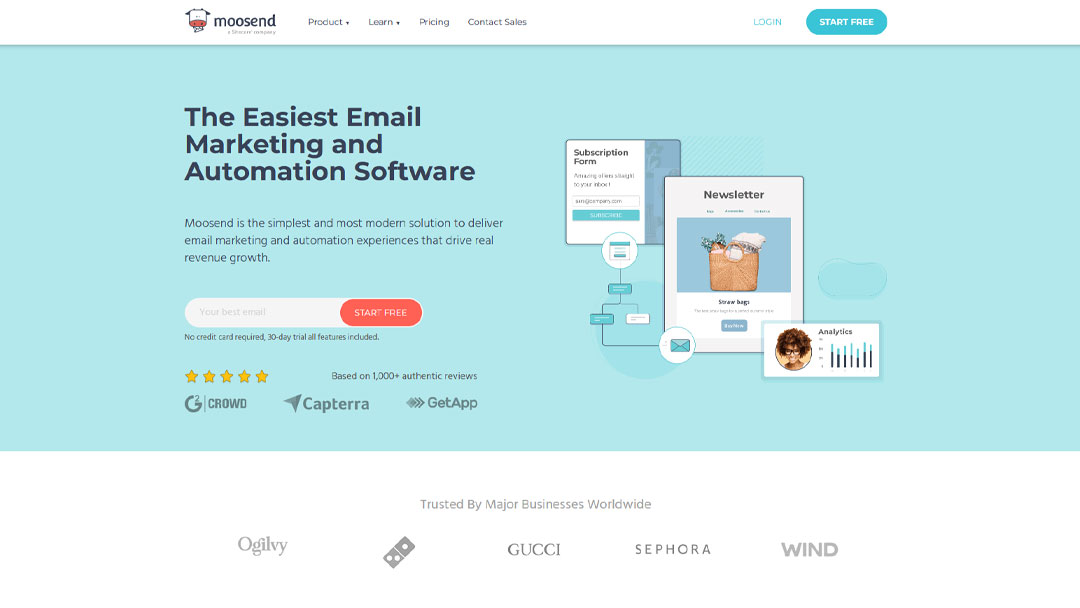 Key Features
Email marketing services
In-depth reports
Marketing automation
Pricing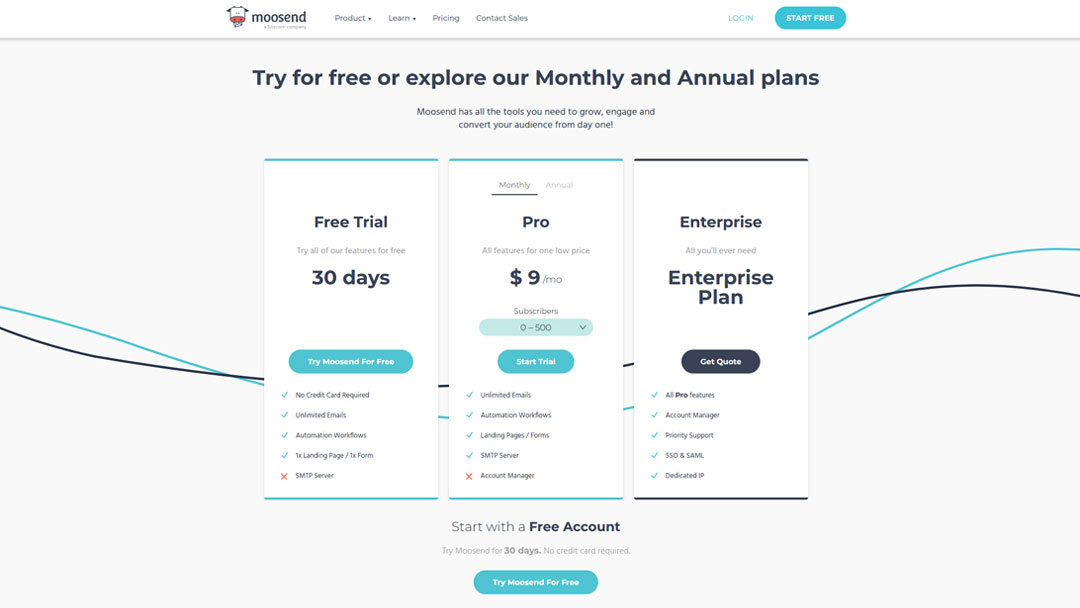 There are three Moosend plans:
Free
Pro – $9 per month for up to 500 users
Enterprise – Custom pricing
Pros
Comprehensive contact data
Automates most marketing and sales processes
Cons
Fewer integrations than other CRMs
9. Keap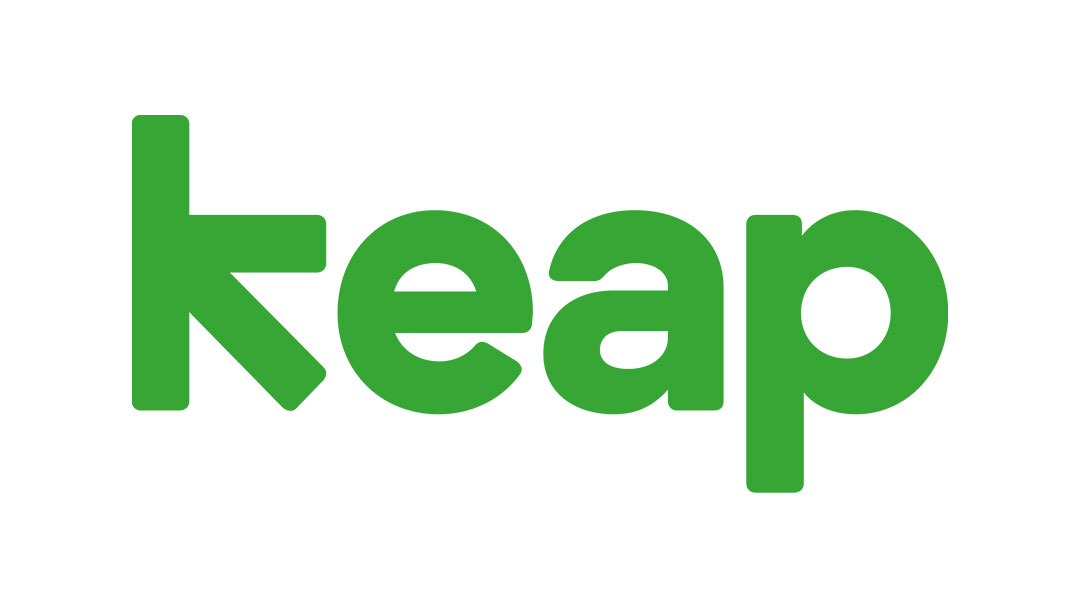 Best Contact Manager with a Detailed Dashboard
Keap is a top-rated contact management platform with a comprehensive dashboard. It contains all contact activity and information while adding interactions automatically for easy team review. The information can be organized chronologically or categorically to contextualize the data. The dashboard also allows for quick booking, emailing, texting, calling, and purchase processing.
If you want to measure the success of your campaigns, Keap has got you covered. It lets you gauge your performance with reports and analytics.
Furthermore, there are built-in templates for invoice reminders, deal offers, and landing page leads.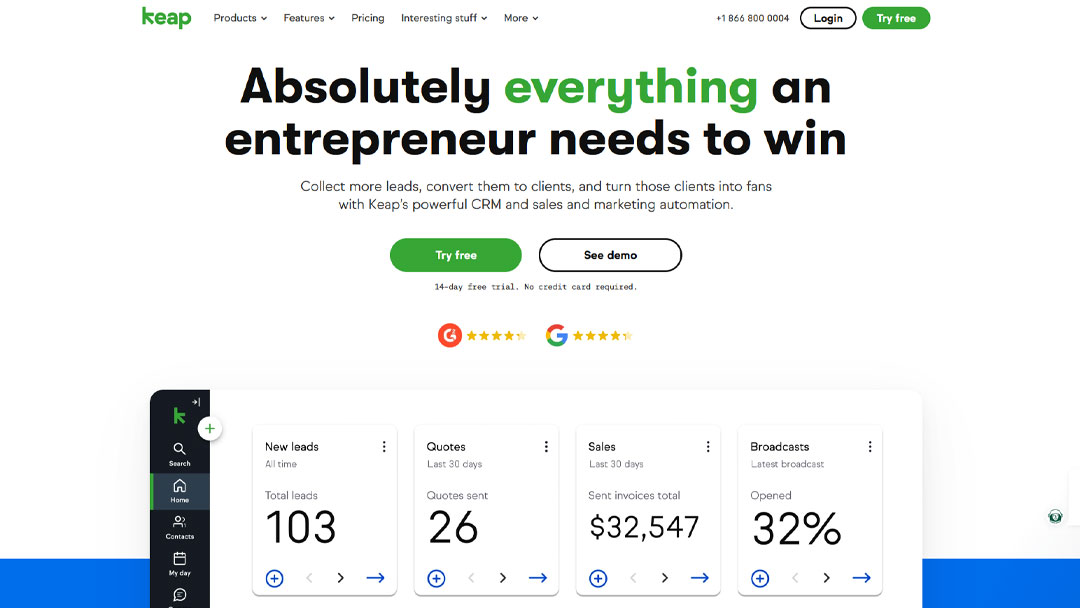 Key Features
Superb dashboard
Analytics and reports
Templates
Pricing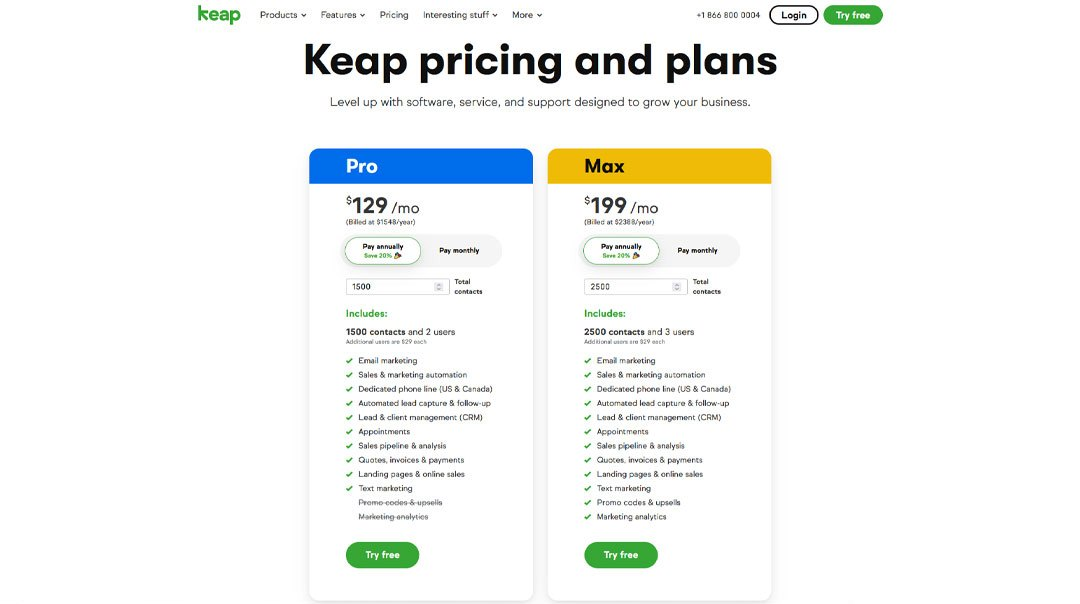 Keap has two plans:
Pro – $129 per month
Max – $199 per month
Pros
Detailed overview of crucial data
Performance-tracking software
Cons
Limited migration process
Contact-based pricing
10. Bitrix24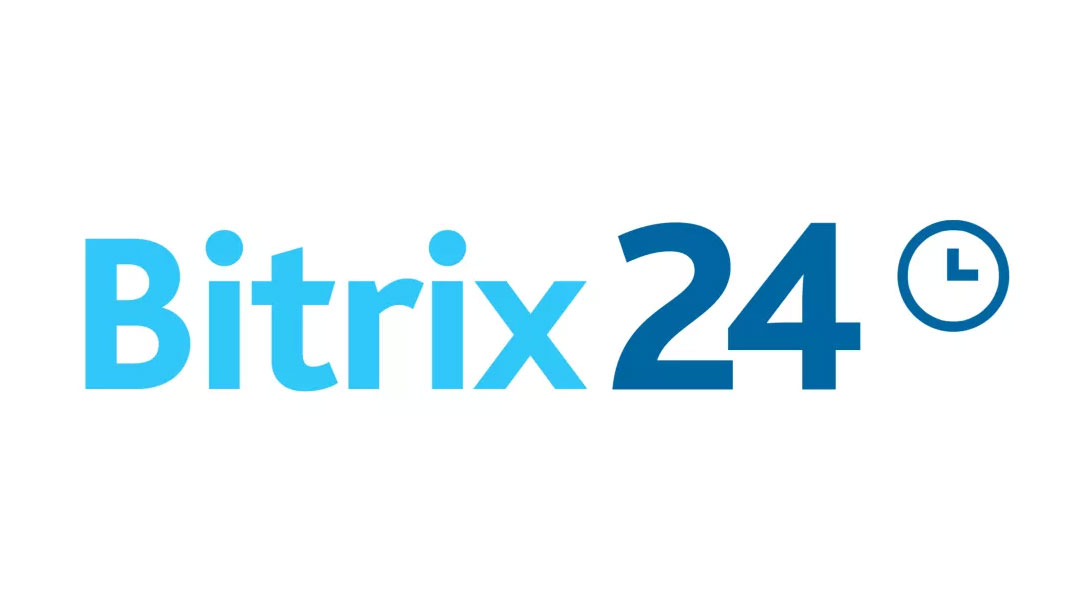 Best Contact Management System for Unlimited Contacts
The Bitrix24 CRM is an ideal solution if you need unlimited contacts. You can use the program to build new lead pipelines and track every key detail, such as sales and customer support interactions. There are also automation tools to help contact your customers with social media, SMS, and email.
Bitrix24 has a few other nifty tools, like time tracking and task assignments. You can set up Kanban boards and Gantt charts to manage your work while creating reports to track your employees' performance.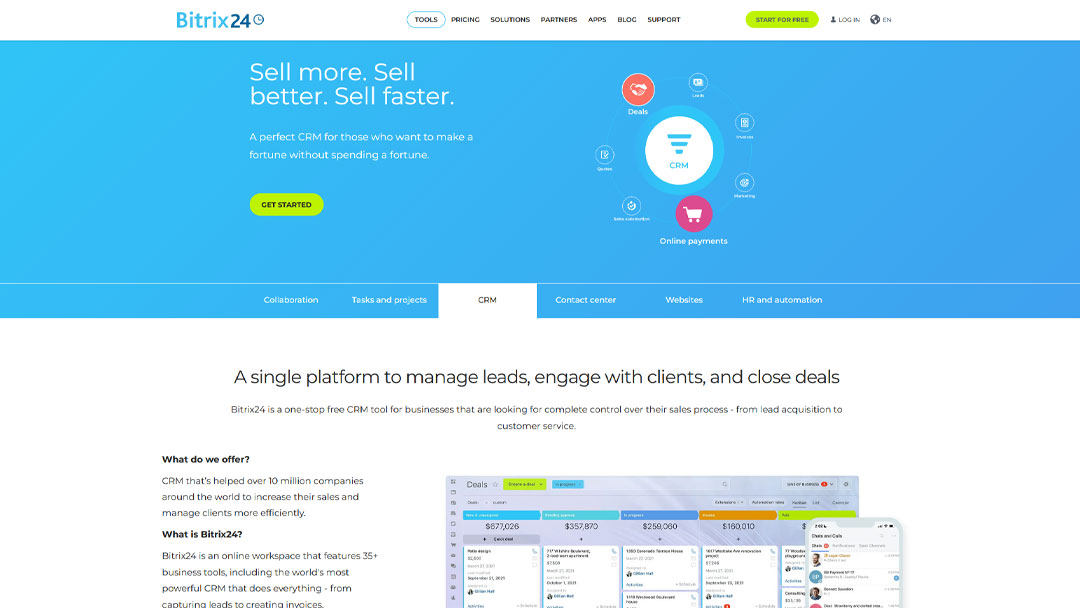 Key Features
Unlimited contacts
Expedited workflow
Integrations
Pricing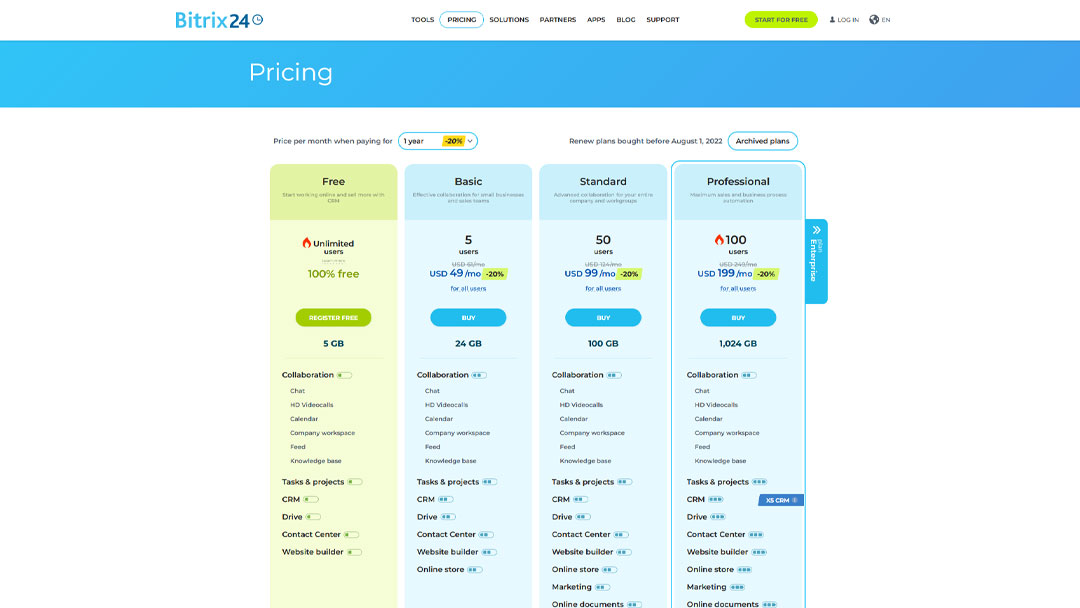 You can choose from four Bitrix24 plans:
Free
Basic – $49 per month
Standard – $99 per month
Professional – $199 per month
Pros
Simplified communication with clients
Productivity tools for higher efficiency
Cons
No chatbots for support or sales
11. Nimble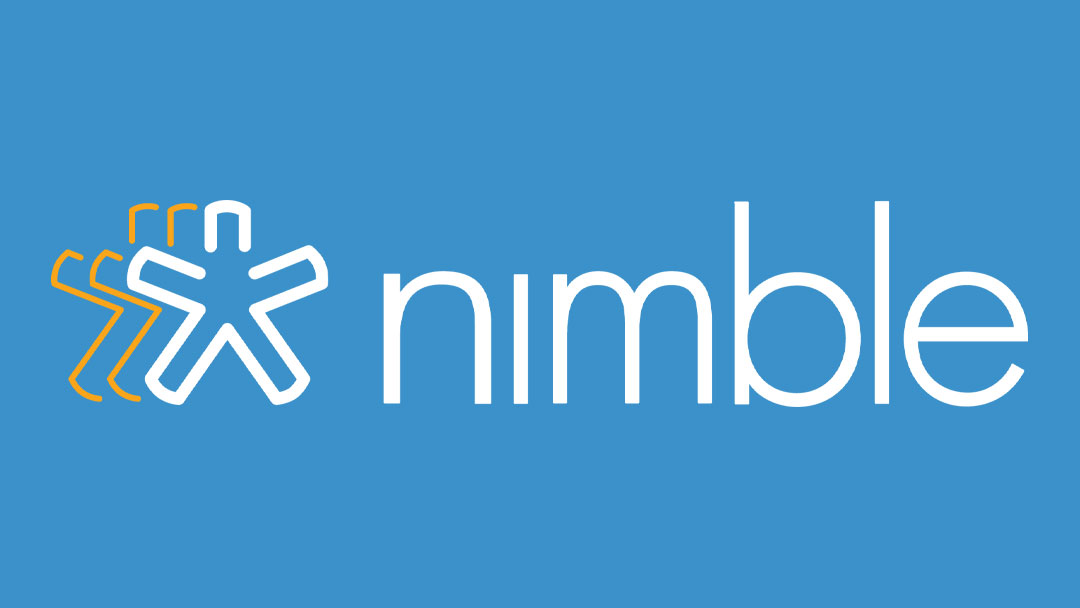 Best Contact Manager Software for Robust Data Import
Some contact managers give you a hard time when importing contact information. That's not the case with Nimble.
Nimble lets you quickly import your data from various sources. It supports direct integrations with Gmail, Twitter, and Outlook. Additionally, you can add and synch your data from third-party web applications, including GetResponse, Mailchimp, and Aweber.
Data segmentation is also noteworthy. You can populate existing database fields to flag specific data types or apply ready-made tags. Alternatively, you can create custom fields.
Exporting data is just as easy as importing it. You need only select the details you wish to export and tap the Export button.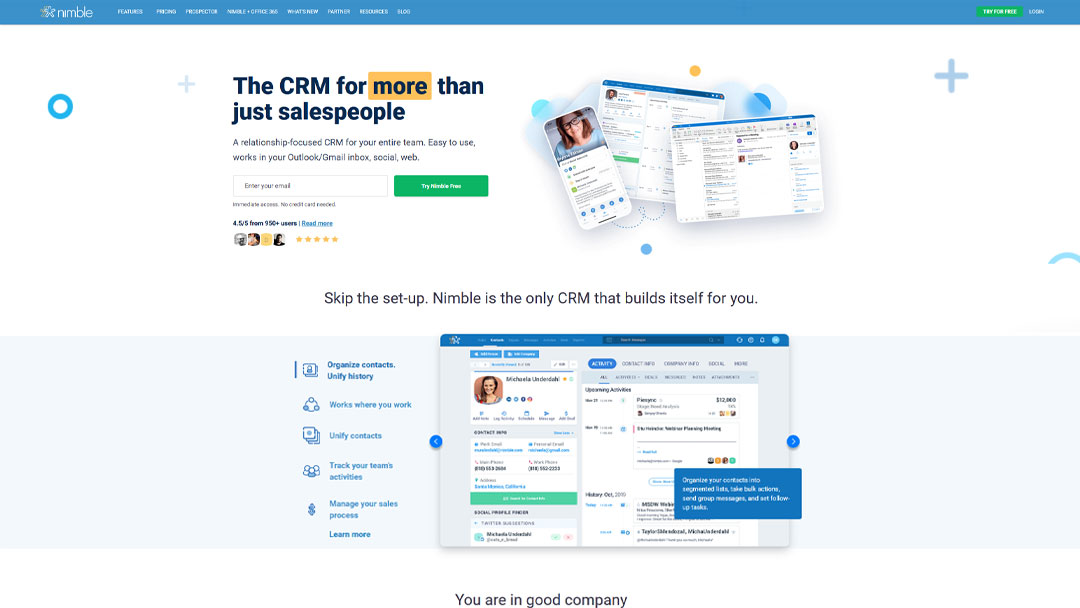 Key Features
Convenient import and export
Straightforward segmentation
Pricing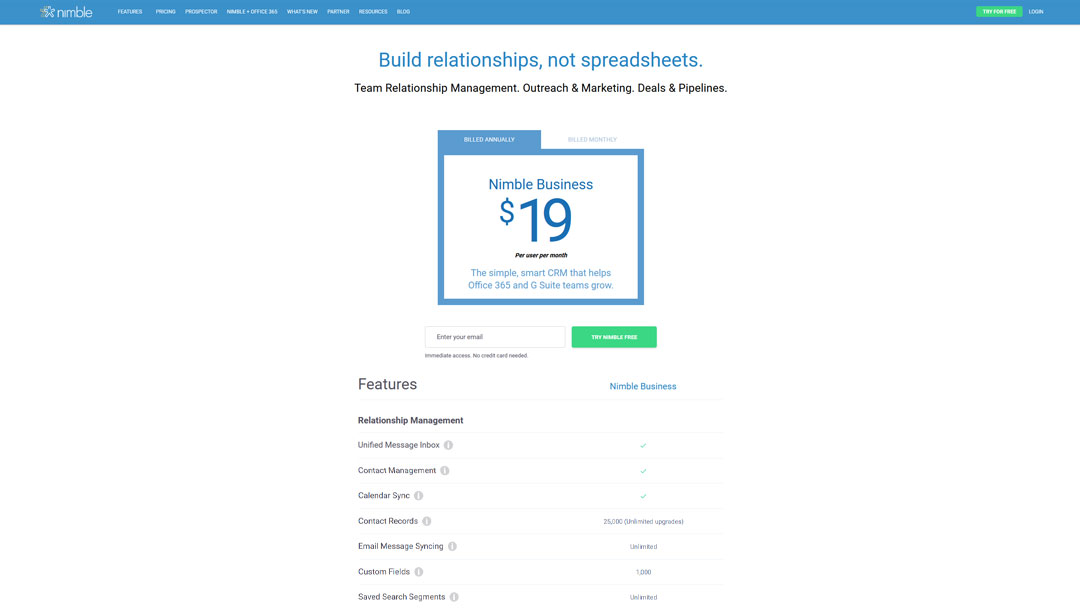 Nimble has just one plan:
Business – $19 per user per month
Pros
Effortless import improves time management
Better data overview due to segmentation
Much-needed integrations
Cons
Awkward email functionality
12. Monday.com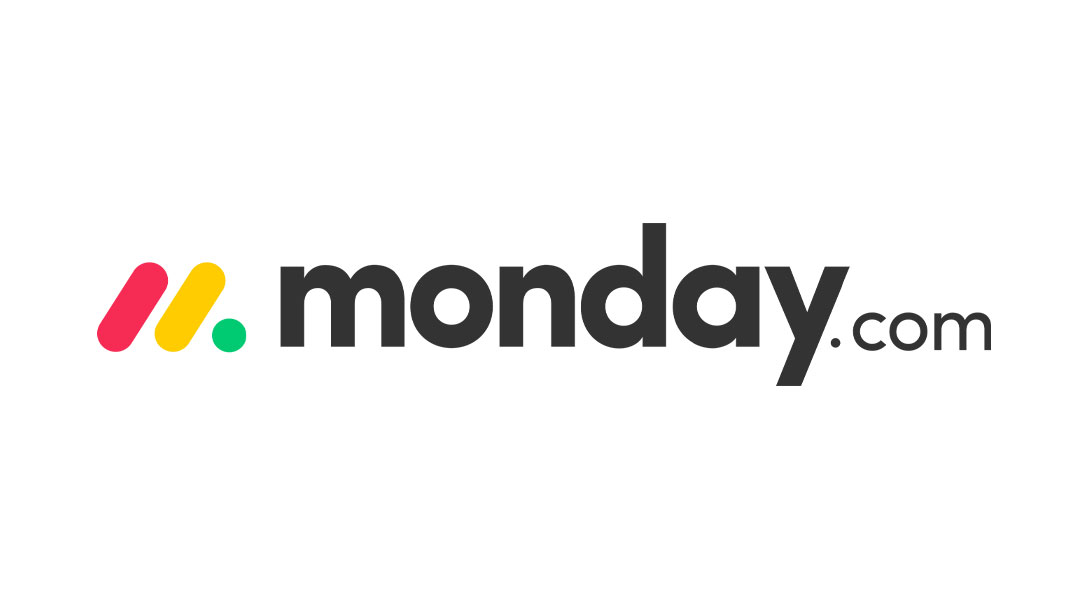 Monday.com is easy to use and customize due to its convenient interface and more than 100 available templates and third-party integrations. The templates let you rapidly capture and manage your contacts with Facebook Ads, Salesforce, SurveyMonkey, Mailchimp, and other platforms.
Project management is the highlight of this system. There are many features to help expedite your workflow, like visual tasks, time tracking, Gantt charts, and maps. Most of them can be dragged and dropped into various fields, promising a great experience.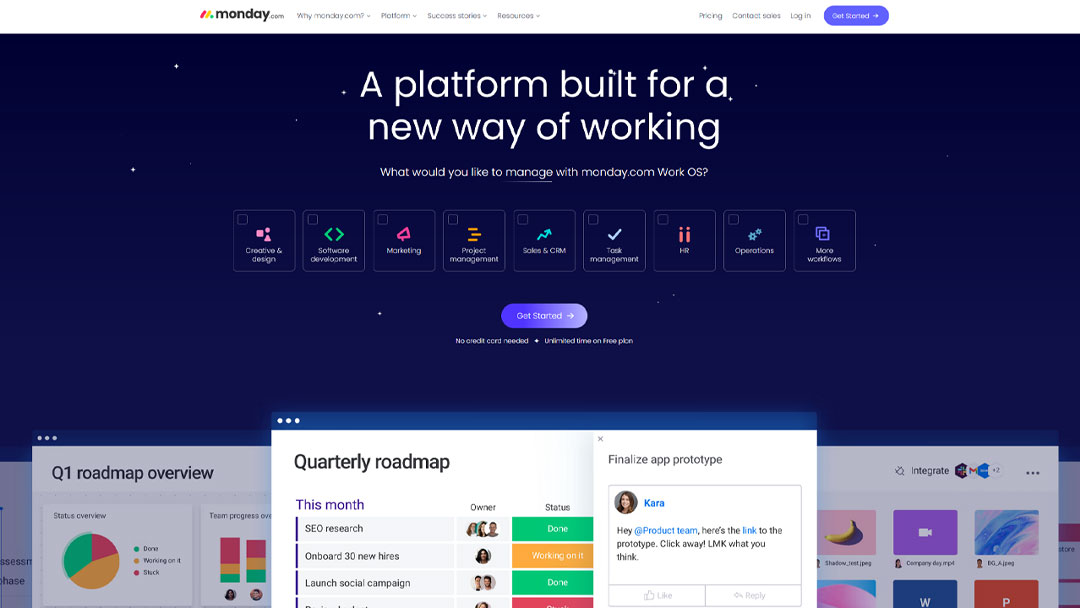 Key Features
Numerous templates
Excellent integrations
Pricing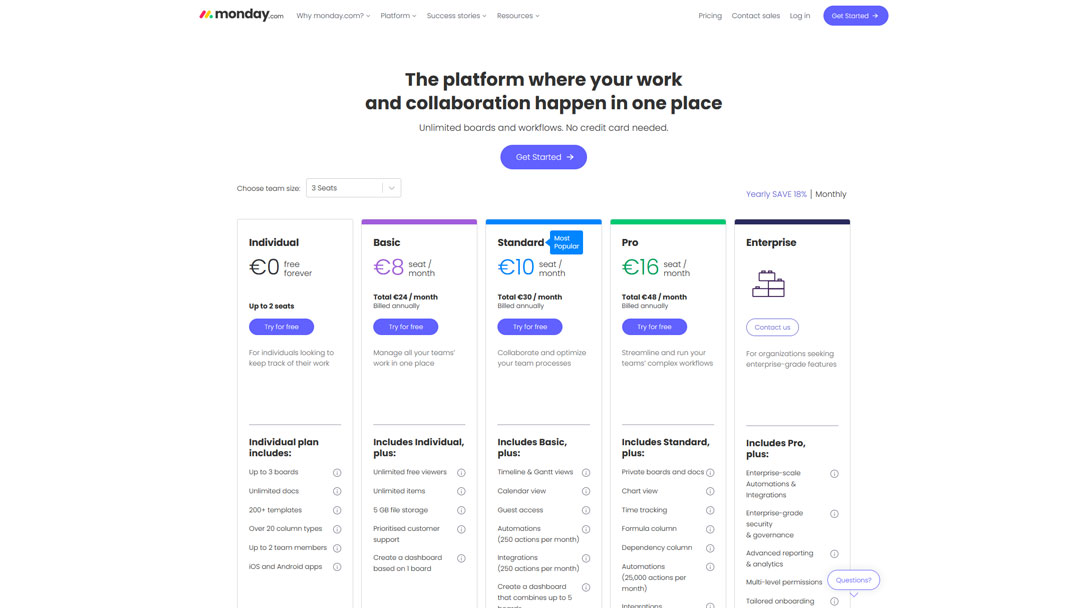 Monday.com has five plans:
Individual – free
Basic – $10 per seat per month
Standard – $14 per seat per month
Pro – $24 per seat per month
Enterprise – custom pricing
Pros
Tremendous potential to speed up work
Premier contact and project management
Cons
Stay Ahead of Your Competition With the Best Contact Management Software
There's no need to take a chance with subpar solutions when these platforms are readily available. The best overall choice for most companies is the HubSpot contact management software. Zendesk Sell is ideal for first-time users, while Streak is a great option if you need a Gmail integration. Finally, Pipedrive works fantastic for improving your sales pipelines, while Bigin is fully optimized for smartphone use.