What Is the Best DIY SEO Software?
With so many DIY SEO software packages available, it's tough to determine which best meets your needs. We've experimented with 15 options, each of which offers something different, to help you choose the right software for your business.
Ahrefs
You need to know what the most relevant keywords and keyword phrases are for your website. With Ahrefs, you can create general lists of target keywords per page to optimize your pages toward the correct terms.
Ahrefs primary tool is its keyword research software.
However, the advanced versions of this DIY SEO tool allow you to track your rankings and backlink profile. The latter is especially important as it helps you determine your link-building efforts' success. Plus, it shows you any poor backlinks that may affect your search engine results.
The tool works by crawling the web and indexing live websites, much like a search engine's algorithm. Again like a search engine, the tool analyzes everything from the top ranking pages to those right at the bottom of the results, gathering SEO insights in the process.
Unlike search engines, the tool uses the data it collects to answer crucial questions, such as what keywords you rank for and how many backlinks your website has.
This DIY SEO software also offers a helpful dashboard that gives you an at-a-glance view of your website's SEO. You can see a rating out of 100 for your domain, in addition to states telling you how many organic keywords you rank for and the number of backlinks your site has.
The Best Ahrefs Features
Performance dashboard
Locating existing backlinks
Tracking down broken links
Coming up with content ideas
Rank tracking and analysis
Pricing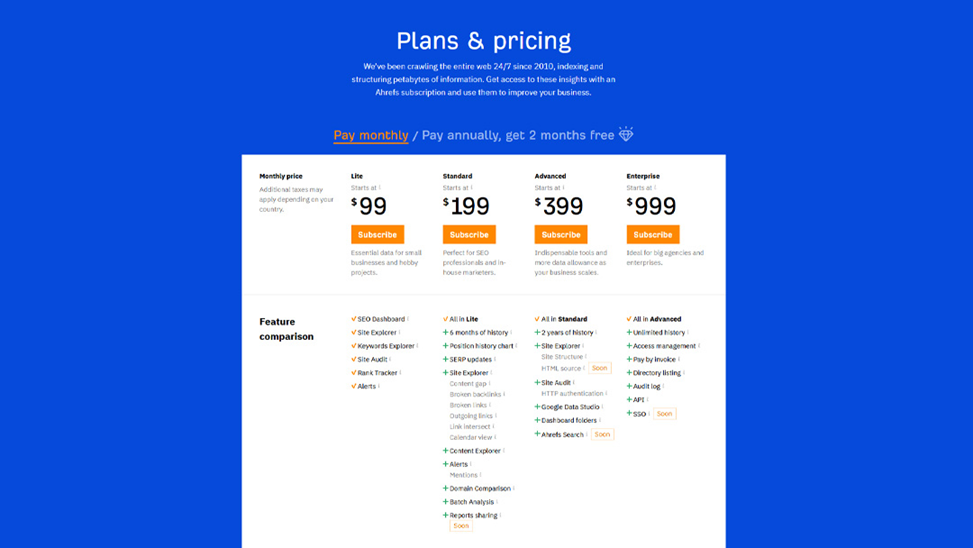 Ahrefs offers several pricing tiers in addition to some free DIY SEO tools.
On the free side of things, it offers its own version of Google Analytics. Named Ahrefs Webmaster Tools, this dashboard provides valuable information about your website's SEO health and some basic information about backlinks and keywords.
You have four options if you're ready to graduate to Ahref's paid SEO tools. Each serves as a helpful keyword tool, though the number of keywords you can track varies depending on your choice:
Lite – $99 per month to track 750 keywords
Standard – $199 per month to track 2,000 keywords
Advanced – $399 per month to track 5,000 keywords
Enterprise – $999 per month to track 10,000 keywords
BuzzSumo
Quality content is crucial for attracting organic search traffic and boosting your website's search engine ranking. However, filling your web pages with quality content gets difficult as time goes on. It would help if you had a content marketing strategy, which is where BuzzSumo comes in.
This DIY SEO software analyzes other websites to determine the most popular content.
All you have to do is enter a particular keyword into this amazing tool and it pulls up a list of popular content ideas on which you can start working.
In addition to serving as a general content planner tool, BuzzSumo shows you information about the type of content your competitors publish.
Beyond giving you more ideas about the types of content you should publish, often from websites with higher domain authority than yours, this feature allows you to see what's working for your competitors.
Combine all of this with the tool's ability to analyze your existing content, and you have one of the most potent DIY SEO tools available.
The Best Features of BuzzSumo
Content analysis shows you what's currently working on your website
Analyze the web's most popular content
Generates new content ideas
It shows you what your audience likes to read
Practical competitor research for your DIY SEO strategy
Pricing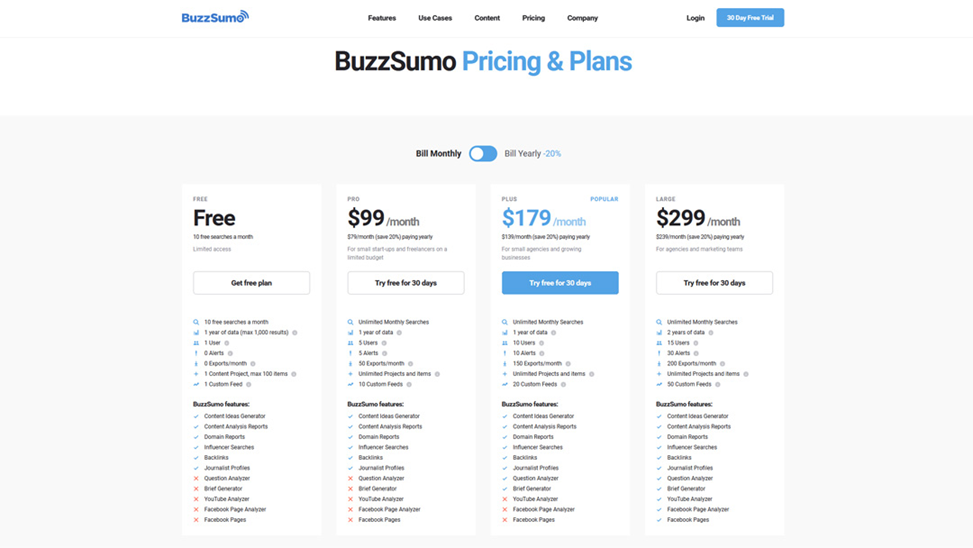 BuzzSumo offers a free tool that allows you to search for content related to any keyword you type.
However, that tool has a low monthly usage limit of 10 searches. If you want to analyze more keywords, you have the choice of three tiers:
Pro – $99 for unlimited monthly searches for up to five users
Plus – $179 per month for unlimited monthly searches for up to 10 users
Large – $299 per month for unlimited monthly searches for up to 15 users
AlsoAsked
The best content answers the questions users ask. That's why search engine algorithms constantly change to try and provide the most direct answers to user queries.
AlsoAsked is a simple piece of DIY SEO software that allows you to find questions related to any question you ask.
It's effortless. Type a question into the tool's search bar and it'll take a minute to generate results. You will see a tree diagram showing inquiries related to your question.
A potential customer may ask each of these questions about your industry. With these questions, you can focus on creating content that provides answers, potentially increasing your site's search volume.
The platform offers a free SEO tool, along with several paid tiers.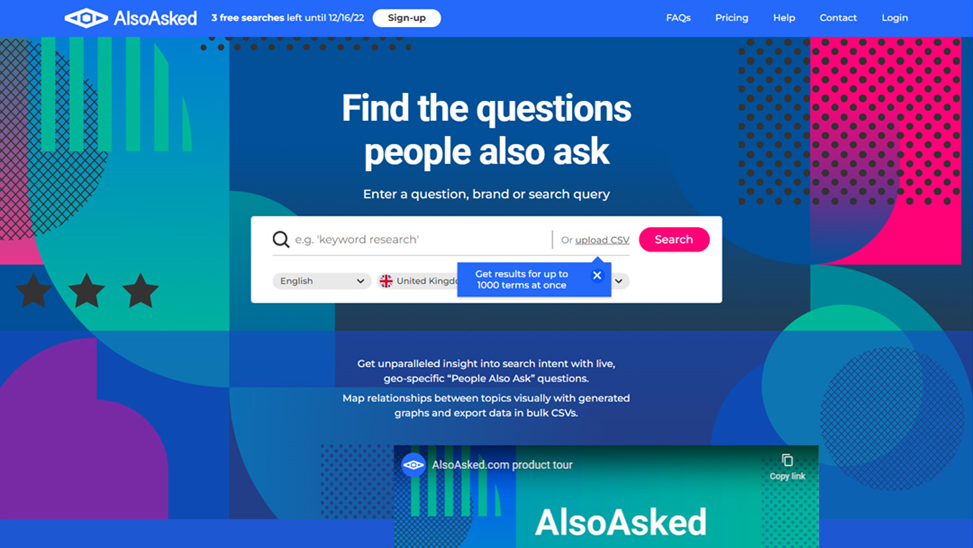 The Best Features of AlsoAsked
Provides additional questions related to any question you ask
Offers a limited number of free searches monthly
Paid tiers allow you to export results
Helps to monitor search intent
Provides Google search results in real-time
Pricing
In addition to the basic free DIY SEO tool you receive with AlsoAsked, there are three paid tiers:
Basic – $15 per month for 100 searches per month
Lite – $29 per month for 300 monthly searches and the ability to export results
Pro – $59 per month for 1000 monthly searches, exporting, and bulk search functionality
SEOptimer
Most people go to SEO experts when they need insights into their website's performance. SEOptimer can keep your costs low by offering a range of free SEO tools as part of its auditing software.
Its free SEO tools include a meta tags generator, which is helpful for creating a meta description and title tag.
The SEO tool offers free keyword research tools, sitemaps, and robots.txt generators. As such, it's an excellent tool for handling technical SEO tasks.
The paid version of the tool scans your website to generate reports covering your site structure, external and internal links, and the quality of your content. It also provides recommendations about what you can do to improve your search engine rankings.
The Best Features of SEOptimer
A range of analysis tools backed by an SEO crawler
Built-in auditing tools
Bulk reporting on a selection of web pages
Keyword research that covers related keywords
White label reports
Pricing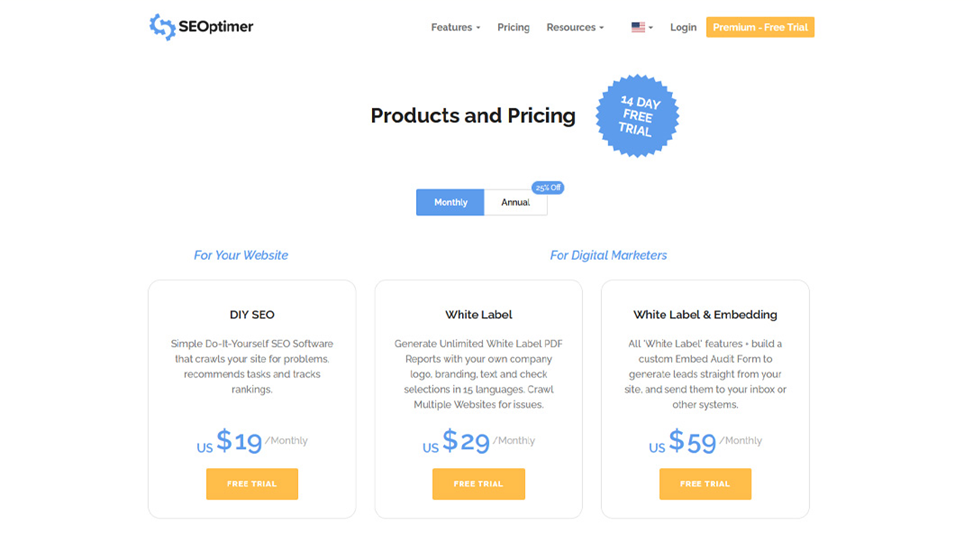 SEOptimer could end up being your favorite SEO tool because it offers so many tools totally free. But if you're willing to invest a little more, SEOptimer has three pricing tiers:
DIY SEO – $19 per month for sit crawling, rank tracking, and recommendations
White Label – $29 per month for everything in DIY SEO plus reports that contain your company branding
White Label & Embedding – $59 per month for everything in White Label plus the ability to create customized forms
SERanking
As one of the most complete search engine optimization tools available, SERanking gives you a little bit of everything.
Think of it as a more advanced version of the Google Search Console. You can use the tool to track organic traffic, research competitors, and analyze your own SEO efforts.
It offers detailed reports and analyzes your website for errors and changes that may affect your rankings.
Plus, it offers recommendations on improving website performance, which can lower your bounce rate and help you convert more leads.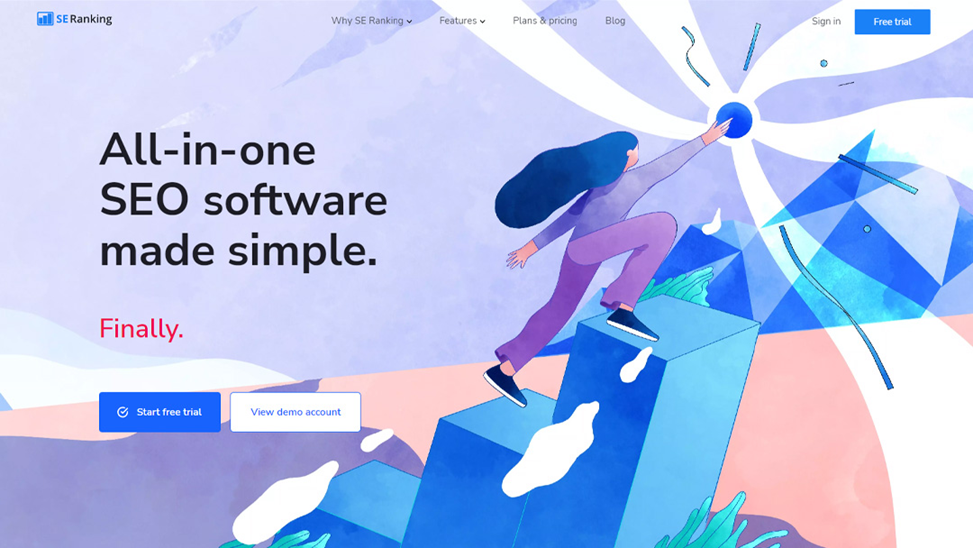 The Best Features of SERanking
In-depth on-page SEO checks
Keyword tracking
Backlink monitoring
Competitor analysis
Lead generation
Pricing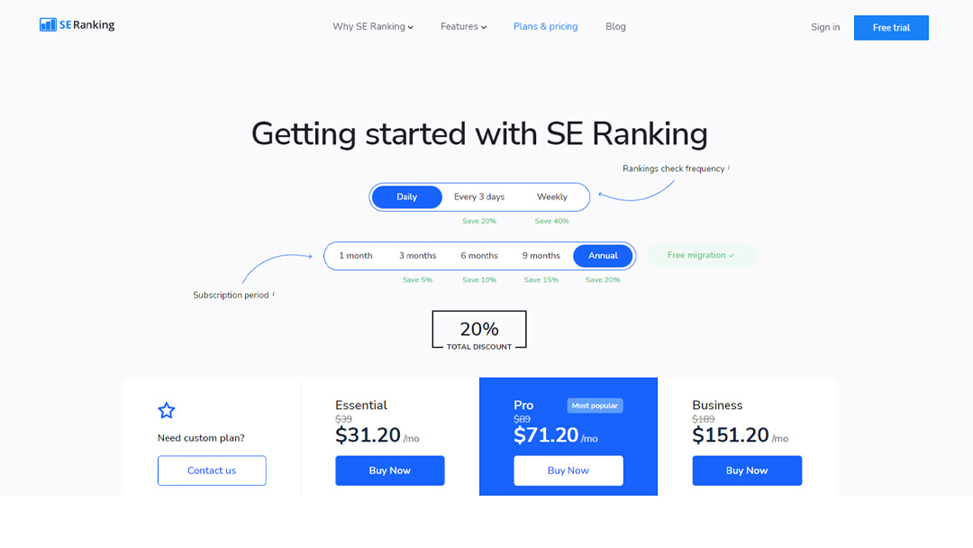 Unfortunately, SER Ranking isn't the software of choice for anybody looking for a free DIY SEO tool. Still, it offers free trials for each of its paid tiers:
Essential – $39 per month
Pro – $89 per month
Business – $189 per month
Each plan is fully customizable, allowing you to generate reports related to the aspects of SEO you care about most.
Moz Pro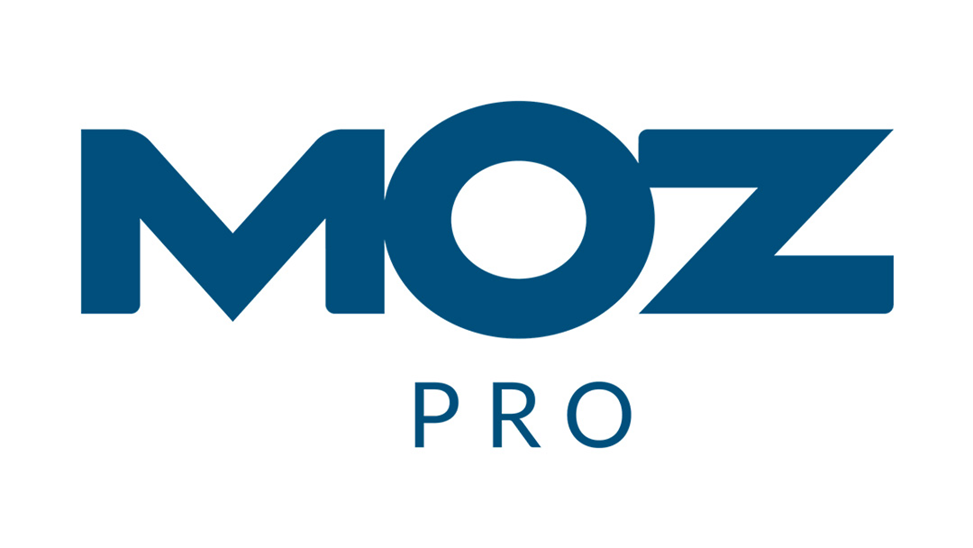 With Moz being one of the biggest names in the search space, it should be no surprise that it offers several useful DIY SEO tools.
Moz Pro is one of its most valuable because it offers everything you may need to do your own search engine optimization. It highlights website errors, provides competitor research, and offers insight into your SEO campaigns to help you identify new opportunities.
The tool also looks at some critical aspects of your website's health, such as the quality of meta descriptions and its backlink profile.
Moz Pro has plenty for the analysts out there too, as it generates custom reports that discuss your domain authority and show you how you're doing in Google and other search engines.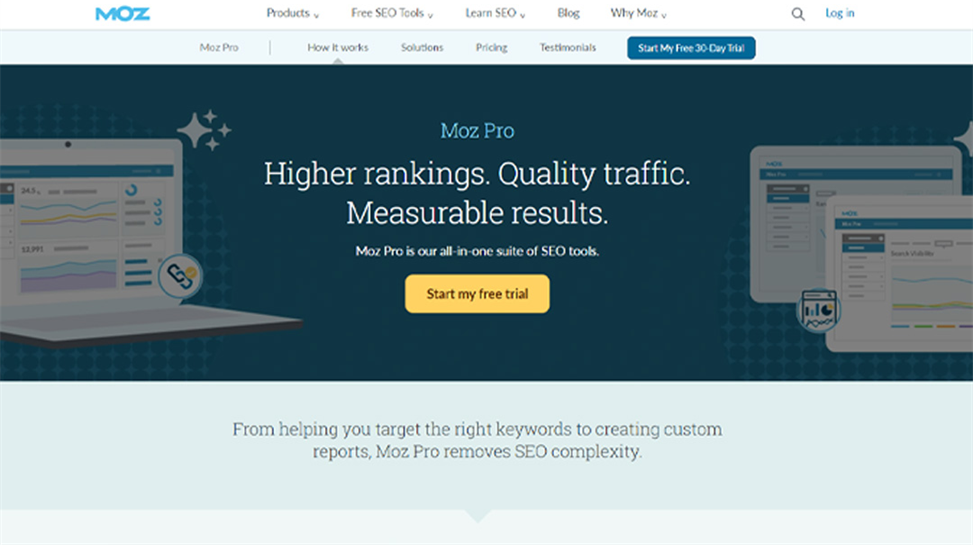 The Best Features of Moz Pro
Customizable reports
Backlink profile monitoring
Analyses your website's SEO health
Keyword ranking tracker
Conduct an SEO audit
Pricing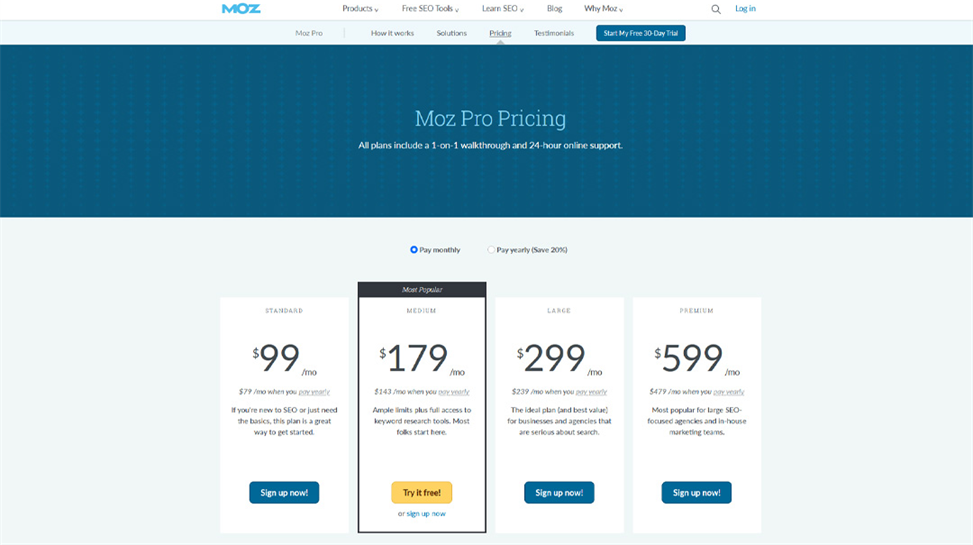 Those looking for free tools won't find them with Moz Pro. But the tool offers a 30-day trial to help you determine if it's the right DIY SEO software for you.
Assuming you like the tool, you have a choice of four payment tiers:
Standard – $99 per month for three campaigns
Medium – $179 per month for ten campaigns
Large – $299 per month for 25 campaigns
Premium – $599 per month for 50 campaigns
Google Keyword Planner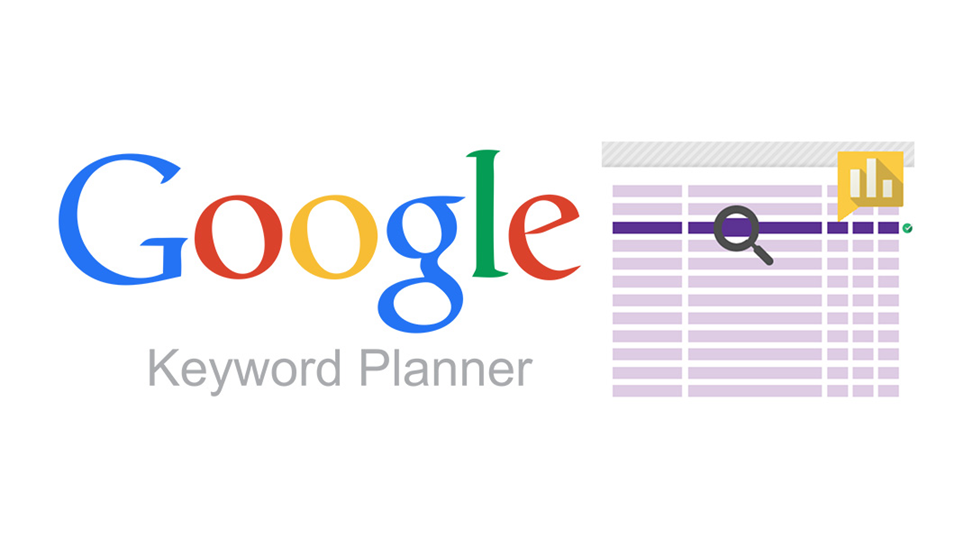 With Google being the world's most popular search engine, it is no surprise that it offers several SEO tools. When it comes to free DIY SEO tools, there are few better than Google Keyword Planner.
As the name implies, this tool helps with your keyword research. Enter a keyword, and the tool tells you approximately how many people search that term in Google per month, giving you an idea of potential traffic volumes.
It's handy for local SEO as it shows you whether a localized keyword has the potential to generate the traffic your website needs.
Access to average monthly searches data allows you to create lists of effective keywords.
Work those keywords into your content, and this becomes as much of a content planner tool as a keyword research one.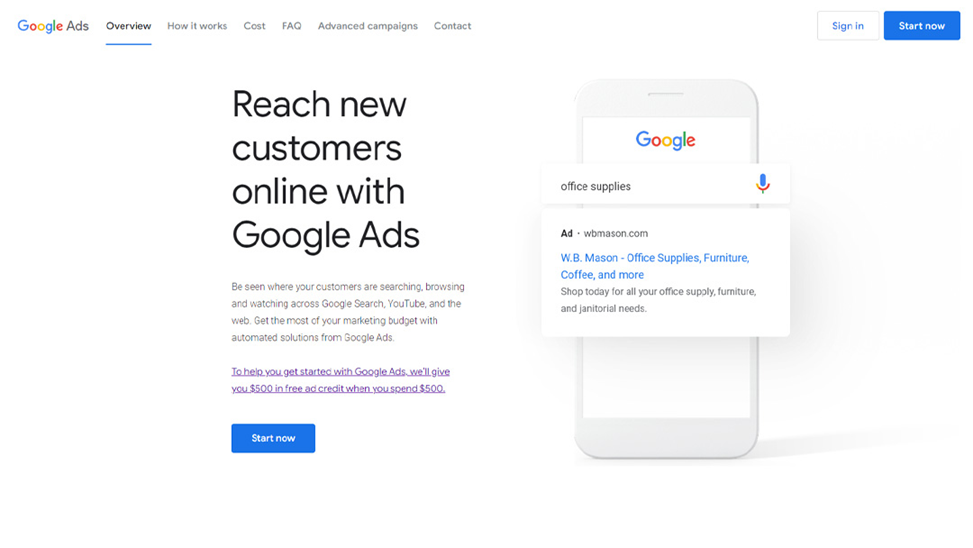 The Best Features of Google Keyword Planner
Shows average monthly searches for chosen keyword phrases
Useful for competitor research
Demonstrates keyword bid estimates for Google Ads campaigns
Simple dashboard
Links directly to Google Ads
Pricing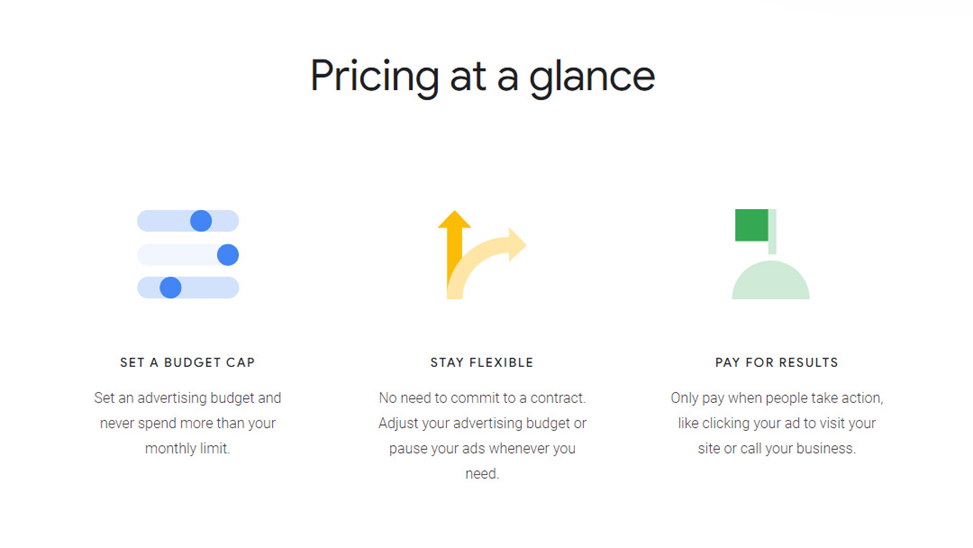 The best thing about this DIY SEO software is that you don't have to pay a penny for it.
Google Keyword Planner is one of the most powerful free SEO tools. Just set up a free account and start searching.
If you want to take things further, you can use the reports this SEO tool generates to set up a Google Ads campaign.
LowFruits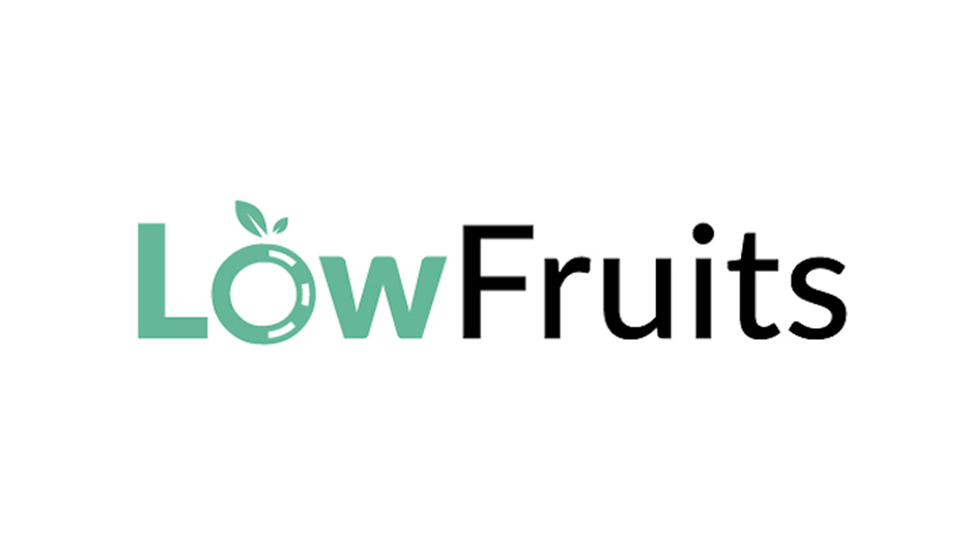 Wouldn't it be great to have DIY SEO tools that highlight the keywords that other people aren't targeting?
LowFruits is that tool.
It analyzes search engine results pages (SERPs) to see which contain the keywords you're thinking about targeting. It also offers many details about the page, such as its number of backlinks.
That makes LowFruits one of the best DIY SEO tools for competitor research. But it's also great for generating unique keyword lists and clusters.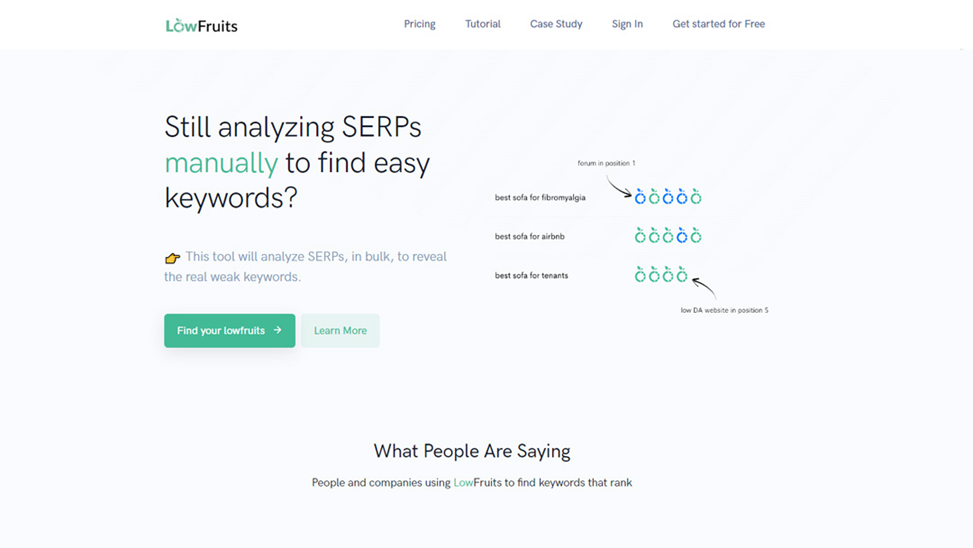 The Best Features of LowFruits
A quick analysis of SERPs based on keywords
Offers stats about every page in its results
Rapid keyword idea generation
Keyword clustering
It helps you figure out what search engines show for predictive results
Pricing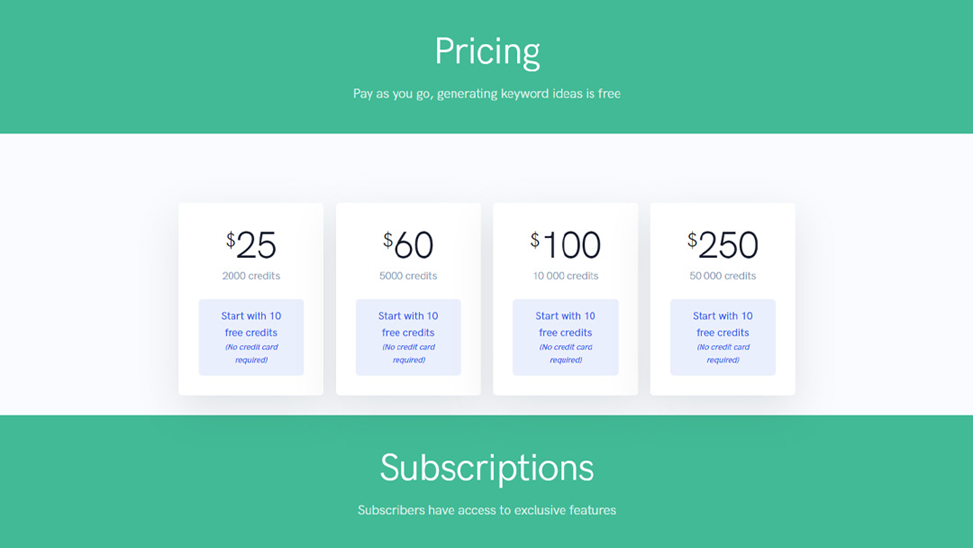 LowFruits starts you off with ten free credits, which are good for ten free searches. But unlike most of the other tools in this list, it offers a choice between a subscription and purchasing credits by batches.
If you want to buy credits, you'll pay between $25 and $250, with $25 netting 2,000 credits, while you get 50,000 for $250.
Subscriptions packages offer the following:
Standard – $249 per year for 3,000 monthly credits
Premium – $749 per year for 10,000 monthly credits
WooRank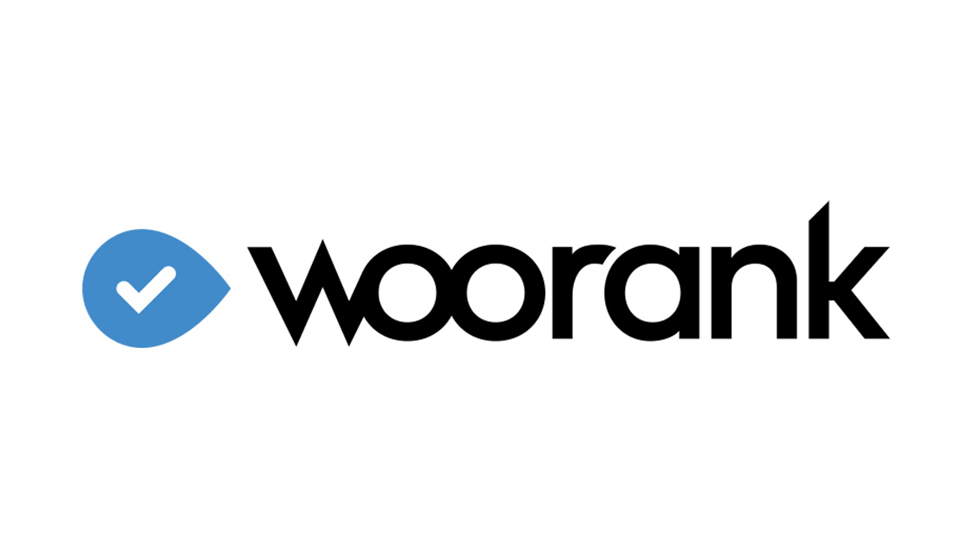 You could spend an eternity scanning Google search results to check out your competitors.
Alternatively, you could use WooRank. This simple SEO tool allows you to enter your website's URL for a complete site analysis.
That analysis gives you some general information about your website. But more importantly, it also tells you how the site stacks up against its competition.
Add some helpful keyword research tools and a plugin for your WordPress website, and you have one of the most useful SEO tools.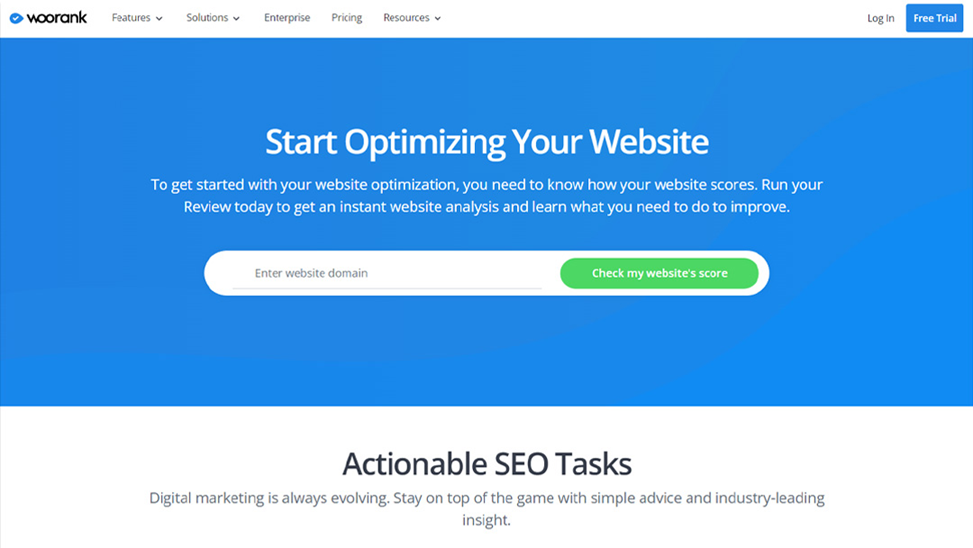 The Best Features of WooRank
WordPress website plugins
Keyword research
Full website analysis
Useful competitor information
Easy to use
Pricing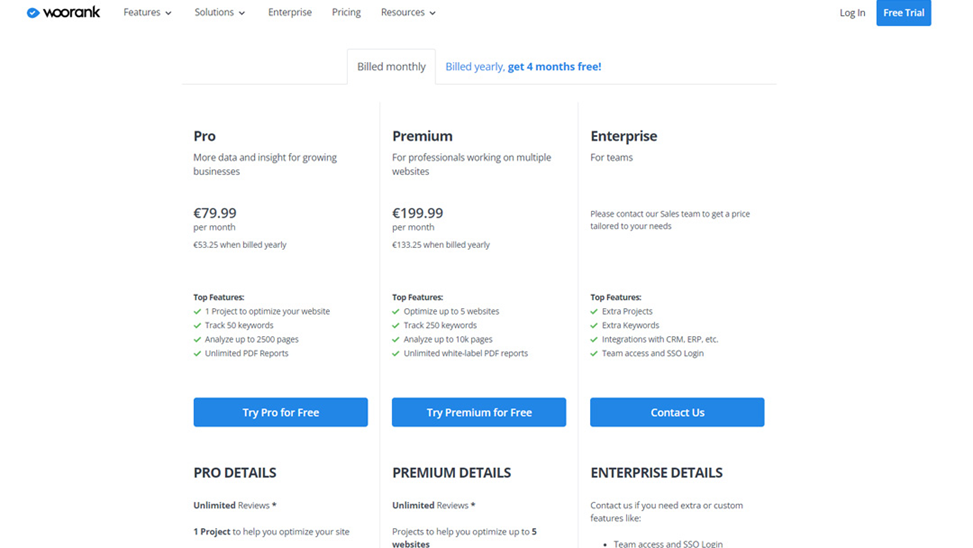 After a 14-day free trial, during which you can use WooRank as a free DIY SEO tool, you have to move onto one of the platform's paid tiers:
Pro – $79.99 per month to track 50 keywords
Premium – $199.99 per month to track 250 keywords
WooRank also offers an Enterprise plan, which offers a solution that's tailored to your company's needs.
Frase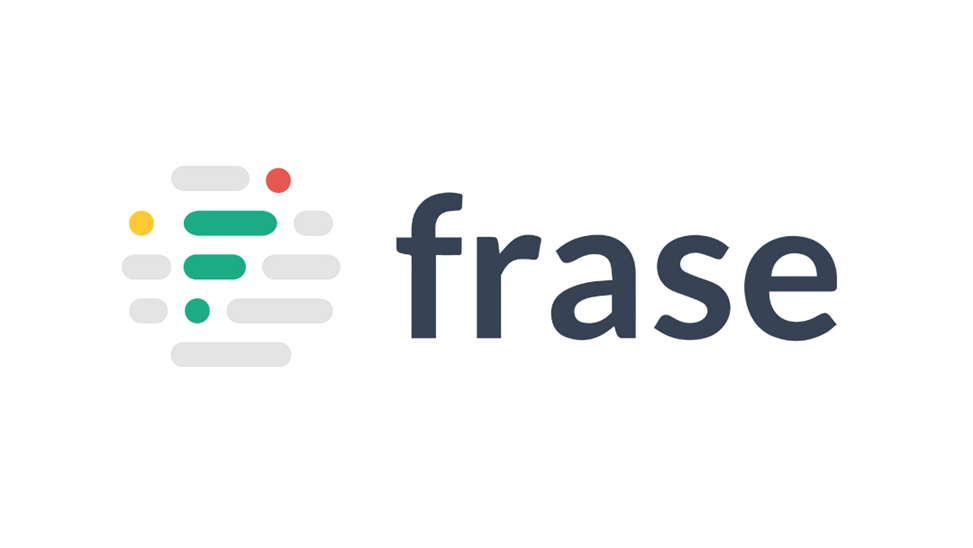 Content marketing is only effective if you can create optimized content.
Frase offers a range of AI-powered SEO tools to help you create content that ranks.
Beyond the standard keyword analysis and competitor research you might expect, these DIY SEO tools extend to content optimization.
In short, Frase helps you find the keywords your content needs to contain. Then, it aids you in outlining your pieces, inserting keywords, and figuring out where the place links.
The result is an optimized piece of content with a high chance of becoming one of a search engine's top ranking pages.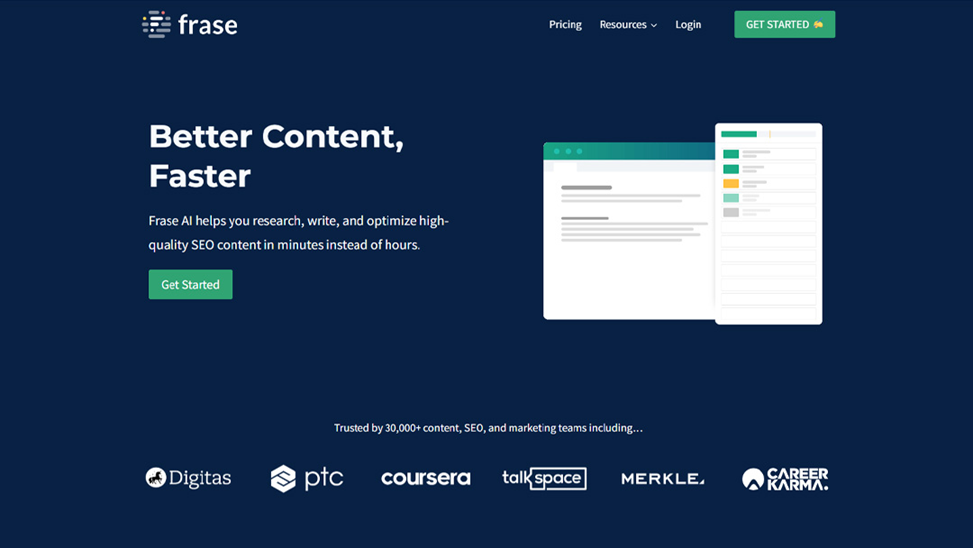 The Best Features of Frase
It uses AI to help you optimize content as you type
Features a content editor that offers outline suggestions and keyword information
Direct integration with the Google Search Console
Simple document sharing
Generates meta descriptions automatically
Pricing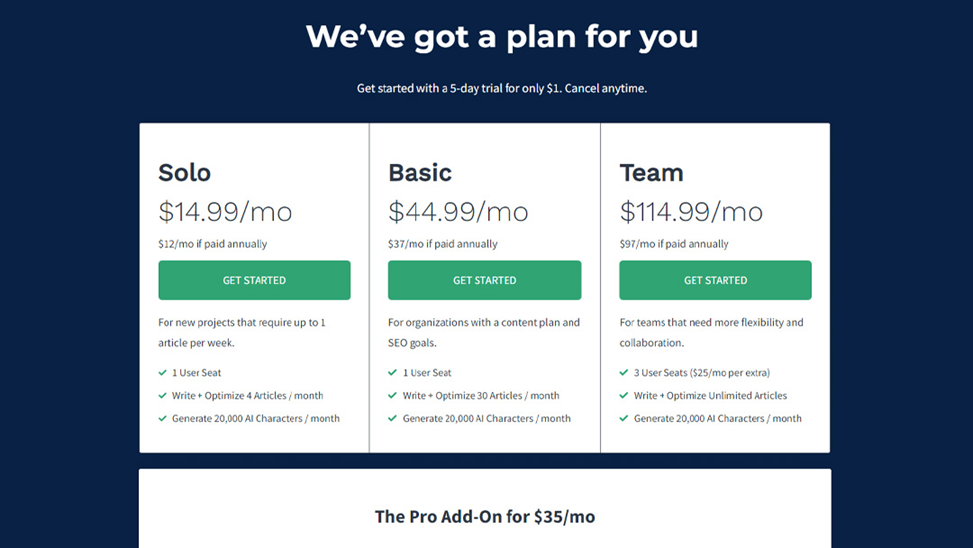 Though Frase offers a five-day free trial, you have to pay if you want its help in generating organic search traffic.
The tool offers four plans:
Solo – $14.99 per month for four articles
Basic – $44.99 per month for 30 articles
Team – $114.99 per month for unlimited articles
Pro Add-On – additional $35 per month for unlimited AI-generated characters and premium features
SurferSEO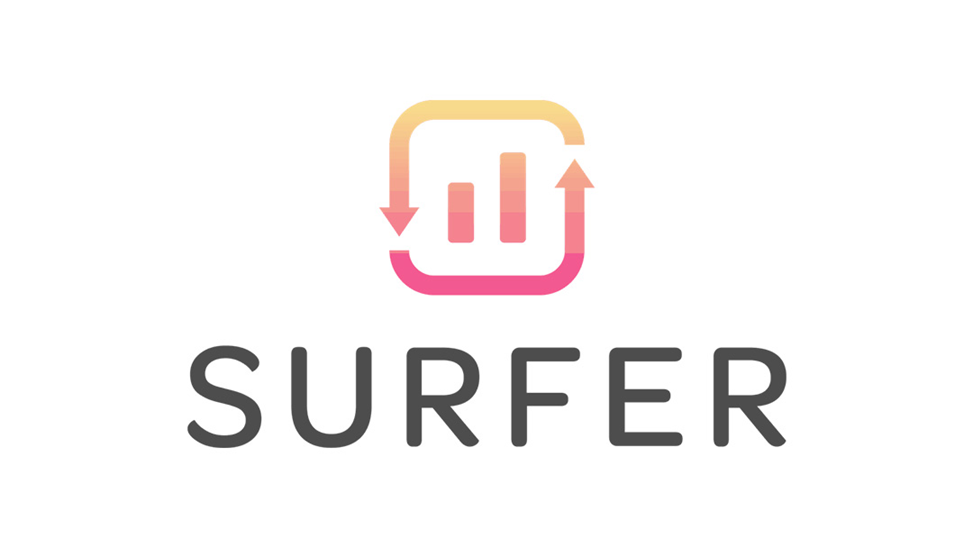 Like Frase, Surfer SEO helps you write optimized content designed to increase organic traffic.
It's a great DIY SEO software because it helps you find a ton of keywords for each piece you write (for more writing software, read here). Enter your target keywords, and it generates a document featuring dozens of related keywords you can incorporate.
Surfer SEO also helps you to outline your articles by crawling the web to find questions and headings related to your chosen keyword. Plus, it uses a Content Score system to track article length, header usage, and structure.
A built-in plagiarism detector searches Google to ensure you have no duplicated text. The tool even tells you how often you can use the keywords it provides before you're in danger of keyword stuffing.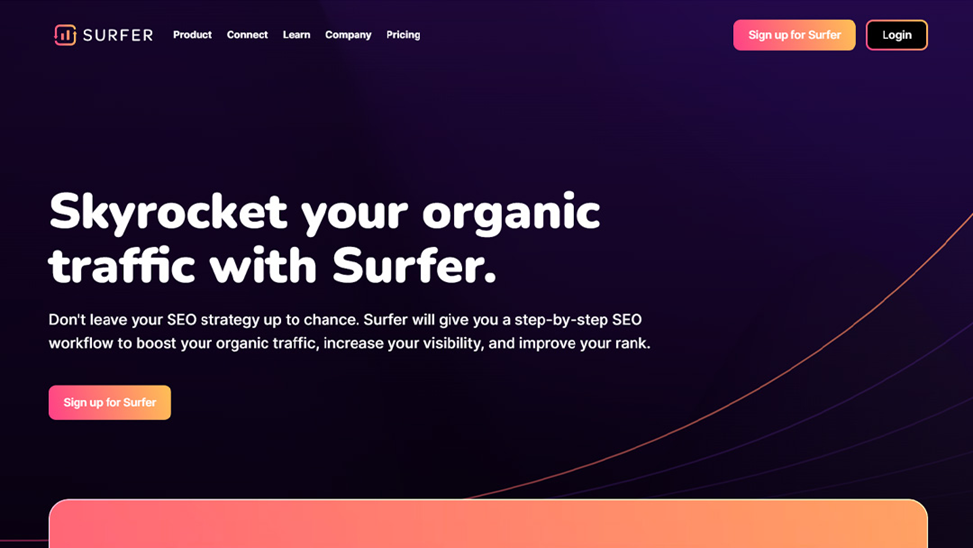 The Best Features of SurferSEO
Stellar keyword research tools
Content Score helps you track the quality of your written piece
Plagiarism detector to ensure content uniqueness
Helpful content-planning tools
Automatically writes meta descriptions for you
Pricing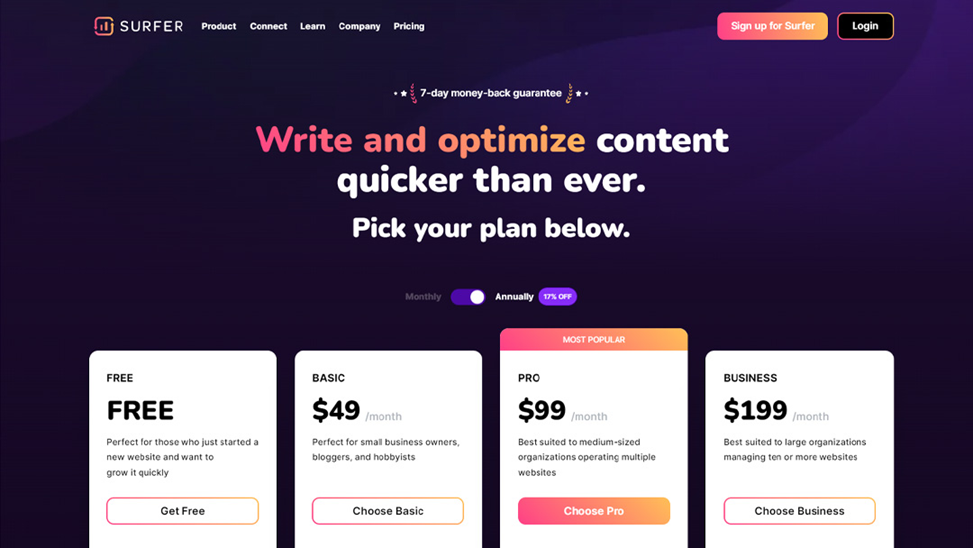 If you're looking for some basic free DIY SEO suggestions, SurferSEO can provide them. The free version of the tool offers content optimization suggestions, though you don't get access to the live content tracker.
Beyond the free tier, there are three paid tiers to consider:
Basic – $59 per month for ten content editors
Pro – $119 per month for 30 content editors
Business – $239 per month for 70 content editors
Note that the tool offers small discounts if you pay annually instead of monthly.
Semrush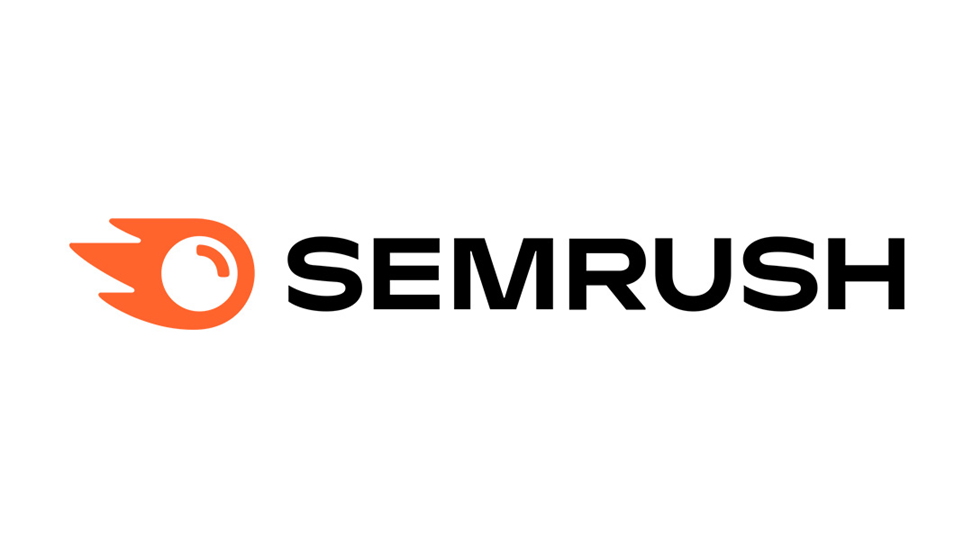 Semrush may be the best DIY SEO software if you're looking for something that gives you every tool you'll need to rank highly.
It features an SEO toolkit to help you handle on-site issues. The software's market analysis tools are ideal for competitor research. It can even offer suggestions if you're running Google ads.
Semrush doesn't stop there.
It has content marketing tools to help you figure out what to write next. Plus, its social media toolkit enables you to make your digital marketing strategy more comprehensive by giving you what you need to tackle multiple platforms.
This combination of SEO tools makes Semrush ideal for those who want to take SEO experts out of the equation.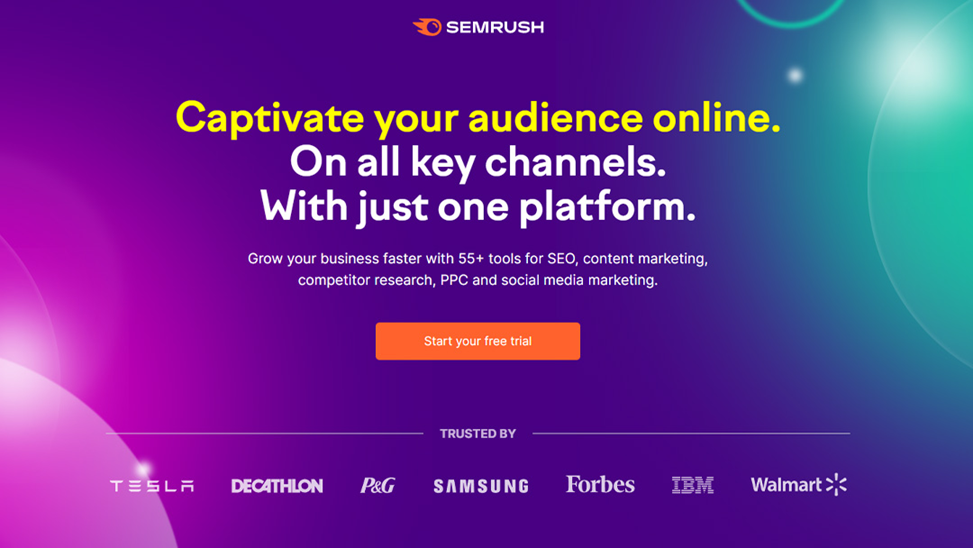 The Best Features of Semrush
A complete SEO toolkit helping you handle everything from technical SEO to content issues
Highlights link-building opportunities
Helpful insight for pay-per-click marketing campaigns
On-page SEO and site audits
Website ranking tracker
Pricing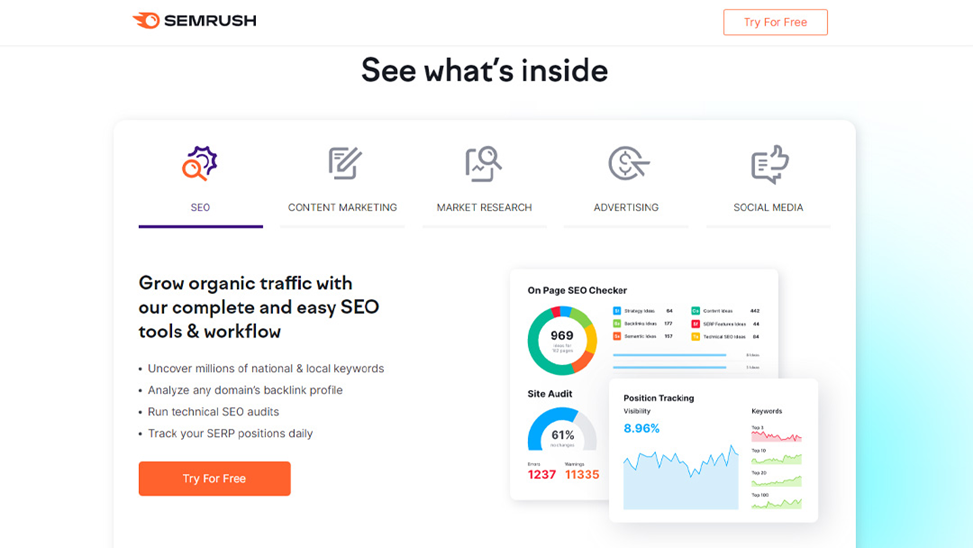 The best DIY SEO tools often require users to pay. Semrush is no different as it comes with three subscription tiers:
Pro – $191.95 per month to track five projects and 500 keywords
Guru – $229.95 per month to track 15 projects and 1,500 keywords
Business – $449.95 per month to track 40 projects and 5,000 keywords
Semrush offers a 17% discount to those who pay annually rather than monthly.
Mangools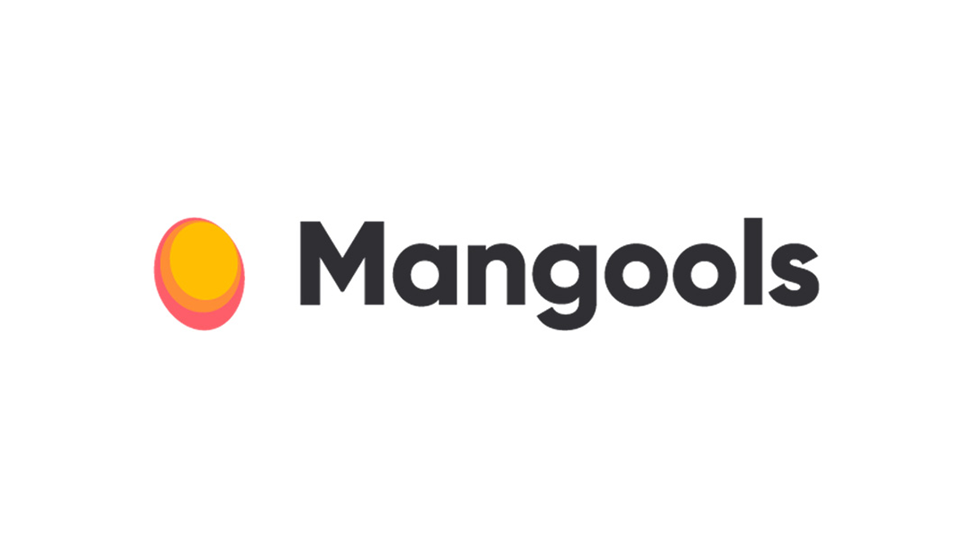 While it may have a slightly strange name, Mangools combines some useful SEO tools with many resources for DIY SEO.
On the tools side of things, it has a keyword research tool that lets you track search volumes and competition levels for any keyword you enter. Use this tool to get an idea of how hard it'll be to rank for a chosen keyword.
Mangool's backlink checker does more than give you a list of existing backlinks. Each link gets a quality ranking so you can see which helps you and what links you don't need.
Moving to the resources side, the tool includes the Mangools Academy. If you have any questions about doing your own SEO, this academy features videos and articles to guide you.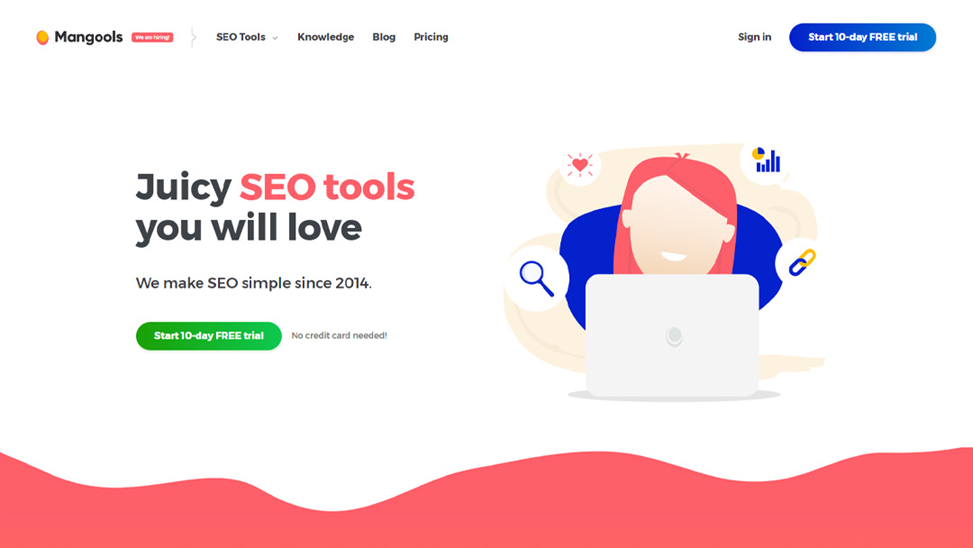 The Best Features of Mangools
Keyword research and finding tools with competition analysis
Mines useful links
Access to a dedicated resource center
Includes a handy browser extension
Tracks keyword rankings
Pricing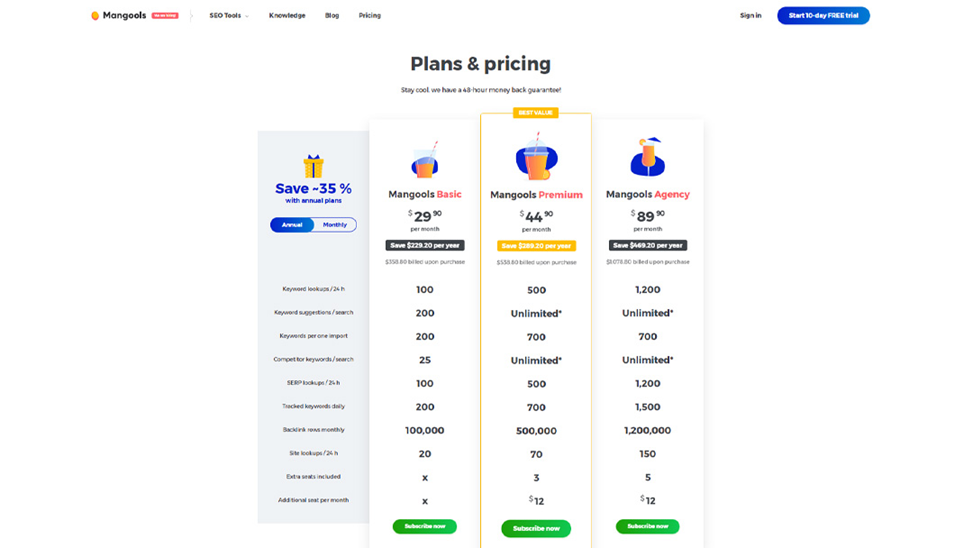 Mangools comes with a ten-day free trial so you can get to grips with the tool. It also offers a 40% discount if you pay for one of its plans for the entire year.
If you want to pay monthly, these are the plans available:
Basic – $29.90 per month for 100 keyword lookups and 200 tracked keywords
Premium – $44.90 per month for 500 keyword lookups and 700 tracked keywords
Agency – $89.90 per month for 1,200 keyword lookups and 1,500 tracked keywords
SpyFu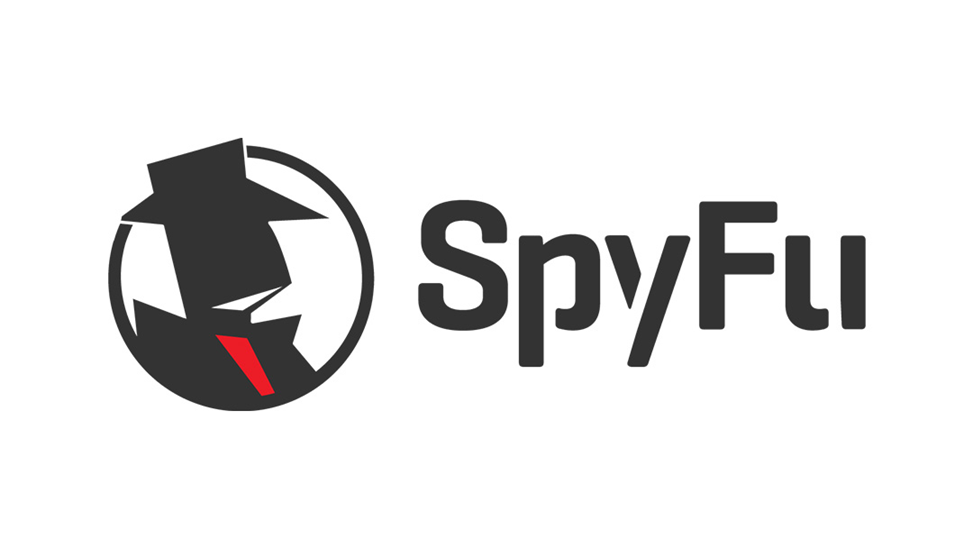 Another useful DIY SEO software for competitor analysis, SpyFu, lets you track the keywords your competitors target. It provides information about rankings and even tells you how much a competitor spends on Google AdWords.
That's useful enough. But it's backlinking where SpyFu shines.
Every result it generates shows you the common links your competitors get for each keyword for which they rank.
That means you can try and get backlinks from the same websites and build additional links. The more high-quality links you have, the better your chances of outranking the competition.
SpyFu recommends websites, blogs, forums, and any other platform that could offer valuable links.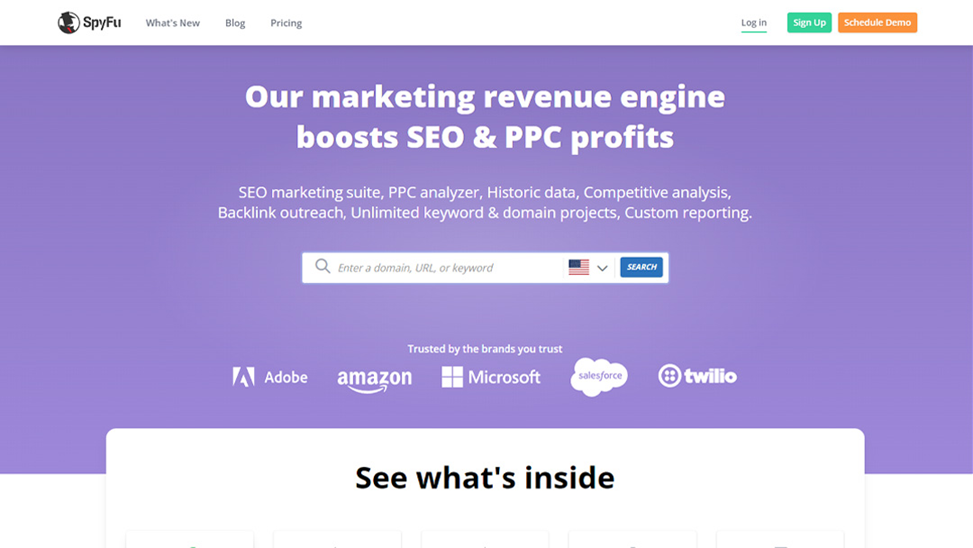 The Best Features of SpyFu
Backlink recommendations based on competitor usage
SERP analysis and tracking
Full keyword data
Information about your competitors' Google Ad spending
Custom reporting
Pricing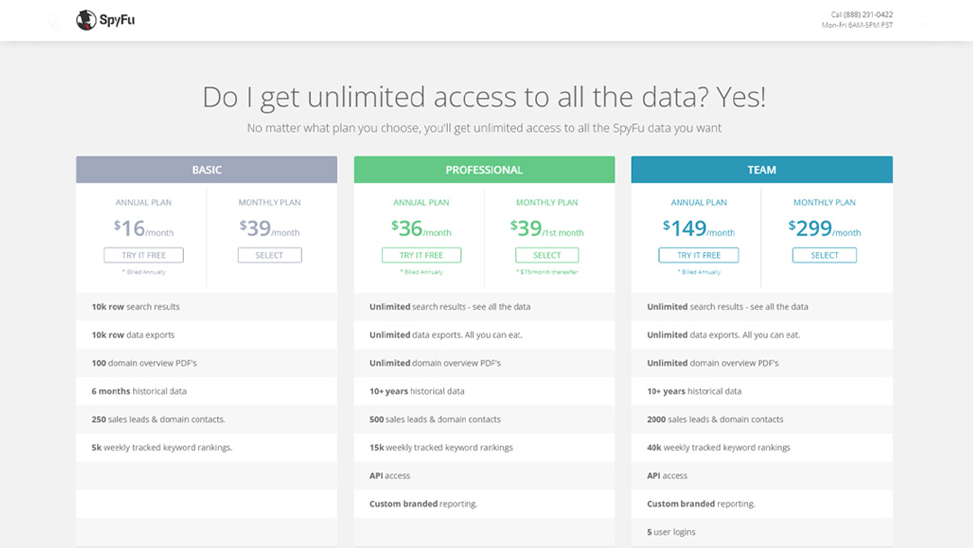 A free trial gives you a taste of what SpyFu has to offer. But you'll eventually have to choose one of the DIY SEO software's four tiers:
Basic – $39 per month
Professional – $79 per month
Team – $299 per month
Enterprise – Price varies depending on your needs
Note that the Professional and Team tiers give you application programming interface (API) access. You get five logins with the Team tier.
Ubersuggest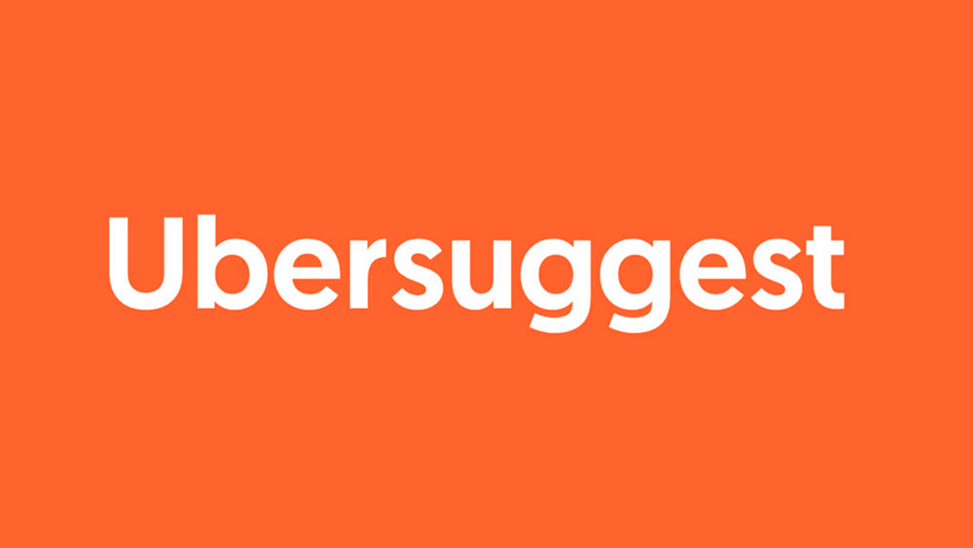 There are only so many 100% free DIY SEO tools. However, Ubersuggest fits that particular bill.
Created by digital marketing guru Neil Patel, Ubersuggest lets you quickly check a website to see how many organic keywords it ranks for. While it has a paid version as well, the free version of the tool offers plenty of information.
Beyond SERP tracking, Ubersuggest offers keyword suggestions and some insights into how you can boost your website's domain authority.
It also lets you check webpages for broken links and run basic competitor analysis on other websites.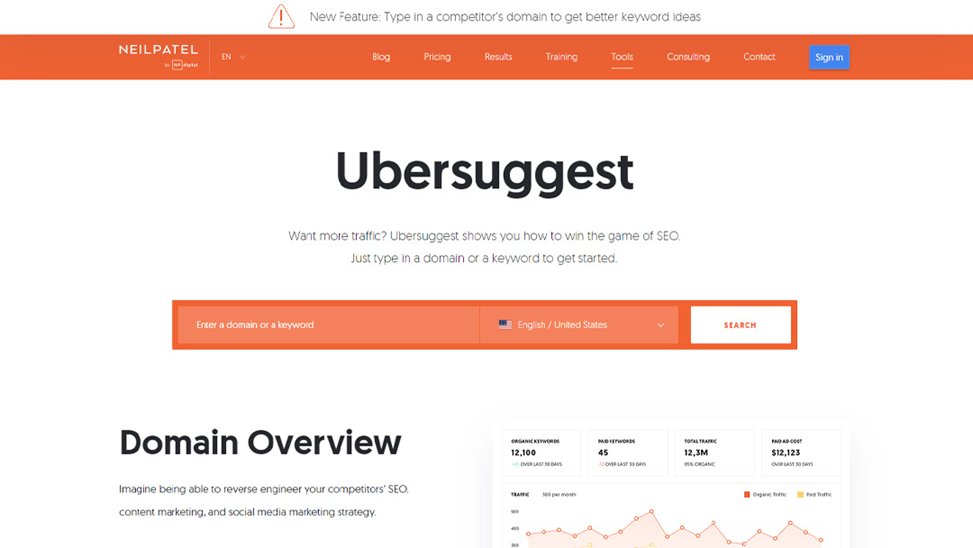 The Best Features of Ubersuggest
Useful keyword suggestions
Tracks SERPs for keywords for which you currently rank
Website performance insights
Broken link tracking
Generates useful content ideas
Pricing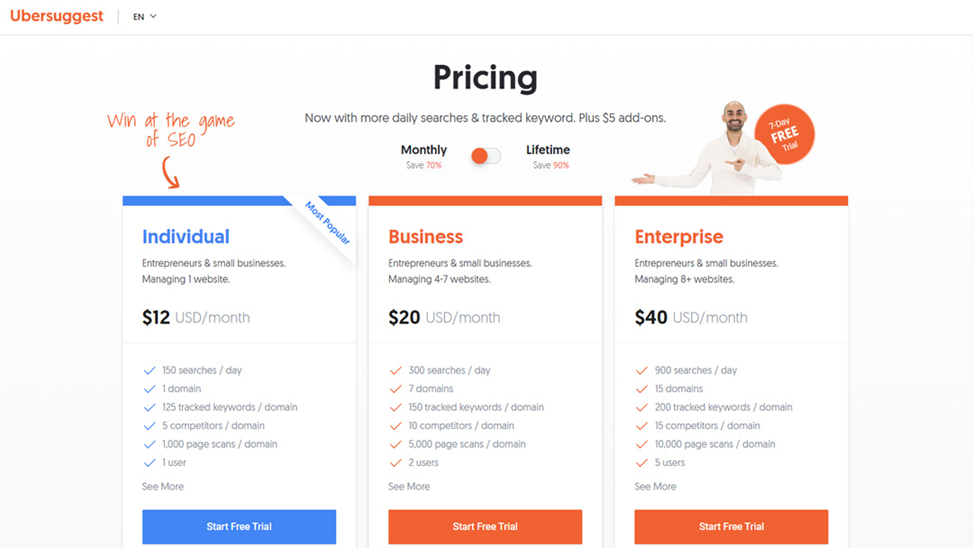 Though this DIY SEO software is free to use, it offers several paid options for those who want a little more.
These paid options max out at $99 per month and offer access to valuable resources, such as Q&A calls and email support.
Start Ranking Higher in Search Engines With These DIY SEO Tools
Handling your own SEO can be an intimidating prospect. But with the right tools at hand, you can do anything.
The highlighted tools in this list help you research keywords, create new content, and understand what it takes to improve your SERPs. Each has strengths and weaknesses, meaning you must choose between them to find the best tool for the job. But all offer something that will help you handle SEO without forking out on an agency or other SEO experts.