Spotify is a popular music streaming service that allows users to listen to their favorite music and discover new artists. It offers both a free version with advertisements and a premium version that is ad-free and includes other benefits, such as offline listening.
With Spotify, you can access millions of songs and podcasts. It's an excellent platform that gives everyone access to music and is a perfect way to enjoy music anywhere, anytime. Spotify is available for all your devices, with a desktop client, mobile app, and a web-based player. The Spotify Web Player is a convenient web-based player that makes it easy to listen to Spotify music without any additional software.
What Is the Spotify Web Player?
The Spotify Web Player is a browser-based version of the popular streaming service Spotify. It lets users access their Spotify account and play their favorite music directly in their web browsers without downloading the desktop app or using the mobile app on their devices.
The Spotify Web Player offers most of the features and functionality of desktop and mobile apps, including streaming music, creating playlists, saving songs, and more. With the Spotify Web Player, users can enjoy the almost-full Spotify experience from anywhere as long as they have an Internet connection and a device that can run a web browser.
Additionally, the Spotify Web Player is an excellent option for users who may not have access to the Spotify app on their desktop or mobile device or simply prefer to use the web version.
How to Use Spotify Web Player in a Browser
The Spotify Web Player has a similar user interface to the desktop app and mobile devices, with the main difference being that all the controls are accessed through your web browser. You can access your Spotify library and stream music just like on the desktop app or mobile devices.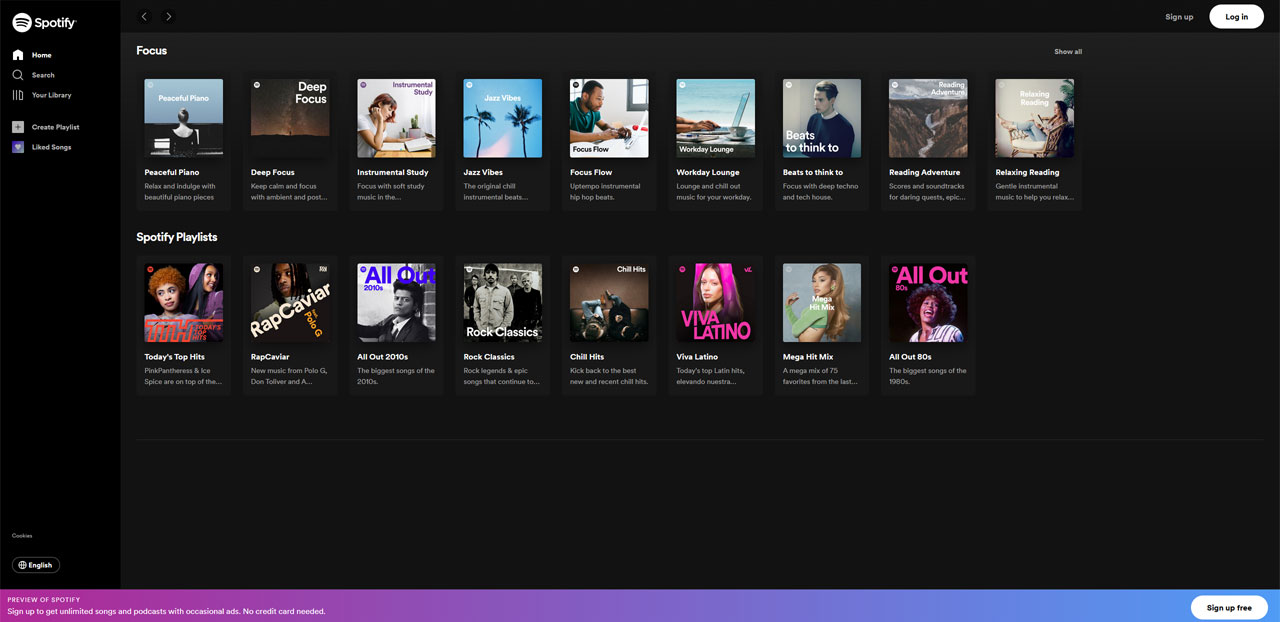 Logging In and Signing Up
To use the Spotify Web Player, you must have a Spotify account. To get started, go to the Spotify website and select the "Log In" option. If you don't have a Spotify account, you can create a new account by choosing the "Sign Up" option. Here, you can either use your email address or a Facebook account. Once you have created an account, or if you already have one, enter your username and password or continue with Facebook, Apple, or Google to access the Spotify Web Player.
Getting Started
When you log into the Spotify Web Player, you'll immediately notice the simple and intuitive interface with everything you need at your fingertips, making it easy to play your favorite music with just a few clicks.
However, it's important to note that the web player on mobile devices has some limitations compared to the native mobile app or desktop client. If you're using the free version, you'll only be able to listen to music on random playback. Even with a paid account, you won't be able to download music for listening in offline mode.
The Spotify Home Page
The Spotify Web Player's home page is user-friendly and has a simple layout. Upon logging in, you will find the main options listed on the left-hand side, with the first four options being the most commonly used: Search, Home, Your Library, and Recently Played.
The Home page provides an overview of the main features and highlights Featured, Podcasts, Charts, Genres, New Releases, and Discover. Additionally, you'll find suggestions based on your listening history, recently played music, "More Like" sections with related artists, themed recommendations for special holidays and days of the week, top music lists, and recommended podcasts.
Browsing Music
The "Search" tab at the top-left corner of the Spotify web player is where you can discover new music, search for your favorite artists, or explore different genres. In the "Browse All" section, you'll find a wide range of music styles, with the main categories displayed at the top. You can access an extensive collection of curated playlists, newly released albums, podcasts, and more by clicking on any of these categories.
Alternatively, the search bar can locate any item in the Spotify library. As you type, you'll see results for songs, albums, artists, and more, and you can easily navigate to their respective pages by clicking on them.
As you continue to stream music, your "Home" page will be personalized with links to frequently played albums, made-for-you Spotify playlists, recommended albums, and your favorite artists.
Creating a Playlist
To create a playlist in the Spotify Web Player, click on the "New Playlist" button and give your playlist a name.
The free version of Spotify allows you to create playlists and add songs. To do this, click on the "Add Songs" button and search for the music you want to add by typing the title, artist, or genre into the search box. Click the plus sign next to the title to add it to your playlist.
For Premium subscribers, creating playlists is just as easy. After creating a playlist, a white "Add Songs" button will appear. Click this button to get some song suggestions from Spotify's AI, or click the search bar if you already have a song in mind. The more descriptive your playlist name is, the better suggestions you will receive from the AI.
To play music, click on it in your library or playlist. You can also add songs to the queue by clicking on the queue icon next to each song.
More Options
Streaming Music with the Spotify Web Player is a feature-rich experience, offering nearly identical options to the desktop app. To access these features, look for the More menu, represented by three dots next to tracks or playlists.
Upon opening the menu for individual tracks, you can access various options. These include starting a radio feature related to your selected song, playlist, or even artist. You can also save songs to your library for future listening, add tracks to a queue, and add songs to an existing playlist. You can even copy song links to share with friends on social media or via email.
With the Spotify Web Player, you can enjoy a seamless and personalized content streaming experience.
Listening History
The Spotify Web Player also keeps track of your listening history. You can use it to help you see what you have been listening to and find new songs you like.
Troubleshooting the Spotify Web Player
As with any online service, Spotify web player may sometimes experience issues, and this inconvenience may interrupt your listening experience.
Internet Connection Issues
If you are having trouble with media playback in the music player, make sure you have a stable Internet connection. In case of an unstable Internet connection, the songs may not play or become choppy. If you are using shared or public networks, it is possible that the network is restricting access to the Spotify Web Player.
Web Browser Issues
If you encounter an error message while using the Spotify Web Player, one of the first things to check is that you are using the most recent version of a compatible desktop web browser. Spotify supports every major web browser, such as Google Chrome, Firefox, Opera, Microsoft Edge, or Safari. If you're still experiencing issues after updating your browser, you should restart the browser application or clear your cache and cookies.
Protected Content
If you encounter the error message "Playback of protected content is not enabled" while using the Spotify web player, don't worry. You can easily enable it by following these steps:
For Chrome users:
In the URL bar, type in "chrome://settings/content."
Scroll down to the bottom of the page and click on "Additional content settings."
Select "Protected content IDs" to turn it on.
For Firefox users:
Click on the yellow warning bar at the top of the screen that says, "Enable DRM."
Alternately, enter "About:preferences#content" in the URL bar and click on DRM content.
Enable the "Play DRM" option.
Windows 10 users: You may need to install the Media Feature Pack for the Spotify web player to work on Windows 10.
Drawbacks of the Spotify Web Player
The Spotify Web Player streams audio at a lower bit rate compared to the desktop client or mobile app versions. Free users are restricted to 128kbps when streaming from the web player but can stream at 160kbps using the app. Meanwhile, premium subscribers can enjoy a higher bit rate of 256kbps through the web player and up to 320kbps through the app.
Additionally, the web app lacks support for media playback controls without a browser extension.
Finally, offline media playback is unavailable on the web player. Even premium subscribers can only access it through the Spotify app.
Play Your Favorite Music on Spotify Web Player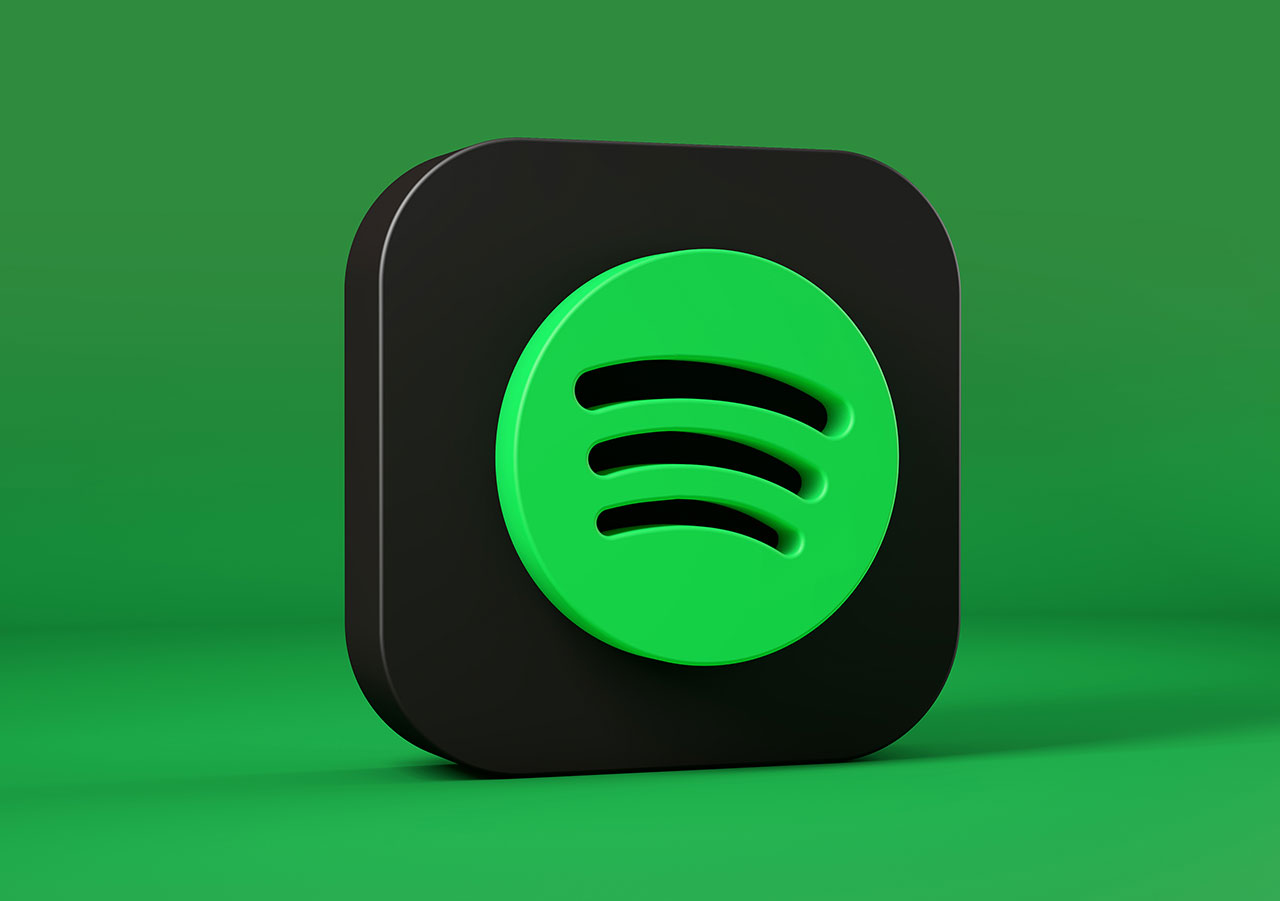 The Spotify Web Player is a great way to access the popular streaming service from your web browser anywhere. It provides a familiar interface and allows you to stream Spotify music, create playlists, and discover new songs. All of this is possible from any desktop or mobile device.