Paylocity has become popular in the last few years, especially with the rise of remote work. This user-friendly HR and payroll software can simplify numerous processes inside a company while focusing on the end user.
In this Paylocity review, we'll discuss the software, its features, and pricing and explain how it compares to similar companies.
What Is Paylocity?
Paylocity is an online human resources (HR) and payroll management program (if you want to compare a similar software check out our review of Paycom). The company was founded in Illinois in 1997, and it's still based there.
According to the company, this HR software has everything employers and employees love. Paylocity simplifies different HR processes that are otherwise time-consuming while offering exceptional security (for similar software, check out our guide to Blooklet).
What Features Does Paylocity Offer?
As mentioned, Paylocity is one of the most popular HR and payroll software. But, what does this mean in practice? Let's go over the features Paylocity offers to employers and employees.
Payroll
As an employer, one of your priorities is ensuring your employees receive their salaries on time with the right amount. Ineffective payroll technology often leads to time-consuming and costly errors, which can be a headache to fix.
Paylocity makes payroll a breeze. With this software, you can let your employees manage and oversee their salaries. This software allows your employees see their upcoming paychecks, check for irregularities, and flag issues. That way, both you and your employees can save time and have peace of mind.
Workforce Management
Paylocity makes tracking time and attendance, scheduling, and clocking in and out a breeze. Thanks to this software, you can eliminate paper timesheets, reduce the risk of errors, and make time management much simpler.
Your employees can use Paylocity to check their schedules, claim and swap shifts, etc.
Human Resources
HR employees are often buried in paperwork and other tasks that take a lot of their time. With Paylocity, HR employees can automate tasks and minimize compliance risks. That way, these employees can devote their time to bridging the gaps across their companies.
Talent Management
Recruiting and onboarding can be exhausting for new and current employees. With Paylocity's talent management feature, you can automate the experience, ensure your employees are paid fairly, and offer exciting learning opportunities.
With this feature, HR teams and managers can collect feedback from employees and estimate whether some of them are ready for a promotion, a change of positions, etc.
Benefits
Managing employees' benefits programs can be exhausting and time-consuming, regardless of the company's size. Paylocity enables you to easily manage the packages thanks to the user-friendly platform and powerful reporting.
The software lets you automate up to 80% of the benefits administration duties. Every employee in your company can use Paylocity to review information about their benefits package, access account balances, supplement standard packages, and much more.
Employee Experience
Good collaboration and employee satisfaction are vital for the success of any company. With Paylocity, you can ease the communication between teams and individual team members and ensure all employees feel included and valuable.
The program lets you gather feedback from your employees and use this data to gain information that could lead to improvement. Paylocity also lets employees praise their coworkers for a job well done, strengthening their bond.
Data Insights
Your employees' needs and trends are evolving rapidly due to advancements in technology, market demands, and many other factors. With Paylocity's reporting and insight tools, you can gather and visualize valuable data, monitor key metrics, and take appropriate actions to support growth.
Mobile
Paylocity features a mobile version that allows you to use it on the go. With the app, you can check your finances, request time off, stay in touch with coworkers, respond to requests, etc.
Paylocity Pricing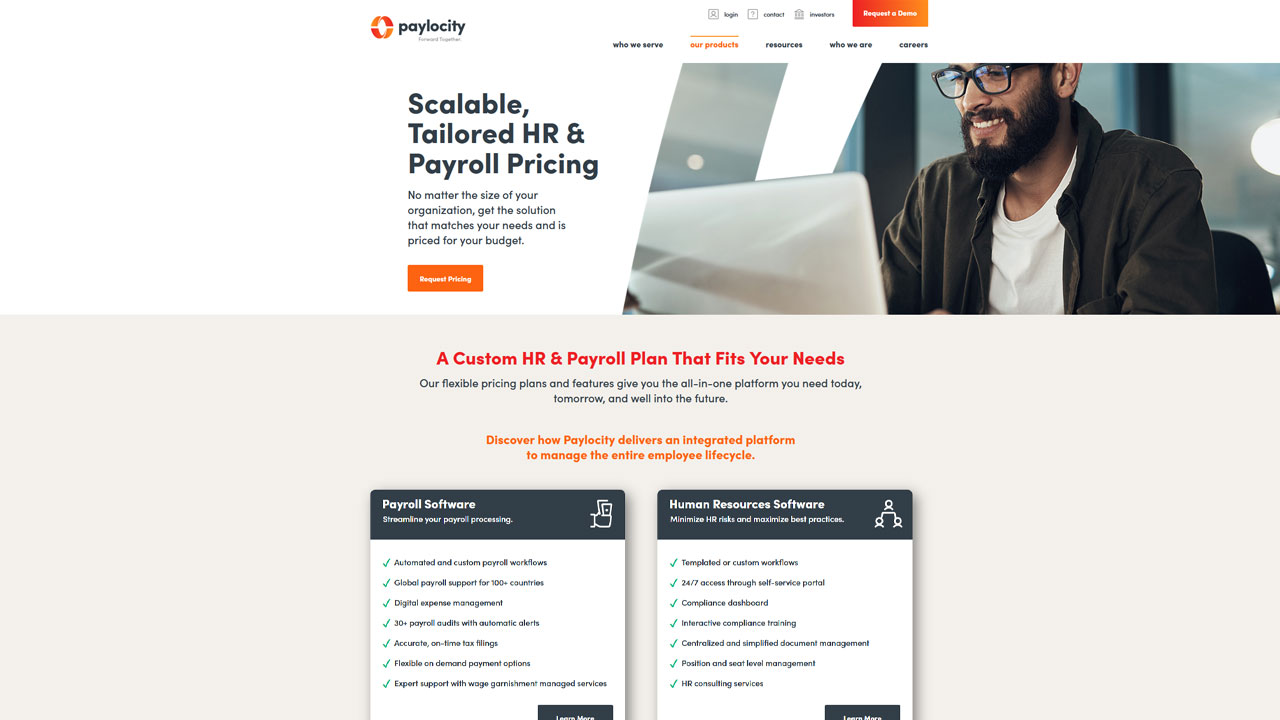 When opting for a human resources and payroll company, pricing is one of the main factors to consider. The company used to have the pricing model clearly stated on the website, and it was $2 per employee per month. This was a great deal, especially compared to other similar companies.
But, if you visit the website now, you'll notice there are no pricing details. Instead, you can request a demo and information about the price. You'll need to provide certain details about your company, like employee count, location, zip code, company name, etc.
Many consider this a positive change, as you can customize your plan and get the desired Paylocity add-on. However, there's an obvious drawback: a higher price.
Some of the add-ons you can choose with the "base" program are expense management, tax services, on-demand payments, and many more.
Paylocity Pros and Cons
Paylocity is one of the most popular payroll companies. It allows easy expense management, provides a full review of payroll information, automates daily tasks, tracks effort and compensation, etc. Plus, the platform is secure, fairly easy to use, and has a great overall rating among users and former employees. Still, Paylocity isn't perfect. Here, we'll review more pros and mention some of the drawbacks you should consider.
The Pros
Here's why Paylocity could be a great system for you and your employees:
Great Expense Management Options
With Paylocity, you can track and process all your expenses with excellent accuracy and no paperwork. Thanks to this feature, you can review and approve expenses using your computer or mobile device. Also, you can automate reimbursements and pay your employees in only a few seconds, saving you hours of work.
Security
Another great advantage of this software is security. As you may know, hackers often target customer data and payroll. If you use a program that doesn't offer high security, your employees and your client's information could end up in the wrong hands and cause massive damage.
This isn't a concern with Paylocity, as the company is extremely careful with storing your data. They hire certified and experienced technicians that ensure everything is up to the latest standards in the industry.
Customizable Payroll
With Paylocity, you can create customizable reports and accruals, developing your personalized system that perfectly suits your company's needs.
Wage Garnish Management
Dealing with wage garnishment can be tricky and lead to severe compliance issues that can seriously affect your company. Paylocity offers an exceptional wage garnish management service that ensures accuracy.
Reliability
Money management, establishing a healthy work-life balance, running payroll, helping new hires, etc., can be stressful for employees and employers. If you want to save hours of your time, reduce expenses, and automate payroll management and other tasks, Paylocity is a great option.
The program has thousands of excellent reviews. Whether it's from a former employee of the company or numerous satisfied clients, Paylocity reviews are mostly positive.
The Cons
No company is perfect, and Paylocity has received some negative feedback you should consider.
Customer Support
When it comes to Paylocity, a top concern for many clients is poor customer support. They mentioned that the Paylocity team takes a long time to respond to a call/e-mail or doesn't respond at all.
Although each client has a designated account manager, several have stated that they never managed to get the person they were looking for.
Stressful Implementation
If you're using a payroll software for the first time, you may have trouble with implementation. Learning how to integrate Paylocity into your organization can be tricky, and some clients stated they had to spend weeks and even months on the implementation process.
Employee Time Management
Paylocity allows employees to view their timesheets and schedules in only a few clicks. Moreover, the program lets them clock in from whatever device they're using. However, there's no safeguard that prevents employees from clocking in even when they aren't actually working.
Of course, if you, as an employer, have built a good relationship with your workers, this shouldn't be a problem.
Is Paylocity a Good Option for Your Company?
Many employers chose Paylocity because of its exceptional features, reliability, and security. The program allows customization and offers affordable plans tailored to your company's needs. But, Paylocity isn't perfect, and it lacks in the customer support area. Plus, implementing the program could be lengthy, depending on your company's size.
In the end, the choice is up to you. If you're not sure, you can always check online reviews or ask a Paylocity employee for a consultation.