You've got a great idea for a podcast in your head. You've looked around and can see that nobody's covering the niche, at least in the way you want to talk about it.
There's just one problem.
You don't know the first thing about podcast publishing.
You need to learn how to get your podcast episodes online or what you have to do to get them onto streaming platforms.
That's where Podbean comes in. As one of the most popular podcasting hosting platforms around, Podbean offers newbies a way into podcasting, and also helps those familiar with podcast hosting. Podbean features fantastic tools that get your episodes to the ears of more listeners.
In this review, we examine how the Podbean podcast app can help with everything from straight audio to video podcasts.
The Podbean Essentials
Podbean is more than an introductory podcast hosting platform. It markets itself as an all-in-one solution that handles everything from recording and hosting to distribution and monetization.
In short, the Podbean app helps you make and market your episodes to podcast listeners.
A Podbean account comes with unlimited hosting, which applies to the free plan as well as its paid plans. You can import existing podcasts, record new shows, and even live stream using an array of useful mobile features.
If you love video podcasting, it has the tools you need to create a video podcast. Plus, its user-friendly approach makes getting your shows onto podcast networks a breeze.
The Cost of Creating Podcast Content Using Podbean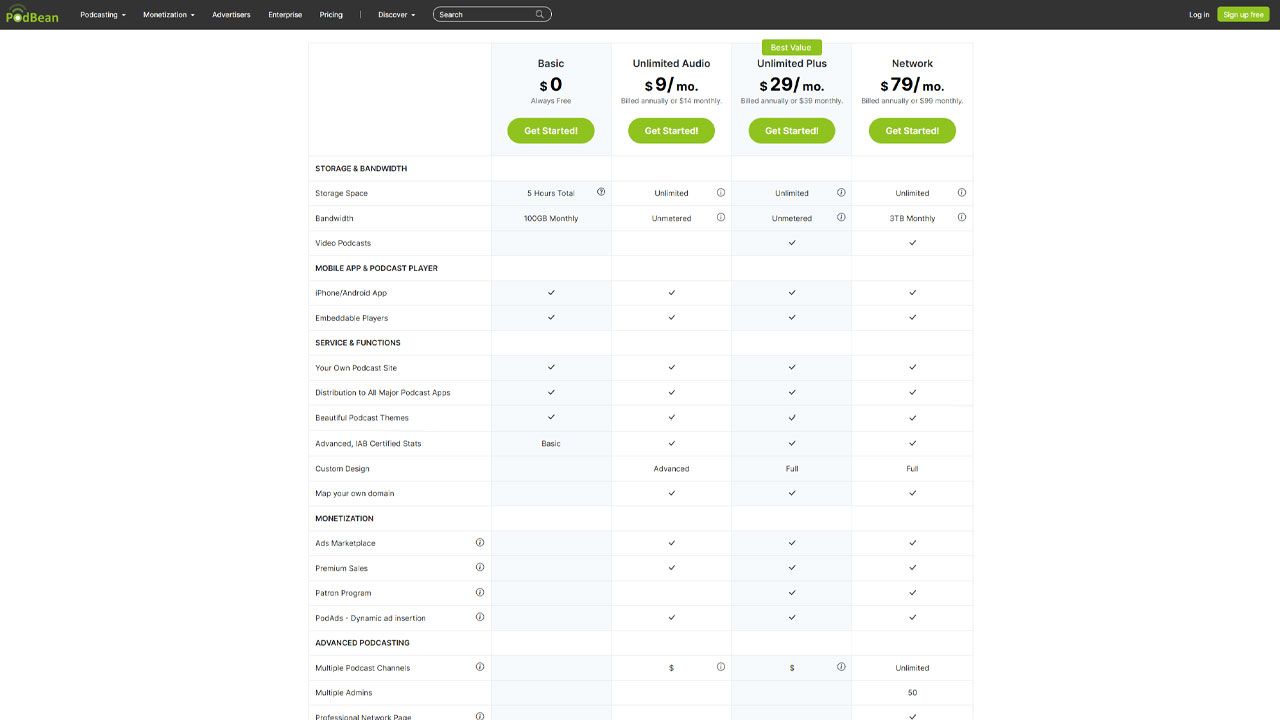 Podbean offers four pricing tiers, including a generous free plan designed to help you get to grips with creating podcasts from scratch.
The free Basic tier offers 100 GB of bandwidth and lets you store up to five hours of audio. You get access to the mobile app for recording episodes on a mobile device. Additionally, you get a special podcast website to send your listeners to and host your podcasts.
Podbean's podcast hosting service gives you unlimited storage and bandwidth as you move up the tiers. You also get access to monetizing features, such as dynamic ad insertion. You have to spend a little to get a lot more.
The Podbean pricing varies from $14 to $99 per month. Each offers an unlimited audio plan alongside tier-specific features. You also get access to annual payment discounts. If you pay for the entire year upfront, Podbean only charges for 10 months instead of 12.
The Main Features of Podbean
With the basics out of the way, it's time to dig into the meat of this podcast hosting platform. The Podbean podcasting platform offers several handy features that make your recording journey easier.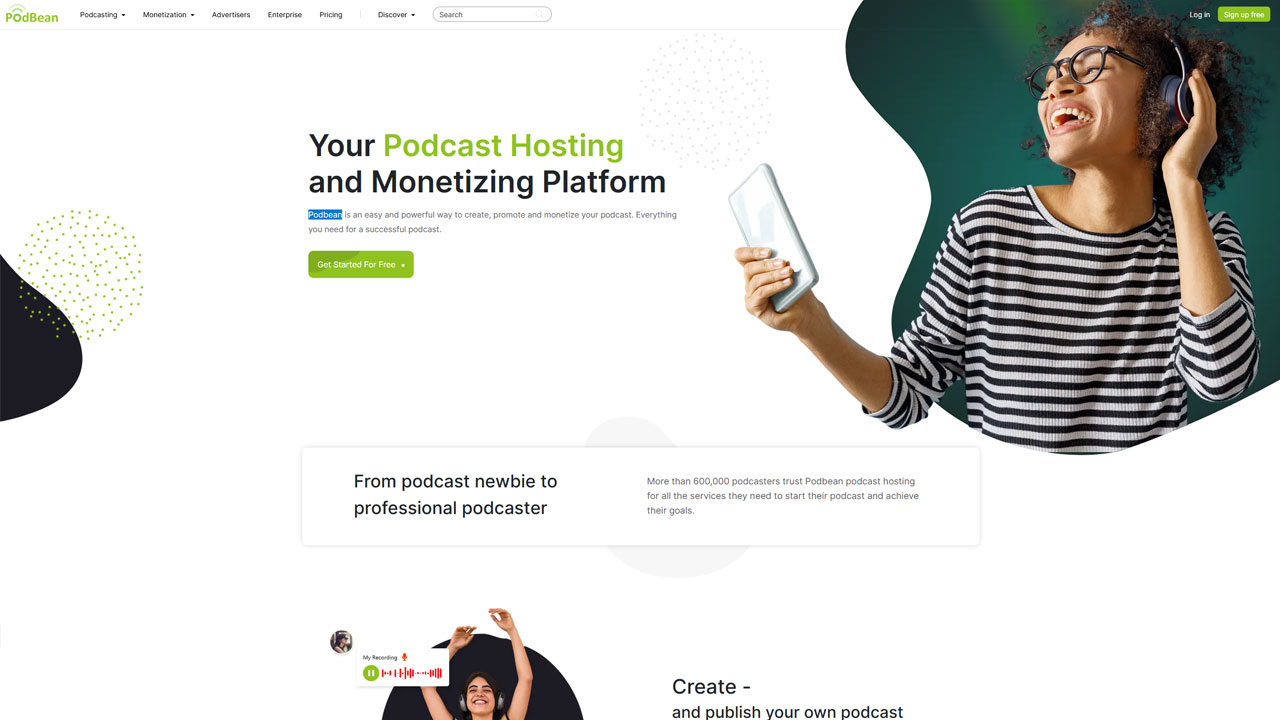 The Podbean Dashboard
Let's start with what Podbean shows you when you're gearing up to publish podcasts.
The handy dashboard makes it easy to get to work on your podcasts. If you have existing podcasts, you can upload them easily from your computer or the cloud. Your account generates an RSS feed, which you can access from the dashboard.
That RSS feed helps with distribution, as does the access to major podcast directories that Podbean offers. Click the "Distribution" link, and Podbean opens up a world of platforms that can host your content.
If you want advanced engagement stats, Podbean provides them. The "Statistics" section of the dashboard lets you track user engagement and retention. Plus, you can see where listeners come from, which helps with your marketing efforts.
It's all wrapped up in a straightforward bundle that's easy to understand. But if you need help with any aspect of the dashboard, Podbean's video tutorials help you out.
Live Stream Support
A podcast may be one of the many tools in a creator's arsenal. Some people want a live experience, such as vloggers or podcasters who like to share their thoughts as they pop into your head.
Podbean's podcast hosting services include live-stream functionality. Just whip out your phone, log into the app, and you can beam your beautiful face (and voice) to listeners in an instant.
You'll see a live chat feature, allowing you to respond to viewers as you talk. You can even accept virtual gifts from your listeners. The live streaming feature ensures Podbean stands out from other podcast hosting platforms.
A Handy Podcast Website
Your website is a valuable marketing tool.
What do you mean you don't have a website?
That's fine with Podbean, as the service offers a ton of themes for websites. You can get a paid or free version of a theme, with your website letting you upload video and audio podcasts to your heart's content.
These are customizable themes too. Custom site design features help you tailor the site to your brand. And even those using free themes can set up a custom domain using the Podbean site.
Your free site does the job of hosting your episodes. However, a custom domain that doesn't feature the Podbean name may be better for private podcasts.
Speaking of which.
Private Podcast Creation
Not every podcast gets released into the wild for the entire world to consume. Some podcasters want to record audio that's only available to certain people, such as the subscribers of a membership website.
Those people need private podcasting, and Podbean gives them what they want.
You can create a unique channel for private audio and video podcasts. Episodes get ported to your podcast site, meaning you can offer premium content to people who'll pay to listen to your audio file.
Again, you can do all of this from the Podbean dashboard. It lets you set up multiple channels. Click the little padlock symbol, and you can lock your podcast behind a paywall in seconds.
The Podbean Mobile App
After touching on Podbean's mobile app, you may want to learn more about it.
The app has two uses.
Listeners can use it to discover new content and track the shows they love.
Podcast creators can add a bunch of editing flourishes to content before uploading. If you want background music or sound effects in your podcast, the app lets you add them. You can even publish your episodes using this handy mobile podcast platform.
Video Podcasting Support at Higher Tiers
If you want to upload audio, Podbean serves as a handy audio recorder and uploading tool (for more information on recording a podcast, read here). But if you wish to leave users entranced with visual tools or have a lovely studio you want to show off, the platform's video podcast support is what you need.
There's little more to say here. You can upload videos to your Podbeann account. But if you're on the free tier, videos are off-limits until you open your wallet.
Make Money From Your Podcasts
Podcast advertising can help you generate revenue to offset the Podbean cost. And if you make a little extra money on the side, all the better.
With its Ads Marketplace, Podbean offers access to sponsors who'll pay for a plug in to your podcast. Now, it's unlikely that you'll get sponsors or ads for your first podcast. Sponsors want to see that you have an audience. But once you have a following, Podbean gives you the tools you need to capitalize financially.
There's also the Patron page, which links to the premium podcasting features. You can set up a podcast site for patrons where you deliver bonus episodes in return for donations.
A Ton of Space
Podbean welcomes you with open arms as soon as you enter one of its paid tiers. You get unlimited bandwidth and storage space for all of the paid tiers.
Automatic Episode Uploads
Why go through the hassle of uploading your new episode to your socials?
Podbean uploads episodes automatically to social media accounts and podcast directories. The upload features the episode title and saves you the time you'd otherwise spend on a tedious manual task.
Embed Podcast Episodes With the Embeddable Player
The Podbean app makes it easy to embed your podcast into a website or blog post.
You get a widget code whenever you create a new podcast or import existing podcast to the dashboard. Copy that code into a website, and poof. You have an embedded Podbean podcast that's ready and waiting for your listeners.
The Podbean Problems – Looking at the Downsides
Live streaming, unlimited storage, and a mobile-friendly setup all play in Podbean's favor. But there are a few downsides to consider before you start using this platform.
Paid Accounts Needed to Publish to Some Platforms
As comprehensive as Podbean's directory is, you only get access to some of it with a free account. If you want Podbean to publish an episode to Spotify, you have to be on a paid tier.
No Free Video Podcasts
If you want people to see your face, you have to be on a paid tier. There's no video support for the free tier.
Limited Refund Options
If you're unhappy with Podbean, you only get seven days to request a refund from the date you made your payment.
No Backups
Keep your audio files backed up on the cloud. Podbean doesn't currently have a feature for backing up episodes.
No Free Unlimited Audio
Placing limitations on audio is a way to convince people to jump up to a paid tier. Still, five hours total on the Basic plan isn't much. A little more would go a long way.
Podbean vs. Other Platforms
Podbean reviews can only show you so much. It would help if you had comparisons to make the right choice. These quick comparisons may help, though we recommend checking out our more detailed reviews of each service.
Podbean vs. Buzzsprout
There's not a lot to choose between these two services in terms of general features.
Podbean lets you import videos and comes with handy live-streaming functionality.
On the flip side, Buzzsprout costs less to use. It also offers limited advertising and monetization on its free plan. Plus, being able to bring in unlimited team members to work on your podcast is a massive bonus.
Podbean vs. Libsyn
The existence of its free tier makes Podbean an excellent choice for newbies. Libsyn makes you pay for even the most basic of its services.
However, Libsyn lets you create customized apps to complement your podcast. This handy feature is offset by a lack of live streaming and the more complicated nature of the platform.
Should You Become a Podbean User?
There's a lot to love about Podbean.
If you want to hold the occasional live stream, Podbean gives you the tools. The same goes for podcasters who want to limit access to their premium content.
Beyond these features, Podbean gives you a useful mobile app. You also get the tools needed to host audio and video podcasts.
But the service could be better.
As much as we love having access to a free tier, the five-hour limit means you're not going to get a podcasting career off the ground unless you're willing to pay. Further publishing limitations also mean the free tier isn't quite as feature-rich as it appears.
We're also not too keen on the short refund window. Seven days isn't enough to understand everything that Podbean delivers, never mind having enough time to compare it to other platforms.
Still, you can't go too far wrong with Podbean. It will help you get set up and makes sharing your podcast with a broader audience simple.