As one of the most popular DIY SEO tools, Semrush has plenty of users. But is it the best search engine optimization platform for competitor analysis, SEO audits, keyword research, traffic analytics, and other metrics? This Semrush review goes over key features you need to know and compares them to similar offerings.
Semrush At a Glance
To many, Semrush is the best SEO tool for improving organic search rankings and PPC performance in digital marketing campaigns. The platform offers a wide range of features that can help websites, blogs, online stores, and other sites climb Google rankings.
Unlike other SEO products, Semrush does more than target keyword research.
Comprehensive Site Audits
When Semrush reviews or audits a website, it crawls hundreds or thousands of pages to determine the best on-site and technical SEO strategies in that niche. The platform generates detailed reports and focuses on critical issues instead of presenting users with fluff.
The process takes seconds or minutes, based on the website's complexity. But it's a great starting point for understanding why your site is ranked the way it is by search engines.
Get SEO Ideas
Semrush can analyze multiple pages and give relevant suggestions to take optimization to the next level. For example, its SEO Ideas feature presents users with potential page improvements, from keywords to backlink opportunities to various websites.
All suggestions are backed by metrics the user can check at all times. That's the main reason it's one of the best keyword research tools.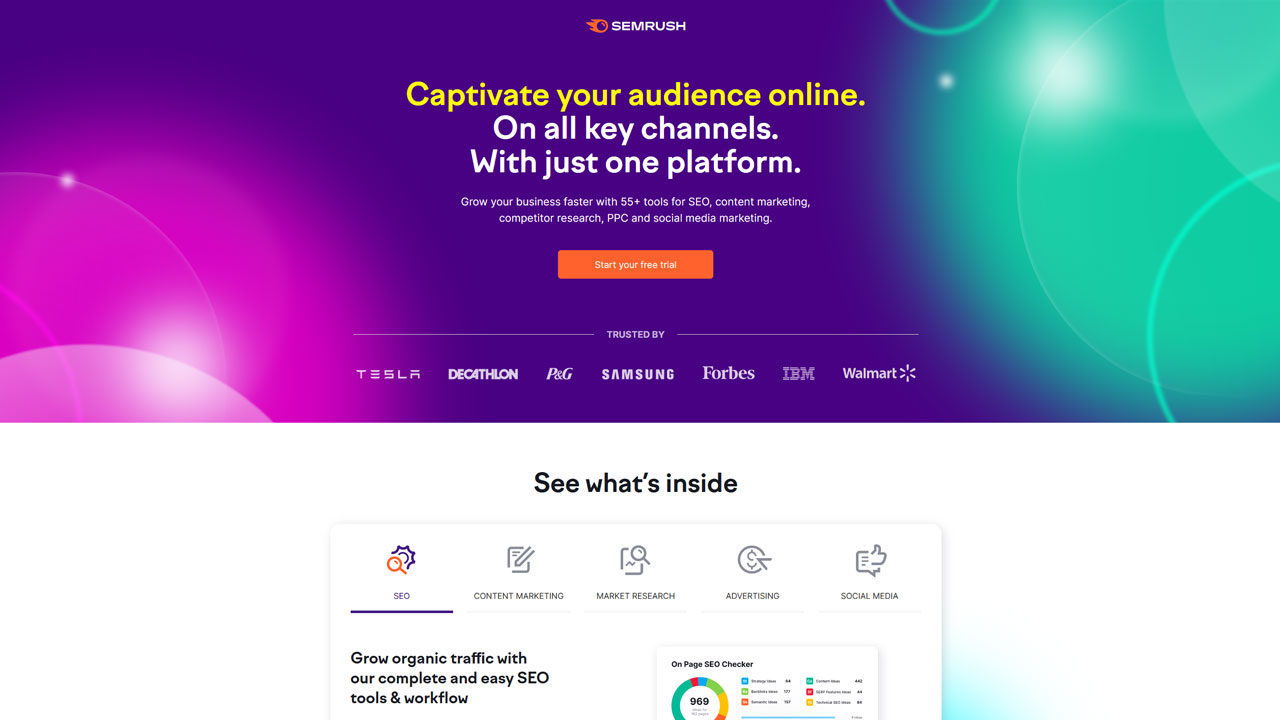 Identifying and Analyzing the Competition
Optimizing your website requires a deeper understanding of your target audience. You must learn what keywords users type and the search intent behind them. But short of communicating with audiences directly, competitor research is the best way to uncover this information.
If you use Semrush for Google Search results research, you can generate valuable historical data on your ideal customers based on interactions with direct competitors.
Semrush can identify the search traffic numbers, link-building opportunities, keyword data, and many other domain analytics. That information can help you go beyond finding the top related keyword and identify many solutions for technical SEO problems affecting your search traffic numbers and rank.
SEO Keyword Magic Tool
Naturally, keyword research is a core component of the Semrush platform. However, it's a more refined tool than you might expect. In fact, it's as simple as typing your target keywords and letting the platform do its job.
But here's where the magic comes in. Semrush returns all the usual data, including search volume and CPC. That said, it goes even deeper to pull numbers for keyword difficulty, SERP features, trends, phrase search result matches, and various competitor metrics.
Using many factors, you can export these reports or filter them for further study.
Deep Backlink Analysis
Semrush is also one of the top backlink tools. Firstly, as a domain overview tool, it can conduct a detailed site audit. Hence, it can spot broken links, lost backlinks, or missed opportunities based on its understanding of your niche.
Secondly, Semrush is good at finding subdomain backlinks during a domain analysis and generating backlink profiles for your competitors.
Moreover, the platform gives users a backlink comparison tool. It can run a domain analysis and comparison on five targets simultaneously. It can speed up decision-making times and help you refine your digital marketing or social media strategies.
The better you understand backlinks and their contribution to your SEO, the easier it is to improve your organic search traffic using referring domains. This is one of the must-use features outside content marketing tools and introducing relevant keywords on your pages.
A Content Management System
Another way in which Semrush helps users is through its content management system. It does a good job of sourcing words and phrases that can make your content rank higher.
In addition, it centralizes the process through Clearscope. That means the Semrush support is extended to content marketing.
While it's not the top SEO writing assistant for SEO clients, Semrush does a decent job of helping you structure content better through SEO templates.
Semrush Pricing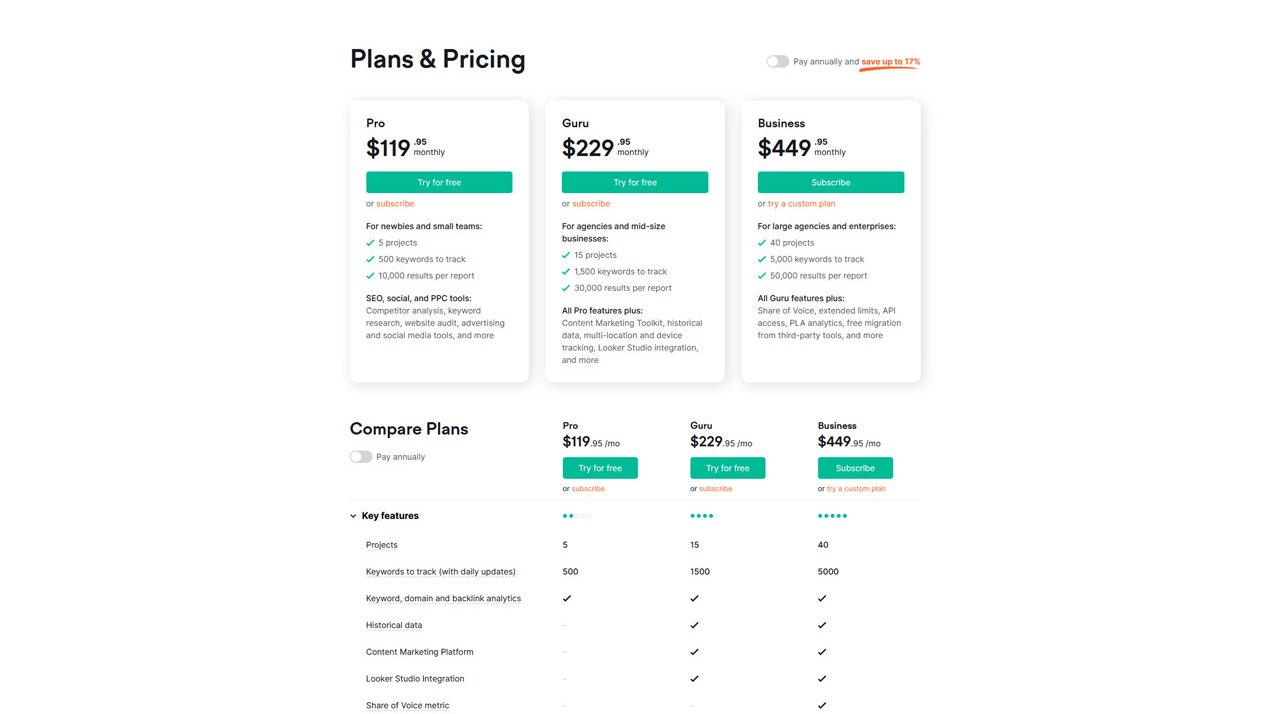 No Semrush review would be complete without looking at the pricing structure. The platform can do a lot. But does it offer enough value for money?
Semrush has three standard plans – Pro, Guru, and Business. Alternatively, clients can create custom plans based on their unique SEO requirements.
The Pro subscription allows management of five projects and 500 keywords. It can generate up to 10,000 search results per report.
Pro users can access PPC tools and SEO features and benefit from social media integration.
A Guru plan triples the project, keyword, and report results output in Semrush for only less than half the money. It also adds features like device tracking, GDS integration, etc.
Upgrading to the Business subscription is almost mandatory for larger SEO agencies and enterprise-level clients. It greatly increases the project and keyword-tracking support and allows the generation of reports with up to 50,000 results. In addition, it comes with more features like free migration, API access, PLA analytics, and more.
Given its pricing structure and range of features, Semrush has some of the best ranking tracking software among the most popular DIY SEO tools. It can be used by anyone, from small teams to medium-sized agencies to enterprise clients.
Semrush Pros and Cons
Pros include:
Backlink tracking
SEO recommendations
Comprehensive keyword research
Domain analytics
Competitor and self-site audit
Project-based SEO campaign creation
All-in-one solution
Cons include:
Complex and pricey for freelancers and small teams
It can have a complex interface
Some features are gated behind higher paywalls
The keyword list management isn't ideal
Interfaces can be cluttered with data
Semrush Alternatives
It's also worth looking at some competitor platforms to better understand Semrush and its potential benefits for your projects.
SpyFu vs. Semrush
Unlike Semrush, a more flexible platform, SpyFu is a niche tool. In fact, it's one of the most popular DIY SEO tools designed to analyze the competition.
While both tools can do the same thing, not everyone needs the feature-loaded Semrush to improve their SEO or marketing strategy.
Semrush indeed offers a competitive research toolkit that includes content and PR, social media, advertising, and other SEO features. But SpyFu generates some of the fastest keyword overview reports on your competitors.
You input a domain name and click the search button. The summary includes a wide range of information, from paid keywords to PPC hits to backlinks and top pages. You can use it to identify and monitor competitors with minimal time and money invested in the process.
If you're not inexperienced in SEO, the reports can help you optimize your own website by reverse engineering your competitors' strategies.
As a purely research-based tool, SpyFu has a slight edge over Semrush. It's cheaper and easier to use and doesn't overwhelm you with other unnecessary features. All of which makes it a great competitor and top-notch analysis tool, despite its lack of brand monitoring and social media integrations.
However, Semrush is a better option overall for a complete SEO solution. Some reports may even be more accurate when generated in Semrush for the same competitors.
Similarweb vs. Semrush
Another one of the most popular DIY SEO tools competing with Semrush consistently is Similarweb. This website analytics platform performs powerful searches for keywords, estimates competitor traffic, and generates reports.
Again, a direct comparison reveals that Similarweb and Semrush have similar feature lists. Semrush has a slight edge regarding keyword research and content assistance by including SEO content templates through Clearscope. But that's not enough to make it a clear crowd favorite.
The big difference is in off-page SEO features. Similarweb lacks a position tracking tool, bulk analysis, and backlink auditing. It also doesn't offer location-specific SEO or content marketing and social media tracking.
But who might choose Similarweb over Semrush, given the large feature discrepancy between the two platforms? Similarweb offers good web analytics data and focuses heavily on website statistics. If you don't need a complete DIY SEO platform, Similarweb is easy to use and generates accurate reports.
It's not as flexible as Semrush, but a solid alternative, nevertheless. It also has a free version with enough functionality for startup and small business SEO projects. Semrush's all-in-one SEO product design can cover all bases and more for a broader range of projects.
Ultimately, more complex scenarios will get further benefits from a pricier Semrush subscription plan and extra features.
SE Ranking vs. Semrush
The SE Ranking cloud-based platform is one of the top Semrush competitors. Although Semrush has five years more experience in the industry, SE Ranking amassed its own following of small business clients, agencies, and freelancers.
A direct feature comparison reveals that SE Ranking and Semrush offer competitor research, backlink analysis, standard SEO and PPC keyword research, auditing, on-page SEO, and white-label reporting. Semrush has the edge by including content marketing assistance with content templates, marketing calendars, and similar features.
But if you don't need content assistance, SE Ranking can prove just as valuable as Semrush. It's challenging to determine which platform offers the most accurate searches and analyses. Both work with massive keyword databases and provide a wide range of metric comparisons.
SE Ranking can also do some things that Semrush can't. Semrush focuses on Google and Baidu rank tracking. However, SE Ranking includes more search engines, like Yandex, Bing, Yahoo, and YouTube. It has the potential to boost SEO campaigns across multiple digital channels and content types.
There's also the matter of ease of use. It's undeniable that Semrush generates more complete reports and offers historical data going back over a decade when using the Guru plan or higher. SE Ranking rarely goes back further than three months.
But that's not necessarily a bad deal. Whether it's research, keyword management, or rank tracking, SE Ranking has more user-friendly interfaces. The data doesn't appear as cluttered, and users with limited SEO knowledge can make sense of it faster.
The SEO tool also minimizes fluff information and emphasizes crucial metrics in all white-label reports. Semrush keyword research uses bigger databases, accounts for trillions of backlinks, etc. But SE Ranking still comes in as a strong contender among the best SEO tools on the market.
It can be the only helpful tool for clients who need to go beyond Google Analytics and Bindu keyword analytics, trends, and get other SEO ideas.
Final Thoughts on Semrush for DIY SEO Projects
The Semrush SEO tool is a cloud-based platform with many uses. While slightly overwhelming for the average freelancer or pricey for startups and small businesses, it has one of the largest sets of features for competitive analysis.
The platform streamlines everything, from keyword research audits to spying on competitors to reverse-engineering SEO strategies to identifying the best link-building options. It can help fix on-page technical SEO and curate new content based on specific target audience trends and search intent.
Using the free trial can help determine if its the best backlink audit tool or if it provides the best keyword ideas for your project. But anyone looking to tackle smaller projects or invest less in an SEO platform, has solid alternatives to Semrush to consider.