There are so many DIY SEO software options available today, it's hard to make a choice so in this article we will do a deep-dive SurferSEO review.
In a perfect world, your software will act as a keyword research tool that helps you figure out what people type into search engines.
It should also act as a content editor, allowing for content optimization that drives organic traffic to your website.
If those sounds like your needs, SurferSEO may be one of the best SEO tools around. Its data-driven approach combines natural language processing (NLP) with keyword suggestions. This combination helps you develop SEO content that leads to higher search rankings.
At least, that's the SurferSEO tool sales pitch. Here we conduct a SurferSEO review that looks at what the tool offers and how it can improve your on-page SEO.
What Is SurferSEO?
SurferSEO is an on-page SEO tool designed to help you create quality content.
It features a keyword tool that helps you find related keywords to your target keyword. Furthermore, the SurferSEO content editor carries out more advanced keyword research and compares your intended page against what's currently ranking in search results.
But how does Surfer's keyword research tool work?
You enter keyword ideas into the tool.
Surfer then pulls up the top search results related to those ideas. It looks at targeted and related keyword usage, meta tags, and article structure. The tool also tells you the word count of each highly-ranking article. Finally, the tool gives each page it finds a score out of 100 based on its AI-driven on-page SEO analysis.
All of that data feeds into the Surfer SEO content planner.
Surfer uses the data to build a model of what search engines want to see for your chosen keyword. Its content planner then offers suggestions for your webpage or blog post, including a basic article outline, keyword suggestions, and keyword density recommendations.
While the content editor is Surfer's standout feature, you can use several other key features in this DIY SEO software. Our review examines the main ones.
Surfer SEO Pros and Cons
Like all DIY SEO tools, Surfer SEO has advantages and drawbacks. The following are the service's pros and cons.
The Pros
The Surfer content editor collects data that would typically take hours to find in just a few minutes. It easily handles the research phase of your article writing.
You get comprehensive data that compares competing websites' search volume and keyword usage.
The price of Surfer SEO is quite reasonable, starting from $49 per month for the Basic package.
You can use Surfer when creating brand-new content or suggest changes to your existing pages so they rank higher.
The simple user interface tells you how many words an article needs and covers the most important factors when ranking pages.
The Cons
While Surfer SEO keyword research delivers a ton of data, those new to SEO might find the sheer volume of information overwhelming.
Surfer is a specialized on-page optimization tool designed to improve a page's ranking in Google search results. As such, Surfer SEO doesn't contain the vast range of features you'll find in other DIY SEO software, such as Ahrefs or Moz.
Though Surfer is an excellent search engine results page (SERP) analyzer tool, your keyword data may be less comprehensive than you'd like. For example, it doesn't provide a keyword difficulty score for the keywords it suggests.
The Surfer SEO Key Features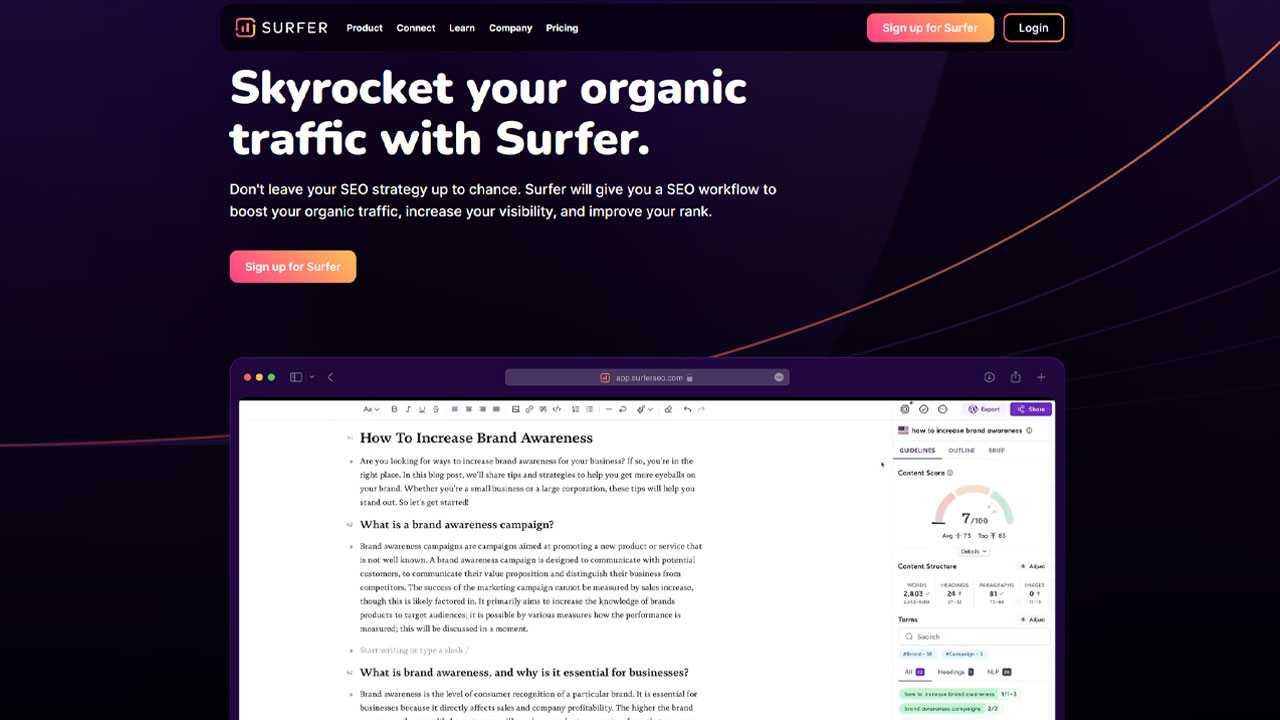 With the general pros and cons out of the way, let's dig deeper into how Surfer SEO can help you with your content strategy.
The tool has several useful features, though some are more useful than others.
Feature No. 1 – The Surfer Content Editor
Surfer SEO made its name on its content editor for a good reason:
It's one of the best content editors on the web.
The editor is straightforward to use. You enter a target keyword and click the "Create Content Editor" button.
Surfer does the rest.
Surfer's SERP analyzer compiles the top results from content that uses your keyword from around the web. With the data collected, it creates a document editor that's ready for you to start writing.
This document editor goes far beyond basic word processors like Microsoft Word and Google Docs.
It tracks your writing against several criteria, including the short and long-tail keywords Surfer's analysis pulls up.
You get a score out of 100 that tells you the optimization level of your content. The closer you get to 100, the more likely your content will rank highly in Google SERPs.
Surfer SEO determines your score using four categories:
Words you've written versus the average word count for articles related to your keyword
The number of headings you use, and any relevant words used in those headings
Your use of the multiple keywords Surfer suggests
How well you use Surfer's suggested NLP words
While this combination of ranking factors is helpful, it could be better.
For example, Surfer's suggested word count is only sometimes accurate. The tool accounts for comments and sidebars in some cases. These additions can add words to an article when they're not needed.
Furthermore, the content editor only offers basic keyword research.
It tells you what keywords to include and how many instances of each word you should use.
But it doesn't indicate how difficult it is to rank for its suggested keyword. Therefore, a high content editor score doesn't guarantee high rankings, especially if you're shooting for a competitive keyword.
Feature No. 2 – The Surfer SERP Analyzer
Checking out the competition is a great way to figure out what you should do with your content.
Your top competitors show you what sorts of questions your target audience asks. Their content also gives you clues on how to structure your own work.
SurferSEO has a SERP analyzer SEO tool that provides a lot of information about your chosen keyword.
For example, the tool reveals which sites link to your competitors. Quality backlinks are an important ranking factor in Google and Bing. As such, this information can reveal which sites you need to court for links to your content.
The analyzer also offers alternative keywords related to your searched word. Plus, it tells you about common questions searchers ask. Both can give you valuable ideas when structuring your articles.
Think of the analyzer as a detailed breakdown of Google's first page of results for your keyword.
It offers a lot of useful data.
However, Surfer could be better at telling you how this data applies to your article.
For example, the tool tells you how many heading tags a competitor's piece uses. But it doesn't tell you if you should match that number, use more, or use less.
So, the tool is excellent for data sourcing, though not as strong as it could be for data analysis.
Feature No. 3 – NLP Analysis
We've touched on Surfer's use of NLP analysis already. The tool uses IBM's Watson technology to track the sentiment behind search queries.
Surfer uses this technology to determine if a searcher has neutral, positive, or negative sentiments when using a specific keyword.
While some may find this feature helpful in determining search intent, it feels undercooked.
Surfer doesn't explain why sentiment is so important.
For example, does a keyword having a positive NLP sentiment mean you should write a positive article?
You can assume that's the case. But SurferSEO doesn't tell you directly.
As such, this is one of those SEO tools that feels gimmicky. With more information, it could become useful in the future.
Feature No. 4 – Surfer Content Audit
So far, the features we've examined relate primarily to new content.
But what about your existing content?
Surfer's content auditing tool provides valuable information for what you already have.
It's simple to use. Plug a page's URL into the tool and let Surfer do its thing.
The tool comes back with suggestions on how to improve the content. These suggestions include:
Tips on how to get a higher content score in Surfer
Information about common backlinks that are missing from your page
Tips for internal linking opportunities
In addition to checking your own pages, you can use this tool for competitor analysis. It'll show you what a competitor is doing wrong. If you create better content, you're more likely to rank above them.
Feature No. 5 – Customer Support
Let's assume you need help with SurferSEO. You may have a tech issue to resolve or a question about how the tool works.
Can you speak to somebody from Surfer to resolve your issue?
Thankfully, you can.
If you visit the Surfer website, you should see a small intercom chat button. This allows you to access the platform's live chat feature, where you can ask questions.
This feature can be useful, considering Surfer's tooltips don't always tell you everything you need to know.
However, customer support could be a lot better.
While you'll likely get a quick reply, the reply may only partially answer your question. Still, requests for clarification are normally met with more information, meaning you should eventually get a solution to your problem.
Quick Comparisons With the SurferSEO Alternatives
We've established that SurferSEO offers plenty of useful tools that you don't get in standard word processors, such as Google Docs and Microsoft Word.
But how does it rate against other on-page optimization tools?
To answer that question, we'll compare Surfer to two other tools:
SurferSEO vs. Frase
Like Surfer, Frase is a content optimization and writing tool that uses artificial intelligence to make suggestions.
There are a few differences between the tools.
Frase focused on content creation first before adding SEO features. Surfer went the opposite route, starting with SEO and moving into content creation.
Surfer is the superior tool when it comes to SERP analysis. However, Frase places a heavier focus on content creation. It will also help you come up with interesting topics.
But the biggest difference is that Frase doesn't offer keyword suggestions. Therefore, those looking to rank content highly in SERPs will likely find Surfer to be the better tool.
SEMRush vs. SurferSEO
SEMRush is an all-in-one DIY SEO software that can help you with almost any aspect of online marketing.
It has an array of features that aren't available in SurferSEO, such as its social media marketing tools.
While this may make SEMRush seem like the superior tool, that may not be the case.
Though it has more features, SEMRush isn't as focused as SurferSEO. Those who care more about optimizing content will likely find Surfer to be the superior tool.
But if you want an all-in-one kit that helps you with every element of SEO, SEMRush is your software of choice.
The SurferSEO Review – Is It the Right DIY SEO Software for You?
SurferSEO is a powerful tool that helps you craft search-ready content. It also offers valuable competitor data and can help you to optimize your website's existing web pages.
The tool also provides basic keyword research, though some may find its data lacking in this area.
So, should you use SurferSEO?
It all depends on your requirements.
Surfer is great for crafting content. However, it's a niche tool that only focuses on one element of digital marketing. If you're looking for an all-in-one solution, there are better options available.