Did you know that creating high-quality videos has never been easier using AI?
Synthesia.io is one such platform that enables AI to create videos for all kinds of purposes.
Let's look deeper and find out what Synthesia IO is all about.
By the end of this article, you will have all the information you need to decide if this AI video creation platform is the right choice for you.
Synthesia IO Review: A Brief Overview
Synthesia IO is a web-based AI video content creation app with an intuitive and simple-to-use interface.
It is an excellent tool if you want to create professional videos and turn PDF, PowerPoint, or Word docs into engaging and interactive videos for numerous purposes.
With Synthesia AI, you can create professional videos in minutes!
The people behind Synthesia IO
Four Artificial Intelligence (AI) researchers and entrepreneurs created Synthesia IO. They intended to help people in various life niches to produce high-quality videos without cameras or microphones.
Since its founding in 2017, the company has reached over 100 employees. It has helped over 12,000 marketing teams to create videos and generated over $66.6 million in revenue.
Synthesia IO's impact on video production
With its rapid growth over the past five years, Synthesia IO is becoming a transitional and revolutionary point in AI video content creation. Users can create unique AI-generated videos in minutes without recording equipment or editing skills (Wondering what kind of editing software YouTubers use? Read Here).
Features of Synthesia IO
Synthesia IO is a versatile AI video creation tool with unique key features. They are combined to allow the user to create realistic videos by inputting text into the platform's mechanism.
70+ pre-made AI avatars to choose from
The team of researchers at Synthesia has created over 70+ AI avatars for you, depending on your preference.
All the avatars are digital twins of real actors. Their facial movements and voices have been recorded at Synthesia's development studio.
Male and female avatars of different ethnicities are available. The company also divides them for personal or business use, depending on your needs.
Create custom avatars exclusively for your brand
Want a specific avatar to represent you in your videos? Then you can use Synthesia to create an avatar and add your voice. This will make your AI videos unique and personalized.
You can also give your voice to your custom avatar. It will make your personalized videos deliver one-of-a-kind expressions and grab your followers' attention. All the avatars also speak multiple languages.
Note that the custom avatar feature is an extra add-on you can buy.
65+ multiple languages
This is one of the most versatile software features of Synthesia AI studio, making it a top-ranking, best AI video creation tool.
With over 65 multiple languages and voices to choose from, it doesn't matter from what corner of the world you come. Synthesia IO has you covered and will ensure everyone understands the message you're trying to deliver.
Synthesia AI offers this plethora of languages using its text-to-speech algorithms. With it, you will expand your audience to an international level and gain many more customer reviews and feedback.
50+ AI video templates
The Synthesia AI video creator provides over 50 pre-designed templates.
You can create your own personalized AI videos depending on your chosen template. With this, you will have a unique approach to capturing customer attention.
Video templates provided by Synthesia IO will help you create the personalized videos you desire. They are versatile and easy to manipulate.
You can also create custom backgrounds, fonts, icons, and soundtracks and even add your personal brand's logo.
Video editor with numerous functions
Besides pre-made video templates, you can create your own look and feel for the videos using the Synthesia software.
The built-in Synthesia.io video maker is so simple and intuitive that you can quickly improve your video editing skills. Even without having any previous experience whatsoever.
The video editor is the one major tool you will use most of the time.
Every video creation is done through the video maker, which is why the team at Synthesia made it a very user-friendly software.
Screen recorder and closed captions feature
A screen recorder function is implemented as a video editing feature. It allows you to capture everything happening on your computer's screen.
This option is ideal for creating step-by-step visual tutorials.
You can also add closed captions to your videos. And even add free stock images, GIFs, icons, and more by using Synthesia's media assets.
Reuse, embed, and download your videos
With the Synthesia software, there is no need to start creating AI videos from scratch. You can reuse and tweak the settings to make different videos without too much effort.
Synthesia IO supports and collaborates with over 30 other tools.
Apps like WordPress, PowerPoint, Shopify, BigCommerce, etc., allow you to embed your videos with their tools. With this versatility, you will make unique marketing videos for your brand.
On top of that, the platform also lets you download your created videos. You can do that in MP4 formats and Full HD (1080p) resolution.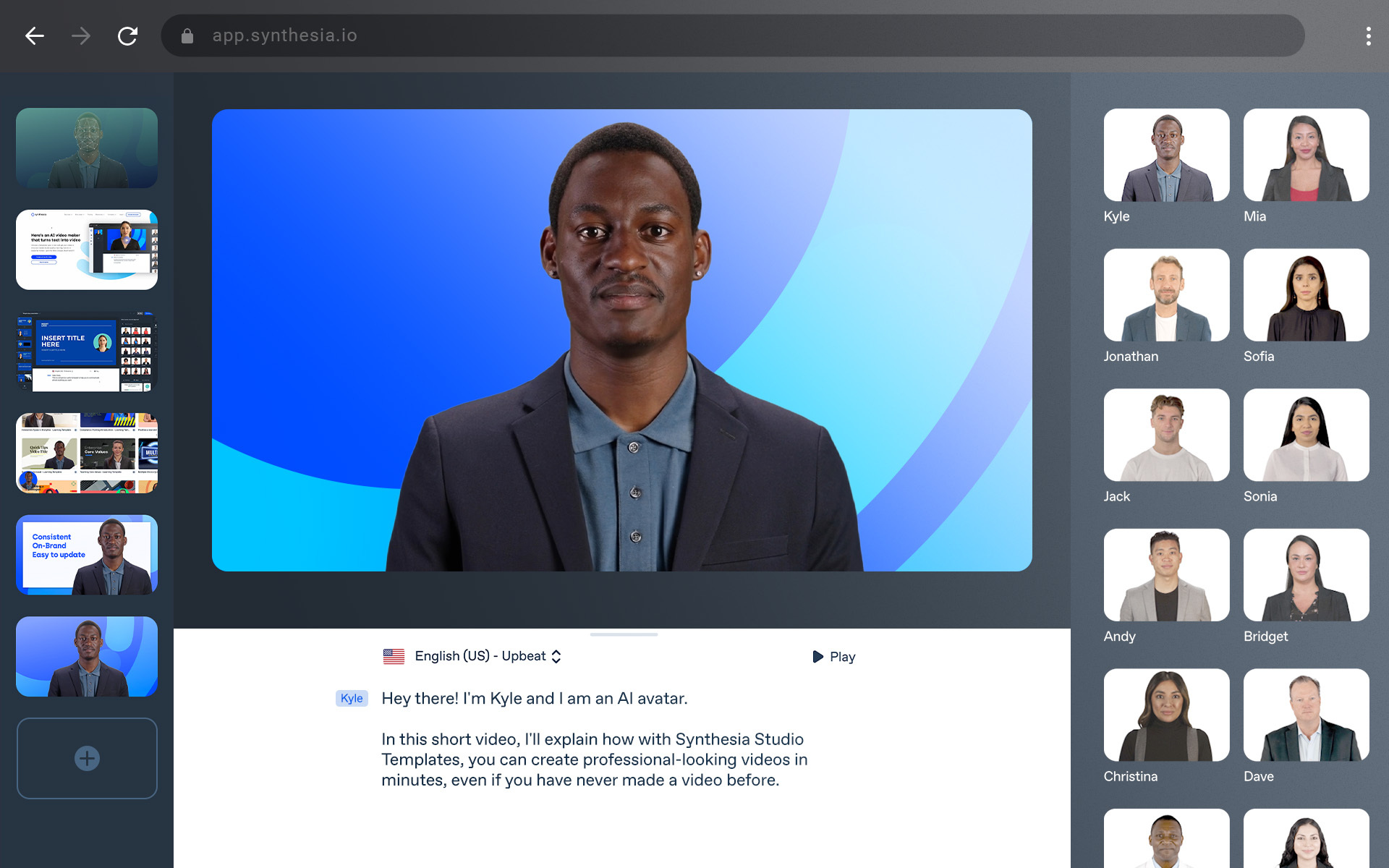 How Easy It Is to Use the Synthesia AI Video Creator
The interface
Once you register and access Synthesia IO's dashboard, everything is simple and laid out in the background.
The left side of the dashboard allows you to create a video and choose templates. You can also pick your favorite AI presenter or see what's new from Synthesia's team.
You can even ask the customer support team for help should you have any questions or problems using Synthesia.
The video editor (the tool you will use most) is the simplest one you can find. It has all the editor's menu and key features displayed on the far right side of the screen.
How to begin your first video creation process
To start the video creation process, all you need to do is:
Select one of the free video templates.
Edit the video template using the video editing tool.
Pick an avatar of your choice from one of the 50+ pre-made avatars.
Publish or download your video, and you're done!
If you still feel confused about using Synthesia.io, you can search for various training videos that will help you learn this AI software much easier.
Is Synthesia IO for You?
Now that you've got a glimpse into some of the most amazing features of Synthesia AI, you must wonder if it is the right video-creating platform for you.
Let me help you decide by telling you who uses the Synthesia.io video platform and why:
Regular video creators
People in this category often make money from creating marketing videos regularly. Those videos range from online courses to influencing purposes, training, coaching, and explainer videos.
Using the Synthesia video maker, they can build their customer audience faster and easier and get positive reviews as well.
Digital marketers
People who have chosen marketing as their profession and business also use this platform. That's because it helps them create videos, deliver their message on social media, and achieve greater conversions.
Small businesses and large corporations
Both of these business types use the Synthesia studio. It allows them to perform in-house marketing video creation and to create marketing videos of excellent quality.
Freelancers
People who earn a constant and sizable revenue from their freelance business also use Synthesia. The most common freelancers to use this platform are bloggers who create explainer videos. They often don't have the skills or the equipment to create professional-looking videos.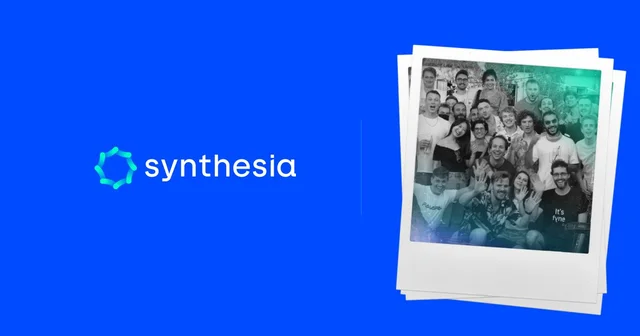 How Can Synthesia IO Help You Create Videos?
Do you find yourself in one of the categories I mentioned above? Or do you simply want to try out this incredible platform?
Then, here's how using Synthesia IO can help you and your brand grow:
You can draft your video script with ease;
You can use it to create marketing or product videos;
It will turn text to speech with incredible precision;
You can create unique influencing, coaching, or explainer videos;
You can design video ads and sell them to large companies, getting a customer review in return;
You can expand your social media presence and influence through self-made training videos;
You can review products and support a brand in multiple languages and voices.
These are some of the ideas and guidelines Synthesia IO can help you with. But how much money will the platform save and cost you in return?
Synthesia.io can spare you the expenses of purchasing a professional video camera.
You will also save money on audio equipment and a microphone. All this can sum up to several thousand dollars of savings.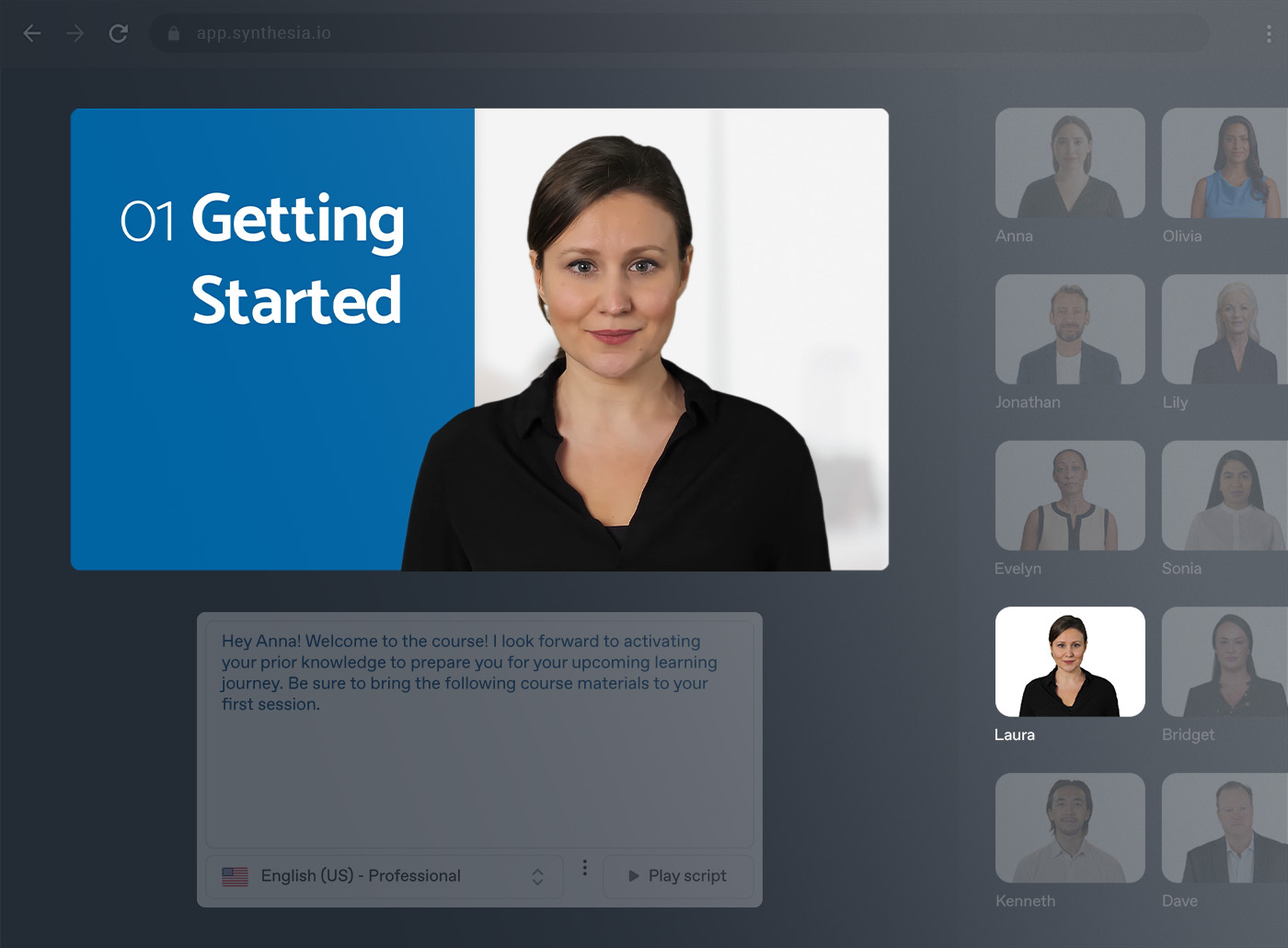 Cost of Using Synthesia IO
The Synthesia.io video studio platform comes with two pricing plans:
Personal plan ($30 per month)
Here's what you get if you choose the personal plan:
You can record up to 10 minutes of footage per video;
You can convert text to speech using your video script;
You can choose from 60+ languages and voices, 50+ video editing templates, and 65+ pre-made avatars;
You can add a custom background, custom background music, text, images, shapes, icons, and even PowerPoint presentations;
You can record the screen and create professional looking videos of up to 6-slides. You can also download them in MP4 format and review them later;
You can create an avatar for an additional $1,000 per year.
Corporate plan (pricing is determined according to your company's needs)
The corporate pricing plan is ideal for bigger companies, and it offers the following:
All the features of the Synthesia personal plan;
Up to 50 slides per video;
More than 10 premium avatars and exclusive avatar features;
Over 1 million royalty-free images and videos from Shutterstock;
The ability to upload custom audio, fonts, backgrounds, background music, and logos;
An internal process of procurement and review;
Ability to create professional videos with a permanently branded template as a starting point;
These features and prices are available on Synthesia IO's official webpage, so check it out! You can ask the Synthesia.io customer support team if you have any questions. In the following section, I will address the most common ones for your convenience.
Frequently Asked Questions
Are the avatars real people?
Yes, the AI avatars used by the Synthesia.io team are all based on real people.
Real actors provide their consent to the company, after which the developers record their facial and body expressions and translate them into the artificial intelligence platform.
Using real people to provide custom-made avatars is why Synthesia AI is a popular video-creating service. It gives the videos a unique and professional look and feel.
Can I use Synthesia to create videos for YouTube?
You can upload videos created on Synthesia.io to any website without legal consequences.
You can freely upload them to YouTube without worrying about getting banned or punished by the service. In fact, Synthesia.io is an ideal tool for making instructional YouTube videos.
Synthesia will even support you in making marketing videos compatible with every online platform and niche.
Is there a free trial I can try?
Unfortunately, Synthesia.io is not a free service.
I've already discussed the price plans above, and in my opinion, I believe that the service is quite reasonably priced.
When you think about it, the level of realism that Synthesia offers is incredible, and you can get so much done with the personal plan alone.
So, for only $30 per month, you will make your videos look more professional than those who've spent thousands of dollars on video recording equipment.
Feel free to ask the Synthesia.io customer support team for additional information on their pricing plans.
What are free alternatives to Synthesia that I can try?
There is no other platform or service that comes close to Synthesia.io.
However, if you're determined to save money and try an alternative, here are some free choices:
Movio – A good Synthesia alternative that turns text into video footage;
HourOne – Another good tool for creating video script content from a text;
Elai.io – An excellent Synthesia alternative with free custom avatars;
Yepic – Turn an entire video script into video content;
InVideo – Provides one of the best free plans available for making AI video footage.
You can easily find a review for all these AI video-making platforms online.
Conclusion
I hope you've found this review to your satisfaction. I also hope it has helped you decide if Synthesia.io is the right choice.
If not, you can also consider other options or other platforms. But none of them have the features and versatility of the incredible Synthesia.io.
Feel free to leave comments, questions, or reviews in the below section, and we will get back to you as soon as possible.